ConsenSys: an Interview like no other
Mon 25 Jan 2021 ▪ 20h24 ▪
11
min read — by
ConsenSys offers many solutions based on the Ethereum blockchain (ETH), especially for companies that would like to develop products on it. Today, Sylvain Laurent, a blockchain engineer at ConsenSys, kindly agreed to tell us a bit about it, thank you!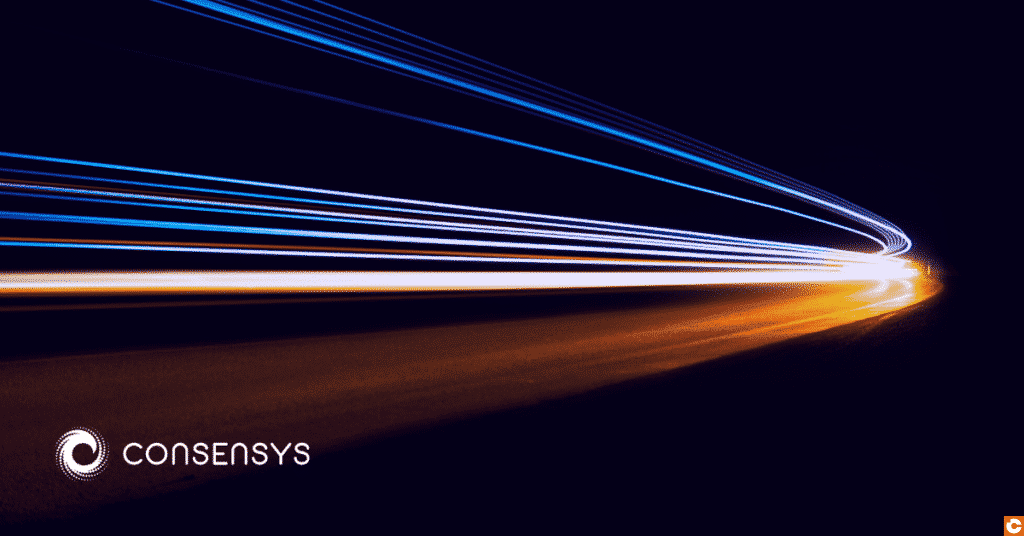 Guest of the day: Sylvain Laurent
Our guest is Sylvain Laurent and he has an unorthodox background. While you were in a make-believe world playing with your toys, he was already programming.
How come you started programming at seven, Sylvain?
"Either you're a kid and you're going to play outside or you have a computer you can type on it and not understand anything. I did a bit of both, but I kept tapping on a computer when there was no internet."
This ability to learn on his own and decode new systems allowed him to form a state of mind that understands and finds flaws in what he sees. So it's obviously why he started his career in the digital world as a hacker, using his talents in cybersecurity, but also for the video games and network sphere.
In 2011, he discovered the world of the blockchain thanks to Bitcoin (BTC), but it was not until 2014 that he deepened his knowledge while participating in an ICO that, after a few years, collapsed due to its business model. It was the beginning of a great adventure: Sylvain went freelance and started working with Ethereum, but at the same time he discovered ConsenSys.
Two years passed, and while he was reluctant to join a big organisation, he finally let himself be tempted: this choice turned out to be the right one.
"For the two years I've been here it's been great! It's enriching from both a human and a technical point of view. It's a bit like the shower; you um and ah about whether you need to go for one, but once under hot water you don't want to get out."
Sylvain is a true enthusiast who always puts technology first, unlike the majority of people, myself included, who took an interest in cryptocurrencies for the potential economic upside. The set of possibilities that the blockchain can offer is his real drive.
So, that's Sylvain, the Software Developer taking care of the infrastructure for Ethereum 2.0 for Codefi at ConsenSys.
But what is ConsenSys?
Simply put, ConsenSys is a software company at the forefront of innovation. This isn't just a slogan, according to Sylvain: "When I take a week off and come back, I realise that the world of blockchain goes really fast!"
The primary purpose of ConsenSys is to help people and services who wish to use the blockchain in their everyday lives or in their business. It is a decentralised company helping with the advent of blockchain and Web 3.0 that aims to make the blockchain a convenience, i.e. a common consumer product.
As for Sylvain, he says "the blockchain will be a convenience when we hear more about it. You don't bother to explain the internet when you use it regularly."
Can you tell us about the different products offered by ConsenSys?
"We already have Infura and MetaMask, which you can use regularly when you want to test things, to send a transaction for example or to set up automatic programmes. I run nodes at home, but in my daily use I go through MetaMask because it's simple and fast."
But for people who don't know about them, can you give us a quick summary?
"Yes, I can give you a list of the different products offered by ConsenSys:
Infura provides access to the blockchain and IPFS protocol.
Codefi encompasses everything FinTech and blockchain for commercial applications.
Quorum is a permissioned blockchain service. It defines the different rights and uses when different actors are involved in the creation of a solution.
MetaMask is a wallet that can handle all the tokens on the Ethereum blockchain, and acts as an Ethereum mobile browser that connects to and operates Dapps (decentralised applications).
Can you tell us a little more about MetaMask?
One of the blockchain's UX problems is the need to manage your keys and interact with it. To access Dapps, we need funds, and to unlock these funds we need the keys. It is important not to lose them, otherwise the funds are also lost. MetaMask facilitates these processes by allowing users to access their funds through a browser extension and a password. As a more 'user friendly' solution. MetaMask is generally used to trade on different DEX (decentralised exchange) platforms. A mobile version of Metamask has been released to make life easier for users. This is not the only news: MetaMask works with Codefi to offer swaps (exchanges) within MetaMask, so no more liquidity problems. This reduces costs and helps users to benefit from the best available trades by aggregating Uniswap, AirSwap, Kyber, 0xAPI, 1inch.exchange, dex.ag, Paraswap and Totle.
Are you a fan of yield farming?
I've recently gotten into it and I look forward to it becoming more sustainable with the proof of stake of Ethereum 2.0. The incentive aspect will help to attract more new users, I think. To be honest, in my case the financial aspect of the blockchain never attracted me much – even if this attracts others. For me, it goes much further than that in what it can bring us. Crises are pushing for a migration to cryptocurrencies. I am saddened to see that the door must be opened by crises. Nonetheless, any automation that we see in the city, for example a parking barrier, a traffic light or a payment terminal, could be modelled on the blockchain. The emergence of this type of project is not yet substantial in particular because of the problems caused by the price of transaction fees.
People talk about the gas price a lot, is Ethereum 2.0 the solution to our problems? What is ConsenSys' position on Eth 2.0?
Before ConsenSys, I worked with a team that was integrating Eth 2.0 and at that time we started to see people with a high level of expertise enter the ecosystem. It was no longer enough to modify a few parameters, fork the blockchain and create a community, projects needed real changes to protocols. Today, I am constantly working with Eth 2.0 in my daily life, and it puts me on a roller coaster of emotions, from dismay to joy. It's extremely complex, and there are a lot of actors and new information to constantly digest. But to answer your question, the problem of gas charges is a good one, since price hikes only happen when everyone wants to use the Eth blockchain. When there are lots of transactions, the resources in the block to execute them are no longer available. So you have to pay more to get access. By increasing the number of transactions per second (scalability) we will be able to mechanically lower the price.
ConsenSys is one of 10 teams working on Ethereum 2.0. The dynamics during the development for the deployment of Eth 2.0 are oriented to allow easier integration for different companies. To return to Ethereum; right now it's like Bitcoin in 2012. We have a team that specialises in the use of Java. This new protocol leads to many changes: a rewrite of client software, an interaction between different new software and customer access (API).
It is important to understand that there are three teams:
·       The 'research' team that works on scaling technologies with tools such as ZK SNARKs or ZK Roolups, which are multipliers of Ethereum's power. Developers work closely with the Ethereum Foundation.
·       The 'research and implementation' team, basically R&D.
·       The 'pure implementation' team that uses all the knowledge and experiences of the whole group to make new software usable.
A notable difference is that when the product has a retail purpose, all the attention is focused on the UX; whereas for B2B there is this ability to train or integrate directly with the companies concerned. If one of them wants to offer staking to its customers, ConsenSys can pose as an intermediary.
With the arrival of this new consensus, miners who collect transaction fees will become validators, provided they stake 32 ETH. This paradigm shift has already been factored in by the mining industry. Some time ago, one of my colleagues was leaving, and he said, "People don't realise what ConsenSys is doing for the blockchain." This phrase makes perfect sense when we know that some of the Filecoin protocols developed are used for Ethereum 2.0.
Can you explain what Filecoin is?
Filecoin's goal is to offer disk space in exchange for coins. It's a big jump from the InterPlanetary File System, or IPFS, which was more or less a stop-gap, to a much more sustainable solution. Filecoin was released on 15th October and offers a marketplace for people wishing to make their disc space available. But Filecoin does not stop there, the Filecoin token will offer collateralised loans. Looking at the bigger picture, on the one hand we have the execution side with Ethereum, storage with Filecoin, and the filecoin token that will form the bridge to DeFi.
Thank you very much Sylvain for sharing your knowledge with our readers. I think it might help them to understand ConsenSys a little more and its involvement in the crypto space. Ethereum is constantly evolving, with the arrival of Eth 2.0 coming soon. The ecosystem around this project continues to grow, and ConsenSys is a big part of it!
Recevez un condensé de l'actualité dans le monde des cryptomonnaies en vous abonnant à notre nouveau service de newsletter quotidienne et hebdomadaire pour ne rien manquer de l'essentiel Cointribune !
Le trading et l'analyse technique sont mes spécialités depuis 4 ans. Je décortique le marché et vous partage mon expertise.
DISCLAIMER
The views, thoughts, and opinions expressed in this article belong solely to the author, and should not be taken as investment advice. Do your own research before taking any investment decisions.