Creation, Team, Ambitions… All You Need To Know About Ripple (XRP)
There are thousands of different cryptocurrencies that address specific issues. Ripple (XRP) was founded by Jed McCaleb and Chris Larsen, based on the work of Ryan Fugger, who wanted to create something similar to a local exchange system with a clean currency in a decentralised environment. Since 2014, Ripple has focused on interbank trading and has become a solution for streamlining transactions between banks.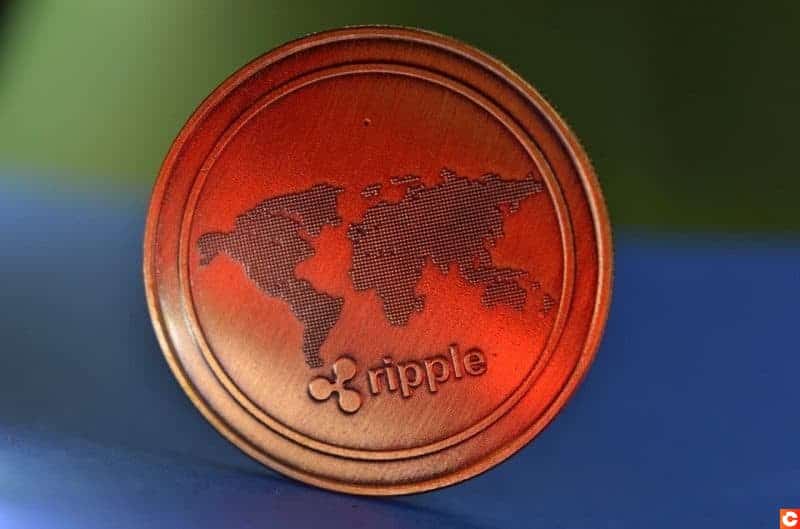 Ripple (XRP) in brief
Its concept
Ripple, also known as XRP, is a digital currency that aims to increase the speed of financial transactions by using the benefits of blockchain. As a reminder, a blockchain is a type of information leger where transactions are validated as a group (block) and then linearly added to the network (chain).
Currently, interbank money transfers are carried out via the SWIFT protocol (a banking processing standardisation network), which, although reliable and secure, is extremely slow. Ripple ultimately wants to supersede this system by replacing it with its technology that guarantees the same level of security while significantly reducing the processing time of transactions.
To achieve this, Ripple uses part of its token (token, unit) XRP to improve transaction speed. The project, although not yet in its final development stage, already has a functional product and collaborates with more than one hundred banks through several of its products, including some well-known names such as American Express or Crédit Agricole.
The Ripple story
XRP, as we know it today, is a cryptocurrency launched in 2012, just three years after the launch of Bitcoin, making it one of the oldest virtual assets in the ecosystem. But its story actually begins long before.
Indeed, the XRP register is based on the Ripplepay transaction protocol developed in 2004 by Ryan Fugger. Building on his interest in this technology, Jed McCaleb assembled a team including Arthur Britto (co-founder of the Polysign project) and David Schwarz (CTO at Ripple and assisting Britto on Polysign) as key developers. He then recruited Chris Larsen, who had already proven to be a great entrepreneur, and between them they convinced Jesse Powell (CEO of Kraken) to invest $100,000 in the project. Once this team of experts was assembled, McCaleb, Larsen and Powell negotiated with Fugger, who agreed to give them control of Ripplepay. McCaleb and Larsen then co-founded OpenCoin in 2012 and began to develop a cryptocurrency.
Fun fact: First called "OpenCoin" and then "Ripple Labs," Ripple renamed itself once again in 2015 to its current name.
What is Jed McCaleb's journey?
Jed McCaleb is a talented entrepreneur and developer who was far from a stranger in the world of cryptocurrencies before founding Ripple.
Here is his journey summarised in a few key points:
He enrolled at the prestigious University of Berkeley in California, but never completed his studies.
In 2000, he launched eDonkey2000, a peer-to-peer file-sharing programme based on the sharing sites eDonkey and Overnet.
In 2006, he was forced to close eDonkey2000 and pay a $30 million fine by U.S. authorities.
In 2007, he bought the domain name Mtgox.com to found a Magic: The Gathering card exchange platform.
At the end of 2010, he transformed this platform into the famous crypto exchange site Mt. Gox.
In early 2011, he sold the platform to Mark Karpelès, who grew it to become the largest bitcoin exchange before it closed in 2014.
In 2011, he began working on the Ripple project until his resignation in 2013 (following an internal dispute).
In 2014, he founded a new cryptocurrency, Stellar, based on Ripple.
What is Chris Larsen's background?
As Jed McCaleb is such a huge figure in the cryptosphere, it is easy to leave Chris Larsen in the shadows. However, if the Ripple project is such a success, it is largely thanks to its exceptional entrepreneurial expertise. Indeed:
He earned his MBA from Stanford Business School in 1991.
From 1992 to 1997, he worked on E-loan, a comparison site for non-intermediated loans for individuals. He managed the company until 2005, with a total loan activity of $18.9 billion, before selling it to Banco Popular.
He created Prosper Marketplace in 2005, a kind of eBay for personal loans. He resigned as CEO in 2012.
In 2012, he co-founded OpenCoin, the parent company behind the Ripple project, and became its CEO. The company would be renamed Ripple Labs in 2013 and simply Ripple in 2015.
What are the roles of Jed McCaleb and Chris Larsen in Ripple (XRP) today?
Jed McCaleb no longer has an active role in Ripple. He left the company in 2013 to focus on other projects. In 2018, he even received an award from the New York Times as one of 10 people who had a definite influence in the world of digital assets and blockchain as a whole.
However, this does not mean that he has parted ways with his XRP tokens. For the record, at the end of the huge bull run that peaked in January 2018, Jed McCaleb was considered the 40th richest person on the planet based on his assets, mostly in XRP, estimated at $20 billion.
Chris Larsen is the executive chairman of Ripple Labs, the company that contributes the most to the development of the verification consensus behind the ripple cryptocurrency.
The rest of the team to date
As we have seen, Ripple journey has gone through many adventures on its journey to becoming the multi-product company with the controversial token that we know today (to find out why, click here). This atypical life seems to be a common point with its founders, for better or for worse.
Talented developer Arthur Britto who is claimed to have co-founded Polysign in 2017 and is said to work on it in parallel with his work at Ripple. Britto and his activities are shrouded in secrecy because he wants to be very discreet and has never shown himself in public. A more certain point, however, is that David Schwarz collaborates with him on Polysign, which promises to lead to an interesting result. However, not everything is always rosy. As for Ripplepay creator Ryan Fugger, unfortunately, he was unable to evolve his project because of the chronic fatigue syndrome he suffers from, which is increasingly reducing his daily work time.
Although he didn't start the Ripple adventure at the same time as the founders of the latter, Brad Garlinghouse is carrying the project to great new heights, and gives remarkable visibility to the cryptocurrencies as well as to the company he runs. Despite his faults, the least that can be said about him is that his ambition is far from lacking.