John McAfee: suicide or murder? A tumultuous portrait of a legend
Very sad news reached us last night. John McAfee, who was in the midst of a legal battle to fight back against extradition to the United States, has died. The final verdict of the Spanish courts against him has resulted in a macabre end for the creator of the famous antivirus programme.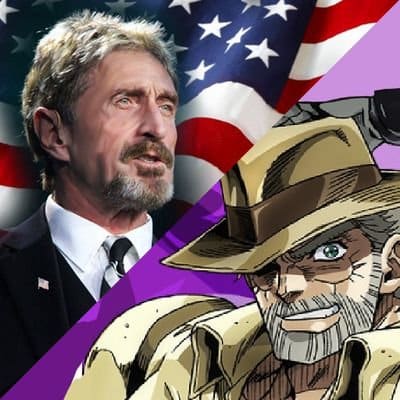 With John McAfee's death, a chapter closes
It was on the night of 23rd June that John McAfee's body was found in his cell, only a few hours after the Spanish courts announced that he would be extradited to the United States, where he faced a sentence of 30 years' imprisonment.
The highly controversial millionaire had been held in the Brians 2 prison in Barcelona since his arrest in October 2020. He faced the threat of extradition to the US for tax evasion, in part for concealing millions of dollars obtained during his crypto promotion operations.
According to the Department of Justice of Catalonia, everything seems to point towards suicide.
Prophetic-looking tweets
John McAfee saw this extradition attempt as a way for the US to silence the political enemy he represented after his accusations of corruption in the government.

He had gone so far as to draw a parallel with the Epstein case with a tweet explaining that he was living a happy life in prison and that, if he were to be found hung in his cell, it would not have been by his own hand.
This is a very strange statement that seems to take on a whole new meaning today.
He also claimed to be able to reveal sensitive data that could have harmed the interests of the US government and the CIA:
Claiming to be persecuted by American agents and sent death threats, he had gone so far as to tattoo a message on his arm in the event that someone wanted to pass off his death as a suicide. Cruel irony or well-founded fears?
All these once whimsical tweets are now finding a new and morbid echo. Was he really a target as he claimed, or only the deranged man that the world saw him as?
Did he really commit suicide following the announcement of his extradition, the greatest of his fears, or perhaps even out of spite against the US governement?
All these questions will remain unanswered. He takes these mysteries to his grave.
A big fan of JoJo running for president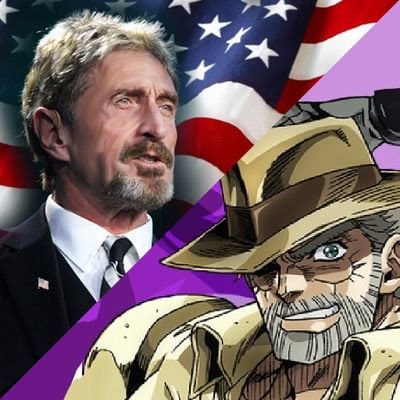 "OH MY GOD!" – as McAfee's favourite manga character would say. John ran twice for President in 2016 and 2020 and dreamed of winning the elections with references to JoJo. He defined himself by his great passion for Hirohiko Araki's cult manga, Jojo's Bizarre Adventure.
Often identifying with the famous character Joseph Joestar, using it as a profile picture on Twitter, he had an unbounded admiration for the manga advocating freedom and adventure, the same values that defined him.
A divisive and colourful character
He was known in particular in the crypto space for his fantasies and his scam promotions, using his influence to manipulate trusting investors with his crazy forecasts.
One example that comes to mind is his famous eccentric tweet, in which he swore to eat a penis if Bitcoin (BTC) did not reach $500,000 by the end of 2020. This promise gave rise to the creation of a dedicated site for the famous 'dickening' event.
But his crypto escapades ultimately represent only a tiny part of the character and his thousand lives.
Between corruption, the possession of weapons, the consumption, manufacture and trafficking of drugs and more, the list of his feats is as long as it is impressive. The famous computer engineer and pioneer of antiviruses fulfilled his fantasy of an eventful life of a great delinquent, driven by adventure and freedom.
One could not think of a better tribute to John McAfee than his last video when he was still at large, a provocative clip perfectly representing the character:
Engineer and computer pioneer, tortured millionaire, drug dealer, passionate fan of Jojo, unscrupulous crypto-guru and persecuted revolutionary turned ruined tax evader. He really went through every possible and imaginable stage of humanity. Whether you love or hate the character, few can boast of having had such a tumultuous life as the fascinating John McAfee.

He may have been one of the most eccentric and outrageous characters in the crypto world, but he was also an integral part of the landscape and pop culture of our industry. His death makes us almost nostalgic for the crazy era of the master of the 'pump and dump'.

The man has left us, but the legend is alive and well.