US ex-Treasury Secretary says "it's fine" to buy Bitcoin (BTC)
It's a matter of personal choice whether to invest in Bitcoin, provided appropriate regulations are in place, says US ex-Treasury Secretary Steven Mnuchin.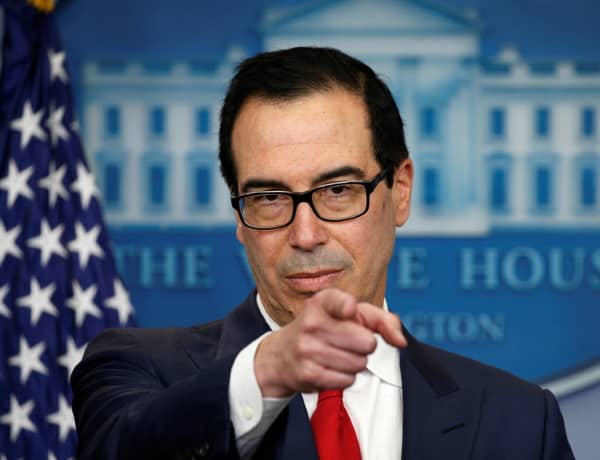 ​Mnuchin: Buying Bitcoin just like any other asset is "fine"
In his interview to CNBC Mnuchin claimed that, although not wanting to have Bitcoin in his portfolio, he holds nothing against the idea of others choosing the cryptocurrency.
"If people want to buy Bitcoin as a substitute, no different from buying gold or some other asset — it's fine," said Mnuchin.
The key point, according to the former Treasury Secretary, is to make sure that crypto assets are regulatory-compliant, including complying to The Bank Secrecy Act (BSA), which is aimed at preventing money laundering.
Mnuchin claimed that his view on Bitcoin "has evolved a little bit, but it is pretty consistent". Back in 2019 he was dismissive of Bitcoin and adamant to stop the first cryptocurrency from becoming the equivalent of Swiss-numbered bank accounts, which imply higher levels of confidentiality. He then added that "very, very strong" regulations must be introduced to avoid risks to the financial system.
Moving towards crypto regulation
In his interview with CNBC, Trump ex-Treasury Secretary noted that the Office of the Comptroller of the Currency (OCC) within the United States Department of the Treasury had given banks the green light to offer cryptocurrency custodian services in order to make sure it was happening in the regulated world.
Mnuchin also pointed out that "the underlying technology of blockchain is pretty incredible," and predicted it would become incrementally more widespread, particularly in fintech and finance.
A positive move can be seen in the decriminalisation of the crypto market. The crypto transaction volume linked with criminal activity amounted to 2,1% in 2019 (worth $21.4 billion or ~ £15,5 billion, according to Chainalysis). But in 2020 in dropped to 0,34% ($10 billion or ~ £7 billion).
In July another step in the direction of ridding of the illicit use of cryptocurrencies was taken as the Financial Crimes Enforcement Network (FinCEN) within the United States Department of the Treasury announced hiring the first-ever Chief Digital Currency Advisor.

The positive changes that have taken place on the cryptocurrency market in the last couple of years have persuaded Mnuchin to change his stance on Bitcoin (BTC), but there is still a long way to go to ensure its regulatory compliance satisfactory to the official.