Bitcoin (BTC), Cryptocurrency and Gambling – Correlation
Thu 12 Aug 2021 ▪ 13h02 ▪
6
min read — by
Bitcoin (BTC) and cryptocurrency have made their way into mainstream consciousness in recent years. Today, even the most popular figures in the world invest in crypto and many industries have incorporated the use of Bitcoin and other cryptocurrencies when making transactions. Among these industries is the online casino industry.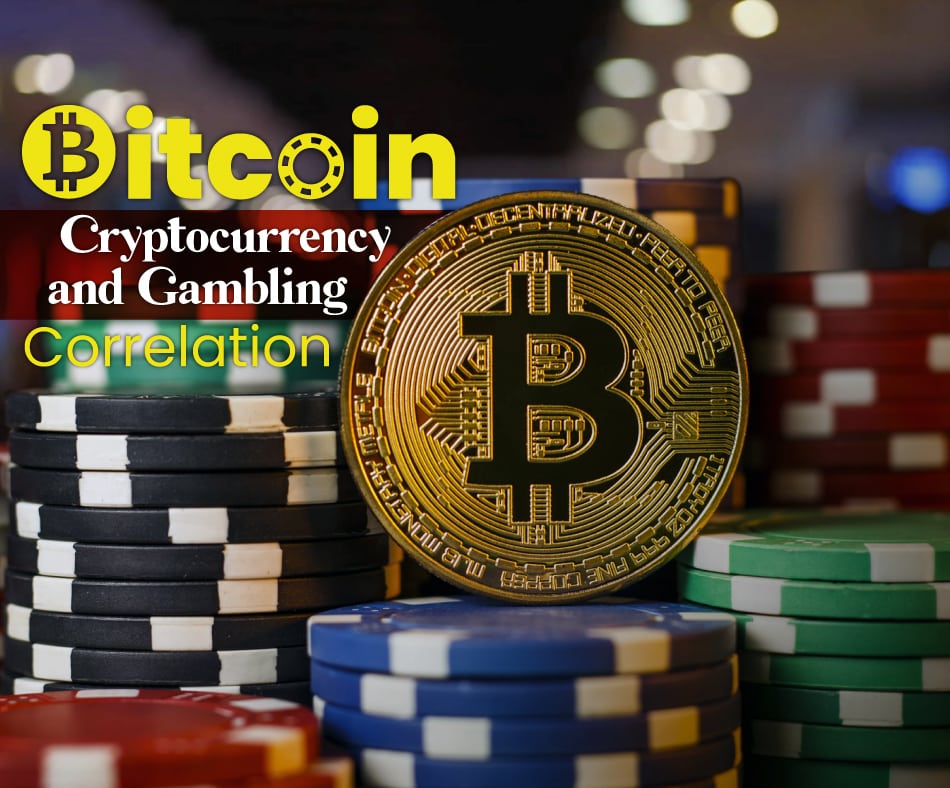 We are currently seeing a surge in crypto casinos all over the world. Now, gamblers can use Bitcoin and other cryptocurrencies to gamble at online casinos just as they would with fiat currency. But there is so much more to crypto and gambling than meets the eye.
This article was written in partnership with Bill Brown of Clovr.com
An Overview of Bitcoin and Cryptocurrency
Bitcoin is a cryptocurrency that was invented in 2008 and was put into wide circulation in 2009. Cryptocurrencies such as Bitcoin are decentralised global digital currencies – basically an electronic form of money. Unlike regular currency, cryptocurrency is a virtual currency secured through cryptography, which means that it is almost impossible to counterfeit.
Cryptocurrencies generally utilise blockchain technology, which is a database that contains a ledger of transactions that cannot be changed nor hacked. One of the main features of cryptocurrencies is that they are usually not regulated by any institution, and are thus free from interference by authorities.
Cryptocurrencies such as Bitcoin are kept on a digital device, and you can use them virtually anywhere with internet access. You may use crypto to purchase goods and services online or you may send to, or receive from, other people.
How Cryptocurrency Trading Works
Apart from being a form of currency, crypto is also a popular investment option. You can buy cryptocurrencies at their present price and sell them for a profit if the cryptocurrency's price appreciates after a period of time lapses.
This has also made it possible for people to engage in crypto trading. Cryptocurrency trading involves speculating on the future values of different cryptocurrencies and buying and selling these currencies through an exchange. Because of the volatility of cryptocurrencies, prices can change dramatically within short periods of time as opposed to stocks or other investments where changes are usually less drastic over short periods.
When crypto trading, traders could either buy a cryptocurrency if they expect that it will rise in value, or sell if they think that it will decrease in value. If a trader speculates correctly, they make a profit. Furthermore, crypto trading allows the use of leverage, which means that it is possible for traders to magnify both their gains and their losses.
Similarities Between Gamblers and Crypto Traders
Crypto trading has become a viable source of income for some, though the risks involved may give some people the perception that it is similar to gambling. However, crypto trading, unlike gambling, is not a purely luck-based proposition, as successful crypto traders are able to use analytical tools that can help them determine the movement of prices and make correct trades.
Nonetheless, because of the similar element of risking money for the opportunity to make a profit, a study has found that a gambling addiction may be linked to cryptocurrency trading. The experts behind the study claimed that overly-enthusiastic cryptocurrency trading may be considered a highly addictive form of gambling.
The study shows that crypto trading attracts people with underlying gambling problems. Because of the potential to get rich quick through cryptocurrency trading, it's natural for it to attract people who are already in pursuit of that goal, such as compulsive gamblers.
Thus, there appears to be a line where crypto trading, despite being a legitimate investment, can become a gambling problem. Traders are advised to be aware of possible symptoms of a gambling problem in order to seek help and avoid devastating losses in the crypto market.
How the Crypto Market Affects the Gambling Industry
There is a clear intersection today between the crypto market and the gambling industry. Apart from emerging crypto casinos, even 'traditional' online casinos and sportsbooks now allow the use of cryptocurrencies for making transactions.
Gambling with cryptocurrency has been gaining popularity due to numerous reasons, such as easier and quicker transactions, increased privacy and safety, and better bonuses and promotions in crypto casinos than in traditional online casinos.
In light of this, although there is (as of yet) no official data, it may be possible that cryptocurrency is introducing more people to the gambling industry. Crypto traders or investors may look to widen their opportunities by not only trading crypto, but also by gambling with crypto. On the other hand, online gamblers may also be introduced to crypto trading.
The Future of Gambling in Light of Crypto
The online gambling industry is continuously growing, and its incorporation of cryptocurrency is sure to play a part in its growth in the coming years. It's a possibility that online gambling becomes dominated by crypto casinos.
Even land-based casinos may soon implement the use of crypto in their establishments. In fact, gaming company International Game Technology has filed a patent for the use of crypto in slot machines, and we might see other gaming companies and reputable casinos follow suit.
Recevez un condensé de l'actualité dans le monde des cryptomonnaies en vous abonnant à notre nouveau service de newsletter quotidienne et hebdomadaire pour ne rien manquer de l'essentiel Cointribune !
Derrière la signature générique « Rédaction CT » se trouvent de jeunes journalistes et des auteurs aux profils particuliers qui souhaitent garder l'anonymat car impliqués dans l'écosystème avec certaines obligations.
DISCLAIMER
The views, thoughts, and opinions expressed in this article belong solely to the author, and should not be taken as investment advice. Do your own research before taking any investment decisions.