Bitcoin (BTC): Elon Musk gets what he wanted
Sun 23 May 2021 ▪ 11h00 ▪
8
min read — by
Bitcoin is down 40% from its ATH. Who is responsible for this bloodbath? Elon Musk. Rocketman's betrayal even managed to overshadow the fact that inflation now stands at a 30-year high in the USA.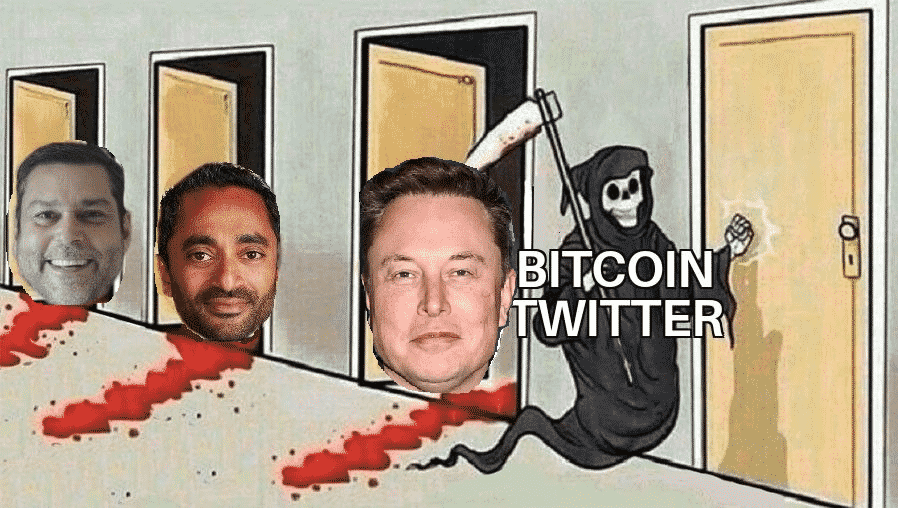 Market manipulation, insider trading
These are the words that naturally come to mind. This isn't even Elon Musk's first rodeo. The SEC had already fined him in 2019 for manipulating Tesla's stock price through a series of tweets based on thin air. We can console ourselves with the knowledge that Tesla's stock is also down 36% off its ATH.
Elon will have to answer for this. Aside from his followers and scavengers who take advantage of his pump and dumps to line their pockets with the money of the less experienced, his rampant tweeting no longer amuses anyone. Over the course of a weekend, the billionaire went from crypto hero to outcast and megalomaniac.
The fiasco began on 9th May after conceding live on TV that Dogecoin (DOGE) was a "scam". The outcome? A 50% drop in a few days. I suppose the fortune he amassed on the backs of cheated fans will go towards sending his big toys to the Moon by 2024.
The CEO, sorry, "Technoking" of Tesla then gave himself a payout in bitcoin by announcing that his firm had stopped accepting BTC out of environmental concerns. The tweet caused a 25% drop, just as we were eyeing a move back above $60,000.
At around $49,000, Musk again rammed Bitcoin by threatening to sell Tesla's $1.3 billion (£920 million) in BTC. Once the price hit $42,845 (61.8% on the Fibonacci retracement), Elon tried to turn the tide with this tweet:
It is now difficult NOT to see that the richest man in the world has always sought to control Bitcoin and use it as a tool of influence. Who would have thought we should have been wary of a billionaire who wants to connect our brains to chips with his company Neuralink…
Divide and conquer
Some will argue that Elon may not want to hurt Bitcoin since Tesla owns around 4,000 BTC. Big mistake!
The $1.3 billion stake Tesla holds represents only 0.1% of all bitcoins in circulation and not even 1% of Elon's personal fortune. Losing that money wouldn't even make him wince. That being said, this bet on bitcoin has proven to be a profitable one, not only for him, but also for bitcoin itself, as its price did initially increase by 70% on Tesla's purchase announcement.
Billionaires, however, are not the type to give out free gifts… In fact, Elon has personally benefited greatly from this huge free publicity stunt. There are three concrete gains for the SpaceX guru:
·        Great PR
·        Earning a favour from bankers who want to halt Bitcoin's rise
·        Pushing back on China, which has been putting pressure on Tesla as of late (China sees bitcoin as a way to weaken the dollar as an international reserve currency)
It's hard to accuse Elon of wanting to control the price of BTC since he owns it himself. Yet, taming Bitcoin with his tweets would make him the muse of central bankers, which can yield far more benefits than simply HODLing bitcoin.
Do not forget that Bitcoin, as a budding new global currency, may soon replace the petrodollar, which is way more important that whatever Tesla's bag is worth. It is certain that the powerful will keep Elon in his throne if he manages to sink Bitcoin.
Tesla and Elon owe their fortunes to central bankers and their money printers: let's not forget that Tesla is only able to make a profit through state subsidies…
Similarly, his growing interest in the 'memecoin' DOGE and his attempt to revive the block size debate have removed any ambiguity: the arch-billionaire wants to hurt Bitcoin, full stop.
Unfortunately for him, his stance is untenable. The debate was decided a long time ago and the fork has already taken place (Bitcoin Cash – BCH). The transaction fee problem is fixed by layer-two solutions such as the Lightning Network or Liquid (Blockstream).
To finish on Elon Musk, the billionaire bull in a china shop, let's remember that every time Bitcoin fends off an attack, the whole world ends up marvelling at its invulnerability. Bitcoin is on sale, so take advantage of it! Buy the dip! Especially as inflation is fast approaching…
Inflation is coming
Very interesting things happened while Elon was acting as a distraction. First, the dollar index fell back below the psychological level of 90. We are only a few steps away from the low of 2014. This heavy drop in the greenback bodes well for Bitcoin, as we must not forget that it takes two to tango in the BTC/USD pair.
The latest inflation figures are another reason to be optimistic in the medium to long term. Prices in the USA are currently rising at a rate of 4.2% per year. Setting 2008 (the year of the subprime crisis) aside, inflation is at its highest level in 30 years! The price at the gas pump is above $3 (£2.11) per gallon, its highest since 2014.
Just check out US Google searches for "prices going up":
We are heading straight for double-digit inflation. It should be no surprise, as this is what has happened every time the money supply has increased by more than 20% in a single year:
Things are even worse in Europe, where, in addition to inflation which is expected to soon exceed 3% per year, negative interest rates have been introduced for bank accounts… Every day, it becomes harder and harder to withdraw your money without paying the predatory banks. Surveillance and racketeering capitalism is stepping in to control every aspect of our lives.
Another big news story that has been stifled by the fighting in Palestine: the ECB is preparing to change its mandate to let inflation slip above 2%. In doing so, Christine Lagarde is following in the footsteps of the Fed, which already made this official last year.
Among other new bullish news for the BTC, American finance titan Stanley Druckenmiller said the dollar could lose its status as an international reserve currency over the next 15 years. He was also very concerned about inflation:
"I don't think there has been a greater engine of inequality than the Federal Reserve Bank of the United States in the last 11 years […] Inflation will intensify at a crazy rate… No other class will suffer as much from the collapse to come as the poor!"
Helicopter money is not going to fix anything in the United States… The Democratic fringe is calling for a universal basic income and a fourth round of "stimulus checks" is in the pipeline. I really get the impression that the Government is trying to print debt out of existence…
Bitcoin has a very bright future ahead of it in the face of these tsunamis of fiat currency. Don't miss this great sale on the price of Bitcoin to load up your bags…
Recevez un condensé de l'actualité dans le monde des cryptomonnaies en vous abonnant à notre nouveau service de newsletter quotidienne et hebdomadaire pour ne rien manquer de l'essentiel Cointribune !
Hi! Привет! Salut ! Je m'intéresse à deux choses : la crypto et les langues. Je suis donc heureux de faire partie de l'équipe multinationale du CoinTribune, où je peux partager mes connaissances de la crypto avec des gens des quatre coins du monde – l'un article après l'autre.
DISCLAIMER
The views, thoughts, and opinions expressed in this article belong solely to the author, and should not be taken as investment advice. Do your own research before taking any investment decisions.