Bitcoin (BTC), Ethereum (ETH), Axie Infinity (AXS), Quant (QNT) – 4th October 2021
Mon 04 Oct 2021 ▪ 10h58 ▪
7
min read — by
Today is Monday, 4th October, and this is Cointribune's Crypto analytics. You will learn about everything that's been going in the market, and also what to expect next in our new article! If you'd like to read the previous instalment, please follow the link. Off we go!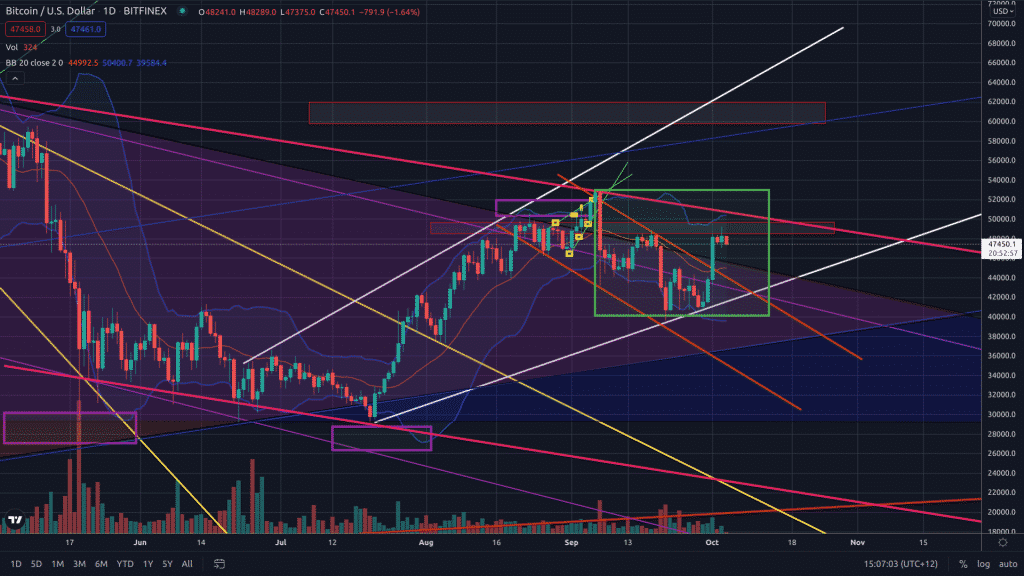 Bitcoin
Saturday and Sunday saw Bitcoin struggling to gain a foothold above $48,000. The first cryptocurrency has already repeatedly taken this milestone, but buyers have lacked the strength to go higher. Currently, BTC is ranging at $47,500, gaining strength and forming a new support zone. The bears can still push the buyers lower, but globally this move will still remain within the triangle we have been analysing in recent weeks and the "inverse head and shoulders" pattern that is forming right now.
Locally, a lot now depends on whether the bullish momentum will be enough to consolidate above the current resistance. In a negative scenario, the first cryptocurrency will make another downward spiral. In case of a positive outcome, we will reach $50,000 rather quickly. White broadening trading channel clears the way up to $60,000.
Globally, the picture for BTC hasn't changed. We're still moving within a triangle, where a bull wedge is being formed. This formation is built by alternating price movements from support to resistance and back within a descending narrowing channel. In fact, it resembles a global accumulation followed by a breakout from the pattern through a powerful pump.
The closest support for us is the $45,000 level. Other round numbers don't have a strong potential to contain the bears, as we passed these values almost in the same breath. To create a resistance zone, bulls and bears will trade with each other until they find an optimal support point for both camps.
Ethereum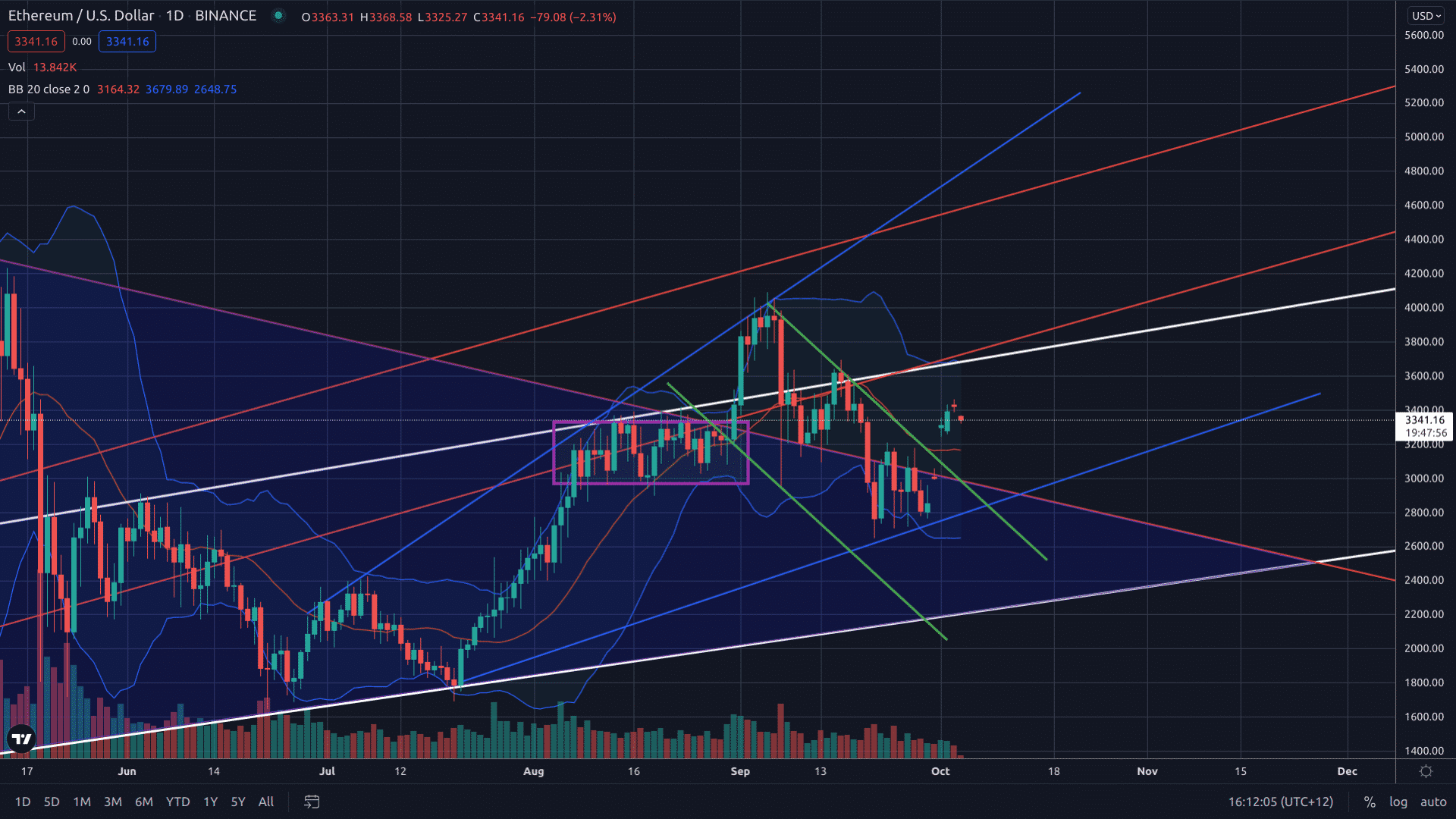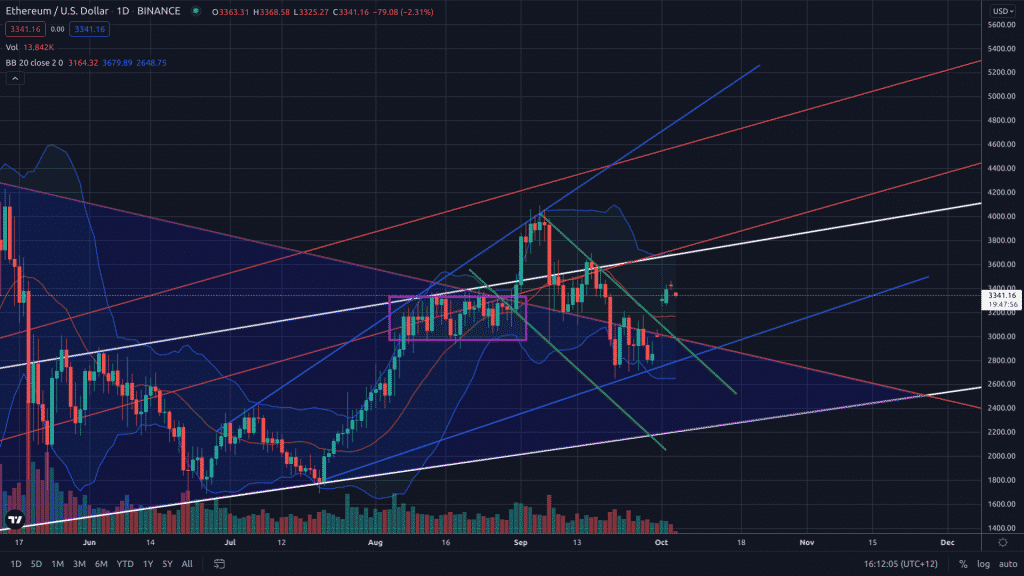 Ethereum continues to move after the first cryptocurrency. Plans to move to ETH 2.0, transaction fee burning – none of this has given the second most capitalised cryptocurrency any incentive to stand on its own. At the time of writing, ETH is trading near $3350.
The same inverse head and shoulders, the same broadening trading channel. Globally, the largest altcoin continues to duplicate BTC's moves, which is why it is safe to say that Ethereum, on a broader scale, should be expected to grow.
However, US politicians have still not been able to come to a decision on raising the debt ceiling. Of course, many experts don't even doubt that the bill will be passed, but right now, while the decision is still not announced, an atmosphere of uncertainty is being created in the market, meaning that cryptocurrency prices could change dramatically in either direction.
It's known that the US default is officially set for 18th October. If the limit is not raised before the deadline, financial markets will react with a serious correction, which will also lead to a collapse of the cryptocurrency market.
Like the first cryptocurrency, Ethereum is under pressure from the global downtrend line, which originates at the asset's last all-time high. To get rid of this pressure, ETH needs to return to $4100 and break higher. Then the momentum will change, and the second most capitalised cryptocurrency will change its trend.
Fear and Greed Index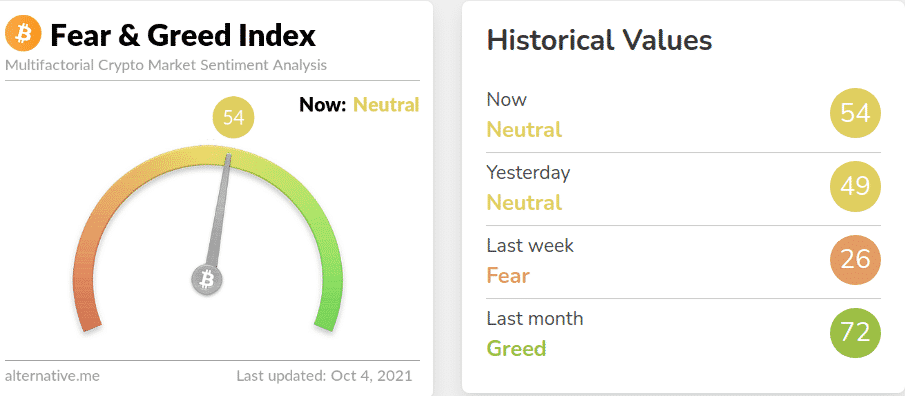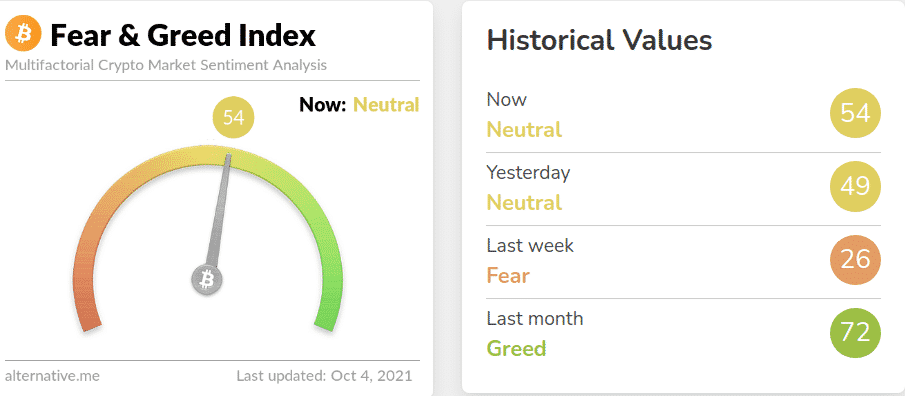 The Fear and Greed Index is dangling in a zone of uncertainty. Retail players are hoping for continued gains, but the fact that Bitcoin has failed to break above support and financial markets are on the brink of a cliff in the face of events in the US, is causing many to think the worst.
On the other hand, if the US debt limit gets raised, it will lead to increased optimism in the markets, which will have a positive effect on cryptocurrencies as well. So, now might be the last chance to buy in before the upcoming rally.
I don't want to reduce the overview to a handout of financial recommendations, but personally I think that the odds of the debt ceiling increase are not even 50%, but somewhere around 75%. However, there's still enough time before the outcome of this story, so I suggest focusing first on the bulls' strength in BTC. If we take hold above $48,000, positive sentiment will prevail on the market again, which will postpone further whale manipulations until the pressure from buyers weakens enough to suggest that the current price limit is reached.
Top 10 altcoins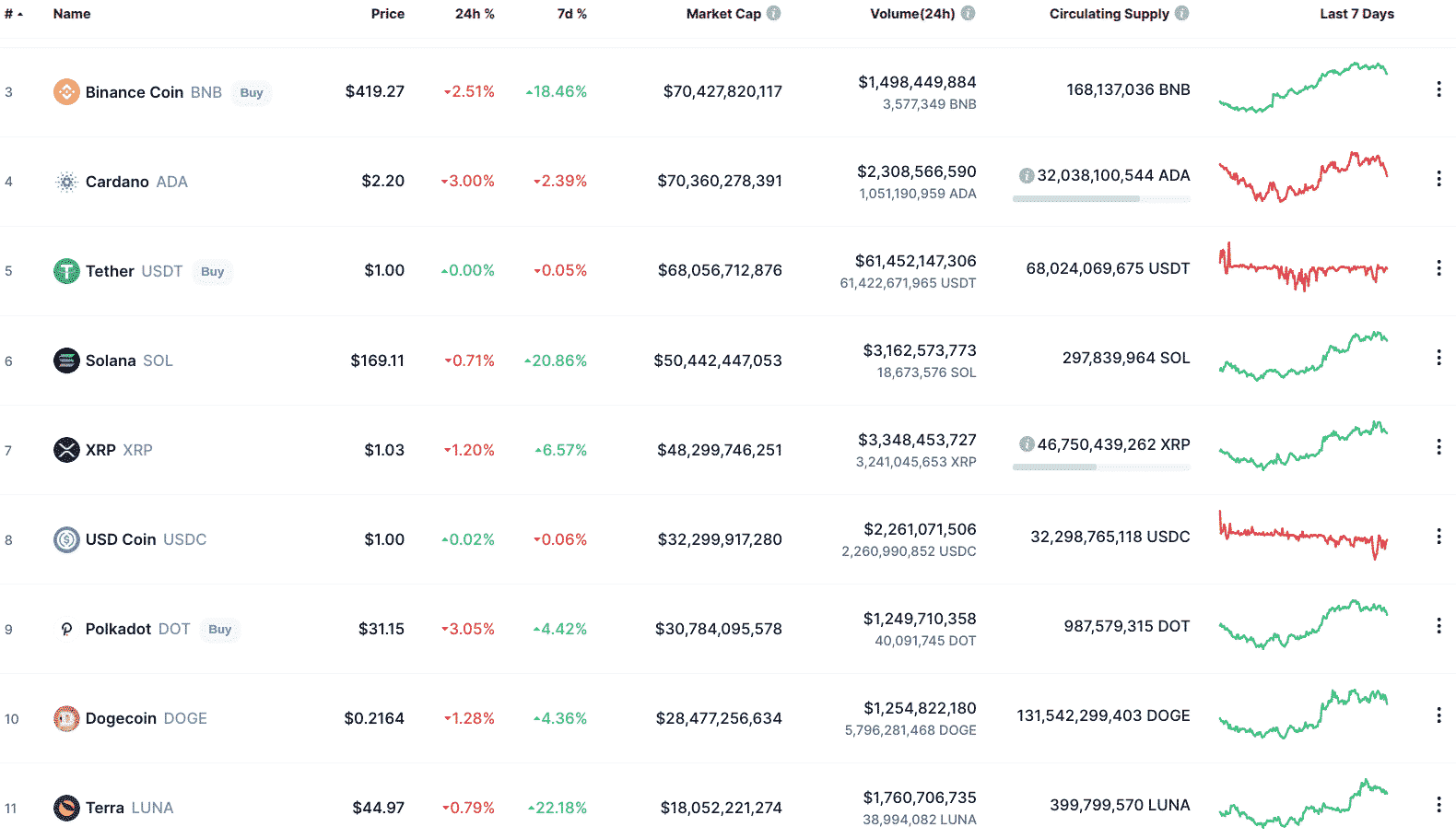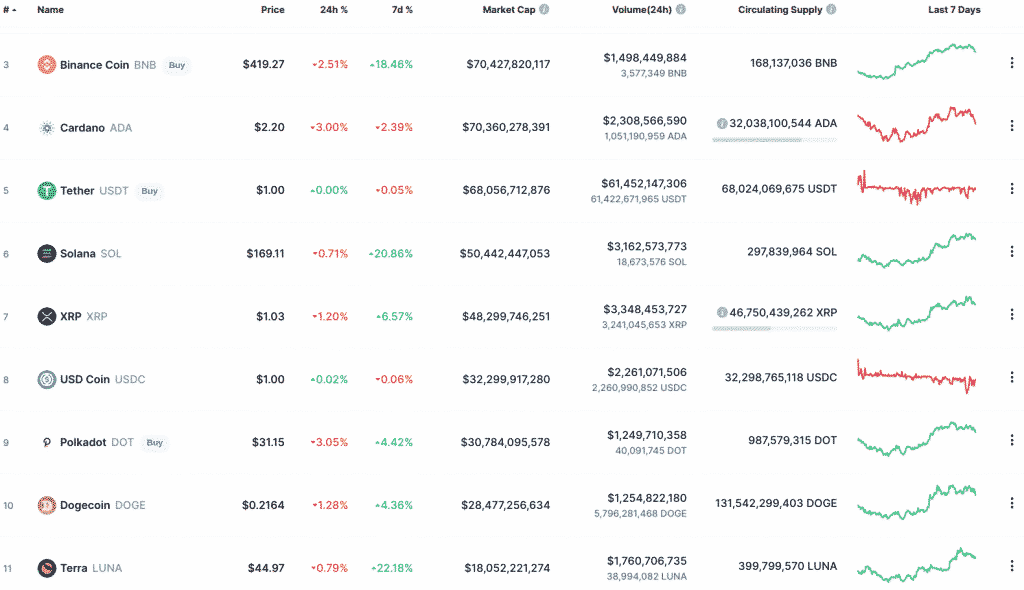 Bitcoin is assaulting resistance. Due to the uncertainty of the outcome, the top ten altcoins are holding tentatively and starting to give up little by little.
However, this is quite a common occurrence, so there's nothing to worry about. In case BTC will consolidate above $48,000, alternative cryptocurrencies will jump up as well. So, any drawdown of altcoins at this stage is a good opportunity to add them to your portfolio.
Among others, Binance Coin (BNB), which knocked Cardano (ADA) out of third place in the ranking, deserves special mention.
Axie Infinity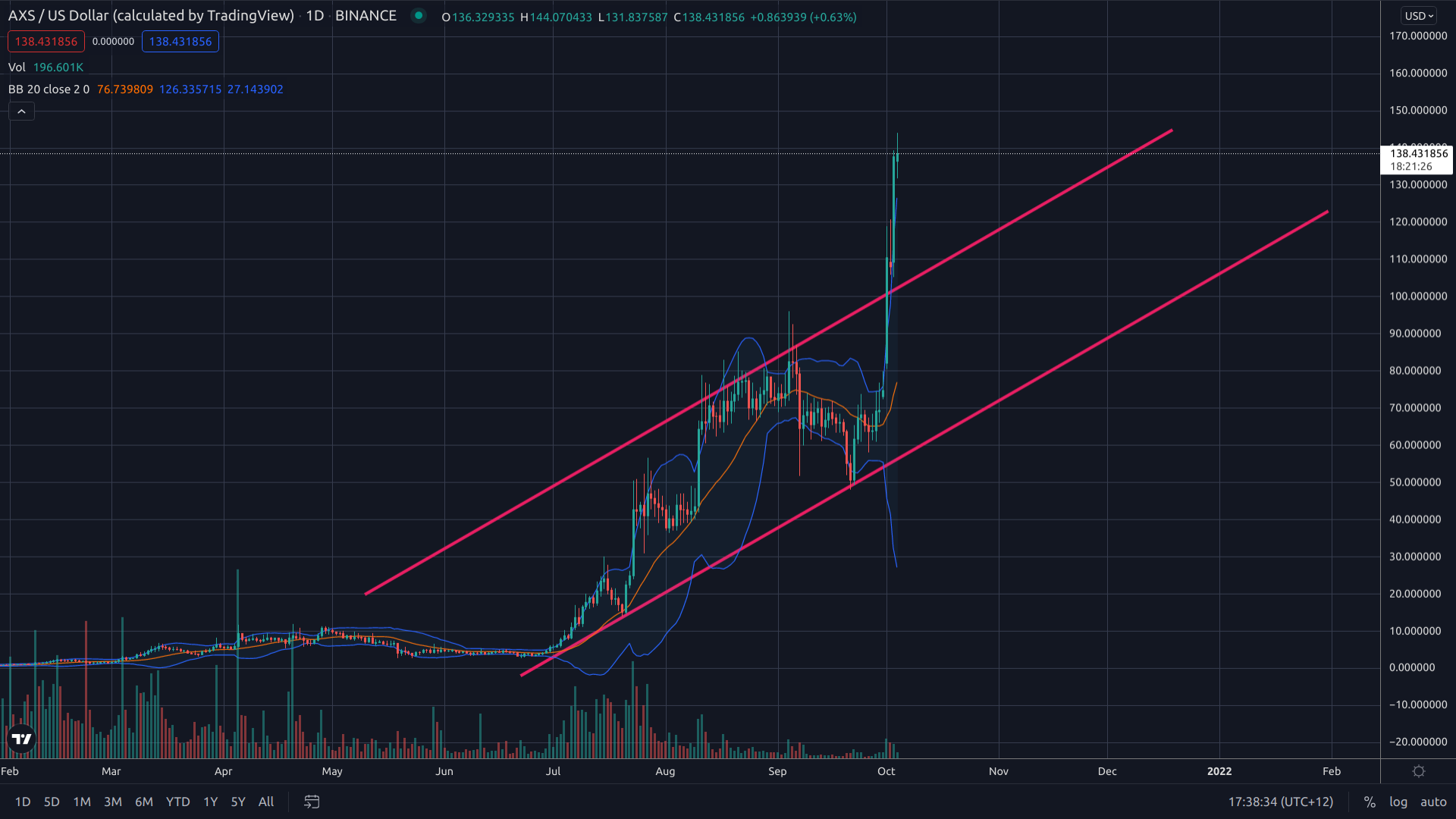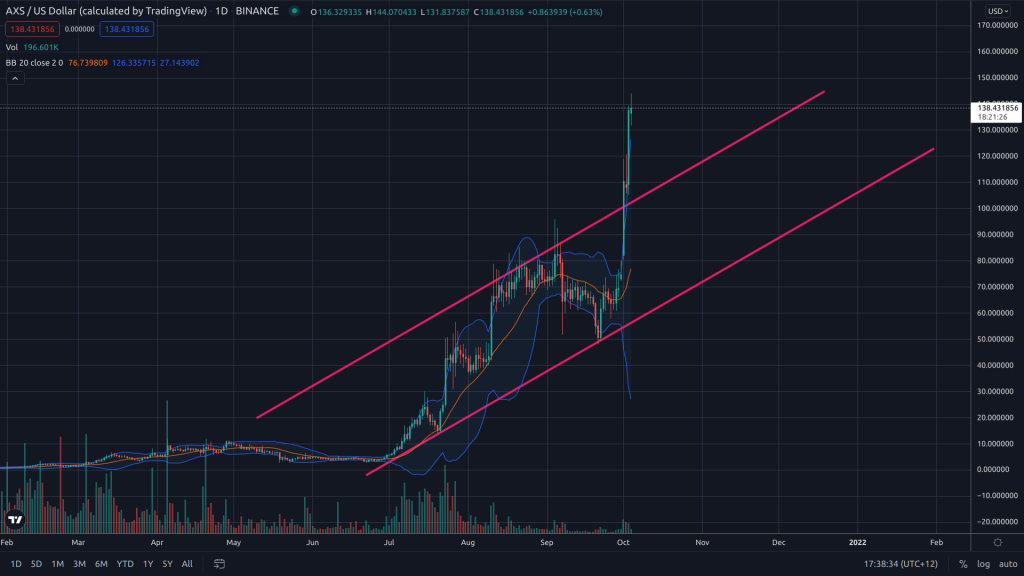 Axie Infinity is once again the leader among the top 100 altcoins. In the last 24 hours, this asset has added almost 30% of its price. In a week, this figure has already exceeded 100%.
Quant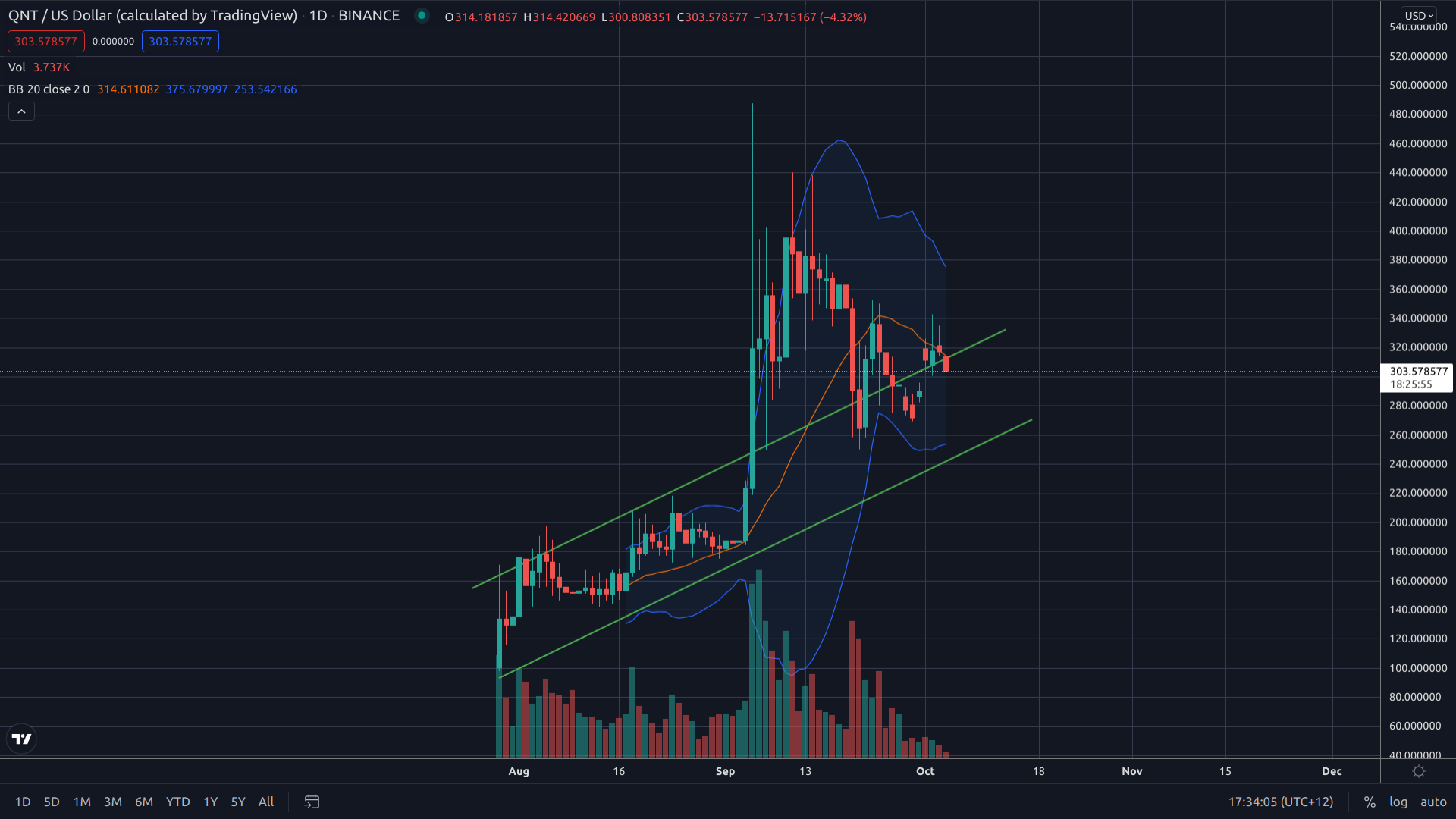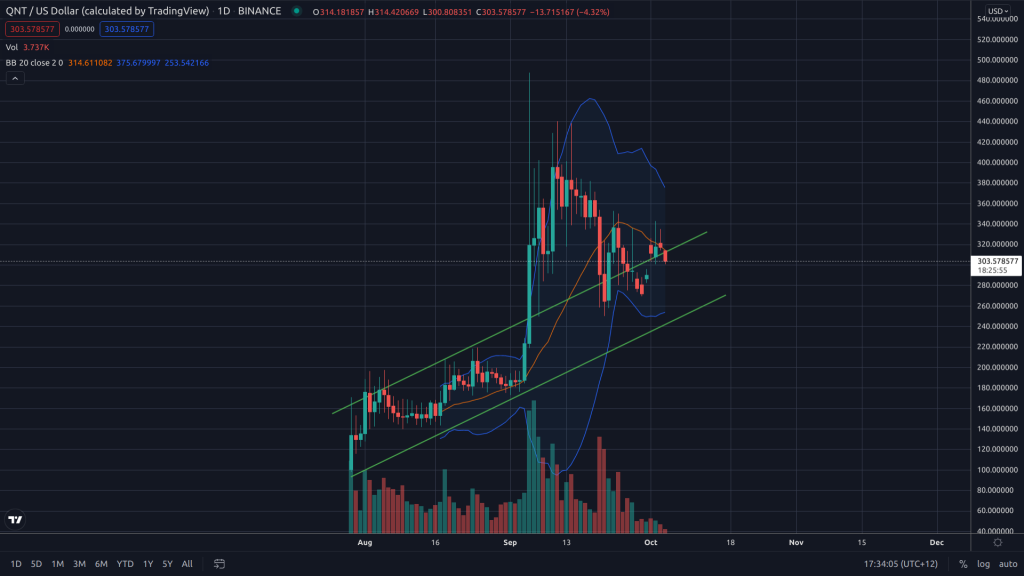 The loser of the day is Quant. The asset has already brought its holders about 8% loss and it doesn't look like the decline will stop there.
It's now critical for the cryptocurrency market that Bitcoin holds above the $48,000 level. However, uncertainty over the US debt ceiling could eventually result in a major market dump, which would also impact digital assets negatively.
Don't neglect risk management and don't forget stop-loss orders.
Recevez un condensé de l'actualité dans le monde des cryptomonnaies en vous abonnant à notre nouveau service de newsletter quotidienne et hebdomadaire pour ne rien manquer de l'essentiel Cointribune !
Photographe, Vidéaste, webdesigner et enfin rédacteur pour CoinTribune: l'image, le digital et la blockchain sont mon dada.
DISCLAIMER
The views, thoughts, and opinions expressed in this article belong solely to the author, and should not be taken as investment advice. Do your own research before taking any investment decisions.