Bitcoin (BTC), Ethereum (ETH), SHIBA INU (SHIB), dYdX (DYDX) – 5th October 2021
Tue 05 Oct 2021 ▪ 10h57 ▪
9
min read — by
Today is Tuesday, 5th October, and this is Cointribune's Crypto analytics. You will learn about everything that's been going in the market, and also what to expect next in our new article! If you'd like to read the previous instalment, please follow the link. Off we go!
Bitcoin
Monday ended with Bitcoin in a strong upward move, with the first cryptocurrency hitting the $48,000 level and then peaking at $49,000. At the time of writing, BTC is trading near $49,300.
The move was a welcome development, giving retail players a bit of hope for further growth. At this stage, Bitcoin is actively trading in a range between $49,000 and $50,000, an area of sustained resistance for the bulls. Until it passes the $52,000 to $53,000 range, the first cryptocurrency will still be under pressure from the downtrend. So, it will be possible to breathe freely only after this key level for the whole market is overcome.
It doesn't look like the bulls have exhausted their forces, so there is a high probability of capturing the $50,000 zone soon. Against this backdrop, many analysts have started to publish forecasts describing a bullish scenario for both BTC and altcoins. Although the latter are mostly cautious in the face of the biggest digital asset's strong move, freezing at every significant change in BTC's value and only gaining in value when Bitcoin begins to linger at one level for a long period of time.
A pullback still cannot be ruled out as part of this move. Right now, the worst of possible drops seems to be a return to $45,000 and in the best of negative scenarios, we'll simply return to $48,000.
However, the market is bullish. So, predicting a collapse now is too premature. For that, we need to finish the battle over a thousand of price first and try to consolidate above $50,000.
Cointibune has been optimistic about Bitcoin from the beginning, so, excluding only minor collapses, we kept pointing out that BTC still has high potential for further growth. Even when many others were already starting to predict the beginning of cryptocurrency winter.
Globally, the picture for BTC hasn't changed. We're still moving within a triangle, where a bull wedge is being formed. This formation is built by alternating price movements from support to resistance and back within a descending narrowing channel. In fact, it resembles a global accumulation followed by a breakout from the pattern through a powerful pump.
The closest support for us is the $45,000 level. Other round numbers don't have a strong potential to contain the bears, as we passed these values almost in the same breath. To create a resistance zone, bulls and bears will trade with each other until they find an optimal support point for both camps.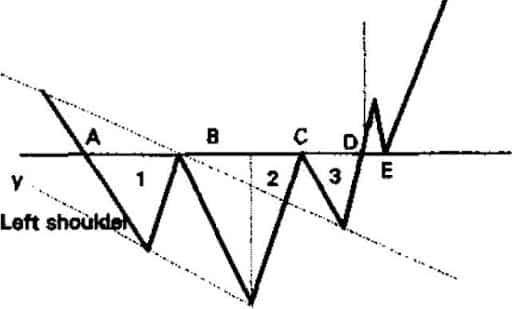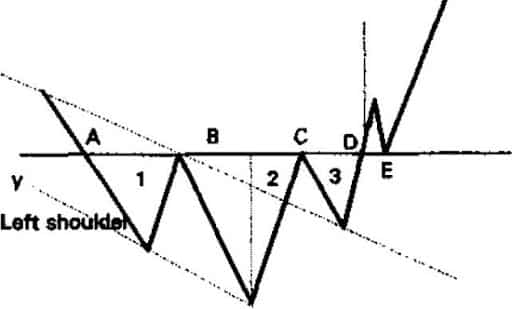 As you may recall, within this move we're witnessing the formation of the inverted head and shoulders pattern. During the confirmation of the pattern, another pullback may await us, which, however, will end in a significant increase in price.
Patterns are not just spontaneously drawn lines on a chart. They are nothing more than a system that visualises the decisions made by most market players. A way to understand where an asset is moving by evaluating the choices made by the majority of traders. To put it simply, trading channels, patterns, crossovers: everything we mark on a chart is a system, the formation of which is dictated by the behaviour of traders. A trading range (channel), for example, marks the areas in which most players prefer to buy (support) and sell (resistance) assets. The direction of this very range (up, down, or sideways) signals the prevailing local/global trend on the market.
Pattern theory is based on the dogma that markets are cyclical. Traders look for different patterns on the chart and, based on this information, plan entries and exits from their trades. Thus, when most players, guided by the same signs, use the volumes available to them and vote with them for certain movements (by opening trades), they themselves support this very cyclic pattern which leads to the events they're expecting to happen.
The price changes not because traders are drawing lines, but because they're voting with their volumes for a particular behaviour of the asset. And as you know, any asset, in any market, always moves where the biggest trading volumes lead it. If buyers dominate, the asset grows. If the sellers lead, the currency falls.
Right now, Bitcoin is still acting rather passively. However, this could be due to the fact that many other retail players are not trading right now because of the time zone difference. It's likely that in the next few hours, the bullish momentum will pick up and the BTC will capture the $50,000 zone.
Ethereum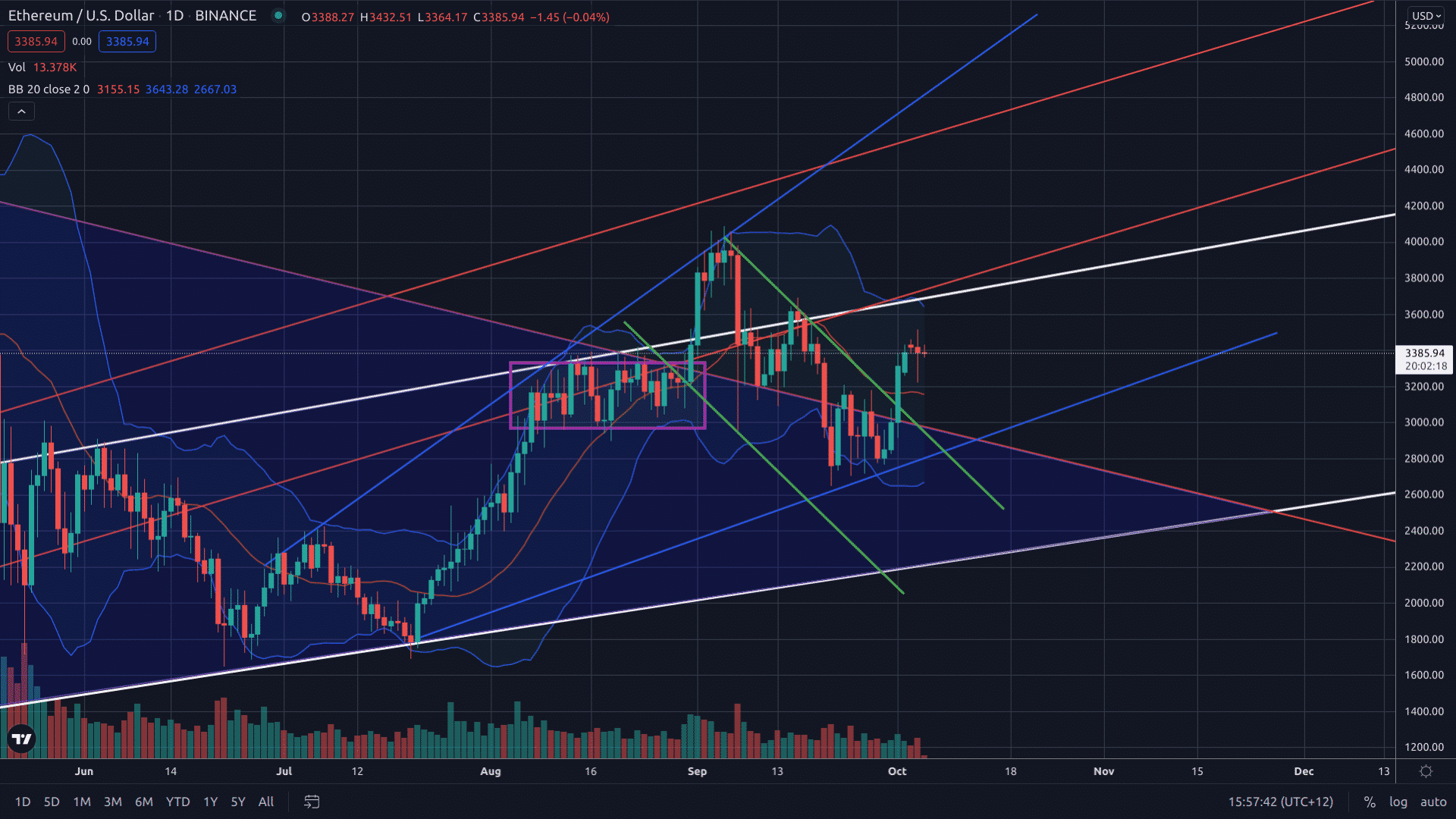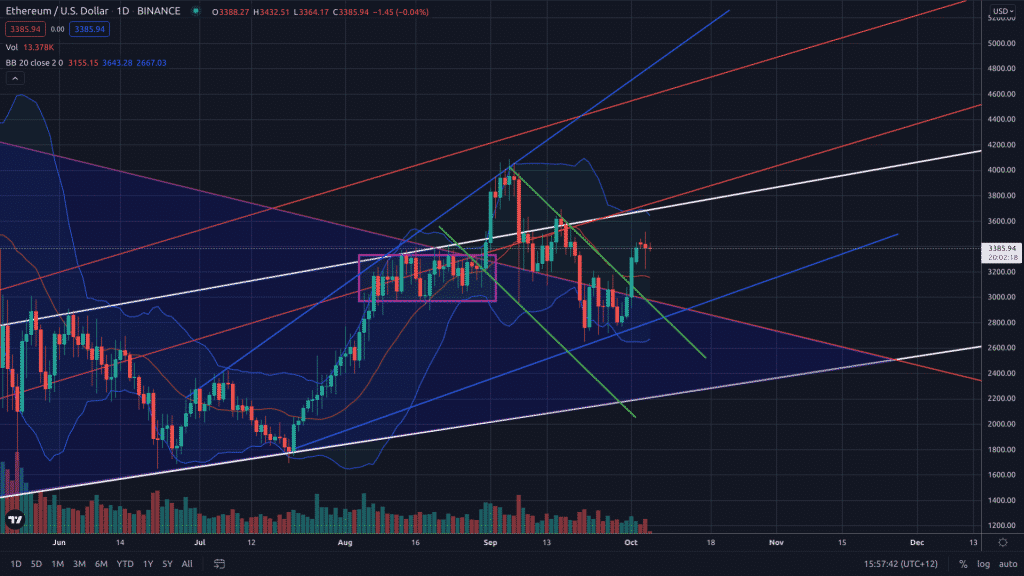 The second most capitalised cryptocurrency has decided to assert its independence. Against the background of the overall positive dynamics of BTC over the past three days, Ethereum for some reason suddenly decided to stand out with two red candles. The trend is negative and shows a lack of strength among buyers.
At the time of writing, ETH is trading near $3400. If the situation doesn't change soon, we should expect ETH to plunge all the way to $3000.
Fear and Greed Index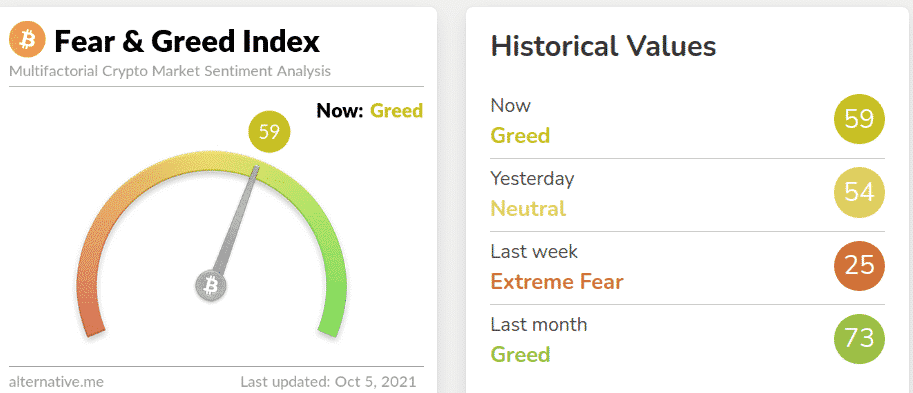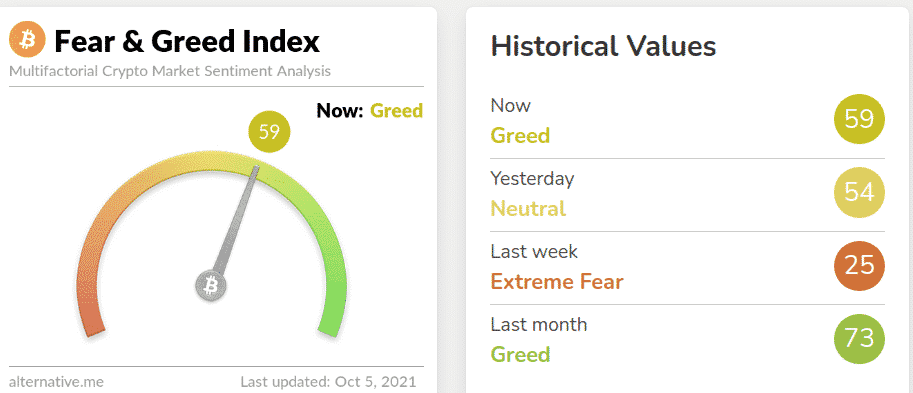 Greed is back on the market!
It's certainly not too late to buy, but the best moment to select coins for your own portfolio has already passed. Only a fraction of the possible profit remains to be made.
The only problem remains the situation with the US debt limit increase. If for some reason politicians do not reach an agreement, all markets, including the cryptocurrency market, will probably reverse. On the other hand, in the long term, the economic situation in the United States could also push BTC up. This will only be relevant if the citizens of this country start looking for ways to preserve the purchasing power of their own savings. At the moment, the most affordable of all risk hedging options is buying BTC.
Top 10 altcoins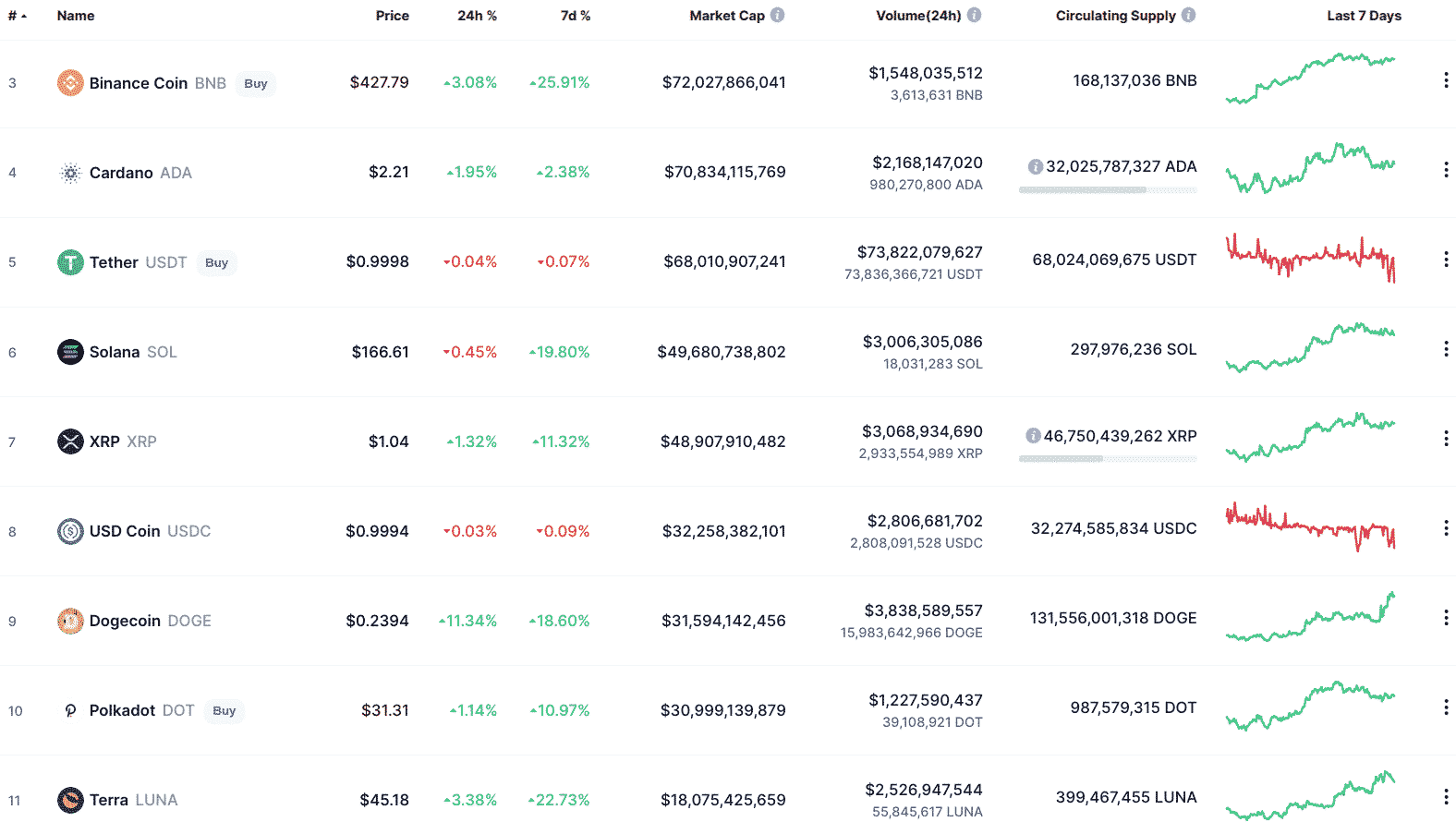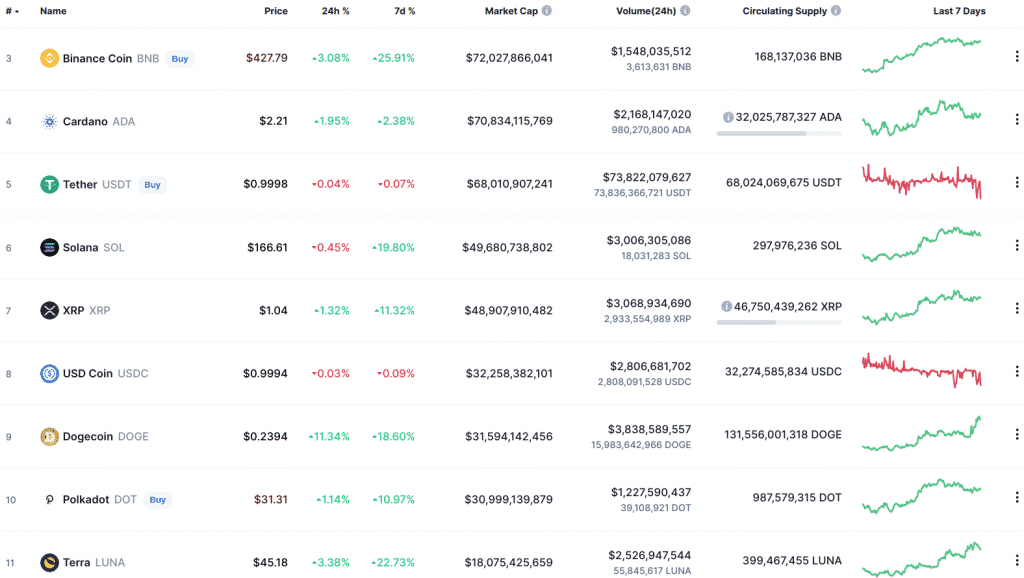 The top ten cryptocurrencies are back in the green area. Solana (SOL), which displaced Ripple (XRP) from sixth position in the CoinMarketCap ranking, and Dogecoin (DOGE), which, influenced by another tweet from Elon Musk, suddenly recalled that it's also a cryptocurrency, which some expect to grow.
SHIBA INU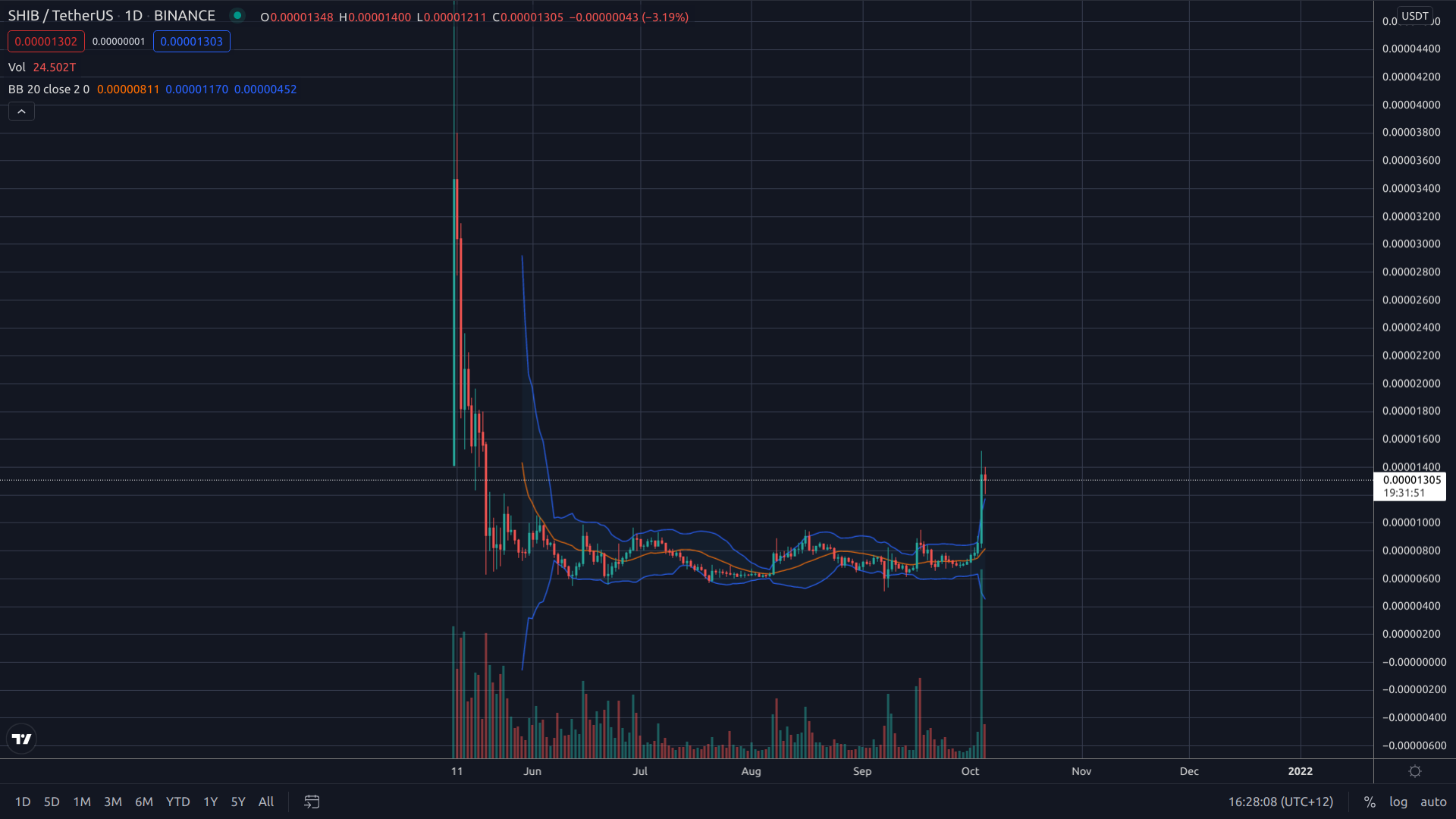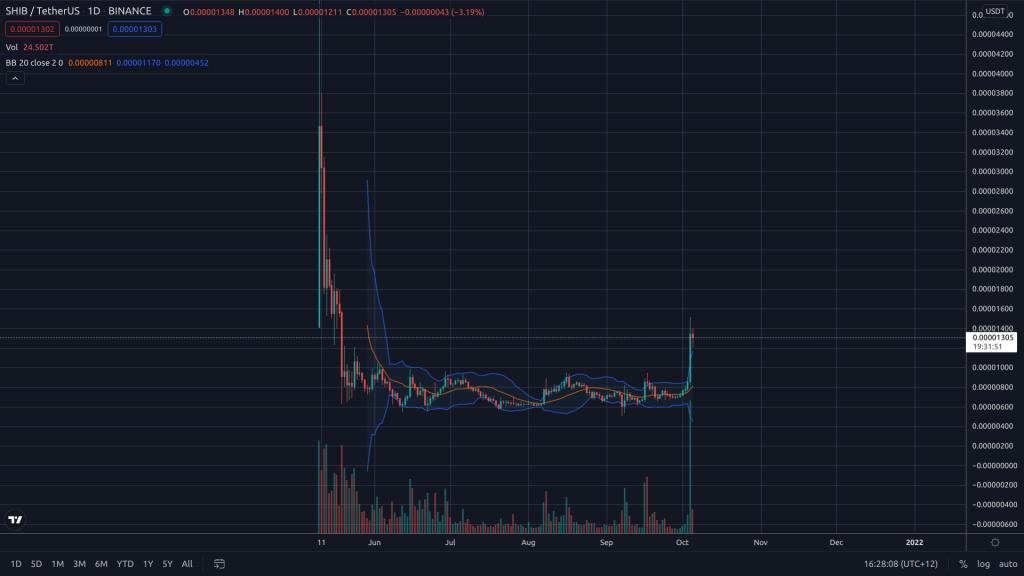 The gainer of the day is SHIBA INU. This asset has already brought its holders about 60% profit. The reason is the same tweet by Elon Musk with a picture of his pet puppy Floki. 
I'll share my opinion, which is not a financial recommendation. There's nothing more discouraging than trading a coin that only shows signs of life on the hype around tweets. SHIB will only suit the incredibly patient hodlers who firmly believe that Musk won't get bored one day.
dYdX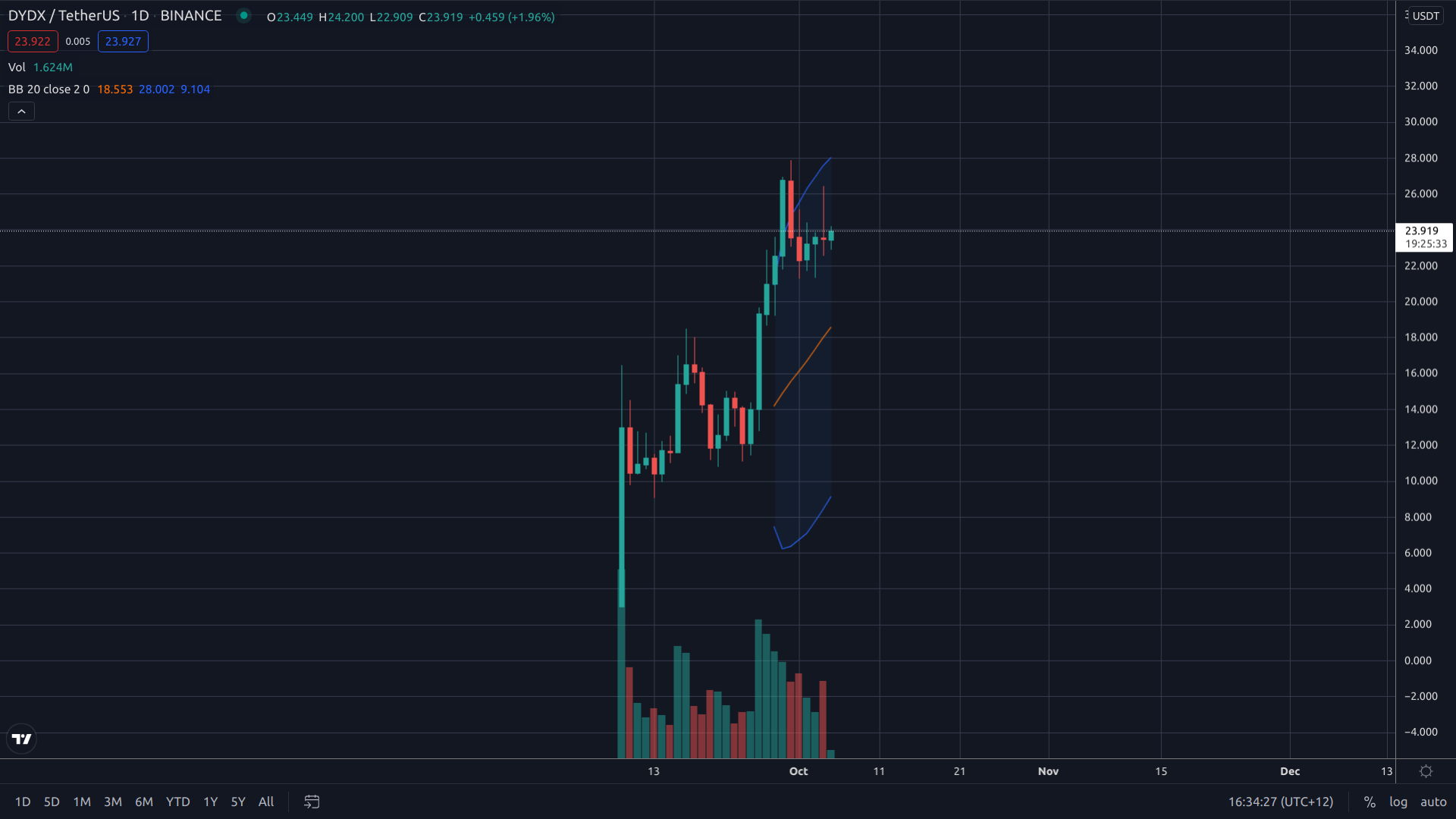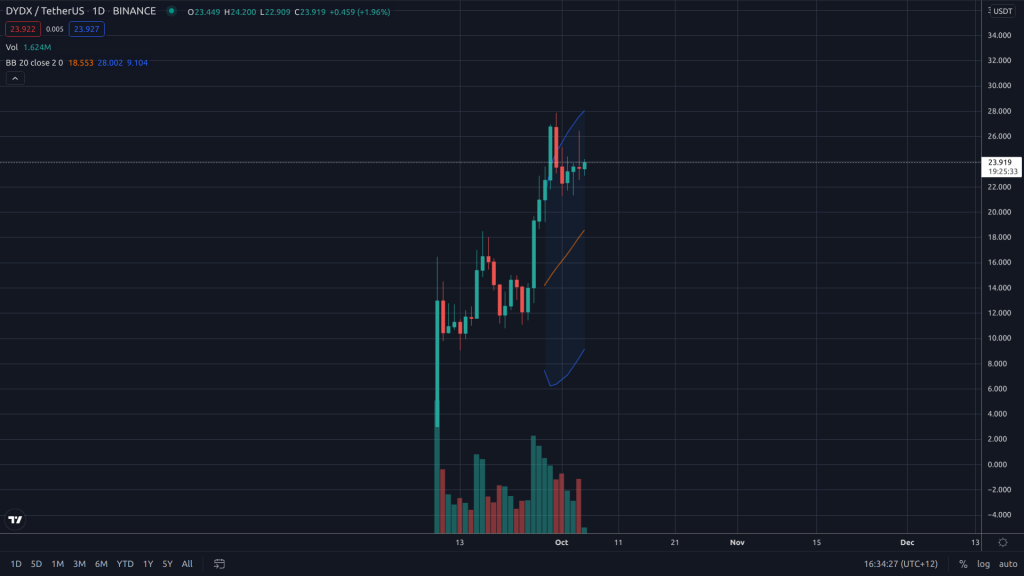 The loser of the day is dYdX. This asset has already brought its holders about 10% loss.
As long as Bitcoin moves confidently, no dump should be expected. However, don't forget to hedge your trades with stop-loss orders, especially if you're trading with leverage.
Recevez un condensé de l'actualité dans le monde des cryptomonnaies en vous abonnant à notre nouveau service de newsletter quotidienne et hebdomadaire pour ne rien manquer de l'essentiel Cointribune !
Photographe, Vidéaste, webdesigner et enfin rédacteur pour CoinTribune: l'image, le digital et la blockchain sont mon dada.
DISCLAIMER
The views, thoughts, and opinions expressed in this article belong solely to the author, and should not be taken as investment advice. Do your own research before taking any investment decisions.