Surfin' Bitcoin, the First Event Fully Dedicated to Bitcoin (BTC) in France, Set between the Sun and the Storm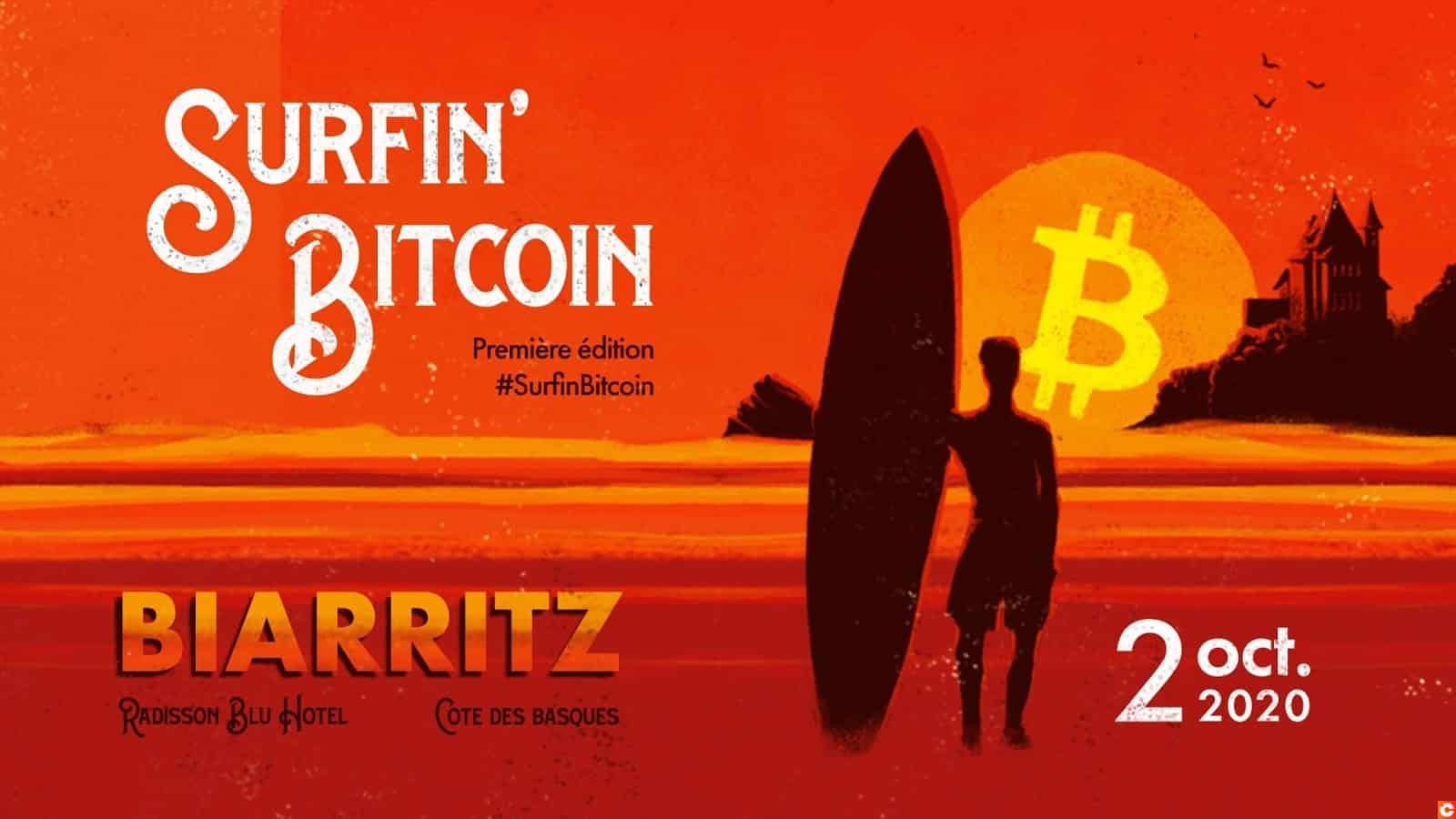 On Friday, 2nd October, your favourite writer went to Surfin'Bitcoin in Biarritz, the first 100% Bitcoin (BTC) conference to be held in France! I can tell you, it wasn't easy for me. I braved the storm all the way from Nantes to Biarritz, avoiding four opportunities to turn the car around as the Sh*tcoins in the back were kicking off! You can imagine, with a 100% Bitcoin, 0% Sh*tcoin event, there was something to be afraid of… But like a superhero, I resisted the sweet temptations of these cryptocurrencies seeking to drag me down with their promises of wonderful returns, and I managed to reach Biarritz, the Holy Land! What's going on? Have I gotten carried away again? Okay, okay, I'll get back on track. I'm going to give you an account of an extremely interesting day, right down the Bitcoin rabbit hole!
A more than just an enticing programme
For this debut event, the organisers put in a lot of work! There was a real panel of experts available up until the end of the day. As for the topic of discussion, only one word was on everyone's lips: Bitcoin!
I can tell you, when I saw this programme, I thought to myself, "Florian, you have no choice, you have absolutely no excuse to miss this event!"
A particularly enticing programme
As you can see for yourself, there were some big names, HUGE names even!
The afternoon was filled with talks that took two forms:
· Speeches on a set topic
· Roundtables with several speakers
This diversity of talks showed us different approaches, but also different and varied opinions.
I would like to quickly congratulate Yorick De Mombynes, who launched the event in the most beautiful of ways. His lecture was aimed at any beginner not knowing where to start.
An organisation of the extreme
Beyond its enticing programme, getting the event off the ground was not simple for Surfin'Bitcoin. Who's to blame? Rather what in fact:
· A storm
· COVID
These two elements together must have given cold sweats to the organisers of the event… Nevertheless, despite a threat of cancellation just four days before the fateful date, everything went according to plan… or almost!
Unfortunately, some parts of the event could not survive these unexpected last minute upsets…
For example, this is what I was promised on social media:
Well, I can tell you, this image was very misleading! Here's what we were actually entitled to:
You'll admit that there was a bit of deception on what we were promised, right? Well ok, you're probably right, but the organisers can't prevent a storm… But it really gave a special flavour to the event!
The health crisis, on the other hand, further disrupted Surfin'Bitcoin's plans. Indeed, a few days before the event, the organisers had to completely change it, or risk having to cancel. Among the changes:
· Instead of a single room with a 120 person capacity, three rooms were set up: one live and the other two broadcasting live streams
· No more rooftop networking evening… Well, those who were there know… ?
Nevertheless, the day was memorable and I think everyone left with sta… uh… bitcoins in their eyes!
Personally, I'm down for having a Surfin'Bitcoin every month! Well actually, I do not know if the organising team would be as willing as me given the energy it would have needed to set up. Too bad!
Takeaways and the future
In the end, if I had to give my opinion on this day, I would say 'beautiful'. Even if the sun was not shining in the sky, it was still there in the streets of Biarritz for a day thanks to the bitcoiners present!
It was really a great experience to meet people who share the same ideas, and to be able to talk freely on these subjects.
In the end, some 5,000 people attended Surfin'Bitcoin online, and 120 in person. A real success for its inaugural year!
Next year, you'll know what to watch out for and what not to miss!
But before you leave, I managed to catch up with Joss, one of the organisers of Surfin'Bitcoin, to give us his feelings on this first event and tell us a little about the future! I'll leave you with his answer.
We are very happy to have organised Surfin'Bitcoin despite the difficult conditions .
I think we have proven that there is a real curiosity about Bitcoin in France, we welcomed more than 100 people from all over the country and some even from abroad. The video of the event is nearing 7,000 views only a week after its broadcast, and there was a peak of 700 live viewers (i.e. x7 the physical capacity of the event live and x70 watching later).
Next year, we want to find sponsors to welcome an even larger audience over two days, with obviously a conference, but also more advanced discovery workshops on how to set up your own bitcoin node, for example.
We will do it on a weekend in mid-September to have better weather conditions and accessible waves for beginners who want to take part in the surfing workshop.
If you like Bitcoin, if you don't like sh*tcoins, if you like to drink (in moderation), if you don't like understanding nothing about this ecosystem, then Surfin'Bitcoin was the event for you! But don't panic, you'll have plenty to make up for next year. Yes I know, it may seem long, but it's like Christmas presents: waiting is part of the magic! And if you manage to attend the second Surfin'Bitcoin in 2021, don't hesitate to come and chat with me, because for sure, I'll be there!