Dogecoin-sponsored racecar crashes, reflecting a bad weekend for the DOGE price
On Saturday, a Dogecoin (DOGE) car raced during the NASCAR Xfinity Series event in Nashville, Tennessee. The driver crashed into the wall on the 69th lap (coincidence?), finishing last in the race. At the same time, DOGE suffered a similar fate, seeing its value drop by 14%.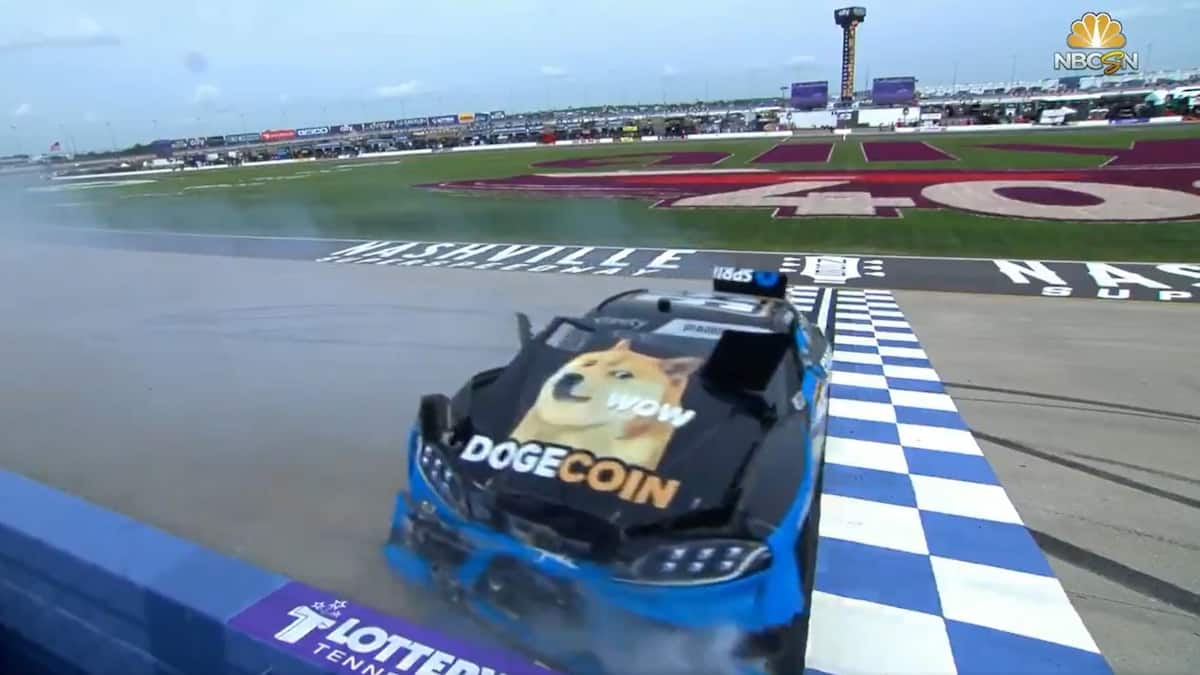 Dogecar out after 69 laps
The Dogecoin and its famous Shiba Inu had already sponsored a NASCAR car in 2014. At the time, it was the number 98 car of Phil Parsons Racing, driven by Josh Wise. After fundraising $55,000 in DOGE donations on the Reddit forum, the car was bought out and put into the race.
On Saturday, the Dogecar was driven by driver Stefan Parsons, who is none other than the son of the first car's owner. The number 99 car is powered by Toyota and is owned by the BJ McLeod Motorsports team.
Before the race, fans expressed their excitement on social media using #dogecar. Unfortunately for them, the race did not go as they would have hoped.
The driver made light contact with a competitor's left wing, causing him to lose control of his vehicle. The pilot then drifted towards the central lawn, before returning to the track and finally crashing into the wall, just at the finish line, which he crossed sideways. With this 69th-lap crash (it should have done over a hundred more to cross the line on the 189th lap), the Dogecar finished dead last in the NASCAR Xfinity in Nashville.
A real-world illustration of DOGE
For the Dogecar, the result of the race is much like the cryptocurrency it is based on. After reaching an all-time high of $0.73 on 8th May, DOGE continues to see its value drop. Currently at around $0.18, Dogecoin has suffered a crash of nearly 75%, including 43% during the last 15 days and over 14% during this last weekend.
Like its car at NASCAR Xfinity in Nashville, the memecoin cryptocurrency DOGE also seems to be crashing straight into the wall. However, Dogecoin continues to have a loyal fan base which should allow it to continue to exist for many years to come.