Buying and selling Bitcoin (BTC) made a breeze with the bitFlyer app!
Fri 07 May 2021 ▪ 12h00 ▪
10
min read — by
The number one exchange in Japan since 2014 for Bitcoin and cryptocurrencies has made its way to Europe in recent years. Now it seeks to democratise access to cryptocurrencies to as many people as possible. bitFlyer is an exchainge that we have been keeping our eye on for a while now, and it never fails to impress. In fact, its offering is twice as appealing, since it is split over an ergonomic platform for beginners and bitFlyer Lightning for more experienced traders. Today, we will be taking a special look at bitFlyer's mobile services on its great app that can accompany you on all your travels.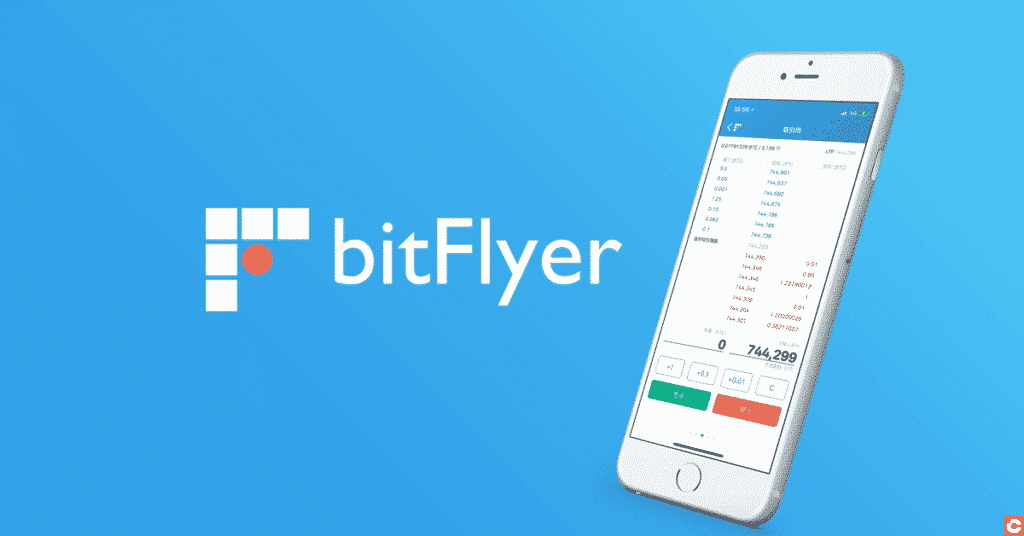 Note: This article is brought to you by bitFlyer. Crypto investments carry an inherent risk, do your own research and invest only within your financial capacity. This article does not constitute an incentive to invest.
Download and sign up to the bitFlyer app
The bitFlyer app is available on iOS and android, so chances are you'll be able to download the app in a matter of moments from either the Appstore or the Google Play Store. Once you've downloaded it, all you have to do is log in with the email and password set when you signed up for the browser exchange. If you are not yet registered on bitFlyer, it takes only a few moments.
Once logged in to the bitFlyer app, you can immediately see everything available on the website. The home page shows all the key information about your account: the value of your portfolio and your daily profit/loss. A little lower, you can follow the real time prices of the seven cryptocurrencies available for on the bitFlyer exchange. These cryptocurrencies are Bitcoin (BTC) and Ethereum (ETH) but also Ethereum Classic (ETC), Litecoin (LTC) , Bitcoin Cash (BCH) and finally the lesser-known Monacoin (MONA) and Lisk (LSK).
Deposit funds to the app
One of the main features of the app is being able to place buy orders on bitFlyer while you are on the go from your smartphone.
The Japanese exchange's team has strived to offer the simplest and smoothest possible experience, which will put a smile on the face of anyone looking to manage their portfolio of cryptocurrencies from their phone.
In order buy cryptocurrencies from the app, you must first credit your account with fiat money, specifically euros. To do this, there are two possible methods. The first is to carry out a SEPA bank transfer to bitFlyer's account, as their European headquarters are located in Luxembourg. The second is to add money via PayPal, which is much faster, but more expensive.
Follow and analyse the price action, then place your buy order
Once your account is credited, go back to the app's home page to view the current cryptocurrency prices and select the one you want to buy.
Let's say you want to buy bitcoin. You just have to click on the bitcoin logo, which brings you to the dedicated bitcoin page. From here, you can look at the price action in detail. Take a moment to appreciate just how comfortable and well-dewsigned the bitFlyer app is compared to other exchange apps. It gives a great visualisation of the price, which lets you check price movements on a hourly, daily, weekly, monthly or yearly graph. You can even switch between a simple line graph and the candles favoured by traders.
Note the fluidity and speed of the actions you perform on the application. There is no latency, the prices are displayed in a fraction of a second and you can even quickly switch between crypto graphs by swiping from left to right. This is a truly immersive experience, and a great first plunge into the crypto space. Beginners and pros can analyse prices in detail before deciding to buy.
Note that with bitFlyer, there is no slippage, which is quite common on some exchanges. This means that the amount of crypto you are buying, as well as the price of your buy order, will not change mid-transaction. You never have to worry about not getting what you pay for when you place a buy or sell order on bitFlyer.
For sell orders, the principle is the same: a fluid and fast process, all at no cost!
If you want to sell your cryptocurrencies, the principle is the same. Simply click on the cryptocurrency of your choice, bringing you to the page dedicated to the crypto. This time, choose the big red "Sell" button. This process is very intuitive and similar to the buy process. Choose the amount of crypto you want to sell and view the live euro amount you will receive to your wallet. Once again, there is no slippage on sell orders, so no risk of a nasty surprise when you check the difference between the orders you place and the amount shown in your wallet.
The huge advantage that makes bitFlyer a very attractive exchange is the low fees. Fees are always a real sticking point when it comes to comparing exchanges. As mentioned just now, fees are zero for buy and sell orders. Only a small fees is levied when you withdraw your funds from your portfolio to your bank account.
Once you have completed your transactions, you have the option to receive the balance available in euros to your bank account using the "Withdraw" option. Once again, enter the bank details where you want to receive your funds and carry out the transfer, all from your smartphone.
The security of your funds: a priority for bitFlyer
With the bitFlyer app in your pocket, you have no more excuses to miss a trade on your favorite cryptocurrency. Even when you are on holiday at the side of the pool, you are ready to place buy or sell orders that can help you to boost your portfolio's performance.
The app gives you an ultra-fluid experience at all stages. What's more, bitFlyer has deployed features that bring real added value to its users.
Firstly, bitFlyer is proud to boast one of the highest levels of security in all the geographic areas of its footprint. In Europe, the exchange benefits holds a CSSF licence from Luxembourg's financial regulator. Your funds are also protected through a cold storage backup process that minimises the risk of cyber-attack and guarantees the availability of your funds at all times.
Follow the news in real time from your app and use a built-in wallet
A really interesting feature is being able to access cryptocurrency news directly from the app. You are probably aware that the changes in the prices of cryptocurrencies depend largely on the volatility specific to these digital assets, which means they are likely to react quickly to the numerous news stories that we have the pleasure of reporting on every day at Cointribune.
For this reason, directly from the homepage, you can see news from Bloomberg, and with one click you can access a selection of news curated by bitFlyer.
Having had the opportunity to test several cryptocurrency exchange applications, this feature is of real added value and allows you to do two things at the same time: monitor the price of Bitcoin and other cryptocurrencies while keeping an eye on any breaking news that could influence prices in real time.
Each cryptocurrency page also has essential information to help you better understand it. This is perfect for beginners who are still trying to deepen their knowledge about crypto while trading. If you're new to crypto, the bitFlyer app will be the perfect companion for you to build skills and master the market. If you are more experienced, or aspire to become more experienced in bitcoin and cryptocurrency trading, you can switch to bitFlyer lightning, the solution tailored for experts. There, you can find much more detailed information and carry out advanced trading operations. bitFlyer Lightning even allows you to adopt an algorithmic trading strategy by programming your very own trading bot! 
Finally, if you're new to cryptocurrencies and don't have a wallet to store cryptocurrencies safely, the app includes a free wallet to ensure you're safely protected.
In conclusion, this is the perfect app to get off to a good start in the world of cryptocurrencies!
As you've seen, this fast, intuitive and efficient app is the perfect gateway for any trader who is just starting out in the cryptocurrency world. From this single interface you will be able to follow in real time the performance of your portfolio and quickly place buy and sell orders, all safe in the knowledge that your assets are safe. Finally, the fact that you do not have to pay fees on trading operations is a huge advantage and you would be wrong not to take advantage of them. Why not download the app now and have a look around? For Apple addicts, it's this way; for Android, over here.
Recevez un condensé de l'actualité dans le monde des cryptomonnaies en vous abonnant à notre nouveau service de newsletter quotidienne et hebdomadaire pour ne rien manquer de l'essentiel Cointribune !
Photographe, Vidéaste, webdesigner et enfin rédacteur pour CoinTribune: l'image, le digital et la blockchain sont mon dada.
DISCLAIMER
The views, thoughts, and opinions expressed in this article belong solely to the author, and should not be taken as investment advice. Do your own research before taking any investment decisions.