Musicians dream of a new future, driven by the Blockchain and Crypto
Wed 21 Apr 2021 ▪ 23h57 ▪
11
min read — by
Some utopian artists dream of a future where they can be paid fairly and quickly, where the resale of tickets would bypass crooks and middlemen, and where past gigs can actually be valued, bought and sold….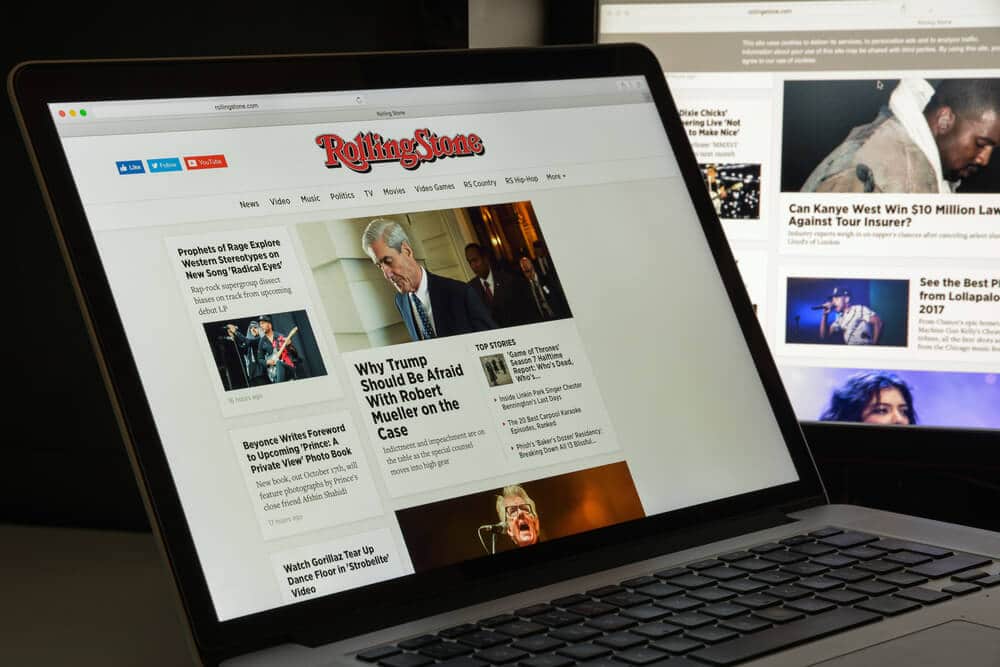 But this dream may not be as far away as we think!
CoinTribune will be breaking down, in a three-part series, exactly how this is possible. We will present concrete solutions that leverage crypto and the blockchain to serve the music industry of tomorrow.
What is this 'music industry' then?
The music industry is an ecosystem in its own right – although, one that is quite opaque and slow to adapt, it must be admitted. It is a huge maze of interacting labels, production companies, publishers, distributors, rights holders and other professionals.
Amongst the chaos, everything works relatively well for the suits, but the artists who drive the industry and earn money for the corporations remain unpaid for months and months.
What's more, the complete standstill brought about by COVID-19 highlighted the problems that artists have been complaining about for years.
Their questions are simple:
Why is the remuneration system so slow, and why does it require so many intermediaries who each add time and each take their own commission?
How can this tangle of people be fixed, to make sure that only the necessary professionals remain?
Looking to crypto for solutions
Rolling Stone magazine was the sharp end of the wedge when it officially published a deep dive into existing cases where blockchain technology and crypto are already in use, helping us to understand what they can bring to artists and their music today.
Experts such as Zach Katz, Shara Senderoff, Adam Alpert and RAC sat down with Rolling Stone to share their thoughts, because they come from the world of music and are crypto advocates. Each of them has used this technology to develop innovative solutions that open up real alternatives: coherent, concrete and achievable answers to the questions above.
This article summarises Rolling Stone's study, and presents the interviewees' achievements, as well as the core components of these technologies that drive transparent transactions and independence from awards and predatory record labels.
Before our very eyes, tech-savvy labels, artists and fans are innovating and showing how this multi-billion-dollar market, seemingly in the clutches of an archaic music industry, can be disrupted and  returned to the fundamentals of the music and the artist.
How can we approach this broad panorama of blockchain and crypto solutions for songs and artists?
To begin with, we must understand that the solutions that are emerging have only been able to do so thanks to the underlying technology of crypto and the blockchain.
The invention of the Bitcoin protocol and bitcoin cryptocurrency opened the door for the development of many variations, which each meet the different needs of users. In this context, non-fungible tokens (NFTs) were developed.
NFTs are a new type of crypto and are very specific, because each token is unique. This characteristic is used to guarantee the fact that a work of art, a concert, a photo, a ticket or many other things are completely one of a kind. The holder also possesses the rights to it and, therefore, is able to profit from it.
The added value that musicians see from NFTs starts here – the huge variety of ways that they can be remunerated from them.
The publisher of an NFT representing a digital work (music, film, photo, etc) can programme a whole set of rules automating payment to themselves and other related parties when certain parameters are met.
In practical terms, when issuing a NFT, it is possible to:
Determine the percentage to be paid to each performer, with royalties or any other type of contract deductibles automatically processed.
Automatically modify this percentage, depending on whether the work has been purchased, rented or gifted, bought for a single use or unlimited use, usable for a day or for a defined period, accessible in a specific country or in a large geographical area, and many, many more.
In short, with NTFs, payments can be automated, made instantaneous and adapted to all the legal and technical constraints that govern the work, the sale of the work and the financial laws of each country on its methods of remuneration of its artists.
Not just payments, but so much more!
Ghazi Shami is the founder and head of music distribution company and record label Empire, and has worked with everyone from Snoop Dogg to Migos. He is one of the most fervent defenders of crypto in the music industry and is extremely bullish on the capabilities of crypto. For him, this technology perfectly meets the specific needs of the industry.
His enthusiasm shines through:
"How is it that I can jump on an app like BitPay and I can send somebody Bitcoin any time of the day, anywhere in the world, but if I want to send somebody a wire or an ACH, I have to do it during business hours, it takes 24 hours, and I can't do it on Saturday and Sunday or holidays?"
He also denounces the hostage taking of banks that prevent their customers from taking their account number with them if they want to change providers. If his label wanted to change banks, it would be a "gigantic undertaking", because all the vendors' accounts would have to be changed manually, whereas "if I controlled my account number, I can go anywhere with it. Crypto is a peer-to-peer thing. It's faster, it's more fluid."
Reflecting on these benefits got Ghazi Shami thinking. He started to seek other tangible benefits that this technology could offer.
For example: what would happen if this process were used to receive payments from digital streaming platforms such as Apple, Spotify, Amazon and YouTube?
Ghazi Shami's response: "you could create a much clearer and cleaner sequence of getting paid by them."
Since stablecoins (cryptocurrencies pegged to an underlying asset designed to keep a stable value, regardless of the volatility in the crypto space) are traded globally, conversion rates when buying or renting abroad would be eliminated. 
Another reflection: paying royalties out from labels to artists is also a laborious process. Payment rules are transferred and adapted to different billing systems, where each intermediary works with their own system and software, which each requires referencing and checks and cross-checks on all the documents issued at each step…
No wonder that with such a tedious process, costs increase and artists have to wait to receive the fruits of their labour! This isn't even accounting for the delays of the banking system itself, where transfers take three to five working days.
"If I had a crypto address for somebody and we were dealing in direct payments on blockchain, I could send them their royalties in seconds."
It is for all these reasons that Ghazi Shami sees a future with more than just the adoption of direct and instant payments in crypto. He has also fallen foul of anti-fraud laws when trying to pay partners from abroad, so he looks to the blockchain and crypto as a way to simplify processes and reduce these risks, while increasing the security of payment transactions.
He talks from real-life experiences because "as a label, you have to do business with all the other labels; there are side artists, clearances, and you're sharing royalties on things. We could pay each other easier, we could interact with one another in a much easier fashion, we could pay our artists easier, we could track the payments."
That said, he admits that crypto and crypto payments are not always easy, because a little moment of inattention can end up being very expensive… The loss of a password, for example, could translate into the permanent loss of millions.
He is fully aware that it will take a lot of time and educational efforts for everyone to understand this innovation and come to terms with the benefits of this new paradigm. Sure, it will be difficult, but it will be worth it!
Linking together, transparently
Agreeing that crypto is the next logical step in finance, Shara Senderoff advocates for the interconnection of services and blockchains. For her, it would be unthinkable to seek to create a common standard unique to all. Instead, she looks for a time "where all the blockchains can be interconnected and can report and speak to one another."
That's why Shara Senderoff (an expert of the music, multimedia and technology scene) and Zach Katz (co-founder of Beluga Heights Records and former director of U.S. operations at BMG) took over the management of Raised in Space Enterprises (RISE), a company supported by the Ripple Protocol, whose mission is to discover, invest in and guide transformational tech start-ups in music and computing, in order to prepare the digital music of tomorrow.
Its major challenge is to be ahead of the curve, looking at the "timing of those forms of technologies and the progression of those interledgers that all the big blockchains are working to create and be involved in," before they are completed and scaled up! She thinks it isn't a topic of discussion now, but "people will see major advancements in the conversation around this topic, as well as the execution of some of these puzzle pieces, within the next two to five years."
Some producers have already realised that the rules imposed by yesterday's music industry are about to be upset by these technologies. They are preparing, testing solutions and even coming together to join forces and use these crypto-driven opportunities of tomorrow.
The next installment of "Musicians Dream of a New Future, Driven by the Blockchain and Crypto" will look closer at how artists plan to earn capital gains from crypto, NFTs and the blockchain in general.
Recevez un condensé de l'actualité dans le monde des cryptomonnaies en vous abonnant à notre nouveau service de newsletter quotidienne et hebdomadaire pour ne rien manquer de l'essentiel Cointribune !
Hi! Привет! Salut ! Je m'intéresse à deux choses : la crypto et les langues. Je suis donc heureux de faire partie de l'équipe multinationale du CoinTribune, où je peux partager mes connaissances de la crypto avec des gens des quatre coins du monde – l'un article après l'autre.
DISCLAIMER
The views, thoughts, and opinions expressed in this article belong solely to the author, and should not be taken as investment advice. Do your own research before taking any investment decisions.