Blockchain Games and Crypto Gaming: What Are the Differences?
The use of blockchains is becoming increasingly commonplace in the world of video games. You might say it's a big marketing stunt, as crypto-related words are thrown around in these two genres. However, there are real differences between 'crypto' and 'blockchain' games that need to be identified before investing time or money in these new projects.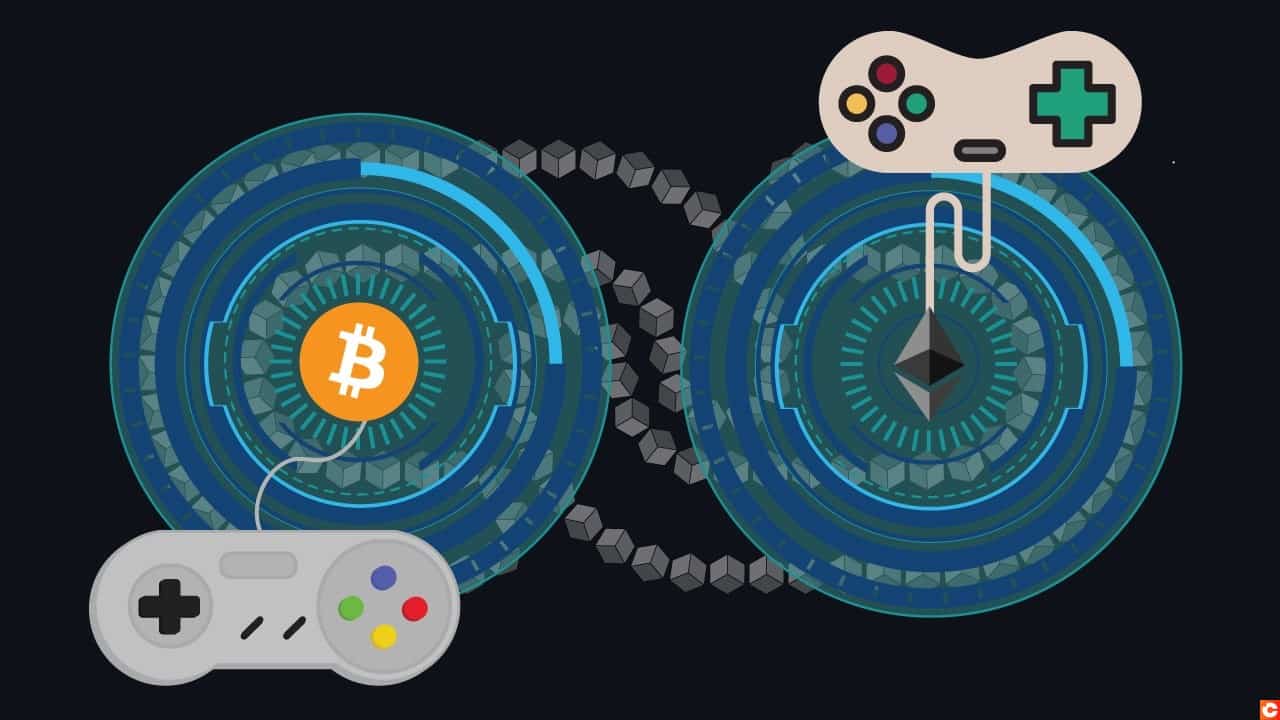 Introduction
In the world of cryptocurrencies, there are ways to earn compensation by performing simple actions or tasks. This can range from a simple retweet to writing an article for a project, but it is also possible to earn crypto by playing video games.
The history of crypto and blockchain gaming does not begin in 2017 with the ERC-721, but much earlier with Bitcoin, Huntercoin and Minecraft. And yes, there was a time when completing quests in Minecraft or playing minesweeper with other players allowed you to win Bitcoin.
The term 'play to earn' was used to define this new genre, combining games with a cryptocurrency reward.
This way of democratising crypto was echoed a few years later, mainly with projects hosted on Ethereum. Vitalik Buterin is said to have come up with the idea for his blockchain after an arbitrary change of his character class in World of Warcraft, but did he imagine that a few years later so many games with immutable gameplay would appear?
This idea of decentralising the world of video games has seen two approaches, much like two sides of the same coin of (crypto)currency: blockchain gaming and crypto gaming.
What are the differences between these two new types of gameplay?
Blockchain gaming
The concept is very idealistic: to have as many interactions as possible recorded on the blockchain. Whether it's equipping yourself with a weapon, sending a character on an adventure or exploring a new dungeon room, everything has to be verifiable.
Of course, these first types of game cropped up on Bitcoin, but since the end of 2017, the number of decentralised applications (dApps) for entertainment has only grown.
The first to really pull this off was the game Huntercoin, hosted on the blockchain of the same name, a fork of Bitcoin. By completing quests or simply walking around, players could earn coins from the game, which could then be exchanged for bitcoin.
Since then, the team has developed an entire ecosystem around Xaya, a new gaming-oriented blockchain, and has released their flagship MMORPG: Taurion.
When the ERC-721 standard was validated in 2017, it brought with it a fair share of new projects. This standard allowed for the creation of Non-Fungible Tokens (NFTs), unique assets that can be deployed on a blockchain.
The most popular example that still exists today is CryptoKitties, whose simplicity of gameplay and graphics have managed to win over the internet.
In 2018, after the madness of the markets and especially the exorbitant gas fees, projects related to NFTs helped Ethereum to move forward and rebuild its community.
For example, there is Gods Unchained, a trading card game where each card is an NFT. The game wants to compete directly with Hearthstone by offering a free game where players can actually sell their cards.
We can also mention Enjin, which wants to create a multiverse where some NFTs can be used in several different games, and even offer interoperability between ERC-20 and 721. For example, a bow dropped by a boss in Lost Relic can be reused on one of your characters in Forest Knight, two completely different games.
The advantages and disadvantages of the ERC-1155 lie in the fact that users can change metadata. This gives rise to a 'semi fungible token' that opens up more flexibility for developers, but less control for players.
Another project is Decentraland, a virtual world where every plot of land or clothing are actually NFTs. The project has been trying to draw in a community since 2018 to try out different interactive aspects of the game by offering MANA tokens for beta testers.
Even though Ethereum is king in this space, two other blockchains have still tried to compete with it: EOS and WAX.
EOS managed to record the entirety of the actions made in EOS Knight, an idle RPG. Despite its proof-of-stake model allowing for faster transactions, social network spammers have clogged up the blockchain, doing the equivalent of saturating the network's bandwidth, making it impossible to play the game properly.
Thanks to the dGood standard, NFT transfer is possible, but they can only be exchanged within the confines of the game.
In the absence of a wide catalogue, EOS was gradually deserted by players until the creation of WAX in 2020. This blockchain specializes in NFTs, but uses the same architecture as EOS, and recently formed a partnership with Atari.
Although a few projects have already migrated to it, WAX is still very new to the blockchain gaming space and still has a long way to go before reaching Ethereum's level.
In short, the concept of blockchain gaming is reliant on a secondary market entirely owned by the players. This market determines the value of the items found in the game.
Crypto Gaming
Crypto gaming is a concept that only cares about one aspect of the blockchain: rewards.
Without mentioning the many 'faucets' available, which offer very simplistic gameplay (or a lot of ads) in exchange for some satoshis, Bitcoin quickly saw the rise of a handful of games developed to reward crypto players.
One of the first experiments was Gambit, which managed to organise Monopoly and minesweeper tournaments with BTC rewards. The success was so great that Gambit was later forced to limit its rewards.
The next was Bitquest, where a server on Minecraft allowed players to mine bitcoin, distributing block rewards to players.
The servers eventually had to shut down because of the constant increase in the difficulty of mining, but others have run with this concept with cryptocurrencies that are easier to mine, like Dash or Dogecoin.
Unlike blockchain gaming, where the focus is on adding value to the entire ecosystem, crypto gaming is more about introducing the rest of the world to crypto.
One of the key devices where this goal can be easily achieved is obviously the mobile. In 2016, Spell of Genesis was the first crypto game published on the App Store.
Still available today, the game allows you to win cards, which can then be resold on a secondary market.
A few years later, Crypto Idle Miner arrived, allowing players to run their own crypto mining farm. Each player's ranking is rewarded seasonally in HORA, which can then be redeemed for Tron (TRX).
Crypto Idle Miner is a bit of an exception to the aptly-nicknamed 'blockchain casino' genre, since all the dApps (well, almost dApps) present on this blockchain are games of chance with a 'provably fair' design.
This means that players can easily check whether the stated odds of winning crypto are being met. Somehow, it's a category of game, but it's a very different one to the game that I would advise you to try out if you want to play with cryptocurrencies.
It wasn't until 2019 that the Lightning Network was used to reward players in satoshis. This is particularly the case with Bitcoin Bounce, where a draw takes place on a daily basis to determine the amount of satoshis distributed.
On the strength of this project, a regular event called Mintgox appeared. Bringing together games that distribute satoshis to participants, players are no longer confined to winning crypto in tournaments, as these events offer airdrops of satoshis all the time.
Time to play
Whether it's blockchain or crypto gaming, let's not forget one thing: the game itself is not hosted on a blockchain. All graphic renderings, rule generation or gameplay mechanisms are still centralised on a server somewhere.
If the servers were to shut off tomorrow, or if the game turned out to be an exit scam, the tokens left in your wallet would no longer have any value – unless a team decided to take over the project and salvage any assets related to it. Moreover, the success of all these projects still depends for many on the community that forms around it.
So, just like any crypto investment, it is important to do a bit of background research on the feasibility of the project and its seriousness!