9GAG puts its first NFT on sale: bidding has already started!
In collaboration with K11 Art Mall, the famous meme platform 9GAG has just launched its first NFT on Foundation.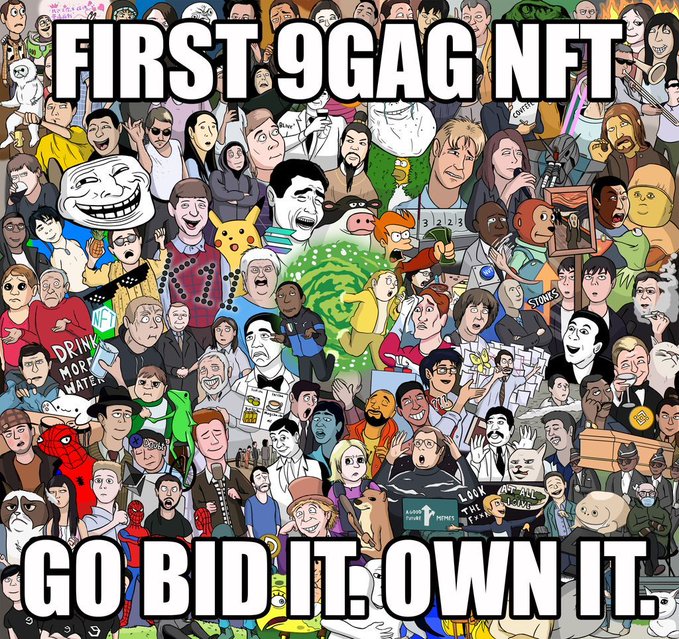 In Meme We Love
9GAG made the announcement of the auction of its first NFT on Twitter earlier. Named In Meme We Love, the NFT is a collage of a multitude of iconic memes.
According to the description, this work traces the history and evolution of memes and displays the whole spectrum of emotions that only the internet can understand.
You can see Rick and Morty, Oprah Winfrey, the famous Troll Face and many more! It's almost like a millennial Where's Wally!
The starting price stands at 9 ETH, or about £12,000. Once a bid has been placed and the reserve price has been reached, a 24-hour auction for this work of art will begin.
Want to have a part of the history of the internet and its memes? Get on over to the auction, time is already ticking!
Hello there ! Intéressé par l'univers des cryptos-actifs, je suis passé de simples présentations powerpoints à mes amis à la rédaction d'articles sur internet. L'univers des cryptos est tellement vaste qu'il me permet de lier plusieurs de mes passions alors pourquoi ne pas les partager avec vous ?
"Cryptos toujours pareil ! Boom Boom dans les oreilles !" Satoshi Gesaffelstein