An NFT of the SNL Sketch about NFTs Sells for £265,000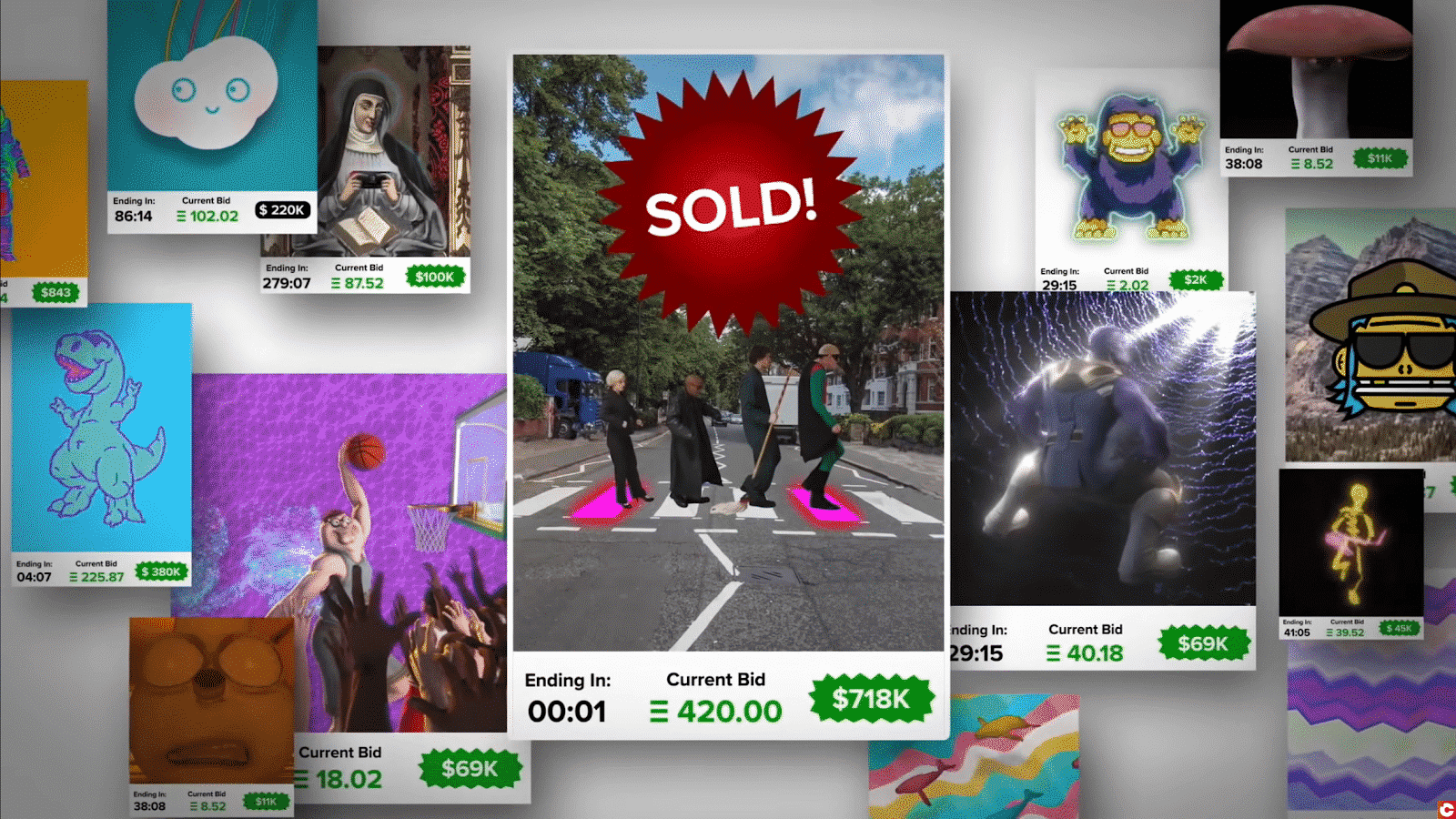 A sketch about the madness of NFTs…
The team behind the American sketch show Saturday Night Live recently took a stab at this hot topic, starring comedians Pete Davidson, Kate McKinnon and Chris Redd, joined by rapper Jack Harlow.
The skit explains the madness of the NFT craze with Robin/Eminem, Morpheus and Janet Yellen, the secretary of the United States Treasury.
…transformed into NFT and sold for 171.99 ETH (£265,000)
On 2nd April, a 10-second clip of the skit was transformed into NFT and went on sale on the platform OpenSea.
The NFT depicting Morpheus, Janet Yellen, Robin/Eminem and a sweeper being teleported from a classroom to the iconic Abbey Road pedestrian crossing from the Beatles album cover.
The hammer came down on the auction at midnight on 5th April, and it was won by the user Dr_Dumpling for the cool sum of 171.99 ETH, or about a quarter of a million pounds.
He was given the NFT, as well as two tickets to see a future episode of the show recorded live at its New York studio. In order to take advantage of this offer, Dr_Dumpling hold onto the NFT until 31st May 2021, when he will be allowed to resell it.
A sale for a good cause
The money raised will not line NBC's pockets, but will instead be donated in full to Stop AAPI Hate, an association fighting against the rise of xenophobic and racist discrimination against the Asio-American and Pacific Island communities since the beginning of the COVID-19 pandemic – one they are being held responsible for since the virus was first identified in China.
NFTs are currently a hot topic, but here, the news has been transformed into NFT. SNL has sold its first NFT, and was the first parody show to do so, but they probably won't be the last, given the craze around this phenomenon. Although experts are calling a "silent crash" of the NFT market, they still has much to prove regarding their purpose and utility in both the tangible and intangible world. In any case, can you answer SNL's question: "What the hell is an NFT?"