Chicago NFT gallery imnotArt launches its first exhibition
In the last few months, the NFT craze has taken the art world by storm. Now, anyone in Chicago can visit imnotArt, the first-ever NFT gallery. Besides, anyone from around the globe can enjoy the exhibition online, as well as place a bet on NFTs with Ethereum (ETH).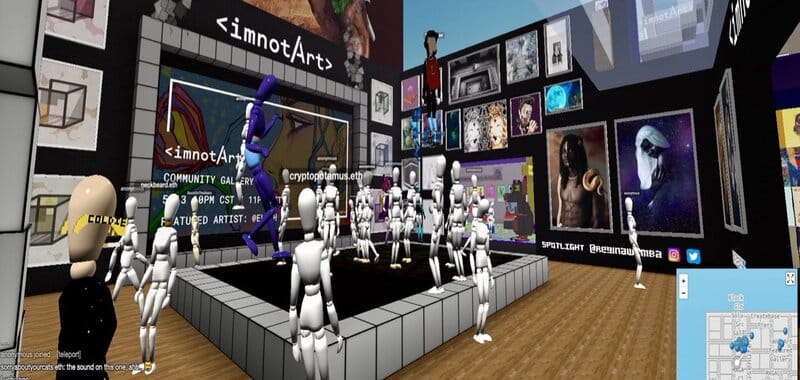 Meeting imnotArt
ImnotArt seemingly resembles any other art gallery. However, the differences become apparent as soon as you enter through the doors. Instead of pictures and engravings, the walls are equipped with screens showing artworks ranging from Sinclaire's single lines to iconic city sights by ProbCause. 
Every artwork in the gallery is an Ethereum-based NFT. Beside each exhibit, there's a QR-code. Scanning it will tell you more about the piece and its author as well as reveal a link to an auction in case you want to buy it.
On 14th August, the gallery is launching its first large-scale exhibition called The New Digital: Born in Chicago, which will last until 22nd August. The exhibition will present works by Chuck Anderson, Sophie Sturdevant, Sean Williams, Willea Zwey, and Joey the Photographer.
Exploring the Metaverse
The entire gallery has been recreated in a video game-like metaverse world stored in Cryptovoxels governed by Ethereum. The virtual reproduction has the same layout as the real one and all the same artworks. The offline gallery is equipped with cameras which can be used to upload visitors' own data to the virtual version using Twitch. If a visitor is inside the real-life gallery, they can also watch themselves inside the virtual copy.
The idea of a virtual gallery came as a response to the COVID-19 pandemic, when a vast number of people were unable to visit exhibitions offline. In the virtual gallery, visitors can keep in touch with the real world and enjoy art just as much as they would if they were visiting the gallery in person.
In the future, the imnotArt team is planning to use their gallery for creating unique content. Also, they expect to attract eager minds from all across the crypto world. In September, they are hosting an event for Bored Ape Yacht Club NFT collectors.
The idea of NFT exhibitions and metaverses might catch on and go viral among art galleries worldwide. It has a great potential to unite art lovers from around the globe and blur the line between the crypto world and real life, making the former more accessible and more fun.