Degenerate Ape NFT sold on Solana (SOL) for $1.1M
Blockchain firm Moonrock Capital has just purchased a Degenerate Ape Academy non-fungible token (NFT) for 5,980 Solana (SOL) (~£800,000), which marks the first one million dollar sale for the Solana blockchain.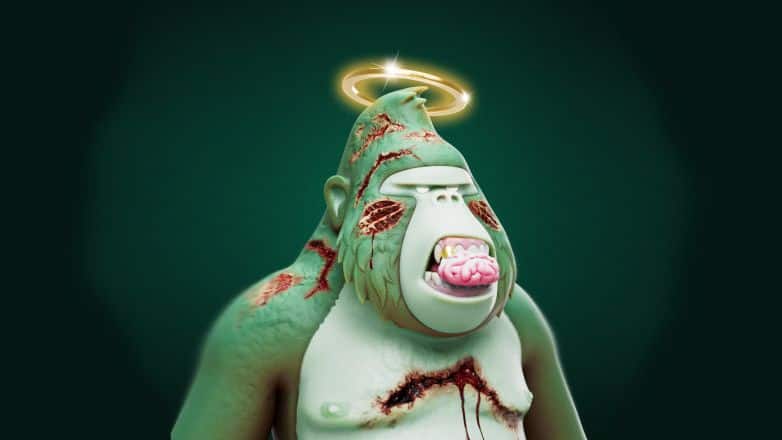 A landmark purchase
Although there's been another Degenerate Ape sold for a bigger amount, 7,000 SOL to be exact, it didn't manage to reach the $1 million (~£720,000) threshold since SOL's price was much lower at the time. 
This time it was the 13th rarest ape, a scarred zombie version of an ape with a halo, a gold tooth and a brain in its mouth. Moonrock also picked up the 18th rarest SolPunk — a Solana-themed version of CryptoPunks — for 1,388 SOL (~£187,000).
The SOL price continues to rise. The asset, which managed to exceed $200 in less than a week from $100 value, has also solidified its place among the top 10 cryptos. The asset is trading at $176.48 at the time of writing.
NFTs are conquering the world
This is a sign that NFTs are continuing to spread by shifting from the Ethereum (ETH) platform to other ones due to high fees becoming a growing issue.
YouTuber KSI joined this trend by purchasing a Solana Monkey Business NFT on Thursday, 9th September; he was later granted an honorary Degen Ape.
KSI isn't the only celebrity to notice the NFT craze as of late. TV presenter Steve Harvey changed his Twitter profile photo to a Solana Monkey Business NFT last week.
We have also been seeing new NFT marketplaces that are trying to keep up with the rapidly increasing amount of NFTs. On the other hand, more NFT projects popping up on Solana have resulted in collections becoming less valuable. Baseline prices have been sliding recently, with some mints not selling out, with a number of projects even selling below minting price.
Moonrock Capital has acquired one of the Degenerate Ape Academy NFTs for 5,980 SOLs, which is the first million-dollar NFT sale for the Solana blockchain.