Fortune magazine raises $1.3M in its first NFT sale
US business magazine Fortune has raised 429 ETH worth over $1.3 million (~£940,000) after selling its own collection of NFTs.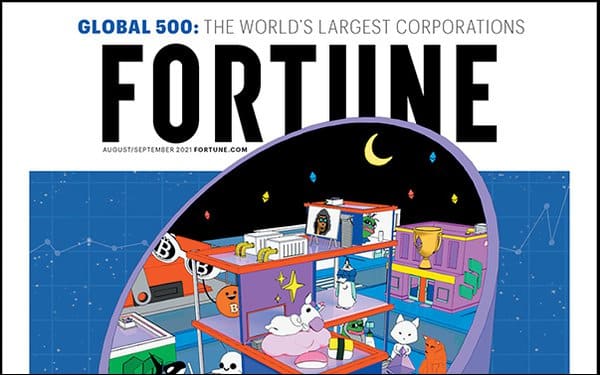 Checking out new trend
Fortune is a well-known US business magazine published by Time Inc. It was created by Henry Lewis in 1930 together with Time, Life, Fortune and Sports Illustrated magazines.
According to the magazine's board, the initiative was set up as an experiment aimed to join the blockchain industry's new trend. Fortune says it doesn't intend to sell the collected ETH and plans to HODL the share.
In total, Fortune has sold 256 NFTs, with the starting bid for each having been 1 ETH. The auction took place on Monday, 9th August, on the OpenSea platform. There were some unpleasant mishaps due to the website's inability to handle the huge number of requests from those wishing to bid. The platform kept crashing and visitors were greeted with 504 Gateway Timeout.
Fortune got a huge benefit
The maximum bid was 47.4 ETH (~£111,000 at the time of writing), but due to a glitch the lot was bought for just 23 ETH.
Even in spite of the problems, Fortune managed to raise 429 ETH, which is $1,382,216 (~£1 million) at the time of writing. Half of that money is planned to be donated to a nonprofit organisation and the rest will be divided among the staff.
According to the magazine's CFO, Anastasia Nyrkovskaya, the team won't sell its ETH but HODL them.
More and more companies are releasing their own NFT collections. Fortune magazine doesn't lag behind, having raised over $1 million in the first NFT sale. Time will tell if NFTs may become more popular than real artworks.