Hans Zimmer sells his first NFT collaboration with ThankYouX at Phillips
Award-winning film score composer Hans Zimmer has just sold his first collaboration with artist ThankYouX: a visual and auditory masterpiece auctioned at Phillips for several hundred thousand dollars.
Sound of Color
After first being teased on Twitter, Sound of Color was eventually sold at Phillips. The project encompasses three unique NFTs titled In Search Of, Embrace, and Acceptance, all of which seamlessly intertwine ThankYouX's stunning visuals and Zimmer's electrifying score to give life to this multi-part journey. 
"It was never a smooth road. I had a lot of struggles… My biggest struggle was not just making what I knew people wanted. I always wanted to create art that was true to me," said ThankYouX.
In Search Of
In In Search of, the viewer journeys through an ominous underground tunnel, passing by the rubble and scaffolds that represent the less esteemed facets of the art world. Zimmer's haunting and suspenseful score invites the viewer to travel through space and time. Once the viewer moves further inward, they are met with a massive spray-painted cube, a representation of ThankYouX's mature artistic style, which serves as a host for multiple visual narratives to unfold.
As the viewer traverses the cube, the audio builds in layers while the visuals evoke a steady ascent as more cubes begin to populate the space and illuminate in unison. The piece culminates in a sudden crescendo as the viewer is met with a mysterious light source from above.
The work is sold for $226,800 (~£163,106)
Embrace
The second NFT of the series, Embrace, presents a zoomed-in look at one of the visual microsystems that exist in the ecosystem of the cube from In Search Of. One of ThankYouX's signature cubes floats in a pool of water within one of the caves set to Zimmer's score, representing a singular storyline within the larger winding narrative.
Accompanying the NFT Embrace is a physical painting made by ThankYouX in collaboration with Zimmer. This painting serves as a vessel for an inset Infinite Objects screen that displays Embrace.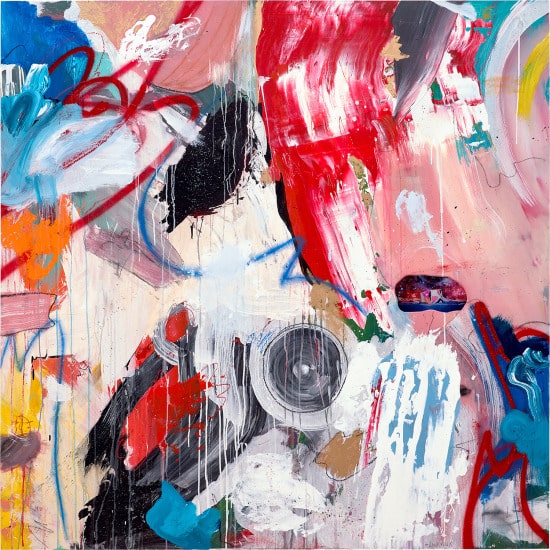 The components of this lot in turn demonstrate ThankYouX's passion for exploring the physical alongside the digital, juxtaposed in an attempt to unite the two worlds. This goal is further exemplified by the title of the work, Embrace, which signifies the traditional art world's embrace of the new medium of NFTs. 
The work was sold for $138,600 (~£99,676)
Acceptance
Acceptance, the last NFT of the series, depicts ThankYouX's large cube, beating with sound, color and life after puncturing the subterranean landscape and landing itself in the center of a fine art museum. The cube's brash entrance into this revered space embodies the emergence of NFTs at center stage in today's cultural zeitgeist.
The work is sold for $119,700 (~£86,084)
This is not the first time Phillips has put NFTs up for sale. The first NFT proposed by the famous house was a French piece, uniting musical artists and scientists. It remains to be seen whether Hans Zimmer loved the experience enough to offer new creations in non-fungible form again!
Hello there ! Intéressé par l'univers des cryptos-actifs, je suis passé de simples présentations powerpoints à mes amis à la rédaction d'articles sur internet. L'univers des cryptos est tellement vaste qu'il me permet de lier plusieurs de mes passions alors pourquoi ne pas les partager avec vous ?
"Cryptos toujours pareil ! Boom Boom dans les oreilles !" Satoshi Gesaffelstein