HoDooi: the eBay of NFTs?
To date, the market for NFTs (non-fungible tokens) has exceeded £1.4 billion since its inception. The growing popularity of the NFT industry is prompting many companies to try their hand at creating and selling this new form of artwork. One such newcomer is HoDooi, who has just thrown down the gauntlet for other NFT marketplaces!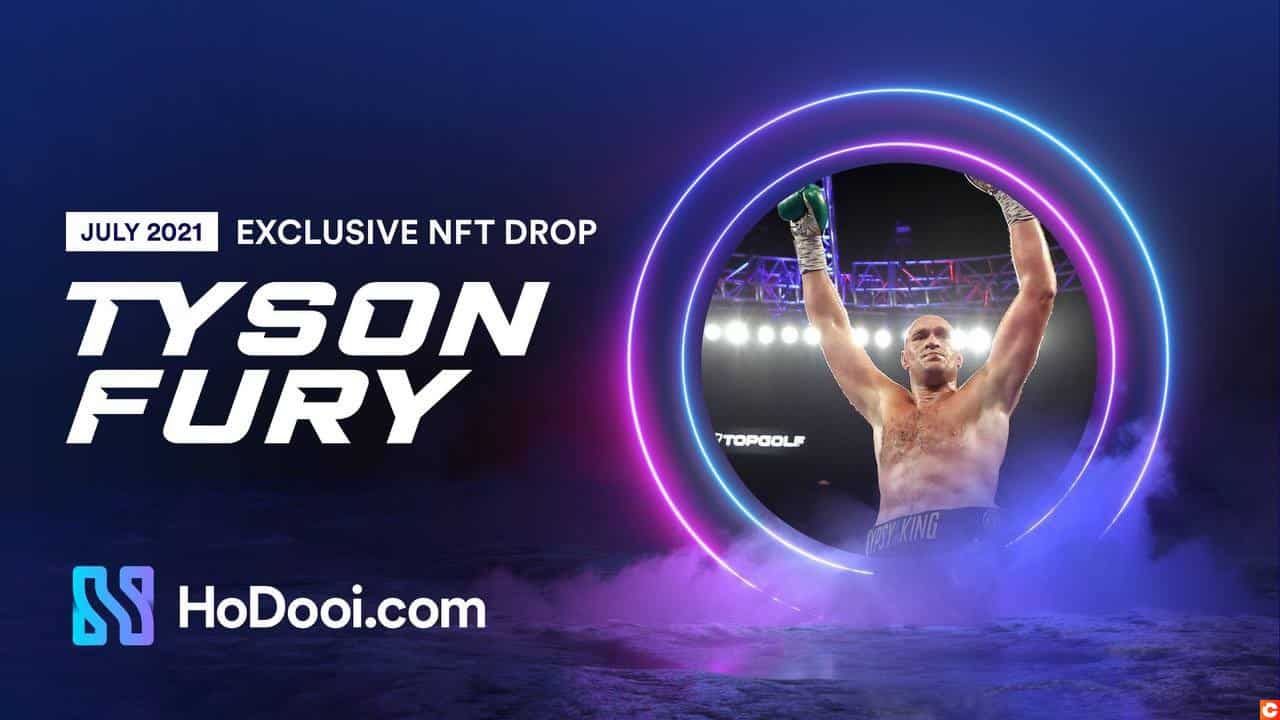 A new challenger enters the ring
HoDooi is a multi-channel, one-stop NFT marketplace that allows all digital NFT content to be purchased, sold and resold.
The project takes an ambitious approach by operating on several blockchains, starting with the Binance Smart Chain (BNB) and Ethereum (ETH). Subsequently, other blockchains will be incorporated, with the goal of full compatibility with all the major networks.
The project has already passed its fundraising stage, with more than $4.3 million (~£3 million) raised at the end of this first fundraising round alone. Big investors such as Morning Star Ventures, Mentha Partners, Hillrise Capital, ZBS Capital, AU21 Capital, Swissborg Ventures, Sora Ventures, DuckDAO, and Master Ventures are already on board. After this successful first step, the platform is preparing for launch this summer and has already planned a big-name partnership to celebrate the occasion.
A hard-hitting collaboration!
For its first major NFT collection, HoDooi announced a smashing partnership with boxing's biggest name, Tyson Fury. The two-time Heavyweight Champion of the world teamed up with the non-fungible token platform to launch his own run of NFTs.
By working closely with Tyson, Gold Star Promotion and Fomolabs, HoDooi is making this exclusive first collection of NFTs available from 25th June.
The 'Gypsy King' says he is looking forward to launching his special collection on HoDooi and does not hesitate to show it proudly:
"HoDooi.com will be the official NFT marketplace to launch my NFT collection. Looking forward to showing my fans and their users what we've created. Get ready for the release, you big dossers!"
An opening not to be missed
At the head of the HoDooi project is Matt Luczynski. It is not his first foray into the crypto space since he already took his first steps in the universe as co-founder of Travala, a crypto-friendly hotel and aircraft booking company that recently started its decentralisation journey on the Binance Smart Chain. With his new, all-in-one marketplace project, he is looking to solve one of the sector's shortcomings by offering a reliable and easy-to-use platform:
"We are going to make HoDooi.com the eBay of NFTs. The platform will allow our users to create auctions for their NFTs, list those they have bought elsewhere, and browse what will be a thriving marketplace for digital artwork, moments and collectibles.
"We're hugely proud of Tyson's decision to launch his first foray into the world of blockchain art and NFTs on our platform. He is a household name who has experienced everything the world of elite sport and celebrity life can throw at you.
"Alongside Tyson, we're working with a range of high-profile names from actors to sports stars, with the aim of bringing their collections to HoDooi.com."
Obviously, the partnership with Tyson Fury is just a taster of what they have in store for the future. So, who will be the next big name to enter the NFT arena with HoDooi? Place your bets!
HoDooi storms into the NFT space with a carefully-thought-out flurry of punches. Between partnerships with prestigious companies and an NFT deal with the biggest name in boxing, the platform has everything it needs to knock out the competition and achieve its goal of becoming the eBay of NFTs!