Katy Perry to drop her NFTs with ThetaDrop
The pop star announced via twitter the upcoming drop of tangible and intangible NFTs for her upcoming 🍄Play 🍄 show in Las Vegas.
A Tweet from Katy Perry
It was through this Tweet that the singer broke the news:
This NFT collection will be linked to her new show titled "Play" and will celebrate her residency at the Resorts World Las Vegas hotel.
The release is scheduled for the end of 2021.
An NFT with physical experience included
These NFTs will be accompanied by a physical counterpart for the buyers — probably meetings or exclusive offers for the show.
"I can't wait to dive in with the Theta team on all the exciting and memorable creative pieces, so my fans can own a special moment of my residency that's both a digital collectible as well as an IRL [in real life] experience," says Katy Perry on her Twitter.
Perry gets a stake in Theta
The successful singer also owns a minority stake in Theta Labs, alongside her artistic agency, Creative Artists Agency. Katy therefore has a lot to gain from this collaboration.
It's very likely that her sudden passion for NFTs has a lot to do with the passion for the size of her bank account.
In 2018 during the previous bull run, she made an Instagram post with different cryptocurrency logos on her nails.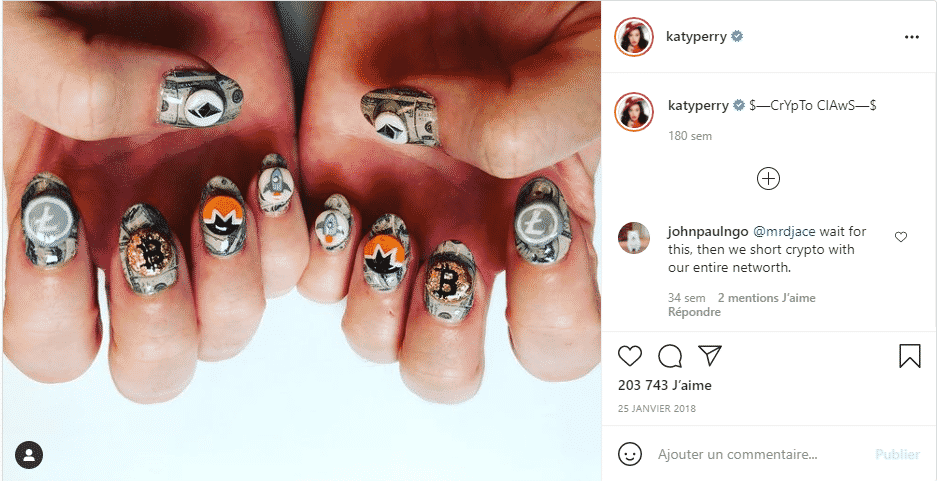 If you are interested in this drop, it is possible to pre-register at this link: https://katy.thetadrop.com/
Hello there ! Intéressé par l'univers des cryptos-actifs, je suis passé de simples présentations powerpoints à mes amis à la rédaction d'articles sur internet. L'univers des cryptos est tellement vaste qu'il me permet de lier plusieurs de mes passions alors pourquoi ne pas les partager avec vous ?
"Cryptos toujours pareil ! Boom Boom dans les oreilles !" Satoshi Gesaffelstein