Mutant Apes NFT collection makes $96M worth of Ethereum (ETH)
When it comes to the NFT market, the first thing that springs to mind is NFT images sold for millions of dollars. But the market is rife with cheaper collections. Their owners most often rely on the quantity sold more than on the cost of each individual token.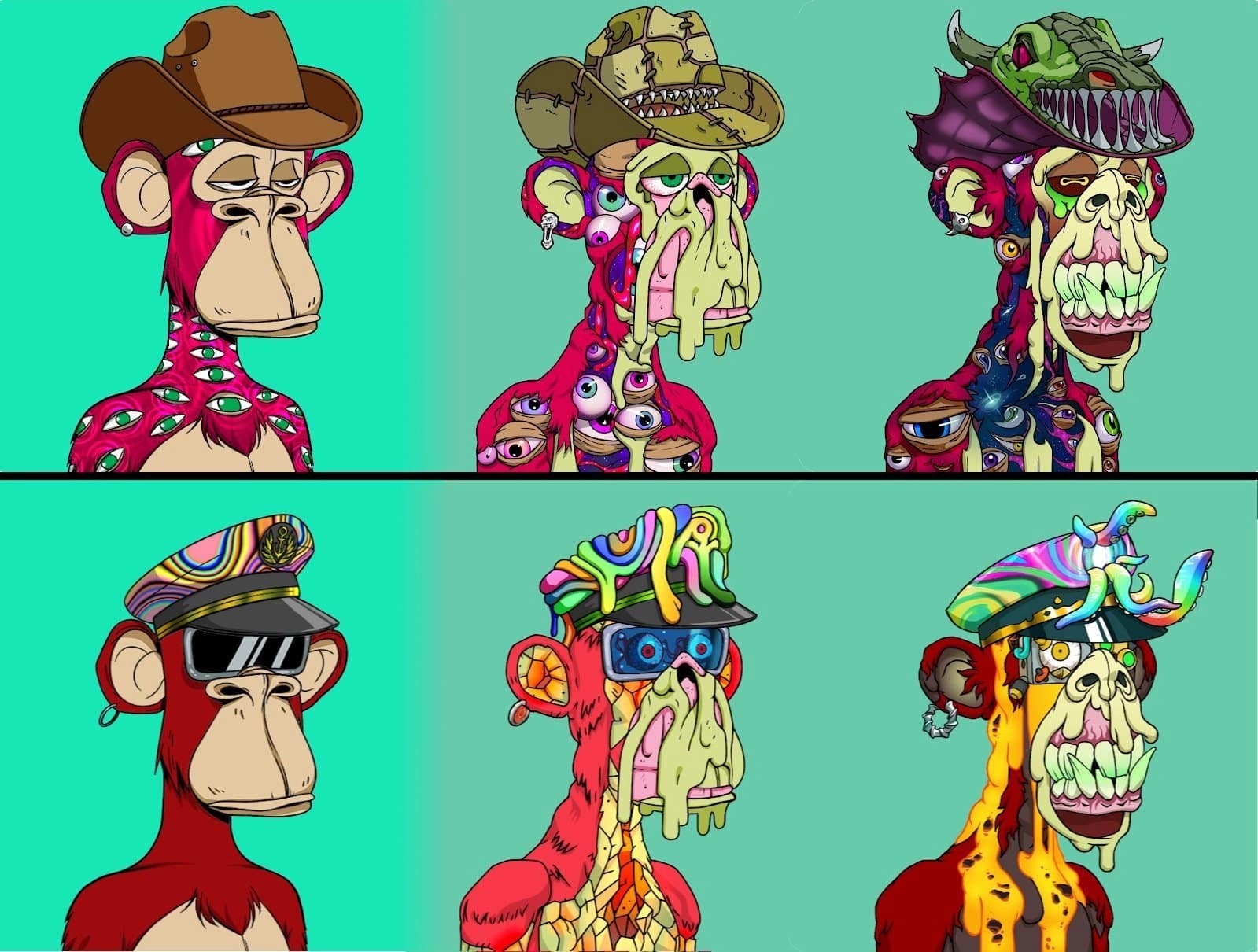 One of the brightest examples of this approach is the Bored Ape Yacht Club project, launched in April. It comprised 10,000 randomly generated NFT with different-looking, you guessed it, – bored apes. Some of them are dressed in tweed suits, while others are smoking. The structure of the collection is closely reminiscent of that of the CryptoPunks project.
Although you can't do pretty much anything with the apes, they still cost a pretty penny. At the moment, the minimal price per one NFT from the collection is 25 ETH (~£58,200). The sales of Bored Ape Yacht Club have totalled $354 million, putting the series in fifth place among the most successful crypto collections of all time.
Bored Ape Yacht Club token owners will get to create their own NFTs
The collection was a roaring success, and you might think it would've stopped there. But at some point, the creators came up with an insane idea. They decided to distribute so-called "serum vials" among the token owners. The serum can be injected into your NFT ape, thus transforming it into a mutant.
I continue to be MASSIVELY impressed by @BoredApeYC #BAYC #MAYC 🧪🧪🧪 pic.twitter.com/tXo3EYdgFv

— AlexisOhanian 7️⃣7️⃣6️⃣ (@alexisohanian) August 29, 2021
There are three types of the serum: M1, M2, and Mega Mutant (M3). If you 'inject' your ape with one of the first two kinds, the resulting ape will still retain some of the features of its predecessor. However, if you inject an ape with M3, the serum will change its appearance completely, transforming it into a brand new type of mutant with much rarer features, thus making it infinitely more valuable.
Only 8 of the Mega Mutant Serum! If you get this you life is changed forever pic.twitter.com/qGFMrSkAaR

— cr0ss.eth (@cr0ssETH) August 28, 2021
Bored Ape Yacht Club creators are giving out more serum to Bored Ape owners
All of the above means that the owners of Bored Ape Yacht Club NFTs can get an almost entirely new token that is much more valuable while retaining the original NFT that they'd bought. Initially, the Mutant Apes collection didn't prove to be much of a success, as the owners were either giving their NFTs away or selling them relatively cheaply.
Mutation.. DONE! M1 & M2 🔥🧟‍♂️🧟‍♂️🧟‍♂️🔥 @BoredApeYC #mutated #merch #bayc #apefollowape pic.twitter.com/BIgmzXr1C2

— SWΞΞTTOOTH. 🍩🤑🍩 (@sweettoothnft) August 29, 2021
However, things had changed rapidly after the hype spread across the web, and now one mutant ape costs 7 ETH (~£16,000). At the moment, the collection has amassed $96 million (~£69.7 million) from the sales of 10,000 mutated primates. But the overall mutant craze alongside the sales of the Bored Ape Yacht Club collection is far from over because its creators have sent around another 10,000 serum vials.
You can only imagine how many possible ape iterations we'll be seeing up for sale. And, you can only imagine for how much.