NFT of spoiled WWW source code sold for €5.4M
Error 404, not found. The NFT of the original web's source code sold at Sotheby's for €5.4 million (£4.6 million) contained a coding error
Gone for €5.4M
The auction began on 30th June 2021, as scheduled. The NFT of the original source code was sold for €5.4 million, quite modestly indeed.
The NFT consisted of four parts:
· original time-stamped files of the source code written by Tim Berners Lee
· an animated visual representation of nearly 10,000 lines of the code
· a digital poster of the full code made by Tim Berners Lee using Python
· a letter written by Berners Lee on the code creation process
However, despite Tim Berners Lee supervising the process, a person who converted the original text file to HTML made a terrible mistake.
Symbol error
Venture investor, Beanie @beaniemaxi, wrote about the incident on Twitter:
Sotheby's unforgivable mistake…
The error to affect the NFT value
Many Internet users claim this error may raise the cost of the NFT, as it happened to other collectibles with a misprint error.
On the one hand, the NFT's code isn't real. On the other hand, this incident gives its creators an opportunity to make a product with a unique history. And since a lot of people are looking to own a piece of history, this situation might even turn into a good marketing opportunity.
Remarkably, the correction of this error was sold for 1 ETH in NFT.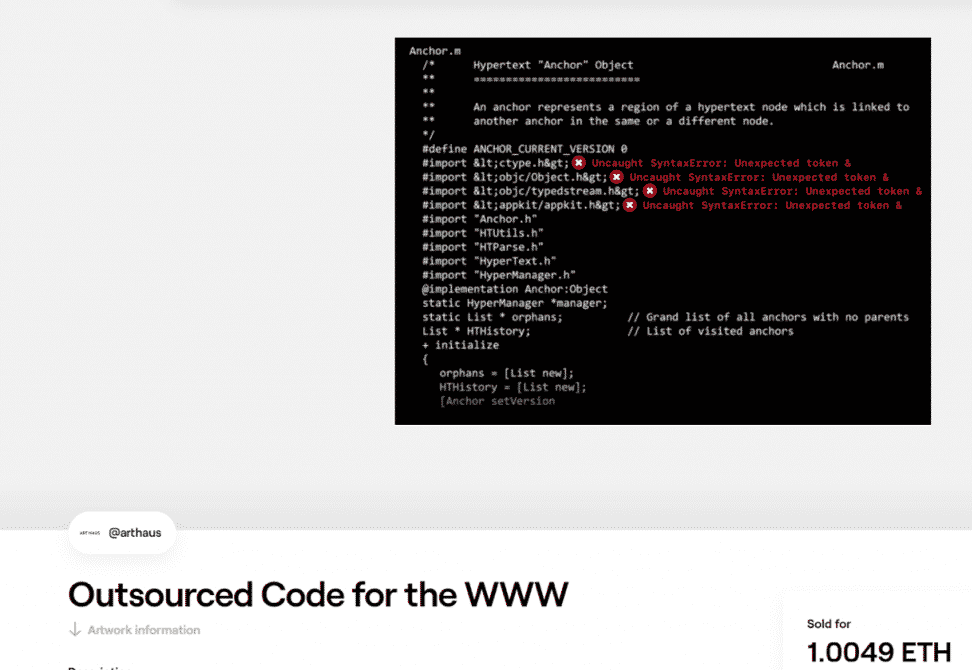 Recently, Sotheby's announced they would work with the winner of the legendary piece on whether they want to fix the error, as PleasrDAO claimed the metadata is still updatable.
What is your opinion on the spoiled NFT? Will it lose its value or become even more pricey? Would you personally consider risking the value of the NFT by fixing the error?
Hello there ! Intéressé par l'univers des cryptos-actifs, je suis passé de simples présentations powerpoints à mes amis à la rédaction d'articles sur internet. L'univers des cryptos est tellement vaste qu'il me permet de lier plusieurs de mes passions alors pourquoi ne pas les partager avec vous ?
"Cryptos toujours pareil ! Boom Boom dans les oreilles !" Satoshi Gesaffelstein