COPA asks Craig Wright for clarification on Bitcoin White Paper (BTC) rights
"He cannot prove that he is Satoshi Nakamoto, because he did not initially foresee that he would have to prove that he was the founder of Bitcoin (BTC)": Craig Wright's lawyers know exactly the line to take. They have now demanded that the owner of Bitcoin.org remove the Bitcoin white paper, or face legal action.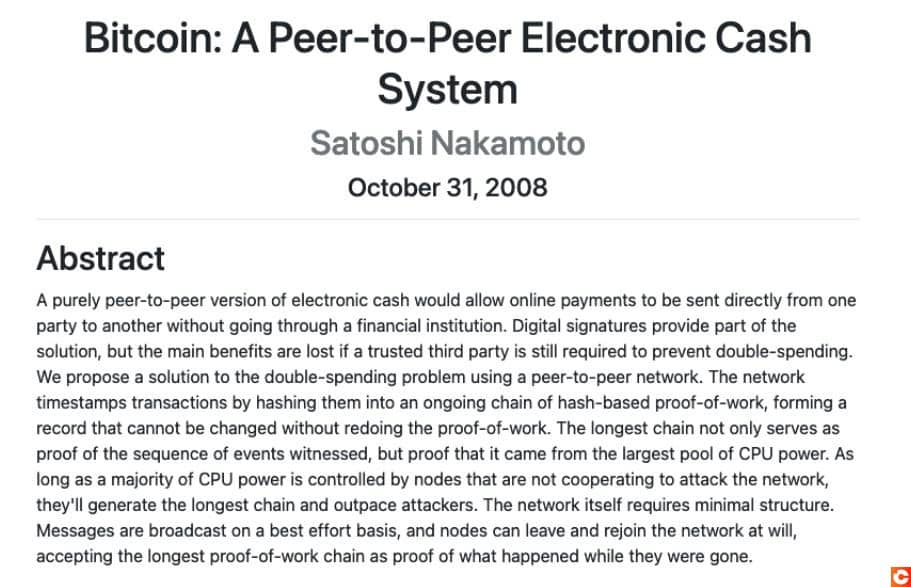 Nine questions for Craig Wright
The law firm ONTIER LLP, which says it represents Craig Wright, has asked Bitcoin.org to remove Bitcoin's white paper from their site, citing Faketoshi is the so-called copyright holder.
On 3rd February 2021, the owner of Bitcoin.org, known as Cobra, posted: "today is the day I have to stop hosting the white paper, otherwise I will be sued."
Just three days earlier, Cobra reportedly received a death threat from a Bitcoin Satoshi Vision (BSV) fan.
Wright's lawyers have also asked other sites to remove the white paper or face legal action.
Many companies have chosen to publish the white paper in response to these threats. The Estonian e-residence project website was one notable example.
Colombian President Jehudi Castro's adviser even added the white paper to a Colombian government web page.
The Cryptocurrency Open Patent Alliance (COPA) have sent a letter to Wright's lawyers; it asks for more evidence to support Craigtoshi's claims.
The letter contains nine questions requiring evidence that Wright is Satoshi Nakamoto, and therefore is the author of the BTC white paper.
The identity of Satoshi Nakamoto is not important
The law firm ONTIER LLP had also threatened Square with legal action for hosting Bitcoin's white paper on its website if it did not remove it. Square has not given in, replying that it "knew who invented Bitcoin".
Craig Wright has claimed since 2015 that he is Satoshi Nakamoto, but has failed to provide a single piece of convincing evidence to confirm his claims.
Will we really facing lawsuits surrounding who holds the rights to the Bitcoin white paper? Will lawyers who do not understand how BTC works be able to deliver an argument that holds water? Wright has still not been able to provide the private keys that give access to Satoshi Nakamoto's 1.1 million BTC. What if the real Satoshi Nakamoto burned their keys, so that no one could ever access this huge reserve of bitcoin from its early years?