Bitcoin (BTC): US news flow effect
Since 21st July, the price of Bitcoin has increased by 30% — a bullish market trend accompanied by rising volume, something unseen in the last three months since the surprise bear attack in mid-April. Is the bull run back for good? We'll see the answer to that question by the end of this week. In the meantime, I am still shocked by the impact of the US news flow.
Monday, 26th July, first proper breakout in 3 months
In my previous technical post on Cointribune, I went over the factors of price analysis in a situation when the price is going sideways for an extended period of time. The goal is to be able to determine the direction of the upcoming exit from the range in advance, which in our case follows a decline of more than 50% since the historical record Bitcoin set last April.
Some suggested that was the phase of whale accumulation, but in a rather marginal way. Price action always has the final say, and we must admit that the bullish trend of the past week is interesting. The return of volume, the net increase in the commitment of pro traders (wonderful rebound of the Grayscale Bitcoin Trust, for instance) are the real technical innovations of the last three months. It is now left to validate everything by an overflow of resistance at $42,000, which hasn't yet occurred at the time of this writing. However, the general morale has been definitely given a boost!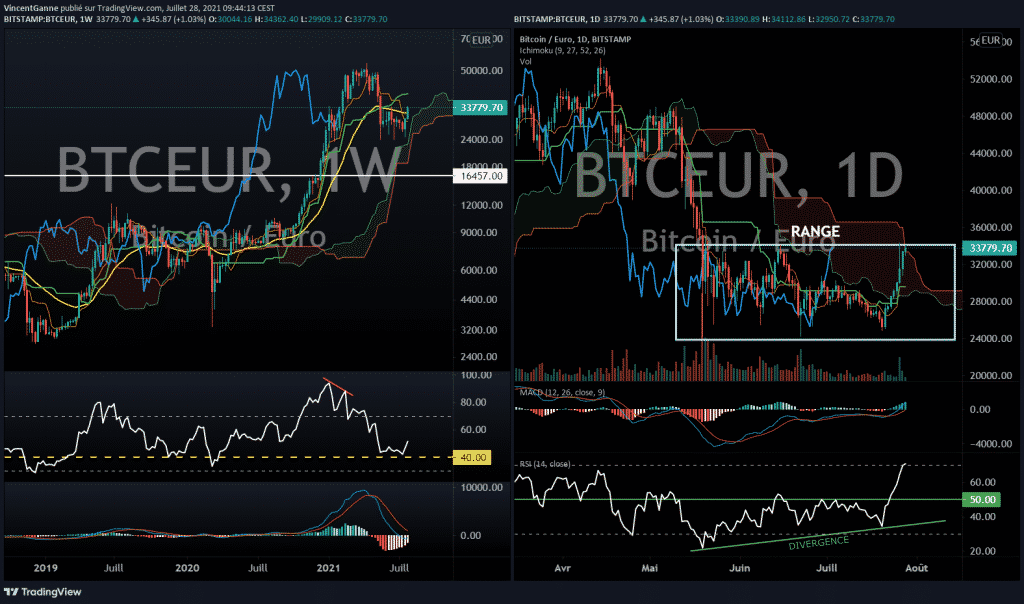 The crypto world's correlation with the US news flow
We can't ignore the fact that the last three months have been very tough for cryptocurrencies. This period was a brutal reminder that, despite the development of bullish fundamental structures, big names in the US payment industry, the capital of Wall Street and the financial moguls of Asia can push the cryptocurrency market down by as much as 50% in one month.
Besides, to be completely honest, we have to admit that the market wouldn't have reached the levels of last April without progressive adoption by the US and Wall Street.
The new hot topic for the next few months is the upcoming connection between the e-commerce giant Amazon and Bitcoin. Visa, PayPal and co, are all bottom feeders compared to Amazon. And even if there's nothing more concrete than an online job ad, that's the US news reviving the market again. Thanks for reading!
Stratégiste de marché, analyste technique, formateur, intervenant régulier sur BFM Business et différents médias économiques et financiers ; je me sers de mes connaissances des marchés financiers, de la macro et micro économie dans le but de prévoir les tendances de moyen et long terme des actifs financiers.