Credefi: decentralized finance at your fingertips!
Sat 12 Feb 2022 ▪ 10h00 ▪
6
min read — by
In this multifaceted ecosystem, decentralized finance (or DeFi ) is attracting a large number of followers. The possibility of becoming the master of one's investments and earning interest from them is one of the components of this success. With this in mind, the Credefi platform has developed cryptocurrency lending solutions, allowing you to earn high interest on your stablecoins. We explain what's so special about Credefi!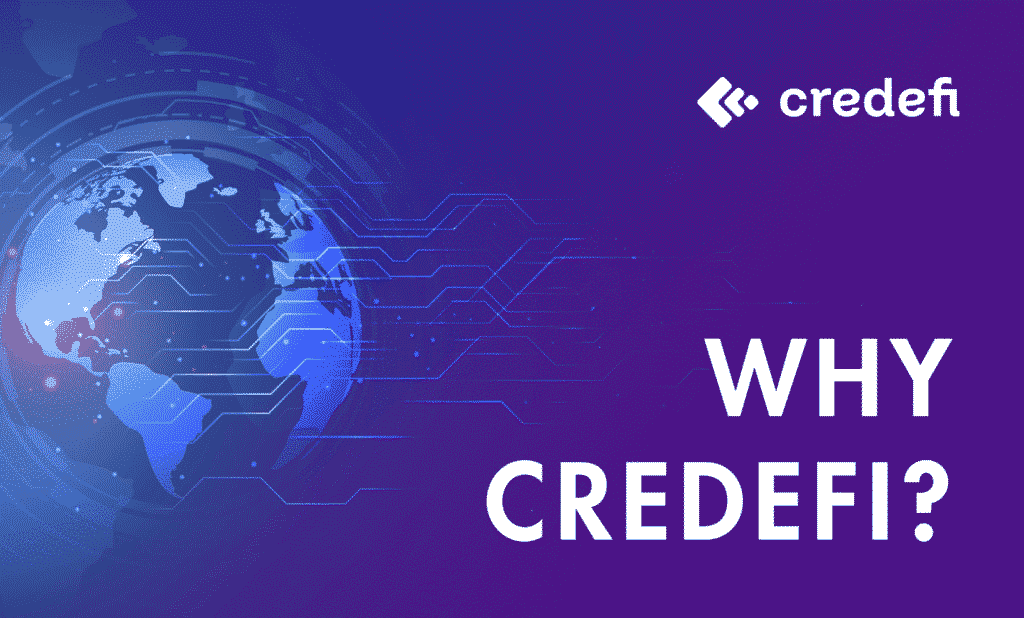 Credefi in a few lines
As usual, we take care to introduce you to innovative players in the ecosystem. For once, Credefi has entered this universe with a solution that you will appreciate. Indeed, Credefi is the first lending platform linking crypto investors with small and medium-sized companies in the traditional fiat economy. Beyond sending a strong message to the detractors of cryptocurrencies, Credefi wishes to reconnect the world of blockchain with the "real" world through DeFi. The solution developed by Credefi takes the best of what decentralization can offer. Indeed, the lending protocol developed by the platform ensures optimal security for lenders against fixed interest (APY).
The team behind the project is not new. Indeed, the core of Credefi is composed of more than 40 financial experts. With a background in private equity, trading and central banking, the Credefi team is ready to take on the biggest challenges and disrupt DeFi and TradFi (Traditional Finance).
Last November, the platform announced the end of its private fundraising. Generating a strong buzz among investors from different industries, Credefi managed to raise $2,195,000.
And it's not over yet!
In 24 hours the protocol has managed to collect more than $600,000 in total value locked up. This step now allows people wishing to deposit funds on the platform to receive annualized interest (APY – Annualised Percentage Yield) of 10% guaranteed. All financial actions carried out by the platform are governed by a legal framework. Indeed, Credefi has established a strong connection with a major player of European traditional finance. This partnership will help the platform to protect itself from any default in the management of its credits.
The teams pay particular attention to developing technologies that are in line with developments in the ecosystem. Indeed, the recent boom in NFTs has motivated Credefi to offer a new service to its users. This is how a revolutionary product was born on the platform, the NFT Default Swap (NDS). To understand more in depth how this tool works, I invite you to read this article deciphering this mechanism in great detail. To summarize very briefly, the NDS aims to optimize the security of investments on the platform while creating a secondary market for asset-backed loans.
Credefi and the confidence of institutions
To support its ecosystem, Credefi has introduced the CREDI token, fuel of the platform. You will find this token on one of the biggest centralized exchanges today, KuCoin, but also on two decentralized exchanges well known by the community, I named UniSwap and PancakeSwap. At the time of writing, the CREDI token is trading at around $0.02. Introducing a token gives an idea of the health of the company, which adds an indicator to entice potential investors.
The experience and network of the various team members has given them access to the private spheres of traditional finance. With these connections, Credefi has been able to develop a useful tool establishing a strong connection between the cryptocurrency world and the traditional economy. A telling example of this promiscuity established by Credefi between the two worlds can be seen in a recent partnership with the company Experian.
An innovative solution for the ecosystem
A pioneer in this sector, Credefi offers a new way to diversify your portfolio and generate passive income. Different risk levels are offered and you can already carry out simulations on their platform. Market trends are somewhat uncertain these days, and the comfort of fixed interest offered by Credefi is beneficial for any investor.
Indeed, enjoy a minimum of 10% APY on your USDC, USDT and DAI stablecoins! However, this percentage can be increased if you wish to increase the risk of your investment. I see you smiling, and it is true that we are far from what traditional banks offer!
To conclude, Credefi wishes to democratize finance by maximizing the returns on their users' investments. Indeed, no margin is applied by the platform on the funds deposited in its protocol. Innovations like Credefi are forging the beauty of the crypto universe. Take a look at their platform, it's worth it!
Recevez un condensé de l'actualité dans le monde des cryptomonnaies en vous abonnant à notre nouveau service de newsletter quotidienne et hebdomadaire pour ne rien manquer de l'essentiel Cointribune !
Derrière la signature générique « Rédaction CT » se trouvent de jeunes journalistes et des auteurs aux profils particuliers qui souhaitent garder l'anonymat car impliqués dans l'écosystème avec certaines obligations.
DISCLAIMER
The views, thoughts, and opinions expressed in this article belong solely to the author, and should not be taken as investment advice. Do your own research before taking any investment decisions.