Bitcoin (BTC): back to $30,000
Fri 23 Jul 2021 ▪ 17h57 ▪
5
min read — by
Bitcoin has fallen by 5% this week. Having shown its first drop below $30,000 in 4 weeks, it is now slowly stabilising. The current summer torpor as well as the Chinese miners' great migration gives plenty of food for thought.
US 10 year Treasury yield falls back to 1%
The rise in the US interest rates appeared to be the front-page topic in the beginning of the year. This proverbial dead-cat bounce had had a serious impact on both Bitcoin and gold, which gave back its 2020 price gains (+25%).
The rise has ended, as illustrated below: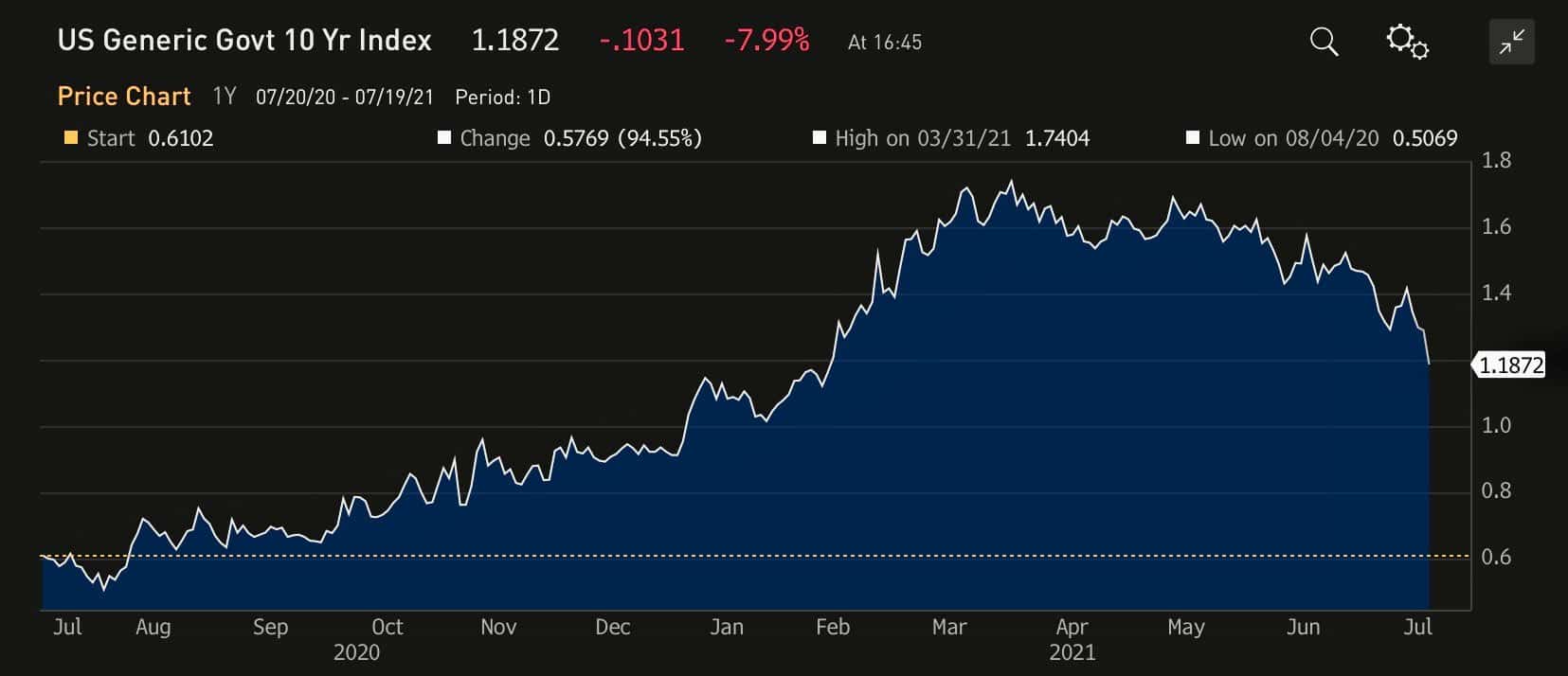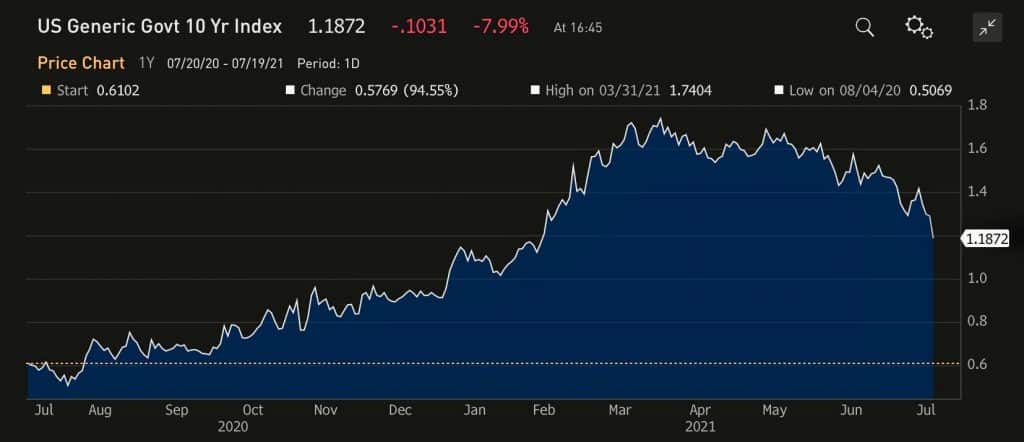 The situation resulted in a further decline in real rates, which allowed gold prices to recover. Bitcoin value is expected to stick to the same trend soon, given that real interest rate is now -4.2% in the US. This figure is calculated by simply deducting the annual inflation rate from the nominal interest rate and roughly shows the loss in purchasing power of the US dollar.
The inflation has progressed by almost 1% in June, which means that the dollar has lost half of its purchasing power over 3 and a half years. In other words, American citizens' wages need to be raised every 3 and a half years so as not to diminish the nation's quality of life.
While the Chinese miner migration expenses are certainly prompting selling pressure on Bitcoin, the fall in the US interest rates and runaway inflation bode very well in the mid-term. The Dollar Index (DXY) decline is also a good sign, and is likely to continue going down given the US trade deficit has almost doubled since Joe Biden took office.
Businesses shopping around
Capital Group, a $2.3-trillion (~£1.67 trillion) fund, has invested $600 million (~£436 million) in Michael Saylor's international company, MicroStrategy, by purchasing 12% of its shares. As of June 2021, MicroStrategy held more than 100,000 BTC, twice as much as Tesla. Moreover, the company had to take a loan of $500 million (~£364 million) at an annual interest rate of 6.125% so as to finance the purchase of that BTC. That proves Michael Saylor's utmost faith in Bitcoin.
Here is MicroStrategy's return on investment in Bitcoin: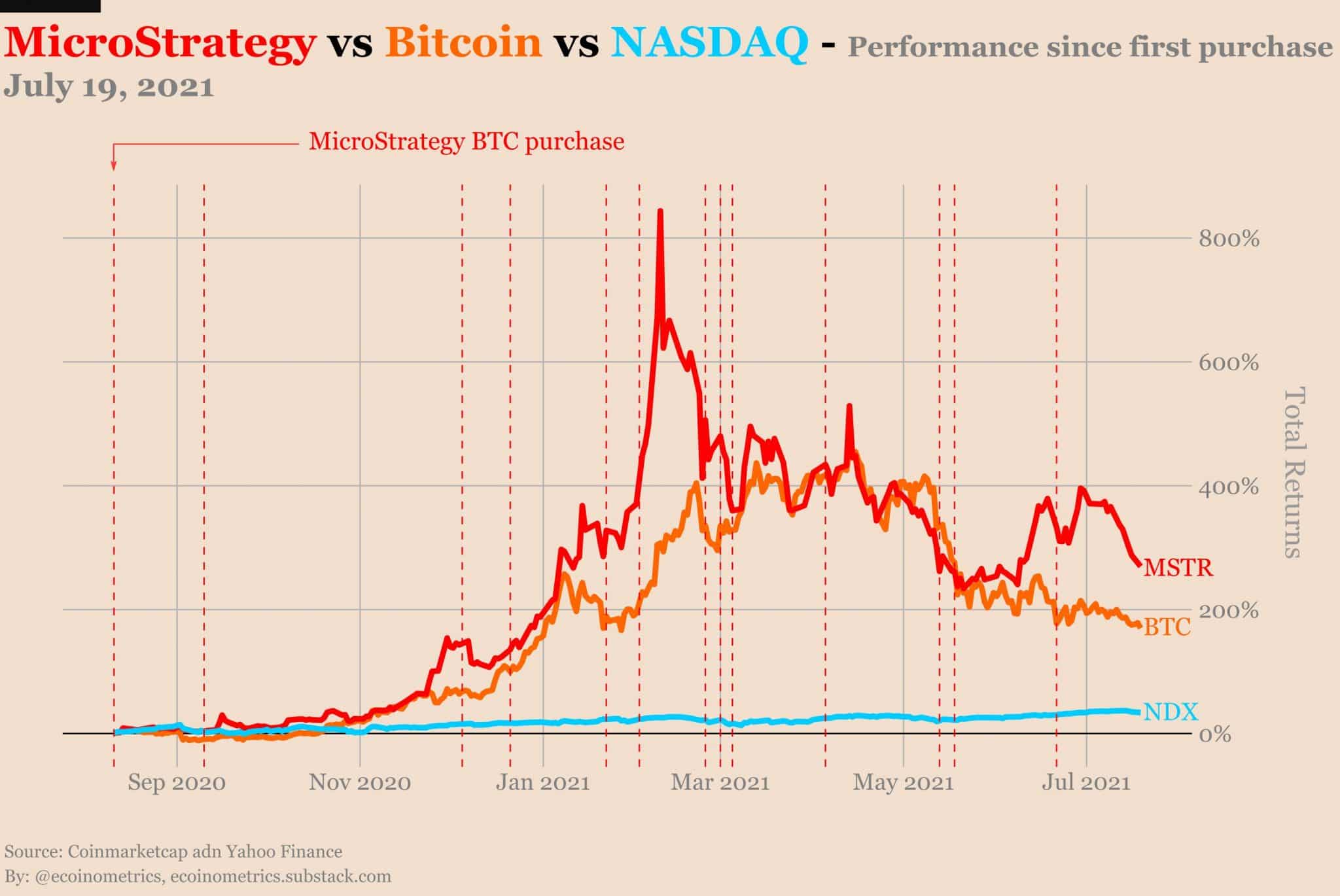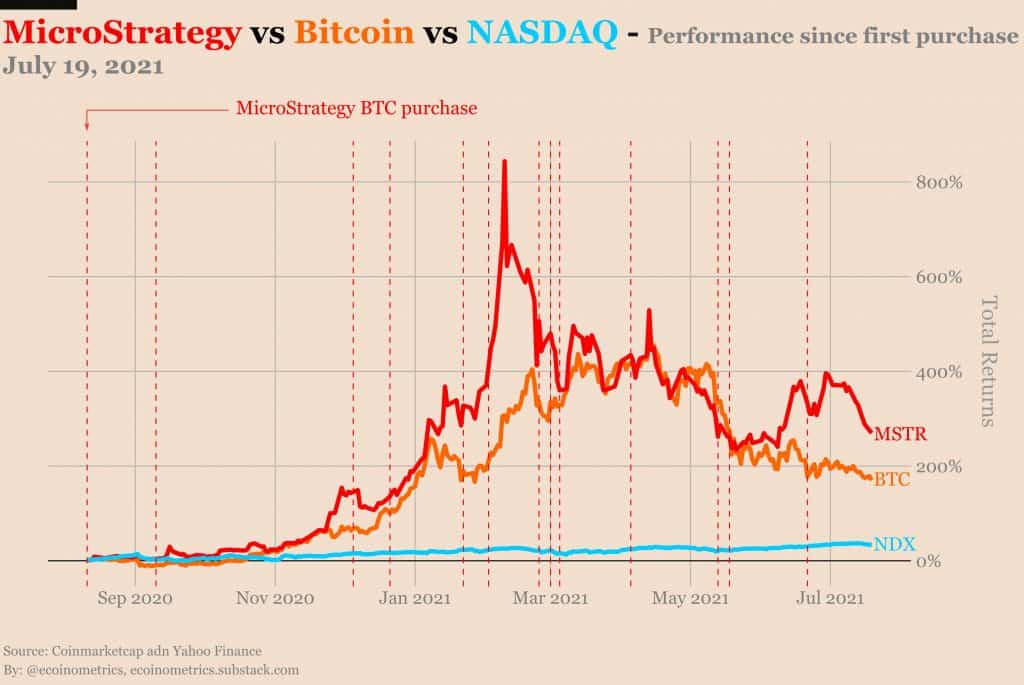 What about other companies? "A Bitcoin ETF here in the US is really a matter of when, not a matter of if", the CEO of Grayscale stated. The fund has teamed up with BNY Mellon to try and get the long-awaited approval.
Grayscale holds $27 billion (~£20 billion) in BTC and other cryptos (BTC Cash, Zcash, etc.) and has just sold 141,405 shares of its Bitcoin Trust to the Rothschild Group. It turns out the renowned dynasty has tripled its investments in Bitcoin.
These days, the B Word conference, featuring Jack Dorsey, the CEO of Twitter, and Elon Musk, the CEO of Tesla, also has a big role to play. By the way, Max Keiser continues his #FUCKELON tour. He will be in Phoenix on 19th August.
Flash crash again?
Bitcoin is quite vulnerable to a flash crash in case it stays below $30,000. That's why droves of buyers are now off the starting blocks.
The whales — those holding more than 1000 BTC — are focused on the purchase, too. The blockchain analysis shows that they've been accumulating coins for several weeks straight.
The shift in BTC supply on the exchanges also points in this direction. Glassnode's weekly on-chain report shows exchanges have been seeing net outflows. This can be a sign of a weakening selling pressure: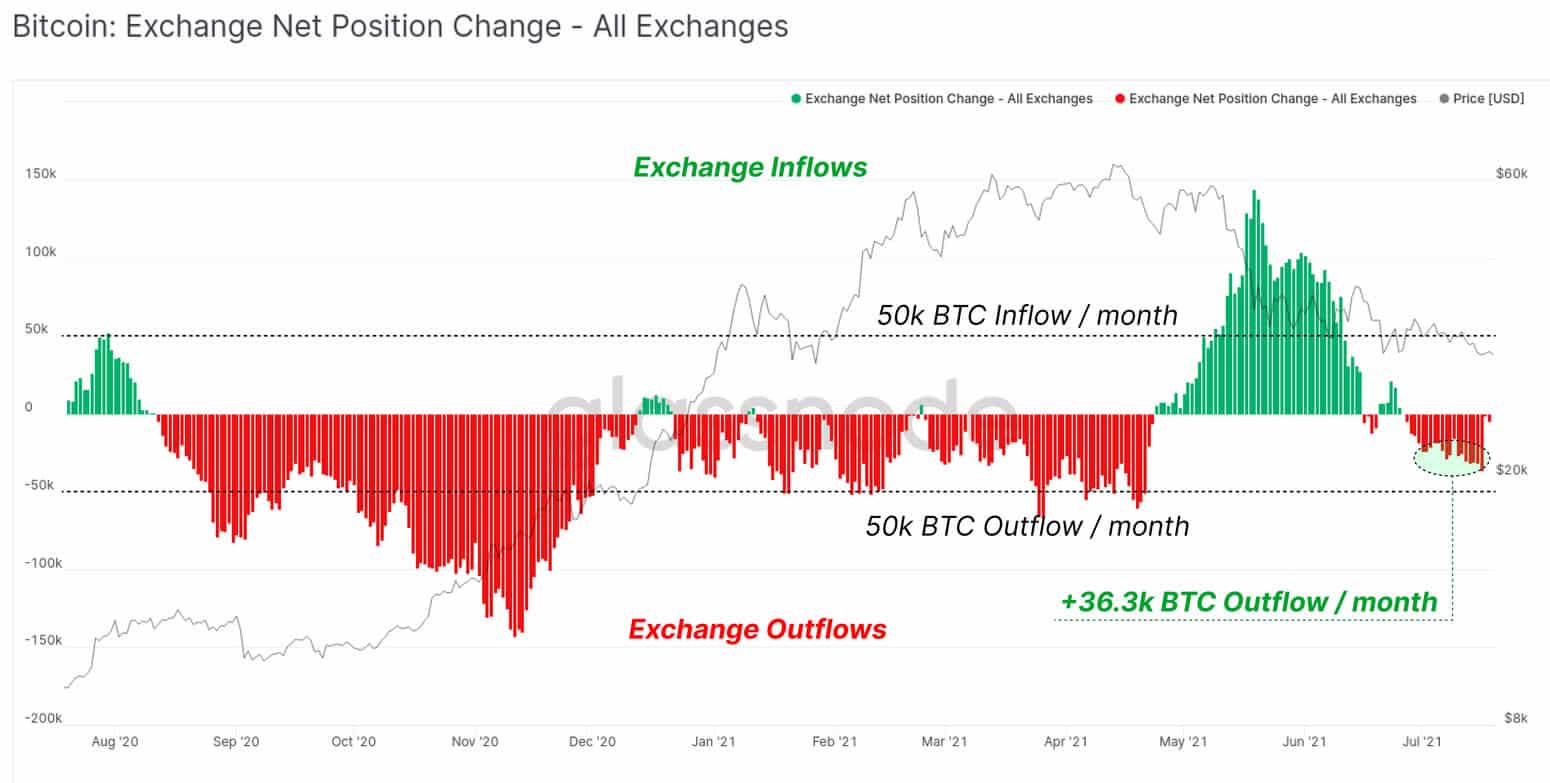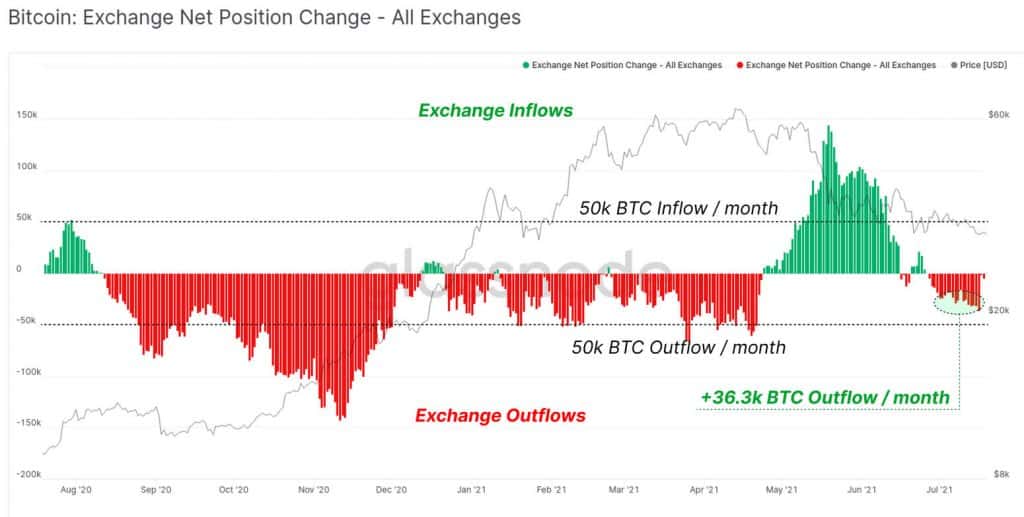 Finally, let's refer to a little FUD from the European Commission, which is trying to tighten the rules of crypto transfers following the Financial Action Task Force (FATF) recommendations. These new restrictions reportedly support the regulators' idea to ban private wallets, which is absolutely impossible, to be honest. However, as a result Bitcoin has eventually climbed back above $30,000.
We prefer to remain bullish, not bearish. Anyway, market declines present a perfect opportunity to buy more coins. If the world sees Bitcoin's value dropping below $30,000, a violent buying tide will surely follow.
Recevez un condensé de l'actualité dans le monde des cryptomonnaies en vous abonnant à notre nouveau service de newsletter quotidienne et hebdomadaire pour ne rien manquer de l'essentiel Cointribune !
Bitcoin, geopolitical, economic and energy journalist.
DISCLAIMER
The views, thoughts, and opinions expressed in this article belong solely to the author, and should not be taken as investment advice. Do your own research before taking any investment decisions.