Dogecoin (DOGE): Bitcoin's Poorer Cousin
From its inception on 6th December 2013, Dogecoin quickly took a commanding position in the cryptocurrency market, reaching a market capitalisation of $60 million by January 2014. And yet, initially, Dogecoin, with its smiling Japanese Shiba Inu logo, was just an inside joke within the crypto community that the 'true' Bitcoin lovers knew how to address.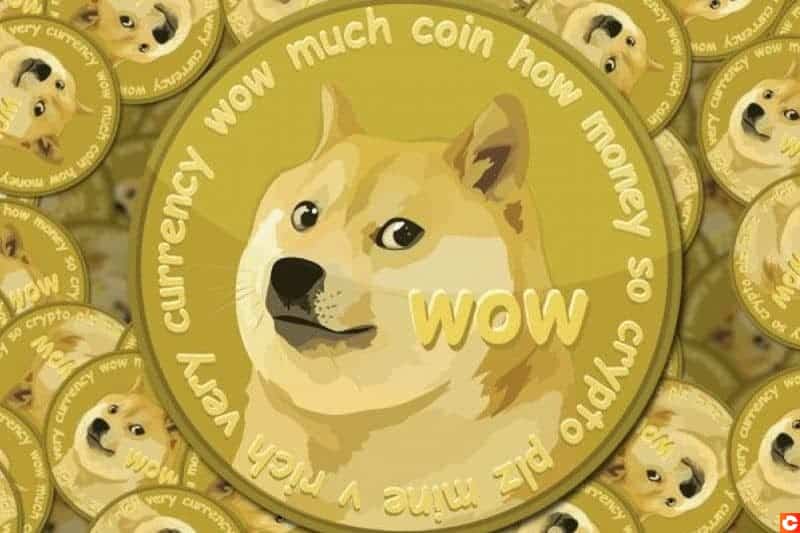 So how did we go from the sympathetic dog meme to a cryptocurrency whose market cap reached $2 billion in early 2018? This is the basis of our analysis we will use to look at the specifics of Dogecoin compared to other digital currencies, in particular Bitcoin (BTC).
An overview of Dogecoin
Dogecoin was born in December 2013, a year when social networks were dominated by the famous internet Shiba Inu dog meme called Doge. The popularity of this naive and friendly dog ​​is what led the electronic token to bear its name. Originally, curiously enough, it was to make fun of cryptocurrency (especially Bitcoin), by creating a copy of Satoshi Nakamoto's virtual currency and giving it the humorous name of Dogecoin.
Because it is a copy of Bitcoin (from which it is forked), Dogecoin is also decentralised and facilitates peer-to-peer transactions. These transactions are fast, inexpensive, and secure. It works based on the blockchain and mining, and is identified as an altcoin using the acronym DOGE with the symbol Ð and D.
On its website, Dogecoin presents itself as 'an internet currency', a common title before the now more-accepted term cryptocurrency. This already sufficiently describes the jovial style of this digital currency and its community.
Doge: the cryptocurrency that does not take itself seriously
It is usually small transactions (of no more than €10) which are covered by Dogecoin. It is thus mainly used in the context of micropayments such as the purchase of an app, songs or the payment of online tips.
Initially, DOGE was to be capped at 100 billion tokens and once this cap was reached, 5.2 billion tokens would be re-injected annually. However, by June 2015, 100 billion Dogecoins had already been mined. Today, the issuance of Dogecoin is unlimited. Its algorithm is based on proof-of-work using script technology.
A short history of Dogecoin
Two names hide behind this canine cryptocurrency: Billy Markus, a programmer, and Jackson Palmer, who works in Adobe's marketing department in Sydney.
Jackson Palmer, co-founder of Dogecoin
The two friends had only one goal: to create a silly, yet fun cryptocurrency. Palmer first acquired the internet domain www.dogecoin.com and then placed the effigy of the 'doge' with text in Comic Sans on a token for the logo. In short, everything to capture the trend of the time.
With the platform set up, Markus decided to create the cryptocurrency to go with it. He did so by first basing it on Luckycoin, itself based on Litecoin.
Note that Luckycoin still exists, with a market-cap of around $10,000.
A Luckycoin, a real relic from a bygone era
The DOGE currency would very quickly become a huge success, its market-cap climbing to $2 billion by January 2018 before dropping to the $250 million it is today. It's success was due to two factors: its jokey side which people could sympathise with, but also the favourable economic climate for crypto at the time.
Dogecoin, the irresistible cryptocurrency
With its seductive dog logo, DOGE never fails to have an emotional impact. Above all, it represents an extension of the Shiba Inu meme in the field of cryptocurrency.
Its economic model, which is limited to micropayments, helps to facilitate its popularity because it does not represent a large financial risk or investment for the average user. As such, Dogecoin feeds into many faucets (distributors of free cryptocurrencies).
Better yet, this cryptocurrency is used on certain social networks such as Reddit, which allows internet users to reward each other for publications and comments. Inexpensive and oriented towards small transactions, Dogecoin has thus managed to integrate itself in the daily lives of internet users, enabling it to easily increase the size of its community.
A currency which arose during a Bitcoin crisis
In 2013, Bitcoin was weathering a storm that caused its price to plummet: China prohibited Chinese banks from investing in Bitcoin. This would be the year in which the crypto community would see a happy, but small alternative born in December. Dogecoin would also benefit from a boost: its addition to Robinhood, the popular trading app, as well as other exchange apps. As a result, Dogecoin experienced growth of around 300% in the very same month of its creation, actually going from $0.00026 to $0.00095 in 72 hours.
DOGE's figureheads
Generally, when we speak of a figurehead, we think of the people who take to the main stage. For Dogecoin, the star is the cute little dog that embodies it. The first figure we think of when we talk about DOGE is the doge. The impact of this Japanese dog's popularity on the coin is undeniable.
We can then find the standout figures in the cryptocurrency's two creators: Jackson Palmer and Billy Markus. We must also mention Eric Nakagawa, president of the Dogecoin foundation, who is at the forefront of the digital currency's fundraising activities.
How to buy DOGE?
Dogecoin can be acquired in three ways: either by purchasing, mining, or obtaining it from a 'faucet' site. A faucet website is one that gives you a few tokens to allow you to integrate into its community. All you need to do is go to one of two websites: Dogefaucet.com and InDogeWeTrust.com.
However, if you want to buy DOGE, there is no platform dedicated to buying it using fiat money. It is therefore necessary to go through a platform where you can purchase ethers or bitcoins. Then convert these cryptocurrencies into DOGE on an exchange platform offering BTC/DOGE and ETH/DOGE pairings. So, unfortunately, it's a two-step process. The first of which, buying Bitcoin or Ether, can be done on platforms like Coinhouse or Binance. The second of which, the conversion of BTC/DOGE or ETH/DOGE, can be done on platforms like Binance, Crex24, Kraken, gate.io or CoinExchange.
DOGE's pros and cons
As Bitcoin's crazy cousin, Dogecoin has indisputable advantages, but also some limits that should be noted.
Dogecoin's advantages
Dogecoin not only has the advantage of being fun, but it also embodies a cryptocurrency of economic proportions as it does not require its users to pay transaction fees. Compared to other cryptocurrencies, which orientate themselves towards large transactions, DOGE is exclusively focused on smaller ones, for which the fees are non-existent. This is definitely an advantage if you are looking for a user-friendly and cheap cryptocurrency.
Its limitations
Dogecoin remains, despite its market cap, a mascot of the crypto community. While it has definite advantages over other cryptocurrencies, DOGE has its share of weaknesses.
This cryptocurrency uses the script language, which means that miners are not given the freedom to use the same mining equipment used for Bitcoin (SHA-256 mining equipment). It also means that during the mining process, complications may arise when creating ASIC FPGA circuits.
DOGE's acquisition process itself is somewhat complex as you have to buy another cryptocurrency before being able to buy it. This two-step operation can sometimes prove to be tedious and not very user-friendly.
The other problem with DOGE is its wallet. Its installation can be quite a long process because the DOGE wallet must synchronise with all users, not to mention perform extensive updates.
If this currency is cheap to use, it is because it does not charge fees for transactions, and this has a major drawback. In fact, unlike Bitcoin, Dogecoin does not charge any fees because it does not have an operating structure, but the consequence is that the user has no help if they encounter an issue. Dogecoin doesn't even have white paper.
Disruption potential
Regardless, even if this currency has a deflationary ambition, like Bitcoin, its economic impact will still be limited to the relatively small sphere of micropayments. That being said, Dogecoin has proven its ability to mobilise a dynamic community, meaning it puts itself more in the participatory sector of the economy. It has frequently been successfully used for the funding of participatory projects via fundraising rounds.
On 19th January 2014, a round of funding organised by the Dogecoin community raised $50,000 for the Jamaican bobsleigh team that qualified for the Sochi Winter Olympics, for example.
The DOGE community also organised a fundraiser to support the only Indian athlete who participated in the Olympics in Sochi. Finally, the same community can be congratulated for raising funds to finance the construction of wells in Kenya, as well as supporting Jose Wise, a NASCAR racing driver.
Finally, it must be said that this currency also remains very subject to the undecided winds of volatility. The fact that its market cap fell from $2 billion in January 2018 to around $305 million today (June 2020) is an indicator of its great instability, but also that is just like all cryptocurrency for that matter.
In conclusion, let's say that Dogecoin is a kind of fun and friendly cryptocurrency, with no particular economic ambition, unlike Bitcoin, but which has been able to build a dynamic and very active community which is sometimes referred to as cryptocurrency's mascot: a role it plays wonderfully.