Ethereum Classic: The 'Original' Ethereum
Ethereum Classic is sometimes called the twin of the cryptocurrency Ethereum, which integrates both smart contract and decentralised application (DApp) technology. So what is Ethereum Classic used for? What are its strengths and weaknesses from the point of view of the investor and trader? How can it be bought and stored safely? Don't fret, we've all your questions covered!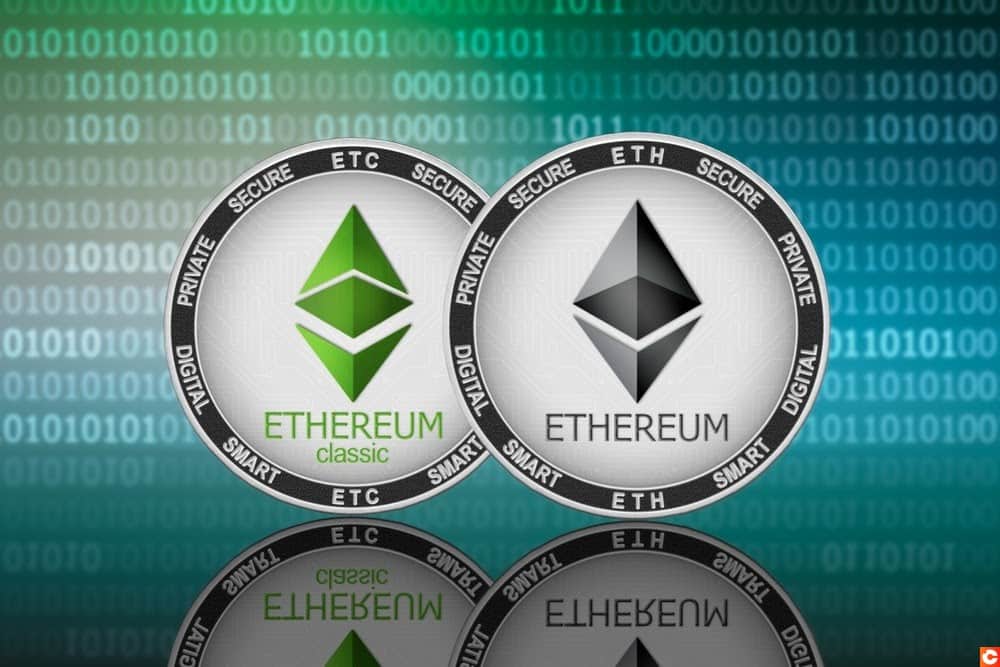 Definition of Ethereum Classic
Ethereum Classic is the original blockchain of Ethereum, the chain of transaction blocks that existed even before Ethereum was created. It was named as such after the hard fork (a modification of a protocol) which occurred in 2016 after a hack on the Ethereum network. This led to the splitting of its blockchain into two new cryptos: Ethereum Classic (the original) and a new blockchain called simply Ethereum.
The Ethereum hard fork divided the blockchain in half, hence the creation of Ethereum Classic
Ethereum Classic uses an open source blockchain (i.e. a source code which is free for all to access). The operation of its network is based on smart contracts. This network, which is called Ethereum Virtual Machine (EVM), allows the execution of many scripts through the use of a network that is accessible globally.
What is Ethereum Classic's cryptocurrency?
Just like ether (ETH) is the currency issued by Ethereum, the cryptocurrency of the Ethereum Classic blockchain is ether classic, which goes by the acronym ETC. These ether classic tokens are also used to remunerate all those who help keep the blockchain working by solving the mathematical equations put forward by the various transactions carried out – otherwise known as mining.
What is Ethereum Classic used for?
Ethereum Classic is used more or less in the same way as Ethereum – creating smart contracts and decentralised applications. It is one of the best known in the sector, which is why it attracts a number of developers eager to get involved in the project. Individuals are also prime targets. Why? Because Ethereum Classic allows you to purchase and download apps through an open source network at very attractive prices.
How was Ethereum Classic created?
Ethereum Classic was born of the separation, also known as a fork, from the original Ethereum blockchain. It's tumultuous and controversial arrival occurred through this fairly widespread procedure in the world of cryptocurrencies, which was aimed at circumventing the consequences of a hack in the original blockchain.
Who is 'The DAO'?
It all started in 2016, when a venture capital firm, The DAO, sold a smart contract on the original Ethereum network. The development of this decentralised autonomous organisation (DAO) aimed at financing all decentralised apps developed in the ecosystem. Many investors had consequently funded this project to the tune of $150 million.
On 17th June 2016, a flaw was identified within the CAD system. A hacker managed to rush into the breach and steal 3.6 million ether from the ETH network, a third of the funds devoted to The DAO project. Immediately, the Ethereum team planned to instigate a hard fork in order to return the lost capital to the affected investors.
The controversy arose when other users simply refused the solution of reimbursing investors through a hard fork of Ethereum's blockchain. The issue was that, even though the transactions were fraudulent, it would have betrayed the immutable aspect of blockchain – citing the famous 'code is law' principle. In this sense, these users detailed their arguments in the Declaration of Independence of Ethereum Classic: "Code is law: there will be no change to the Ethereum Classic code that could violate the immutability, fungibility or sanctity properties of the ledger. Transactions or ledger history cannot for any reason be canceled or changed."
What were the consequences of the Ethereum hard fork?
In July 2016, a month after what had happened, the hard fork nevertheless took place from the initial Ethereum codes. However, this operation did not prevent the other side from wanting to continue with the first blockchain. The consequence: the coexistence of two projects, ETH being a new blockchain and ETC being the original blockchain. To learn more about this schism, you can visit this article on the Ethereum website.
Ethereum and Ethereum Classic: two linked blockchains
Since all that commotion, a new Ethereum Classic development team has continued its work. There is no leader at the ETC project, in line with their philosophical principle which rejects any powerful human influence, but it is so much so that the project is regularly criticised for not having enough governance.
What is Ethereum Classic?
The Ethereum and Ethereum Classic blockchains were twinned until block 1,920,000. The functionalities remain identical, as previously mentioned (decentralised applications, smart contracts), however, their paths went separate ways after this key moment. In other words, it means that updates made on Ethereum since the fork have nothing to do with those on Ethereum Classic.
However, after months of disagreements, the Ethereum Classic Lab project incubator associated with Ethereum Classic announced plans to build a bridge between Ethereum Classic and Ethereum. This project of interoperability between the two blockchains was carried out in close collaboration with the company Metronome, which issues the MET token. The possibility of sending MET from a blockchain to another is an interesting first step, as it will allow internet users to use either token depending how capable and secure it is. The first hard fork, called Atlantis, made it possible to set up this interoperability, which was then reinforced by a successful activation of the Agharta hard fork in January 2020.
Ethereum Classic benefits from this interoperability, since the most active developers and investors, at the time, chose to join the new blockchain as it was reimbursing them.
How does Ethereum Classic work?
Ethereum Classic's players set up an untouchable code in the original project. This immutability of the Ethereum Classic project is what makes it possible to continue to use the pre-existing functionalities – in other words functionalities before the famous 1,920,000th block.
Ethereum Classic and smart contracts
A smart contract is an IT protocol. Its role is to execute contracts automatically as soon as the conditions of said contract are met. Programmed in a specific manner, each smart contract needs a certain level of complexity.
For example, a smart contract can simply be based on a single condition such as "if Condition X is true, then the contract can be executed". However, it can just as easily contain a complex set of parameters leading to a possible partial or total execution of a contract.
While traditional contracts are limited to formalising the conditions/terms of a relationship between several parties, smart contracts go further by ensuring that all conditions are fully respected. There is an automatic execution of the contract as soon as the initial conditions, which were previously drawn up, are fulfilled.
Furthermore, its execution is not up to interpretation, as only the code takes decisions. Another one of its significant assets are its costs. A smart contract is actually much less cumbersome to manage than a conventional contract in terms of costs generated when the contract is signed.
Smart contracts open up real development prospects in the daily life of many business sectors, such as insurance, real estate and finance – especially for decentralised blockchain applications. A huge advantage of the smart contract is that the electronic contract recorded on a distributed register (DLT) does not undergo any alteration, dispute or destruction. To learn more about smart contracts, do not hesitate to consult our article about them here.
Proof-of-work
Proof-of-work started with the mother of all cryptocurrencies, Bitcoin. Simply put, validating a blockchain transaction involves solving a mathematical equation. This work is carried out by a user, who fully utilises the power of their computer. To stimulate this operation, the first user who succeeds in solving the equation receives a predetermined remuneration. It is known as mining.
Generally, to mine a cryptocurrency, you need a powerful device
Over the years, the number of active users in this area has significantly increased. However, the difficulty of mining continues to rise, as does the computing power required to validate a block. Unsurprisingly, in turn, the electricity cost of mining increases. Another concern is mining pools, in other words groups of miners who pool their computing power to acquire the most ETC. This is where proof-of-work can limit and use other mechanisms to replace it, potentially eliminating the need for mining.
Proof-of-work vs. Proof-of-stake
The principle of proof-of-stake is a system initiated by the DASH blockchain and is based on the role of a masternode who represents an interconnected computer with a copy of the entire blockchain and therefore chosen to validate transactions. To be a master-node, the user must own a certain number of tokens. They then earn interest regularly, also known as 'rewards'.
While Ethereum has considered changing the protocol from proof-of-work to proof-of-stake, Ethereum Classic intends to stick to proof-of-work, recently confirming this in a tweet in January 2020. At the time of writing, block creation time is averaging at around 15 seconds and miners' rewards are at around 3 ETC per block. The Ethereum Classic model aims to be inflationary until 2025 which is when the maximum supply of 210 million ETC will most likely be reached.
How to obtain ether classic?
There are several ways to get tokens from the Ethereum Classic project. Here are ways to buy it but also to mine it.
Where to buy ether classic?
Whether you buy ether classic or trade Bitcoin for ETC, you will need to go to an exchange platform. There are many options across the globe, the best known of which are:
Crypto.com
Binance
Kraken
Coinbase Pro
eToro
Alvexo
OKEx
Coinmama
Buying ETC on an exchange
Choosing a good ETC exchange platform depends on several factors such as reputation, security, available features, means of payment, accessible currencies, interface ergonomics, the list goes on. Depending on your trading needs (active or not) and expectations (beginner or experienced) each platform can offer a good service. The choice is yours.
How to mine ETC?
You can acquire ether classic by buying or exchanging cryptocurrencies, but also by mining it.
To mine ETC, you must install Claymore Dual Ethereum or the Ethminer software on your computer. It is the computer that does all the work, hence why it pays to have high-performing equipment such as high-end graphics cards or equipment specialised in mining such as an Asic.
Other alternatives exist, like the website MinerGate, which provides either a yet to be configured interface or the opportunity to partake in an ETC miner pool – Nanopool.
Where to store your ETC?
Exchanges are not the safest place to hold cryptocurrencies, as these platforms can be the target of hacks, or worse still they could fold overnight. We advise you to transfer your tokens to a wallet which can offer more guarantees.
The market offers two ways to hold ETC: hard wallets and cold wallets. It is recommended to store your virtual currencies in the latter, as they have the advantage of being offline, therefore less likely to be compromised. Hard wallets offer a range of more interesting tools for trading, but should only contain the bare minimum.
Also note that wallets like Jaxx can hold one currency only, but there are several others, like Exodus, that can hold multiple. As for the hardware that cold wallets can be held on, there is Trezor and Ledger (Nano S and Nano X) which are very popular for storing cryptocurrencies in the long term.
The Ethereum Classic development team wants to set up a desktop wallet (a wallet in the form of PC software) called Emerald, which would be the first trusted ETC wallet. It is still in development, but you can still download the latest beta version. In addition, a project for a mobile version is also in the pipeline.
Why invest in Ethereum Classic?
It is hard to predict the future, especially when it comes to fluctuations in the price of virtual currencies. After the Agharta hard fork last January, the price of the ETC almost tripled in value in just a week, going from around £3.50 to more than £8.80. At the time of writing, the value had slid back down to the more stable figure of just over £4.40. So what about in the future? The advantages and disadvantages of the Ethereum Classic are listed below so you can form your own opinion.
The advantages of ETC
The main advantages of the Ethereum Classic project are:
Its decentralisation thanks to the EVM (Ethereum Virtual Machine), which allows transactions to be independent of any intermediary third parties
Its technology, which is based on smart contracts and decentralised applications
The seriousness of its donors
Its applications serve to innovate the future of the Internet of Things (IoT).
What's holding ETC back
The main points of friction for the progression of the Ethereum Classic are the:
Immigration of its main developers to the ETH project
Decision not to transition from Proof-of-Work to Proof-of-Stake
Ever-increasing competition
Attack suffered in January 2019 which temporarily suspended operations on Coinbase
If you want to invest in Ethereum Classic or any other cryptocurrency, don't forget to consult our 13 rules for investing in cryptocurrencies in order to get started on the right foot!
Ethereum Classic was born from the hard fork of its twin currency, Ethereum. While it might have a lot in common with its 'twin', such as the use of smart contracts and DApps, Ethereum Classic is becoming more and more detached and will stand out even more in the future, in particular by continuing to use proof-of-work. Ethereum Classic's developers don't want to neglect the interoperability of Ethereum, which they installed and then reinforced with the Atlantis and Agharta hard forks. These hard forks, coupled with the new two-year funding commitment, in particular by Grayscale Investments, caused its value to triple in January 2020 and perhaps, in the long term, could see it increase 100 fold.