Crypto market today: Bitcoin (BTC), Ethereum (ETH), Celo (CELO), EOS (EOS) –20th September 2021
Mon 20 Sep 2021 ▪ 16h19 ▪
10
min read — by
Today is Monday, 20th September, and this is Cointribune's Crypto analytics. You will learn about everything that's been going on in the market, as well as what to expect next in our new article! If you'd like to read the previous instalment, please follow the link. Here we go!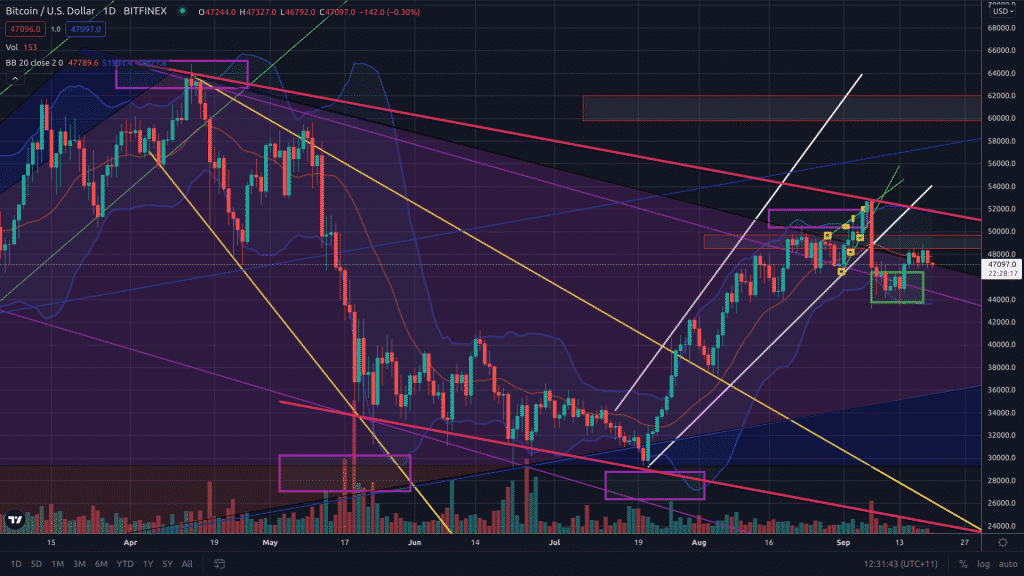 Bitcoin (BTC)
The weekend has once again made some adjustments both to Bitcoin's chart pattern and to altcoin prices. As of this writing, BTC is trading at around $47,100. There is, however, a chance that Bitcoin's price will go a little lower, down to $44,000 in the worst-case scenario.
At the same time, locally, Bitcoin is forming another wedge near the resistance level. The volatility of the asset within its limits is significantly reducing, indicating an imminent upward movement. Despite this signal being local, and therefore less clear, I'm inclined to trust it. Overall, it completely fits into the global BTC trend, dictated by the formation of a bullish flag within the global wedge shown on the chart. Bitcoin is getting ready for a welcome return to the $52,000 levels – a claim that's hard to dispute.
Saturday turned out to be a good day for BTC, the asset drawing a good green candle and coming close to the current resistance around $48,000 – $49,000. But on Sunday, the bulls relaxed, making Bitcoin lose all the positions won the day before.
BTC's future growth is also denoted by the expanding descending trading channel, marked by the lower yellow and top pink lines on the chart. This conclusion can also be made based on another example of the same formation (in yellow). A downward movement within an expanding channel always ends with the price going higher, and the last movement like this ended with an increase of more than $20,000 for BTC.
Most likely, Bitcoin's price won't go towards the bottom of the wedge, since that could negatively affect the mood of the entire market and force many players to leave the field – something that's unprofitable primarily for whales. At this point, Bitcoin finds itself near the resistance dictated by the wedge, getting ready to break through higher.
If new volumes appear on the market, difficulties can be avoided. If these volumes are to provoke the liquidation of the bears' position, BTC will quickly recover and reach its ATH.
Its current movement still fully fits the global bullish picture. In fact, we are moving within the "bullish wedge" pattern. One of this pattern's important features is accumulation, which occurs due to the alternating shift of the asset price from the top of the wedge (resistance) to the bottom (support) and back within a constantly narrowing trading range. Actually, that's why it's called a wedge: we do have a trading range, but not in a usual sense. Instead of two parallel lines that will never intersect, we have two sides located opposite each other that move in the same direction until they intersect.
Globally, the picture has remained the same for BTC. We're trying to break through the resistance and were Bitcoin to fall below it, there will be several key levels making it possible to rebound. The first one is at around $45,000. The second one is $40,000, an important psychological level. The third level is the zone near $35,000, which acts as a support dictated by the wedge bottom. The fourth point will be around $30,000, the upper limit of the descending trading range (yellow). Finally, the last level of $20,000 acts as the bottom of the descending purple trading range. Going below the last key level may signify the imminent arrival of the crypto winter.
Unfortunately, there is no growth without corrections, so don't take an asset's decline as the beginning of a long fall into the abyss. Sometimes, the bulls also need to lock in a profit. When the price goes lower, you can buy even more assets with the money earned, and keep them as long as the currency's trends allow you to hope for the best.
UPD: a BTC dump took place as I was writing this, with Bitcoin's price going below the $44,000 level. This happened because Bitcoin didn't have time to gain a foothold above $48,000 before the weekly candle's close. However, globally, this doesn't contradict my analysis.
Ethereum (ETH)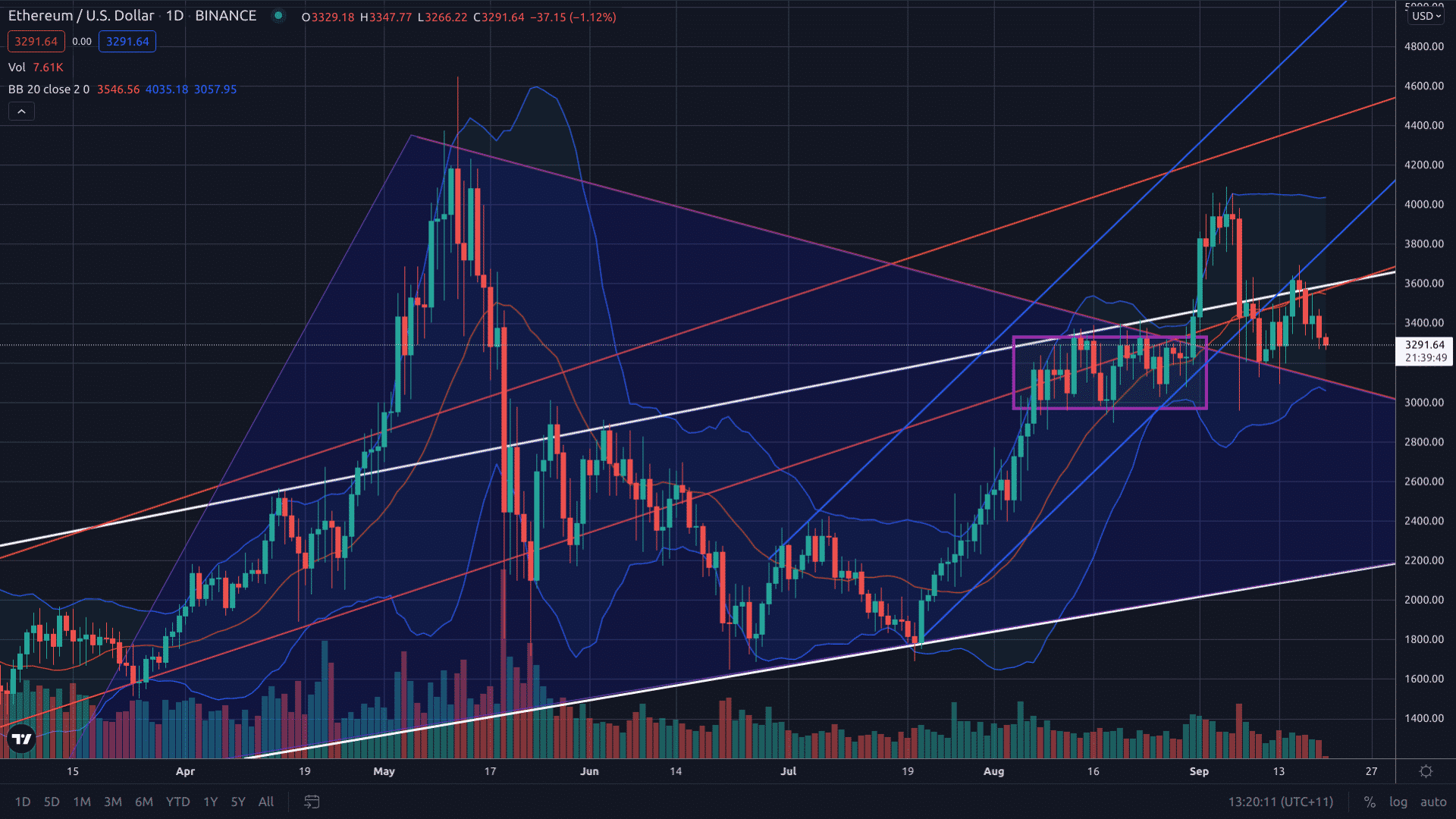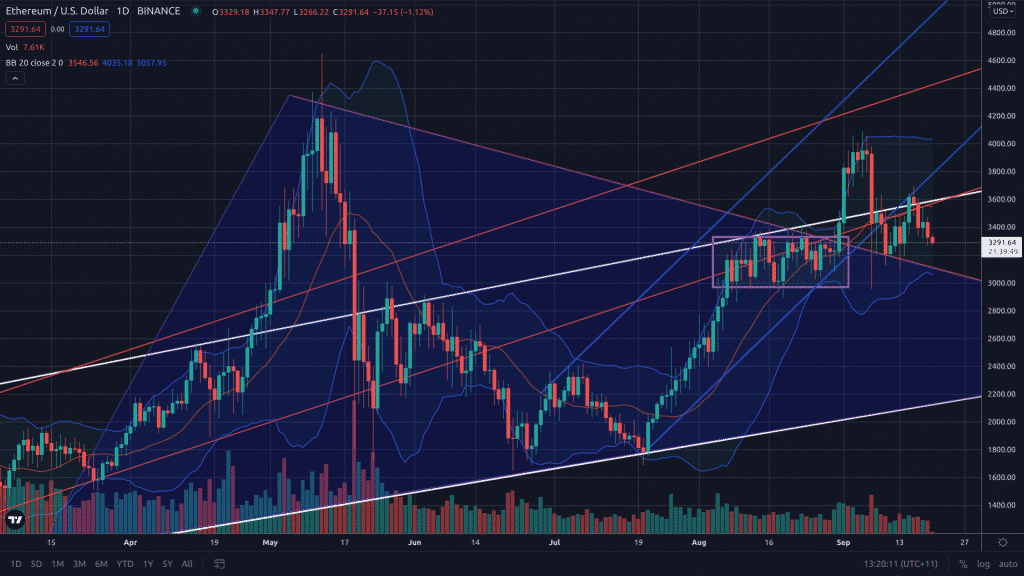 Ethereum continues to be influenced by BTC. If on Saturday the second-largest cryptocurrency by market cap had every intention to gain a foothold above the current resistance zone, on Sunday, ETH backed down again, finishing the day by a solid red candle.
All that doesn't mean that you should give up ETH though. Its dependence on BTC is a good indicator pointing at the imminent price increase. At this stage, Ethereum is in a consolidation zone similar to the one it has already been in before (a purple rectangle). Moreover, the formation from the end of the last accumulation to the current price level is a descending wedge, always penetrated via a strong upward movement. The presence of the two local tops (the last being significantly lower than the previous), also supports the formation of this figure. This means that volatility is decreasing – a sign of a big move soon.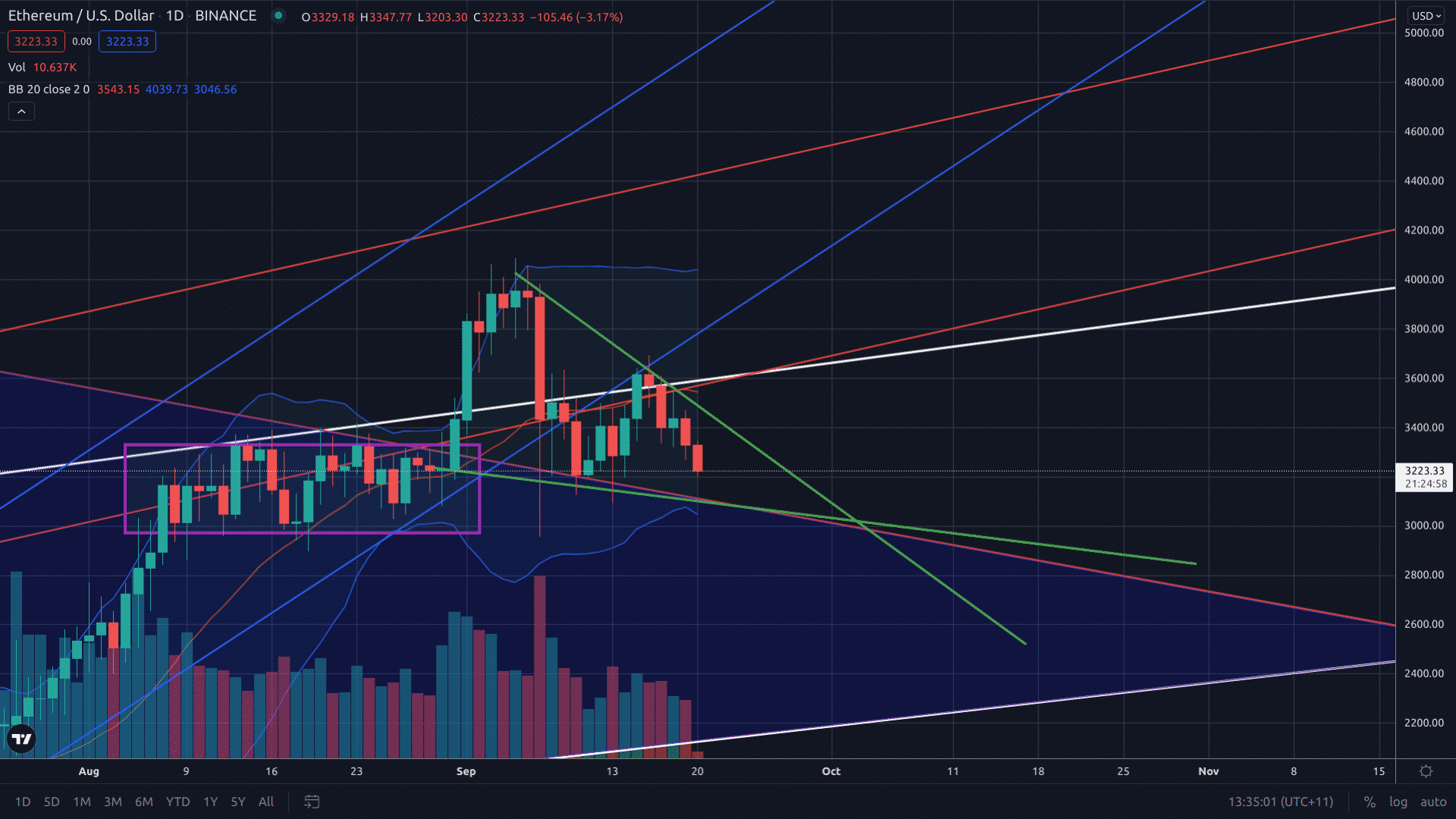 So, on a global scale, we can only expect growth from ETH. Locally, however, we can't exclude the price going down to $3000.
Fear and Greed Index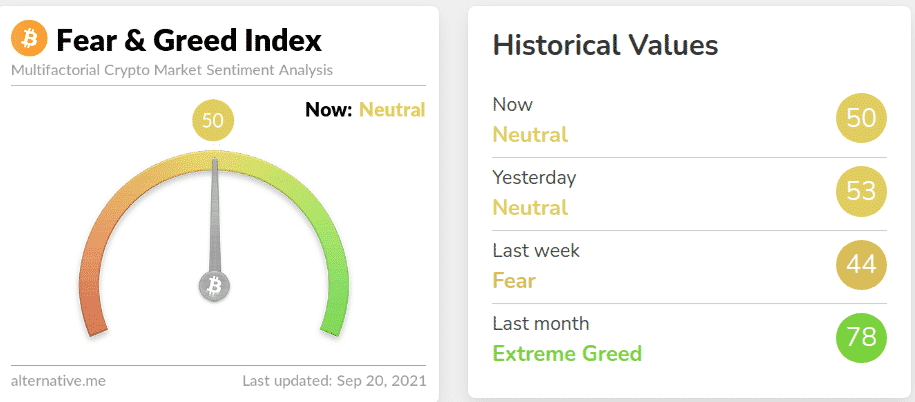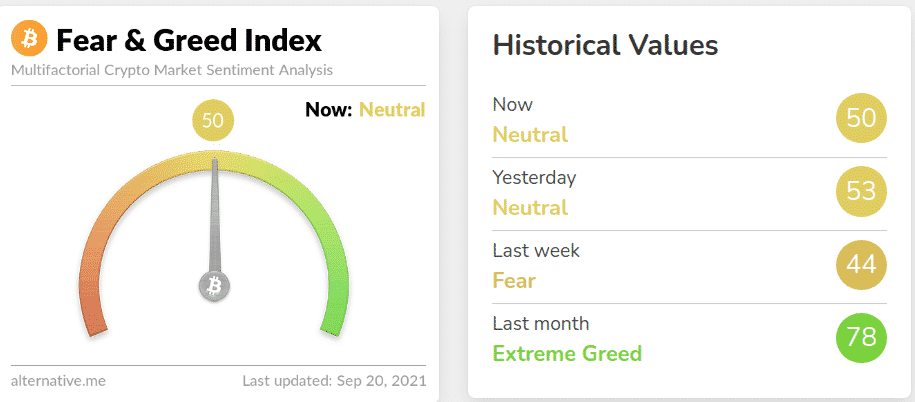 The index has slightly shifted towards fear, proving that negative sentiment is starting to spread across the market. Fear is much better than extreme greed though, as reaching the latter can only mean everything will soon end with a sudden dump.
As of this writing, BTC has already managed to break down the $47,000 level and reach the $46,000 mark. That's not to say that subsequent growth is cancelled. This fall still fully fits in with our predictions.
Being an investor/trader isn't as easy as it may seem. It's quite difficult to buy assets when they fall, just as it is difficult to sell them when they don't seem to stop growing. All this requires endurance and a clear understanding of what's happening.
Many people want to get rich in one transaction. So, at the peak of any movement, such individuals expect more from assets, even if they have completely exhausted themselves.
Experience shows that few market players understand when their tokens are oversold or overbought. Fear of financial loss is the cherry on top, making even the most persistent crypto enthusiasts forget their trading strategy and hit the ill-fated "Buy" or "Sell" button with their eyes closed.
The market isn't just about news and charts, it's about psychology as well. Understanding others' motives and actions is vital, so is keeping your own desire to become a millionaire in one transaction, which in 99.9% of the cases leads to a financial wipeout. Well, haste makes waste.
TOP 10 altcoins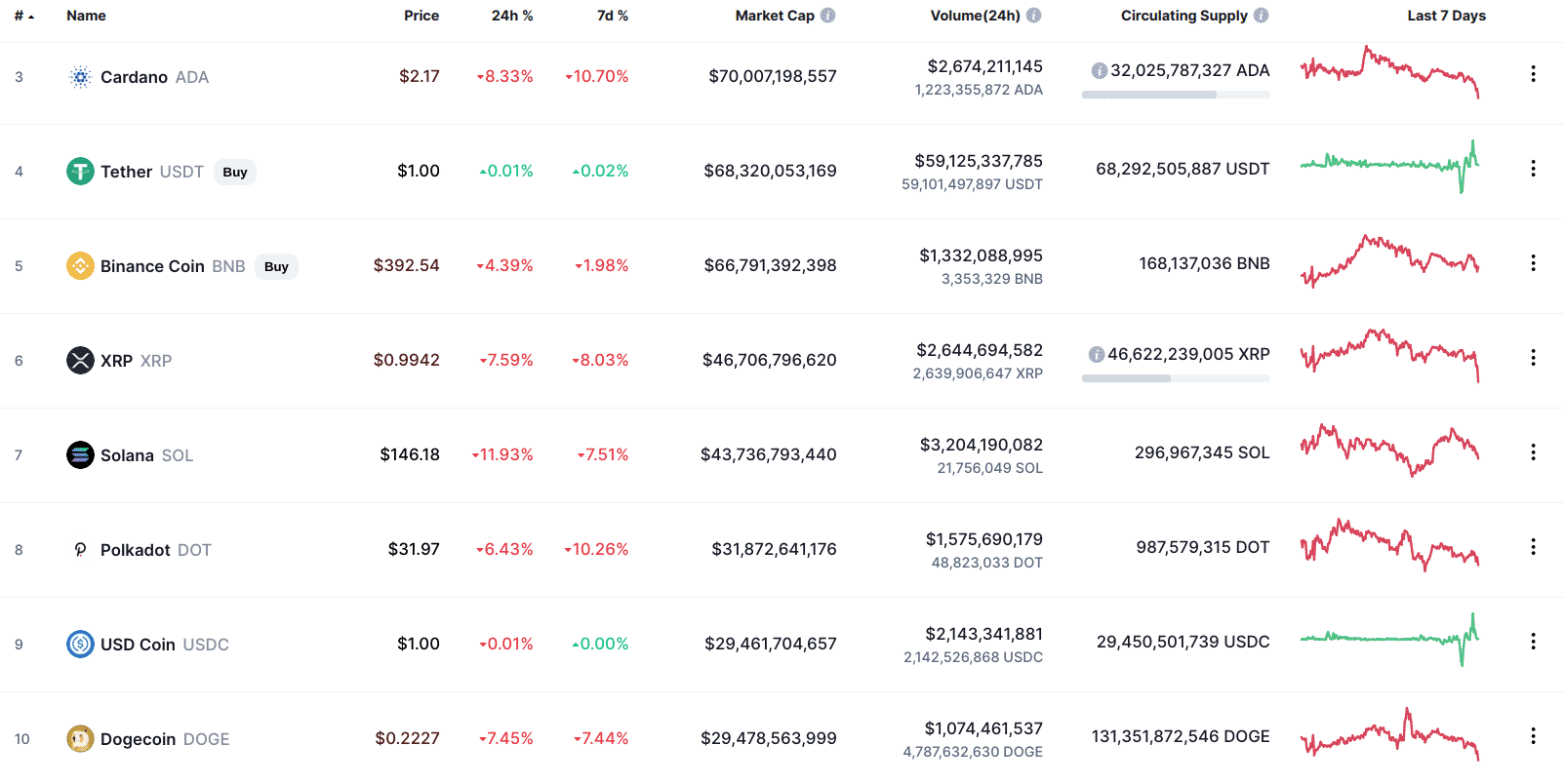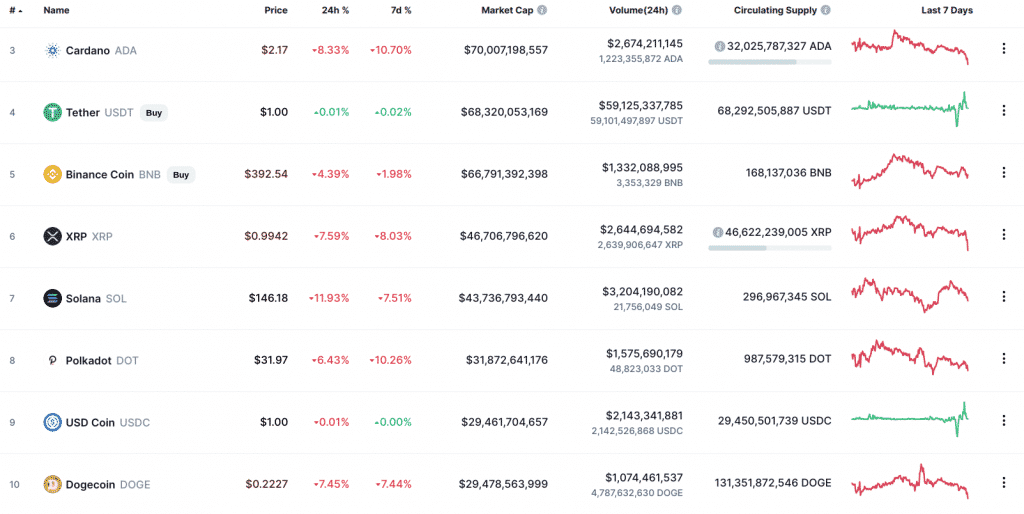 The top 10 altcoins are all in the red, and after Bitcoin's recent dump, the situation will only continue to deteriorate.  However, now is the time to acquire these assets at bargain prices.
Solana (SOL) definitely stands out from a negative standpoint. This altcoin has just started recovering after a serious price decrease, but Bitcoin, unfortunately, seems to have taken patronage over it.
Celo (CELO)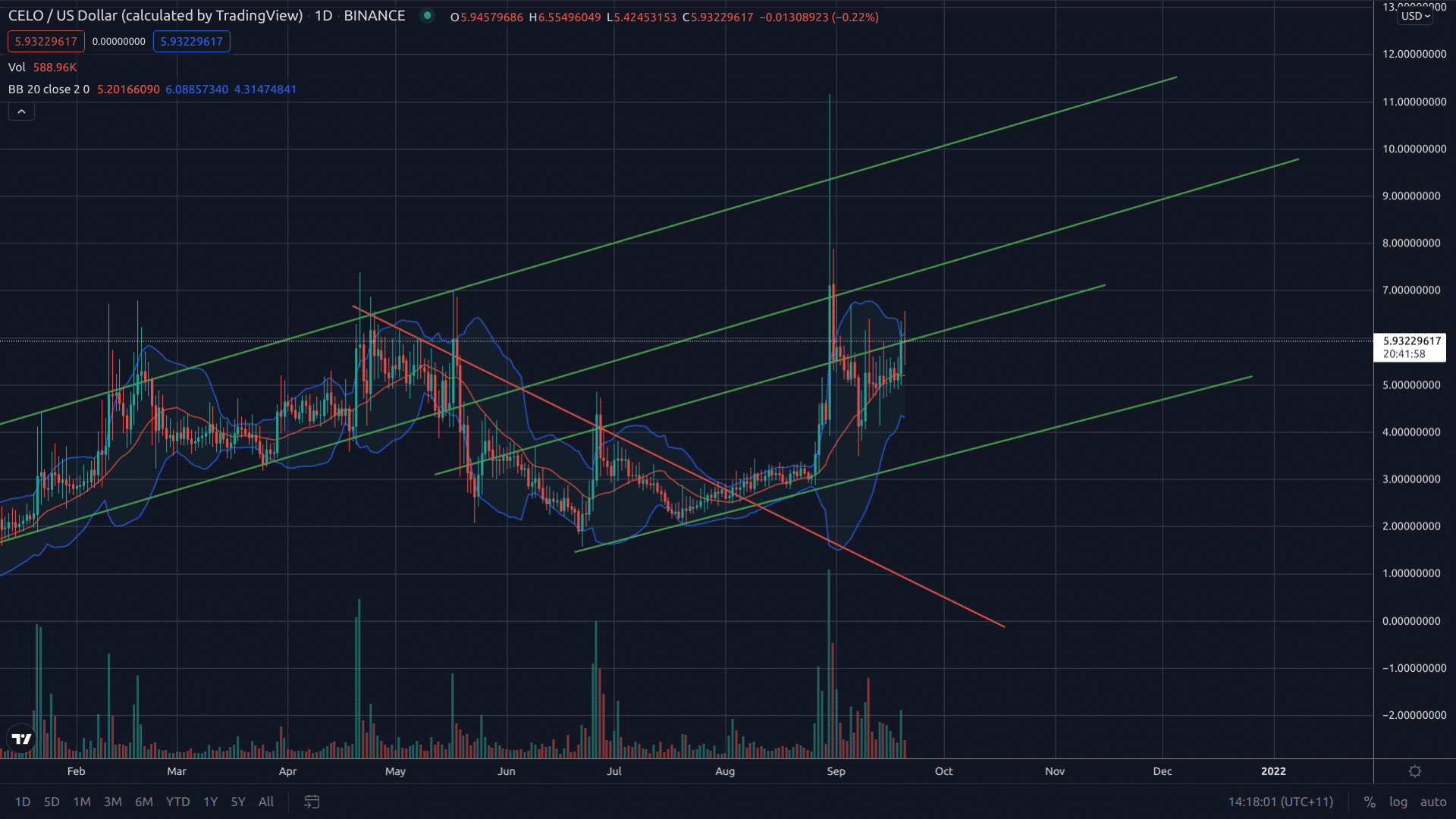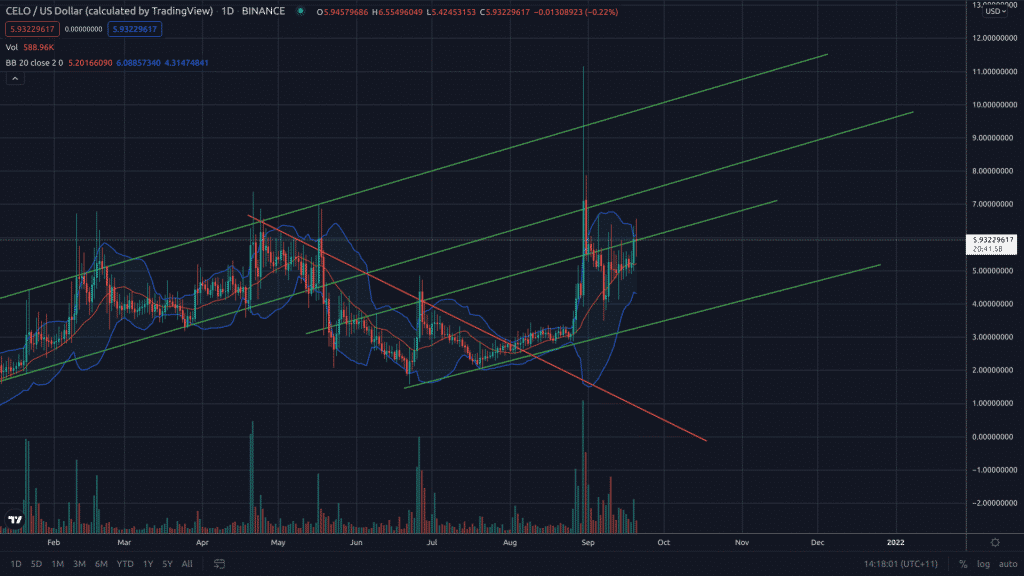 Celo (CELO) is the gainer of the day. Over the past 24 hours, the asset has brought more than 13% gains to its holders. Today, however, this altcoin has already managed to mirror Bitcoin's dump. Nevertheless, CELO has almost completely recovered all of its losses.
EOS (EOS)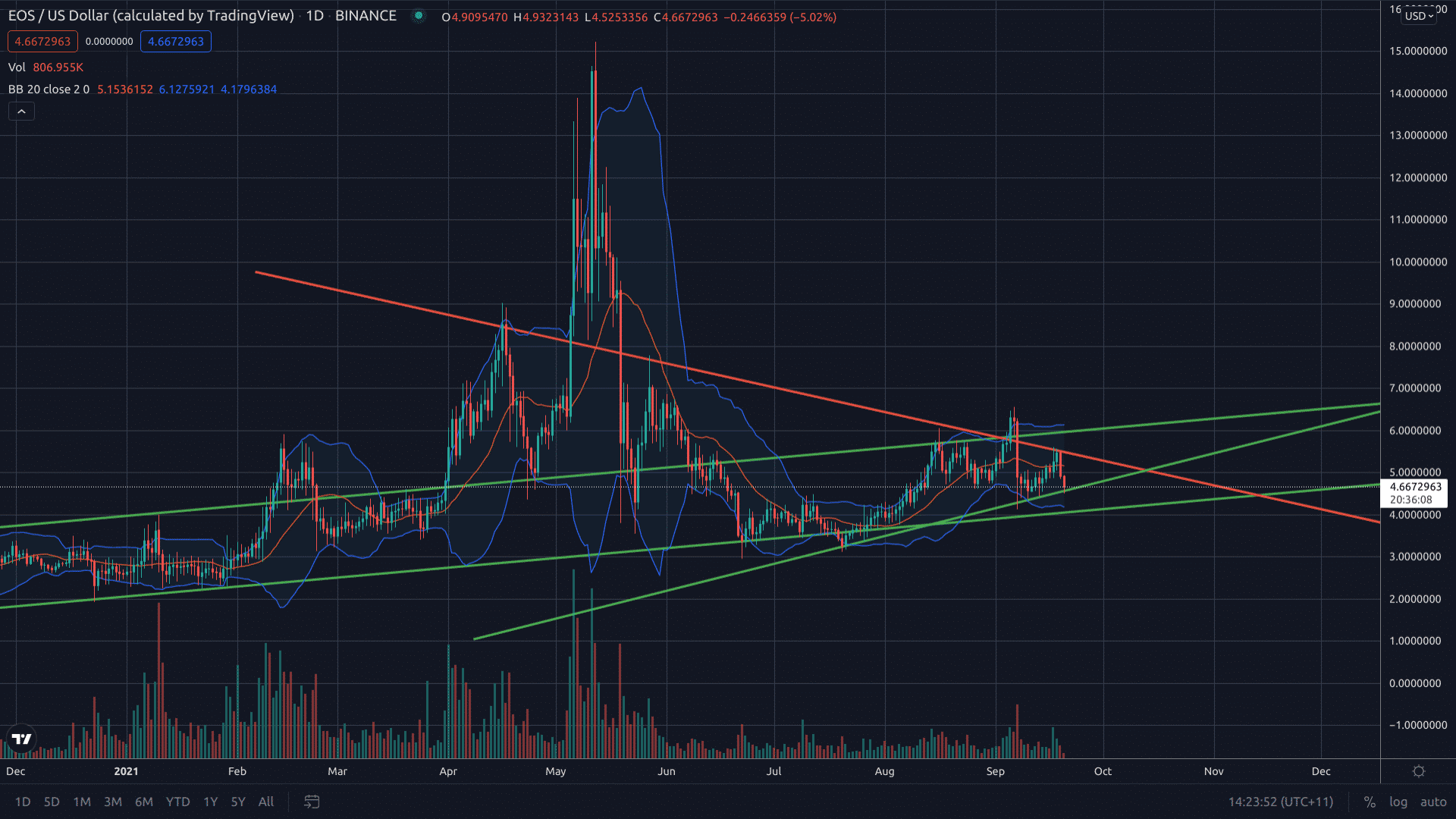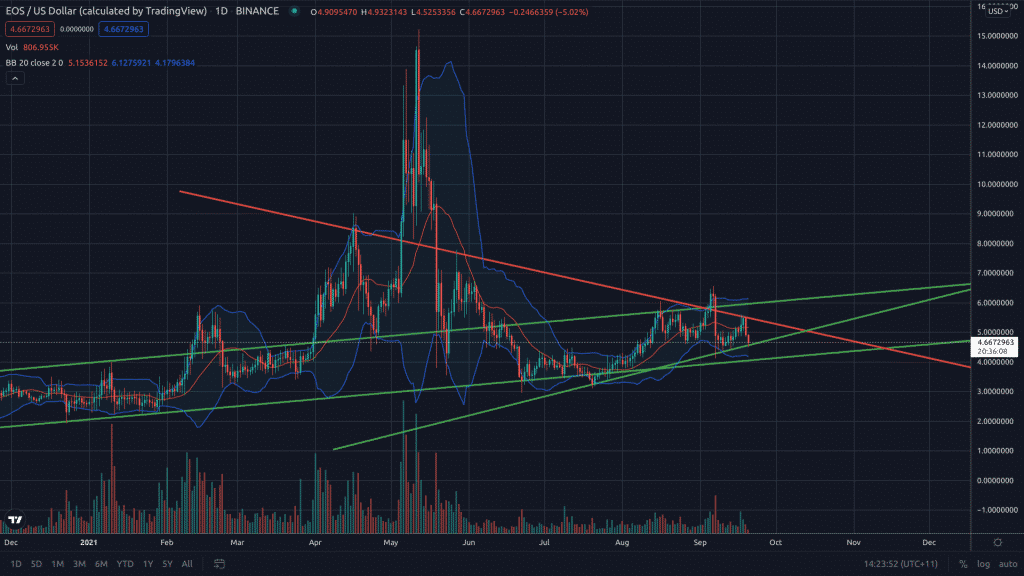 EOS (EOS) becomes the loser of the day. This asset is considered to be one of the oldest ETH rivals. As of this writing, EOS has already caused its holders over a 12% loss. But if we disregard Bitcoin's whims, we'll see that this asset continues moving within the descending wedge and has almost reached its bottom, so don't ignore it.
The cryptocurrency market can be terribly unpredictable. However, all price movements are dictated by the players' desire to benefit from it. Bitcoin has long ceased to be a one-day asset that may suddenly disappear. This is supported by major players', companies', institutional investors', and even entire states' interest in it. You can make money in the crypto market, but it requires patience, endurance, and willpower not to deviate from your own investment/trading strategy. Don't forget about stop losses and risk management!


Recevez un condensé de l'actualité dans le monde des cryptomonnaies en vous abonnant à notre nouveau service de newsletter quotidienne et hebdomadaire pour ne rien manquer de l'essentiel Cointribune !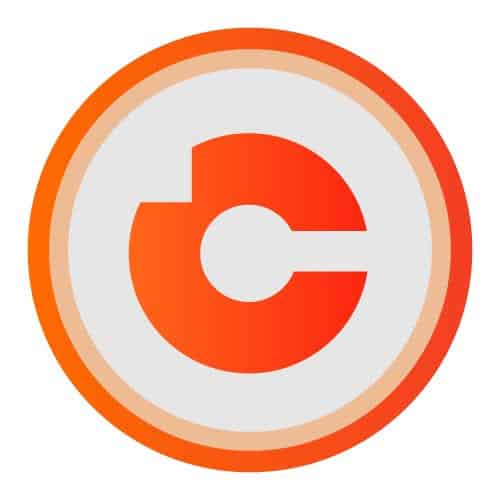 Trends are temporary. The blockchain isn't a trend; it's the future. I want to help as many people as possible understand it in a simple, clear and interesting way.
DISCLAIMER
The views, thoughts, and opinions expressed in this article belong solely to the author, and should not be taken as investment advice. Do your own research before taking any investment decisions.