Crypto market today: Bitcoin (BTC), Ethereum (ETH), Fantom (FTM), Elrond (EGLD) – 2nd September 2021
Thu 02 Sep 2021 ▪ 22h26 ▪
8
min read — by
It's Thursday, 2nd September, bringing you another edition of Cointribune's crypto analysis! Find out everything that has already happened in the market and what to expect next in our new article! If you want to read the previous issue of the column, feel free to follow the link. Here we go!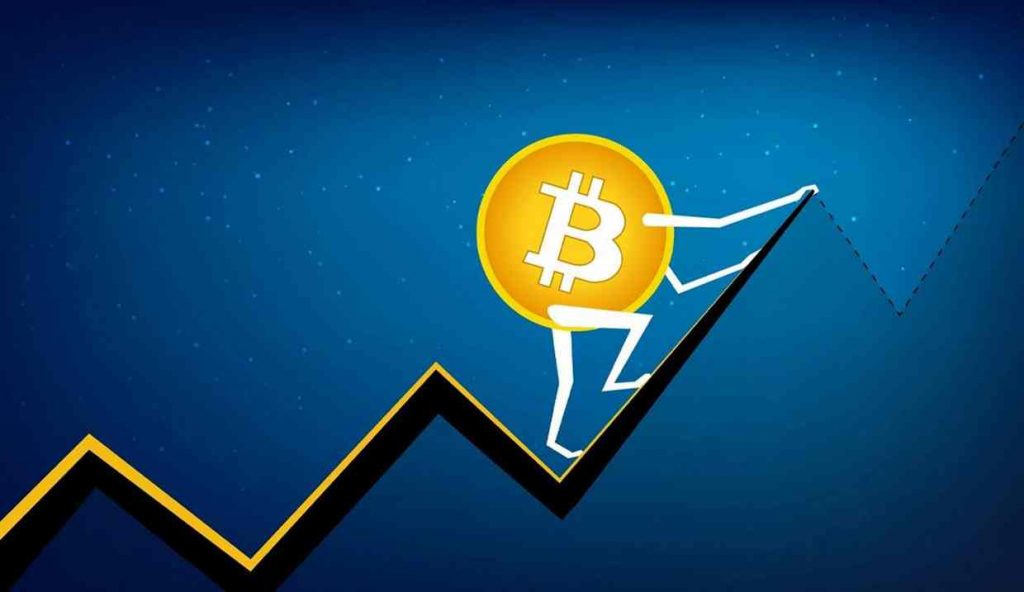 Bitcoin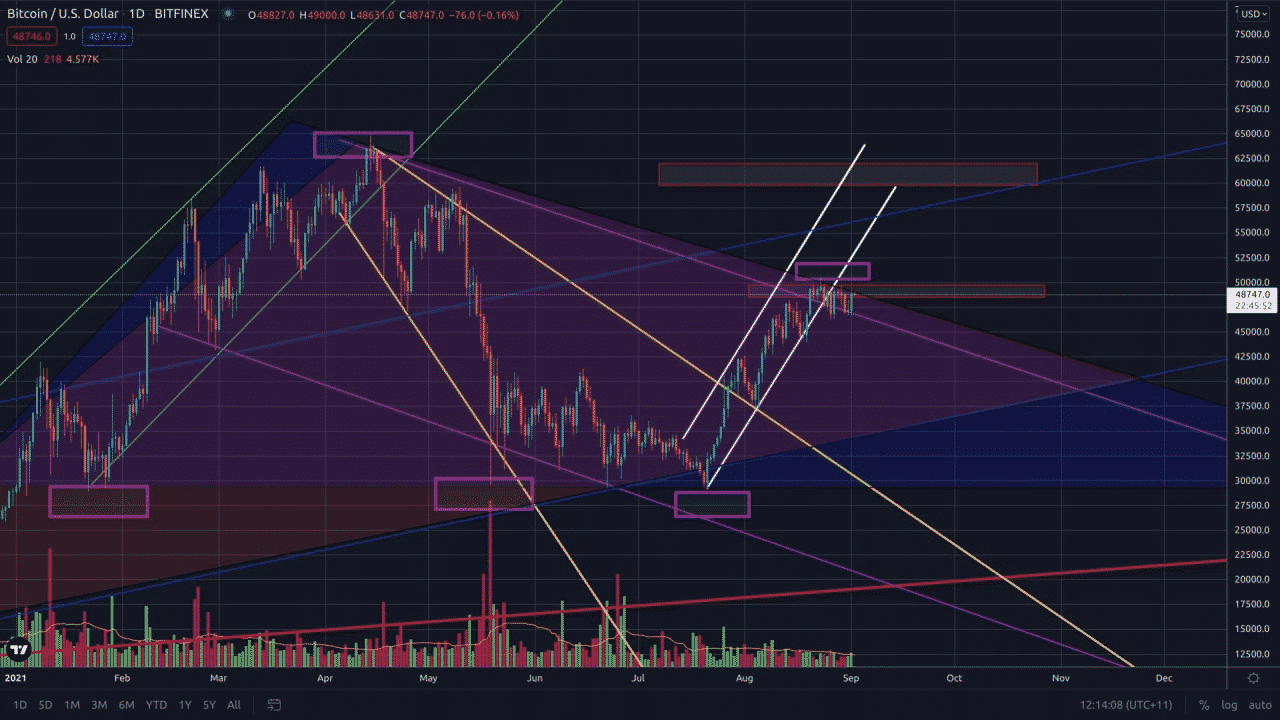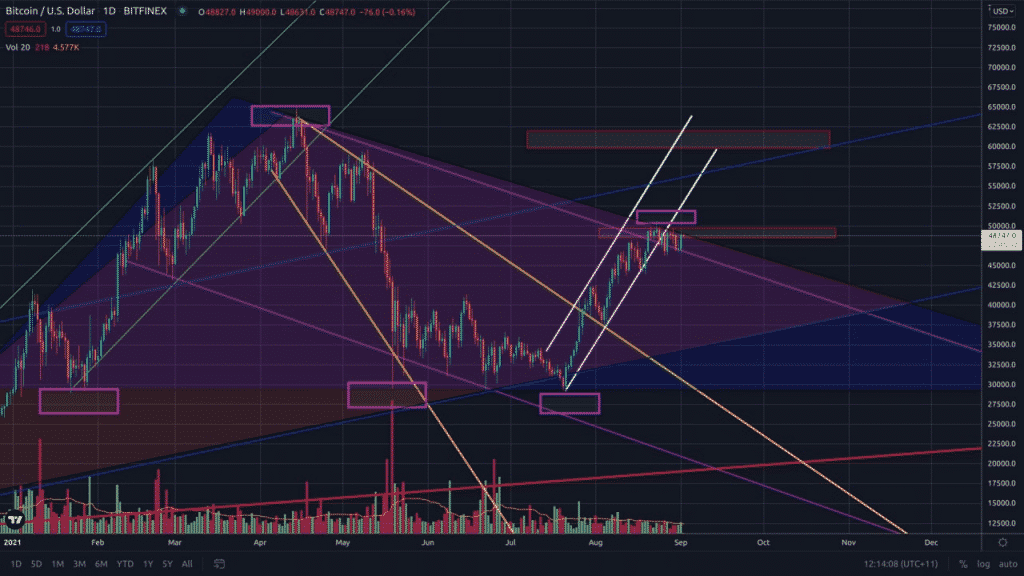 Wednesday has passed, and Thursday began with a sudden increase in BTC price. As a result, the asset once again started testing the resistance that has already become key for the market.
This time, Bitcoin seems much more confident than during its previous attempts at breaking out of the triangle. It's quite likely that today BTC will finally manage to do it and gain a foothold above $50,000. Altcoins have followed BTC in its rise. Bitcoin itself, as of this writing, is trading at around $49,600.
It's likely that players previously waiting on the sidelines have entered the market. Breaking the $50,000 level could lead to a new wave of purchases among traders and additional liquidations of short positions, which may also boost the formation of the long-awaited new local high.
As we've mentioned in the previous issue, overall, Bitcoin is bullish. It's accumulating strength for a powerful breakout and will definitely reach a new absolute high in the near future. However, the run-up to the supposed move has been getting the market worried. Will the coin go for another correction in order to muster up the strength to shoot back up?
Nevertheless, Bitcoin doesn't seem to be moving towards the support within the triangle, testing traders' patience. This may be due to the fact that players who wanted to wait for the price decrease simply ran out of patience and decided to FOMO in at the current level.
Keep in mind that within the 1D timeframe, Bitcoin's movement follows the "bullish pennant" pattern. It often happens that within this pattern the asset moves in an ascending, constantly narrowing price range, which is typically broken through with a strong pump. Overall, Bitcoin is accumulating the strength to break out of this formation and start moving to the $90,000 — $100,000 area.
That's obviously positive news. However, it's still too early to celebrate. Bitcoin has tried to storm this resistance earlier but was forced to retreat each time. If you are a Bitcoin trader (especially on leverage), wait for the price to establish a foothold above $51,000 and then long. It isn't exactly clear enough whether or not we will get to see another pullback, so there is no reason to risk liquidation.
After making sure Bitcoin is out of the descending trading range (purple), the next key level will be $60,000, the resistance and upper limit of the ascending channel (blue).

In the end, traders will still have the last word. Bitcoin's sudden activity will whet the appetites of many short-term and long-term investors. All of them will be interested in strengthening their positions, but they also risk being trapped if BTC suddenly gives up and goes back to square one.
Ethereum (ETH)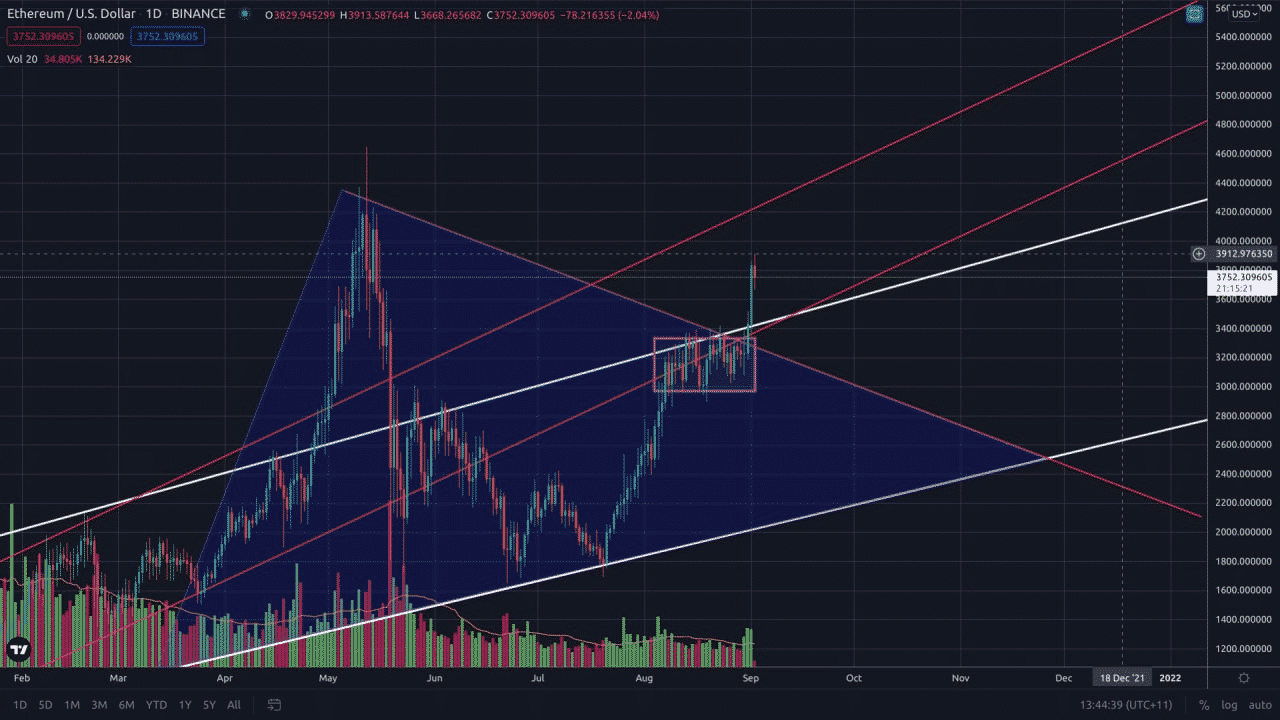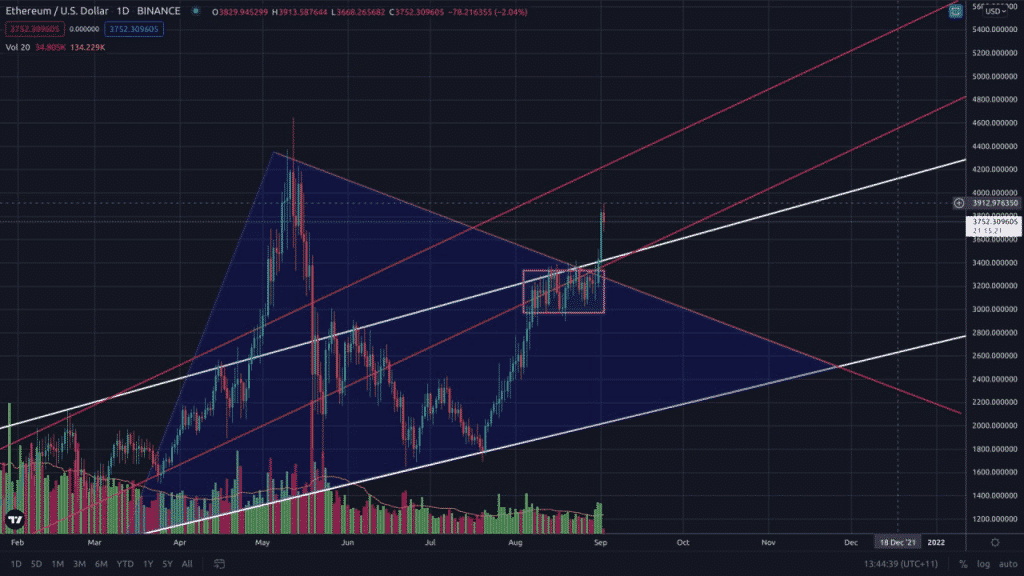 Ethereum started rising yesterday, proving its growing independence from BTC. Not only did the asset break out of the consolidation zone, but also showed enough determination to reach the $4,000 area. At this rate, very soon, the second largest crypto by market cap will reach $10,000, or even surpass Bitcoin.

The new day began with a pullback for Ethereum, but it's already trying to compensate for these losses. For a moment, ETH even exceeded $3,900, which is a good sign for a new global high formation.

There's no point in examining the triangle any further. ETH has established a foothold within the ascending trading range (red) and will now continue conquering new heights. Problems may only arise in the $4000 – $4200 area, as it's connected to the resistance level dictated by the new price range conditions.

Ethereum is an asset that every investor willing to earn money should probably have in their wallet. It has significantly increased in price, showing the potential to follow in Bitcoin's footsteps. It's also quite likely that investments in this particular crypto asset will create a new wave of crypto millionaires on the market.
Fear and greed index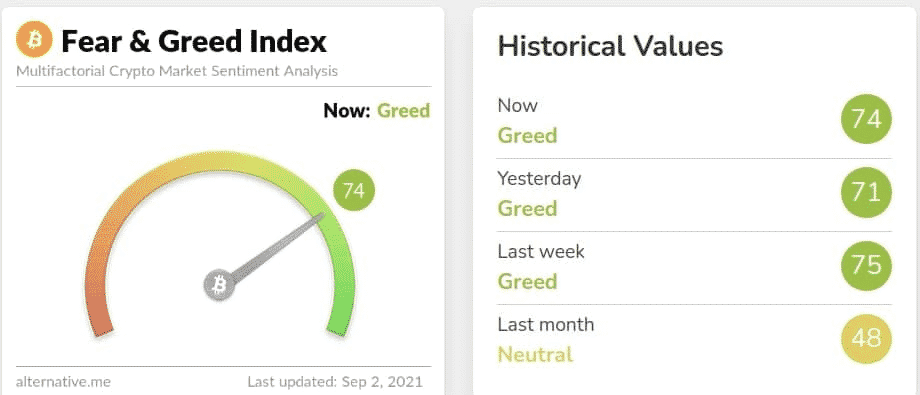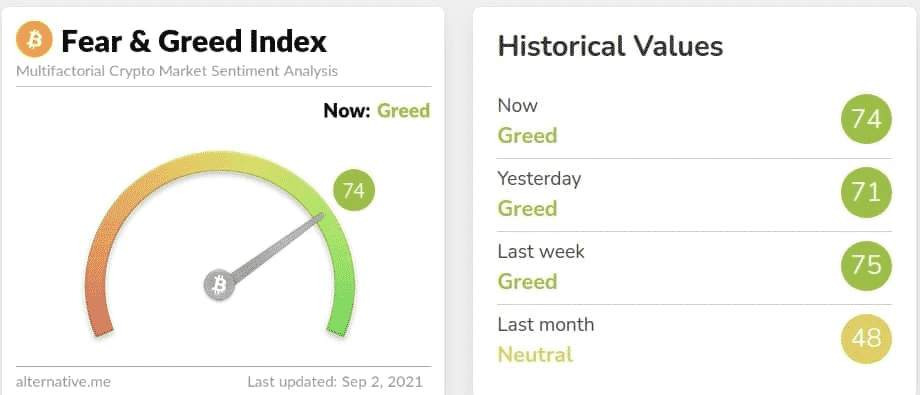 The fear and greed index took a few steps towards greed. People definitely have a feeling Bitcoin won't go below $46,000, which means that very soon the resistance will be broken, and the asset will conquer new price highs.

This impression might be deceptive. However, the current course of events gives us hope for the best. If there are no major sales, and the news remains at least moderately positive, Bitcoin, as well as the rest of the market, is in for a cycle of growth.

TOP 10 Altcoins 
The top-10 altcoins have turned green; Bitcoin's upward movement has accelerated their growth.

BNB is aiming for the $500 mark. Binance CEO Changpeng Zhao can't wait for this to happen, judging by how often he talks about Binance Coin on Twitter. Moreover, CZ has retweeted several positive holders' posts.

Solana (SOL) is also trying to get back in the game. After the recent pullback, many suggested that its rally has come to an end. However, the most discussed altcoin seems to have come back to life.

Cardano (ADA) has broken the $3 mark. Personally, I've been following this altcoin for a couple of weeks now and am very glad it has finally broken out of the narrowing trading channel. In the last few days, ADA's movements were so subtle it felt like watching a stablecoin.
Fantom (FTM)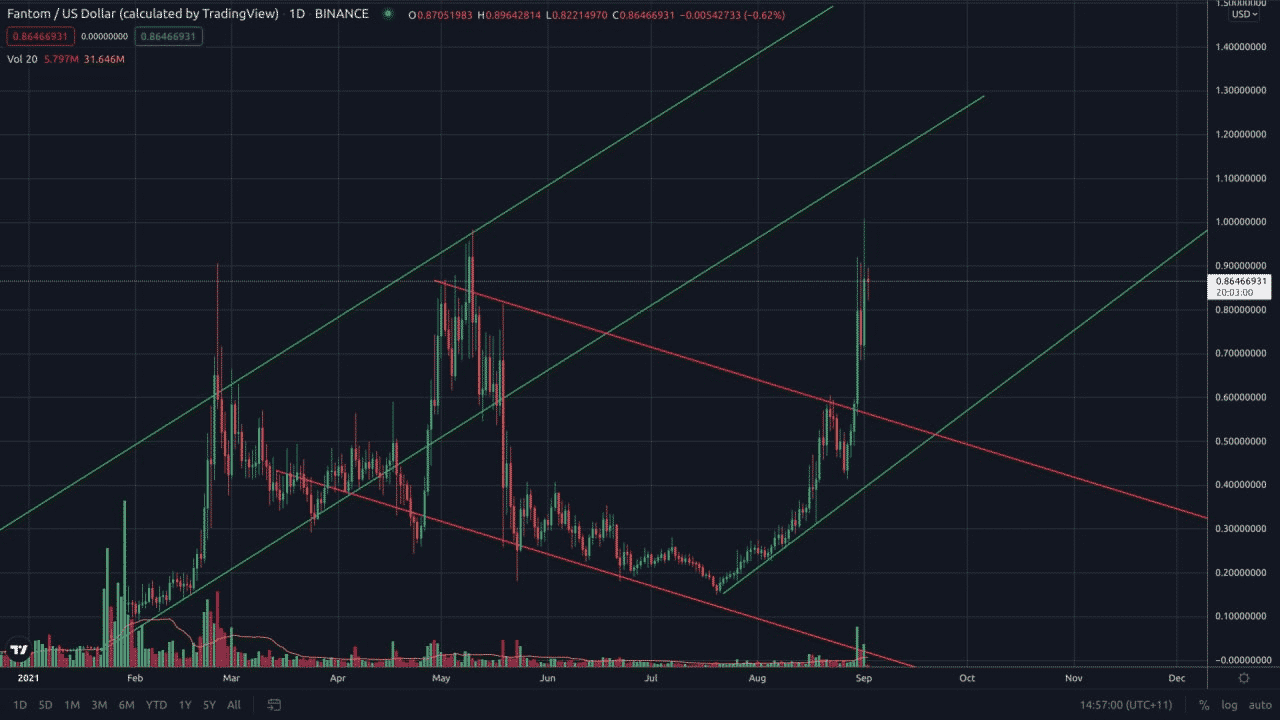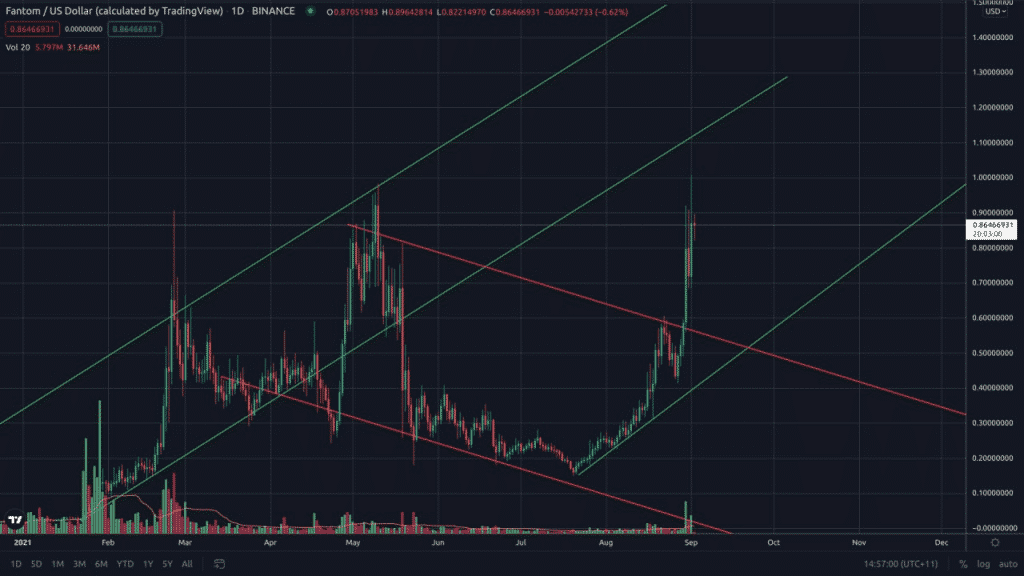 Yesterday's outsider suddenly turned out to be a gainer today, taking its place among the top-100 cryptocurrencies according to CoinMarketCap. Fantom has already brought its holders more than a 20% gain. Over the past week the gain has been 70%.

As if offended by our article yesterday, FTM ended the previous day with a new price high. The altcoin, however, couldn't hold this position. It isn't necessary in such a situation, though. The coin continues to move within the ascending trading range and might, under Bitcoin's influence, quickly recover from losses and set another record.
Elrond (EGLD)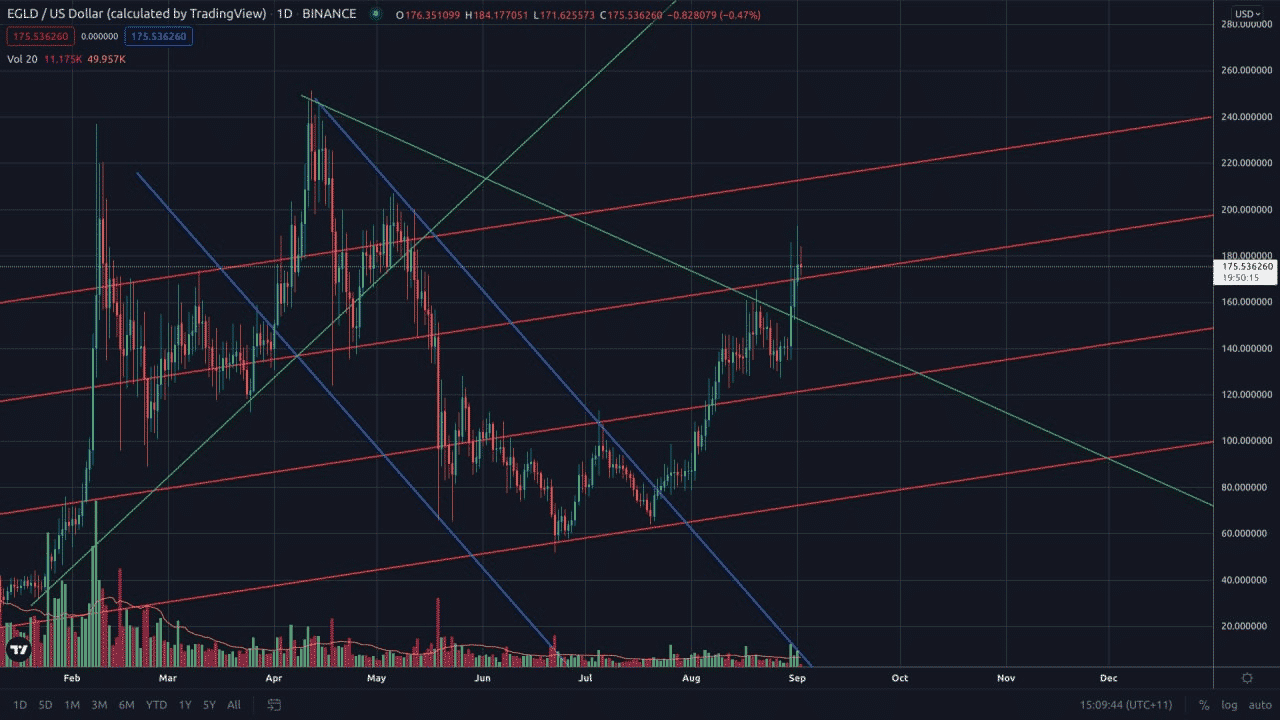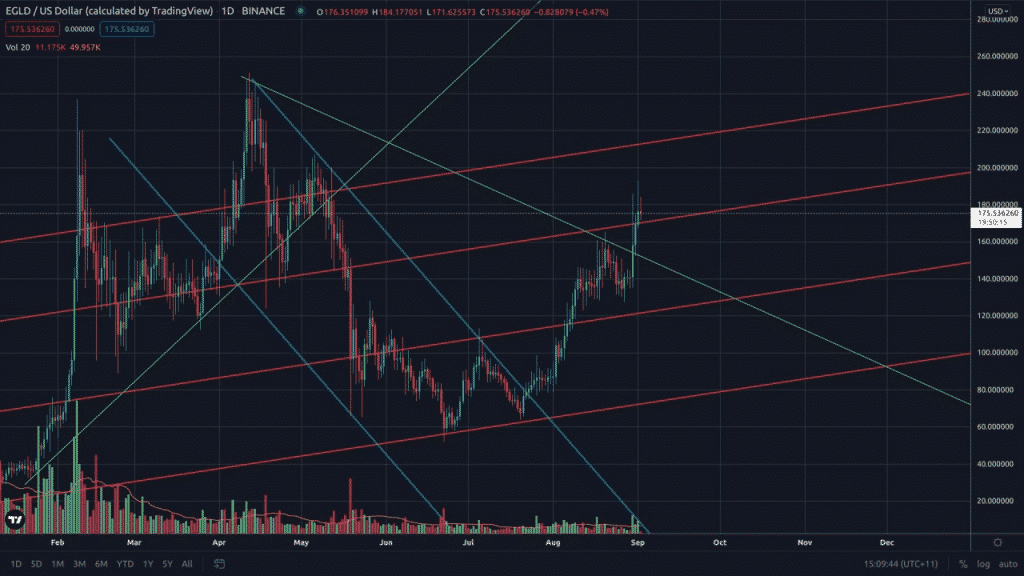 Finally, Elrond (EGLD). Compared to other top-100 members, this coin is in the red. Only by 1%, but this still makes the asset the loser of the day.

If we take a look at EGLD overall, the altcoin has grown significantly, a natural correction followed, but it couldn't force this asset to go below the support level. It's quite likely that by the end of the day, Elrond will enjoy a new price high.

The day's not over, so the situation may still change drastically. Gainers and losers might trade places, or even give them up for assets yet unnamed.

All in all, Thursday has started off on a positive note. It's not yet clear if Bitcoin will break through the resistance or return to $46,000. In the best scenario possible, today may bring traders and investors great profits. Don't forget about risk management and don't forget to set stop losses, especially now that anything can happen in the short term.
Recevez un condensé de l'actualité dans le monde des cryptomonnaies en vous abonnant à notre nouveau service de newsletter quotidienne et hebdomadaire pour ne rien manquer de l'essentiel Cointribune !
Photographe, Vidéaste, webdesigner et enfin rédacteur pour CoinTribune: l'image, le digital et la blockchain sont mon dada.
DISCLAIMER
The views, thoughts, and opinions expressed in this article belong solely to the author, and should not be taken as investment advice. Do your own research before taking any investment decisions.