Crypto Markets Today: Bitcoin (BTC), Ethereum (ETH), OKB (OKB), Arweave (AR) – 28th September 2021
Tue 28 Sep 2021 ▪ 12h19 ▪
6
min read — by
Today is Tuesday, 28th September, and this market brief is brought to you by Mr. H, founder of the Crypto Blockchain Analysis Telegram channel. Inside you will find everything that has been happening on the market, and what to expect next! If you would like to read the previous analytics article, you are welcome to follow the link. Off we go!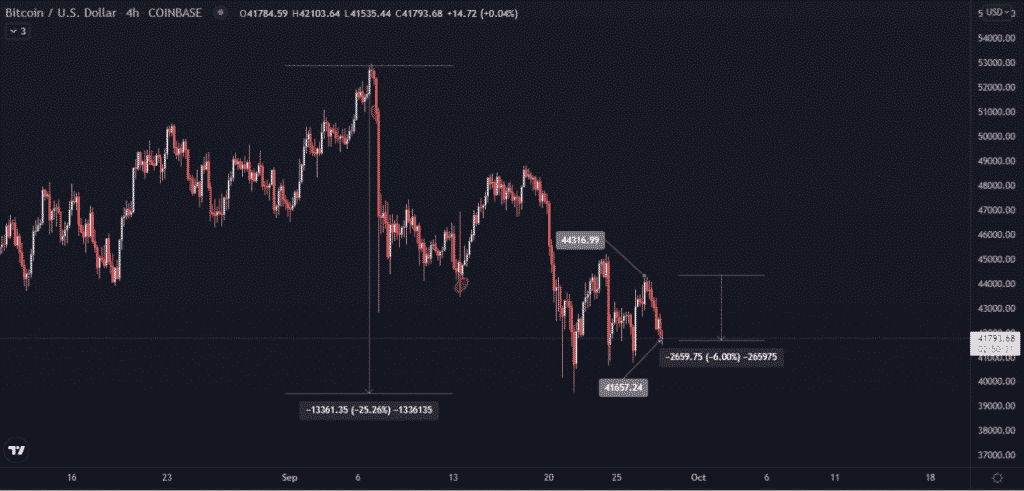 Bitcoin (BTC)
Bitcoin has once again had a 6% pullback from $44k to $41,502 at the time of this writing. Right now, Bitcoin is on track to print a red candle for the month of September. This is not surprising since history has shown that September isn't the best month for Bitcoin even during bull markets.
Also many more crypto exchanges are leaving China due to regulatory concerns. Below are the three crypto exchanges that have decided to exit the Chinese crypto market recently:
BitMart said it will clear out accounts registered in mainland China by November 30. After that, it will stop providing all services to users in China.
Biki said it would stop accepting all deposits on Tuesday and it would only allow users to withdraw. They will cease all operations in China by November 30.
Huobi said it will remove all accounts registered in China by the end of the year.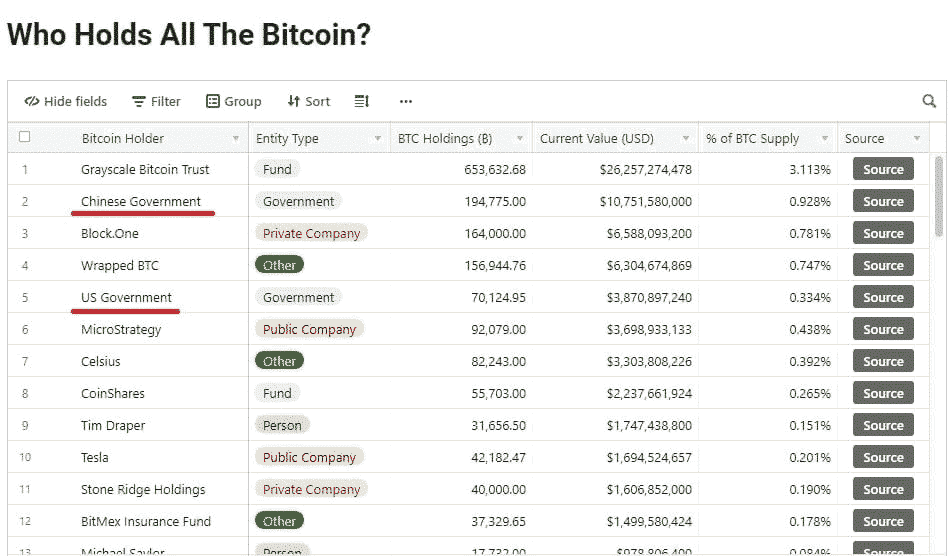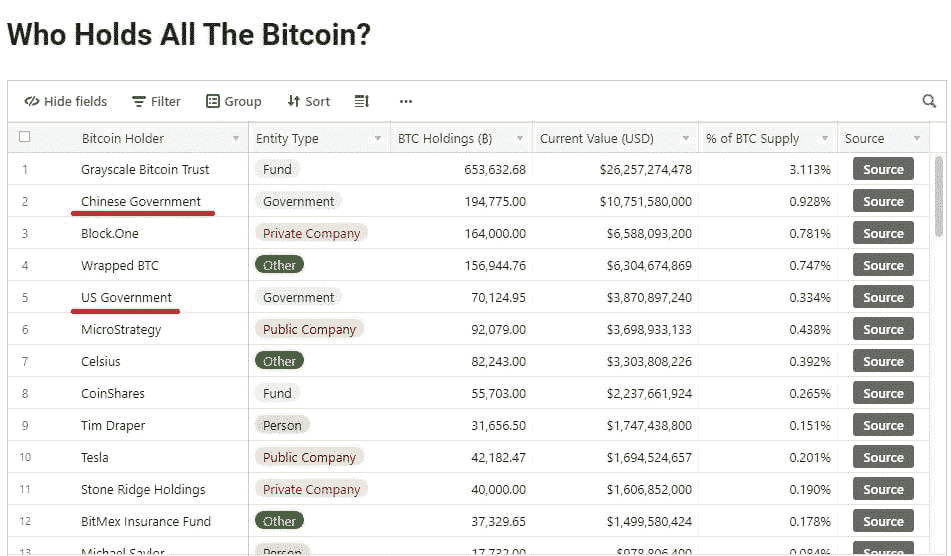 However, despite all the FUD coming from China, information about China accumulating Bitcoin has surfaced. It looks like China's plan is to release FUD, dump the price and accumulate more Bitcoin 'at a discount'. China has already accumulated over 190,000 BTC, or almost 1% of all BTC in existence.
China owning 1% of all Bitcoin has caused concerns among investors. Should China dump all their Bitcoin, this would have a substantial impact on the price of the asset. It's not yet known why China is accumulating BTC and what is their end goal.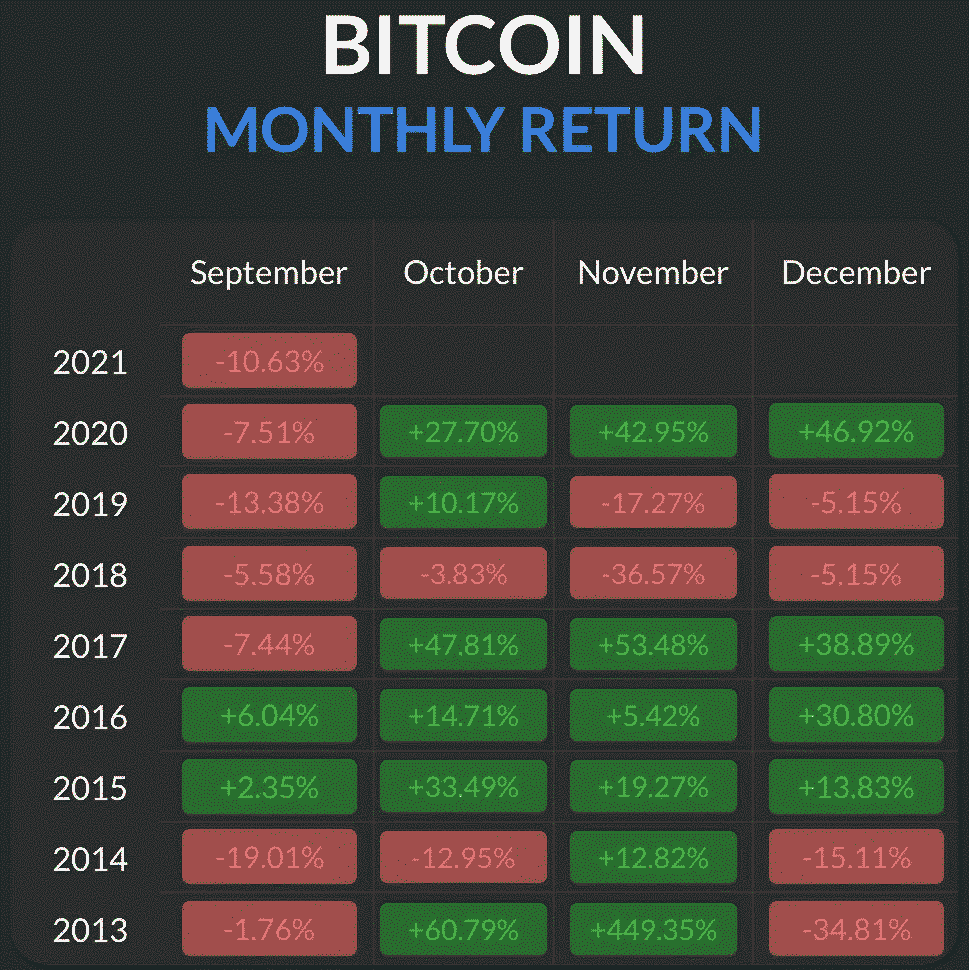 As we get closer and closer to the month of October, investors are getting excited since Q4 has historically been ultra-bullish for Bitcoin, especially during bull markets! If we take the average return for October during a bull run and apply it, Bitcoin would be trading at $64,343 (around all-time-highs) by the end of October.
Ethereum (ETH)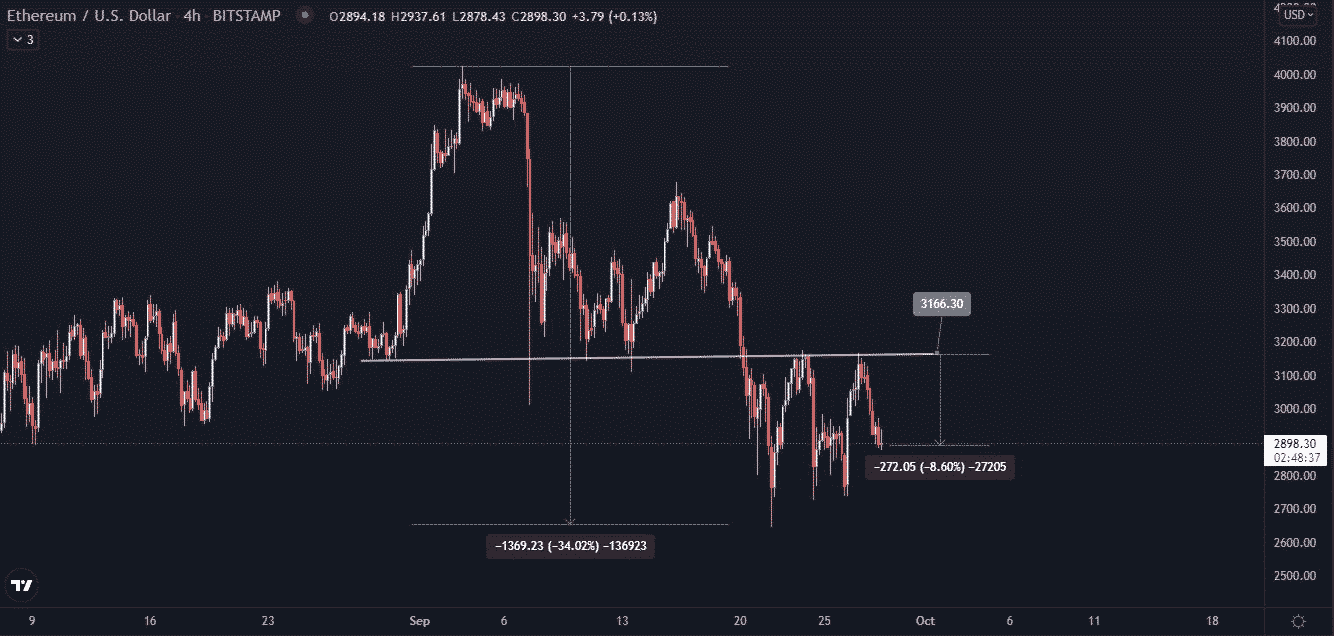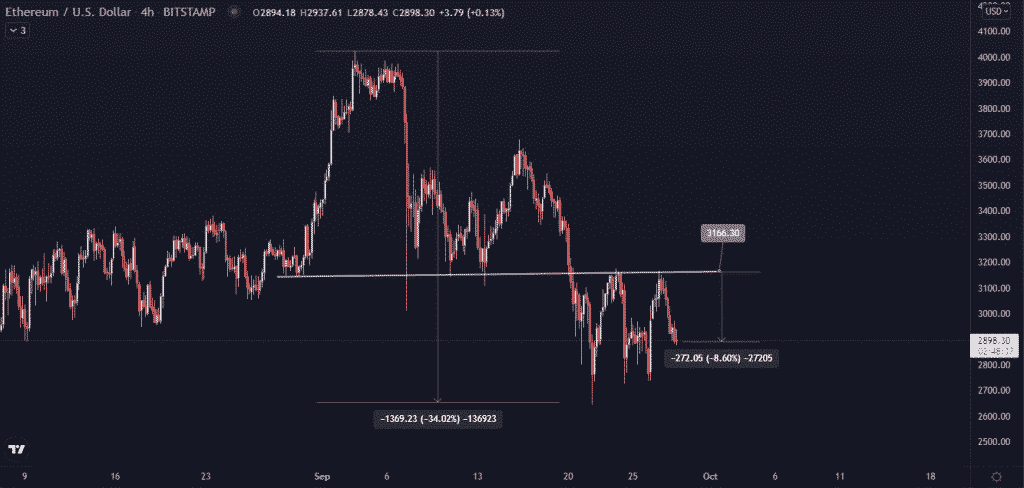 Next up, we have Ethereum. ETH has also had a pullback alongside the rest of the crypto market, retracing 8.6% and is currently down 35% from its local top near $4000.
We also have some rather interesting news coming out for Ethereum. A wallet belonging to crypto exchange Bitfinex has paid $23.7 million in fees just to send $100,000 of USDT. The transaction was in a block that was mined by an unknown Ethereum miner. The unknown miner ranks in the top ten miners by blocks mined over the last seven days.
This may very well be the largest Ethereum transaction fee ever in dollar amount. Previous occasions include two transactions that were made in June of 2020 that added up to a total $5.2 million in fees paid.
Fear & Greed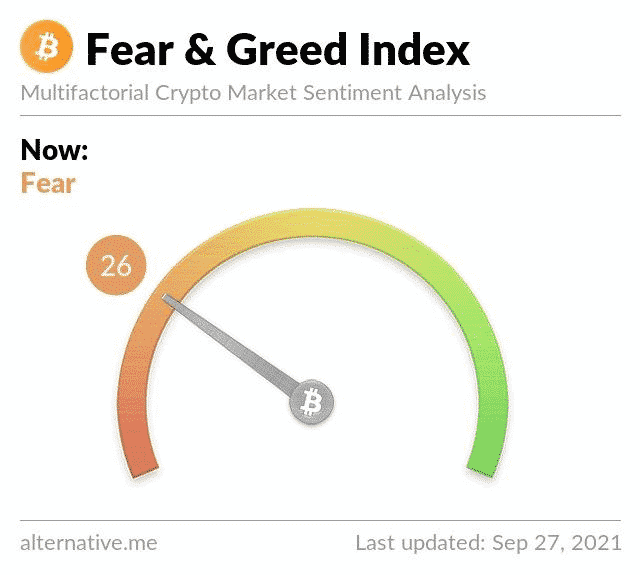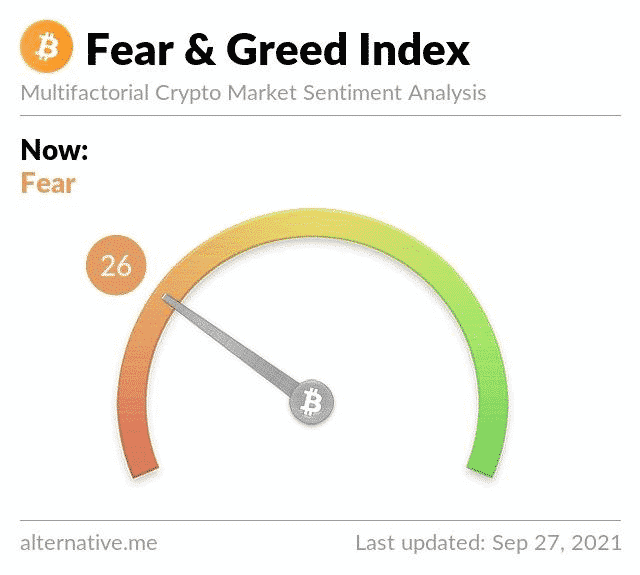 The Crypto Fear & Greed Index is showing us the markets are still in fear despite the fact that Q4 is predicted to be super-bullish for Bitcoin! This just comes to show that the sentiment can change from Bullish to Bearish with some good old China FUD. However, according to on-chain data, long-term holders still haven't touched their bags and are, in fact, accumulating more BTC! This is another sign that the bull market isn't over yet, so investors have no reason to worry.
OKB (OKB)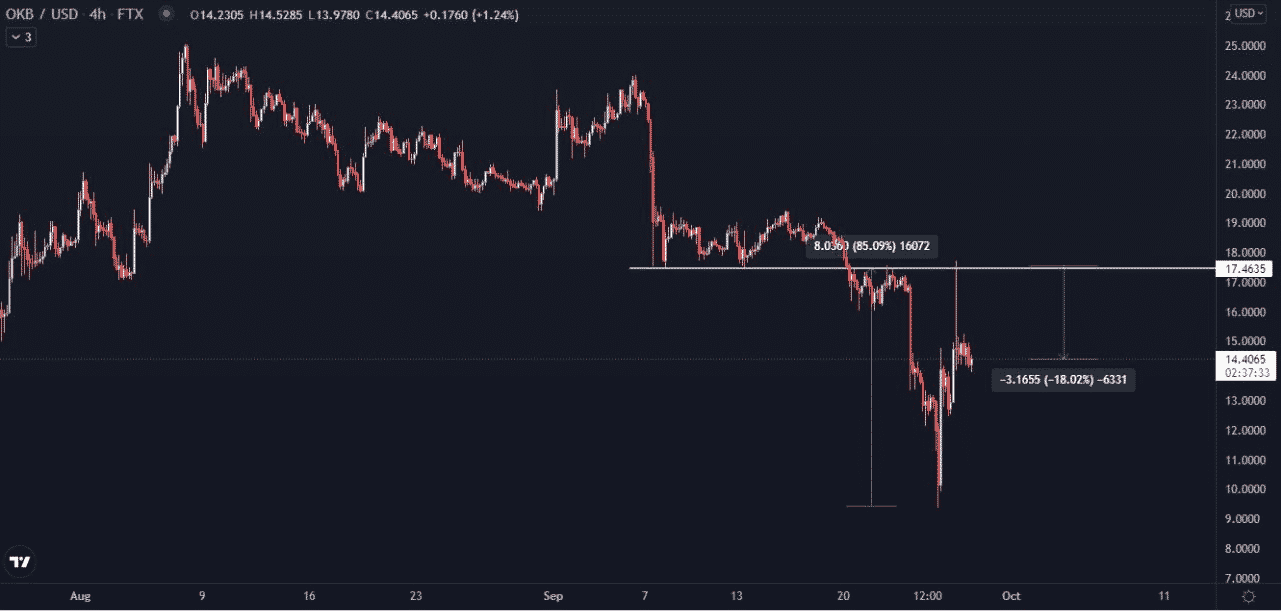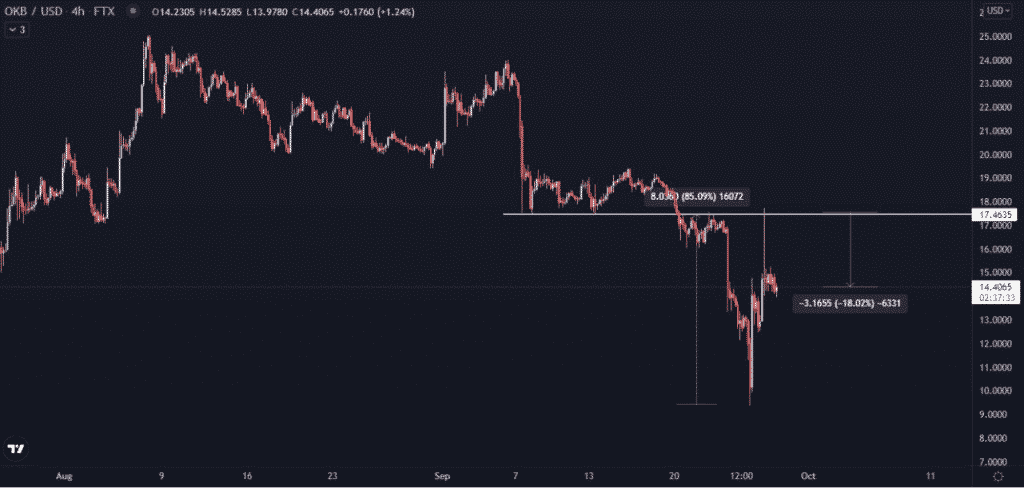 Today's top gainer, OKB, has been pumping hard in the last 2 days. It's up over 80% from it's local bottom at $9.44 and is up 15% in the last day alone. It tried to break past a crucial resistance point at 17.45 but has got rejected and has since retraced 18%. OKB is currently trading at around 14.3 at the time of this writing.
Arweave (AR)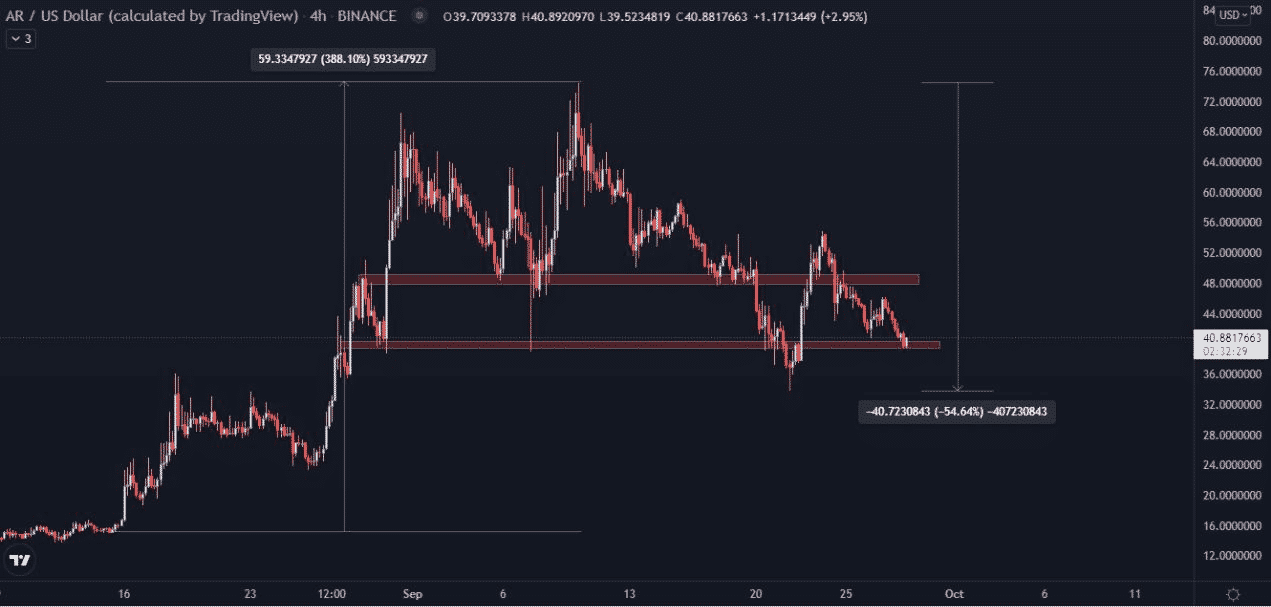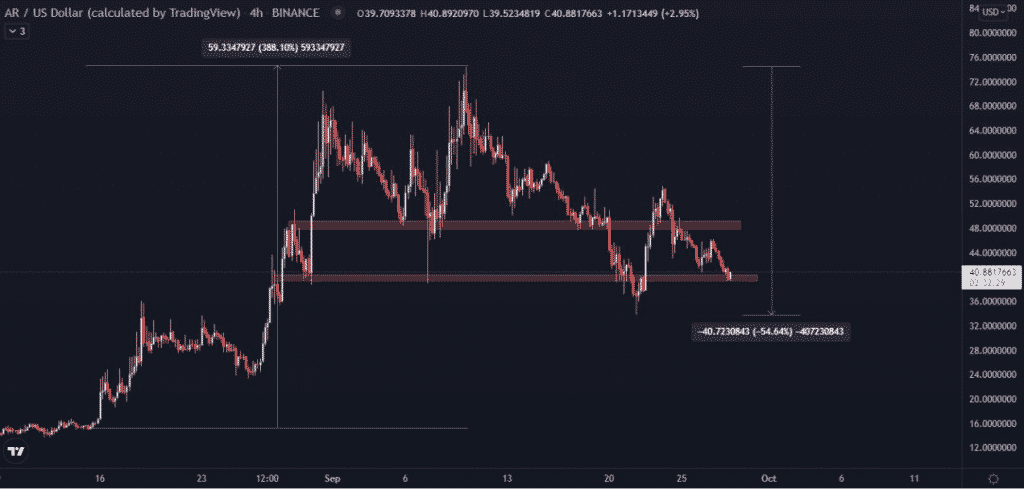 Today's top loser, AR, has seen a 10% retracement in the past day. It's now testing a support zone at $39 – $40 and the bulls must step in to hold this support zone. AR has had a massive rally in the past few weeks rallying over 300% to its new all time high of $74 before retracing 50% to $33.9.
If you want more analysis like this plus short-term calls, gem recommendations, and more, be sure to join Mr. H's free Telegram Channel — Crypto Blockchain Analysis.
Recevez un condensé de l'actualité dans le monde des cryptomonnaies en vous abonnant à notre nouveau service de newsletter quotidienne et hebdomadaire pour ne rien manquer de l'essentiel Cointribune !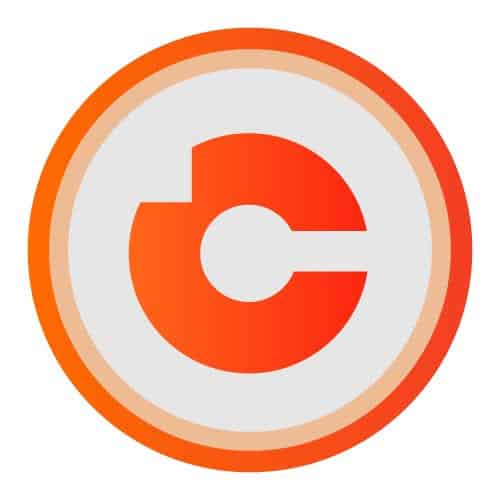 The US Dollar is controlled by 12 people, Bitcoin is controlled by nobody. Blockchain is here to stay and Mr. H will help you to navigate this market with clear and accurate analysis on a daily basis
DISCLAIMER
The views, thoughts, and opinions expressed in this article belong solely to the author, and should not be taken as investment advice. Do your own research before taking any investment decisions.