Crypto Markets Today: Bitcoin (BTC), Ethereum (ETH), Ren (REN), Maker (MKR) – 24rd September 2021
Fri 24 Sep 2021 ▪ 11h48 ▪
7
min read — by
Today is Friday, 24rd September, and this is Cointribune's Crypto analytics by Mr. H. Inside you will find everything that has been happening on the market, and what to expect next! If you would like to read the previous analytics article, you are welcome to follow the link. Off we go!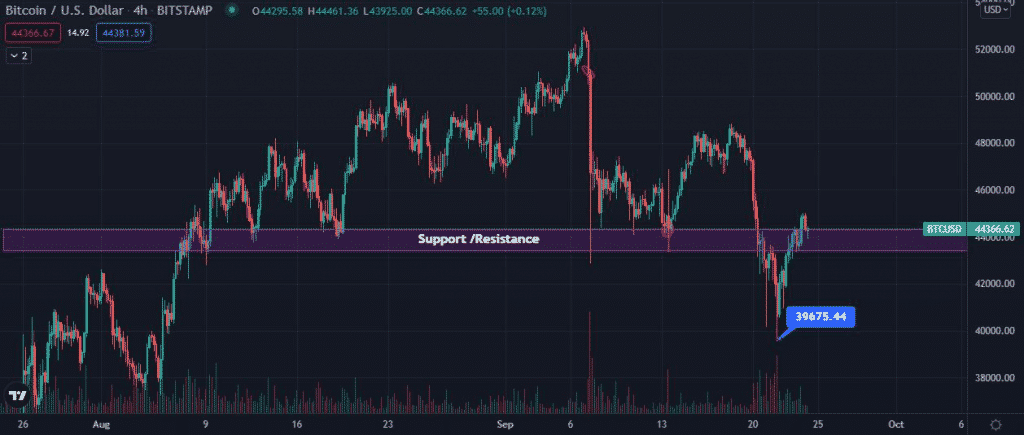 Bitcoin (BTC)
After dipping below $40,000 a few days ago, Bitcoin has immediately bounced back and is trading at $44100 at the time of writing. This sudden drop in the price of Bitcoin has caused fear and panic among investors with some analysts calling for a $20,000 Bitcoin.
However, it looks like the largest cryptocurrency is marching back up to the local resistance level at $43700 — $44400 dragging the entire crypto market along for the ride. If we manage to break this resistance level, we will continue our path to a $100,000 Bitcoin by the end of the year.
At the same time, there is a lot of bullish fundamental news popping up. First up, we have Twitter, which is now letting users send BTC tips on its platform! If you are on iOS, you can immediately connect to a third-party tipping service and start sending people Bitcoin. This feature will utilize the Bitcoin Lightning Network. This brand new feature opens up a whole new way for Twitter users as they can be paid to post tweets. It is yet to be seen how content creators and influencers will utilize this feature to their advantage.
Furthermore, Twitter also announced today that it will add non-fungible token (NFT) verification features, a step in the evolution of the booming trend for unique digital art. No specific timeline was laid out for the feature yet but it is under development. The market responded very positively to the news, with BTC going from $43,000 to $44,000 in response to the news. This move from Twitter is not surprising since Jack Dorsey has time and time again showcased his support for Bitcoin.
On the other hand, China has injected $19 billion into the banking system in an attempt to bail out its second-largest real estate developer, Evergrande. This is good news for the financial market as a whole since just a few days ago the financial market started panic selling in fear that the company will go bankrupt. This caused a major dip in stocks, crypto and other financial assets. Evergrande has a debt of $300 billion and it is not yet clear how the company plans to clear this debt.
All in all, it is very interesting to see all these events unfold at once, and Bitcoin might finally find the strength it needs to break past the resistance level at $44,000 and continue its rise to reach new all-time highs.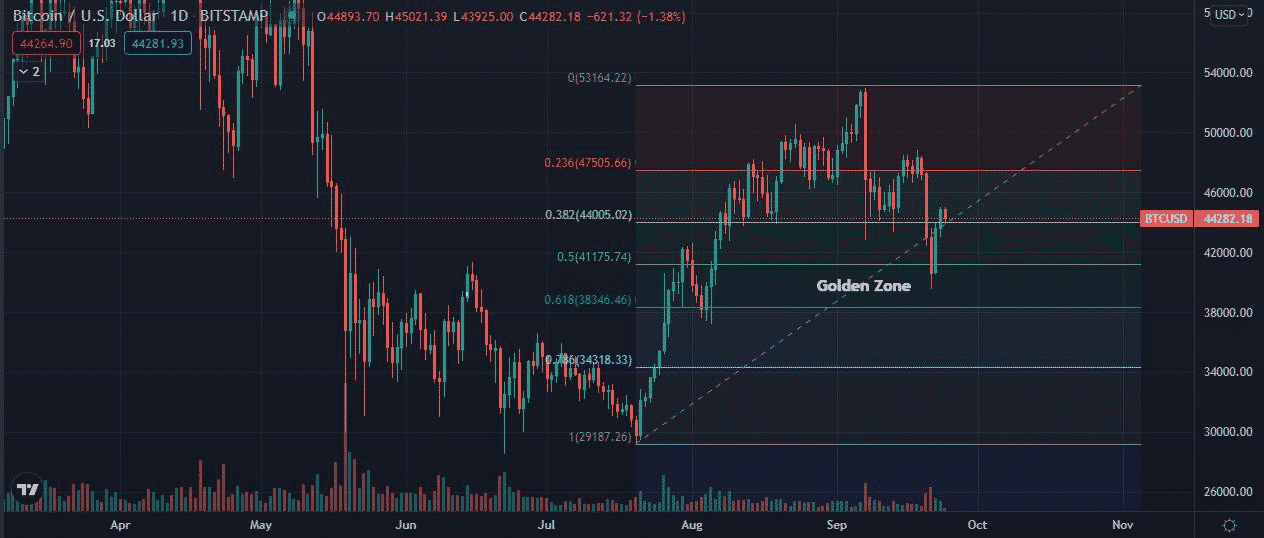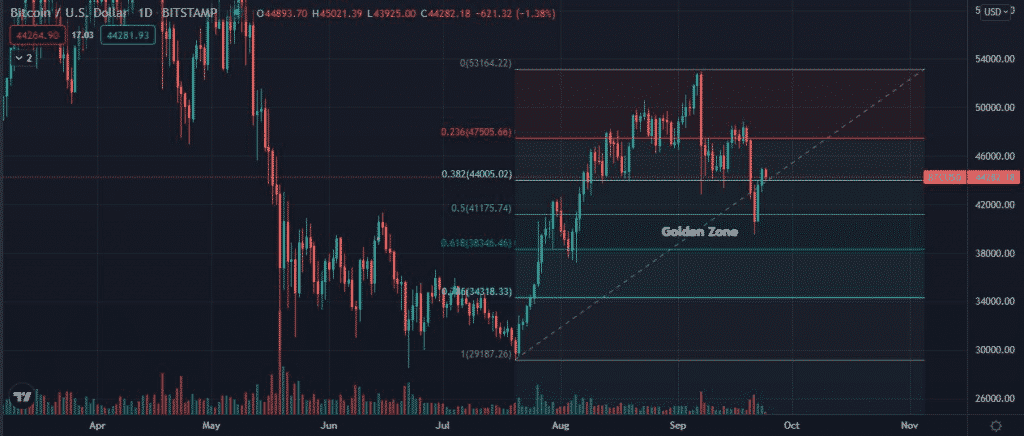 On the larger time frame, if we take the Fib Retracement tool, we can see that Bitcoin has perfectly retraced to the "Golden Zone" between 0.618 and 0.5. Bitcoin regularly retraces to this zone, which usually signifies the bottom of the correction.
Ethereum (ETH)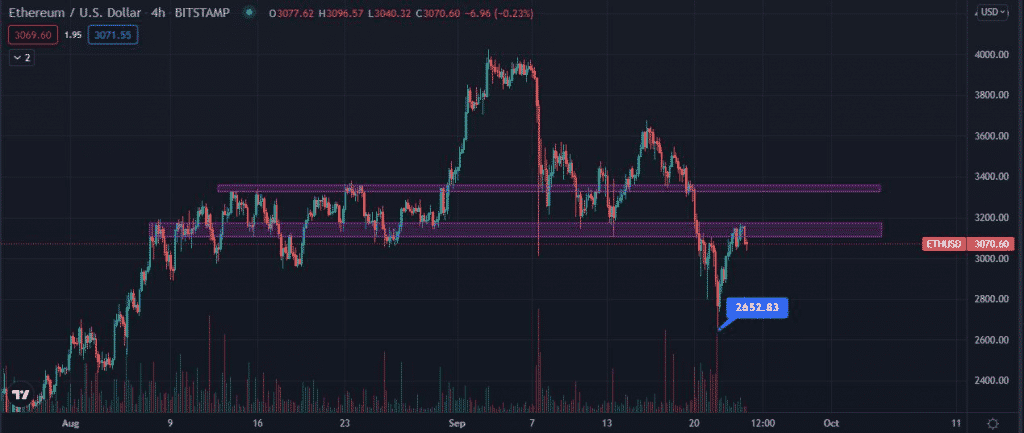 Next up, we have Ethereum. This crypto has stayed relatively flat compared to other altcoins. Right now, it is just following the moves of Bitcoin and it doesn't seem to be interested in taking a path of its own. ETH is trading at $3070 at the time of writing and is testing a crucial resistance level at $3100 — $3200.
The next move for this crypto will be based on the moves of Bitcoin. If Bitcoin starts to pump, then Ethereum will likely follow in its footsteps and pump too.
Fear & Greed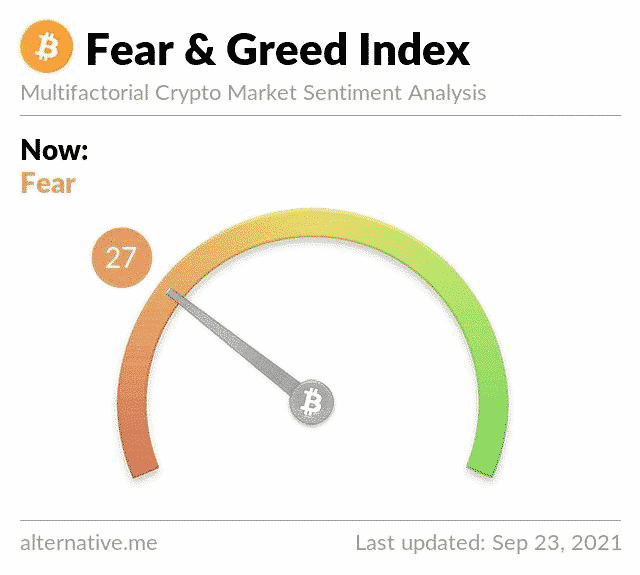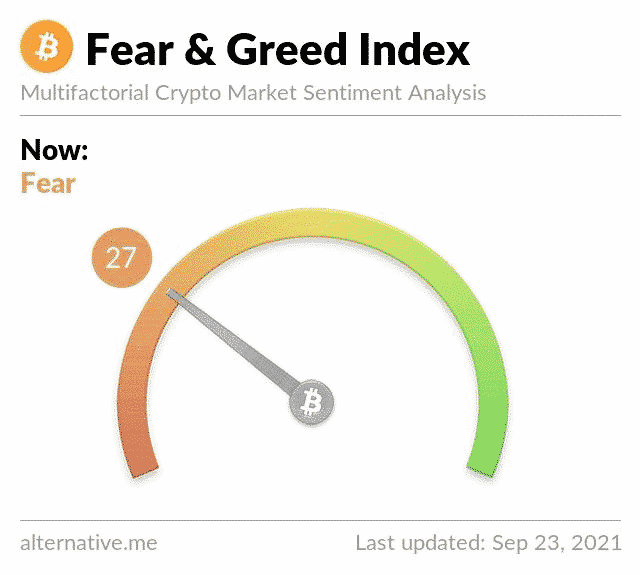 The Crypto Fear & Greed Index is showing us that the markets are still in Fear (27). Just a month ago, the market was in Greed (75). This just shows us that the crypto markets are very volatile and people's emotions can change in an instant. The whales know this and they use that to their advantage all the time.
For example, on the day when El Salvador officially accepted Bitcoin as legal tender, investors were hyped and expected the price to pump based on the news. Instead, the whales dumped the price. Those retail investors were left holding the bag all the way down. At the same time, many investors entered into overleveraged long positions thinking that the price will go up even higher based on the news, but to their surprise the price dumped and $1.2 Billion got liquidated in just one day.
This just goes to show that we have to be cautious when trading crypto. Basic rules are not to FOMO into large green candles or panic sell when the price is crashing down. Remember, every dip is just another opportunity to buy Bitcoin for cheap.
REN (REN)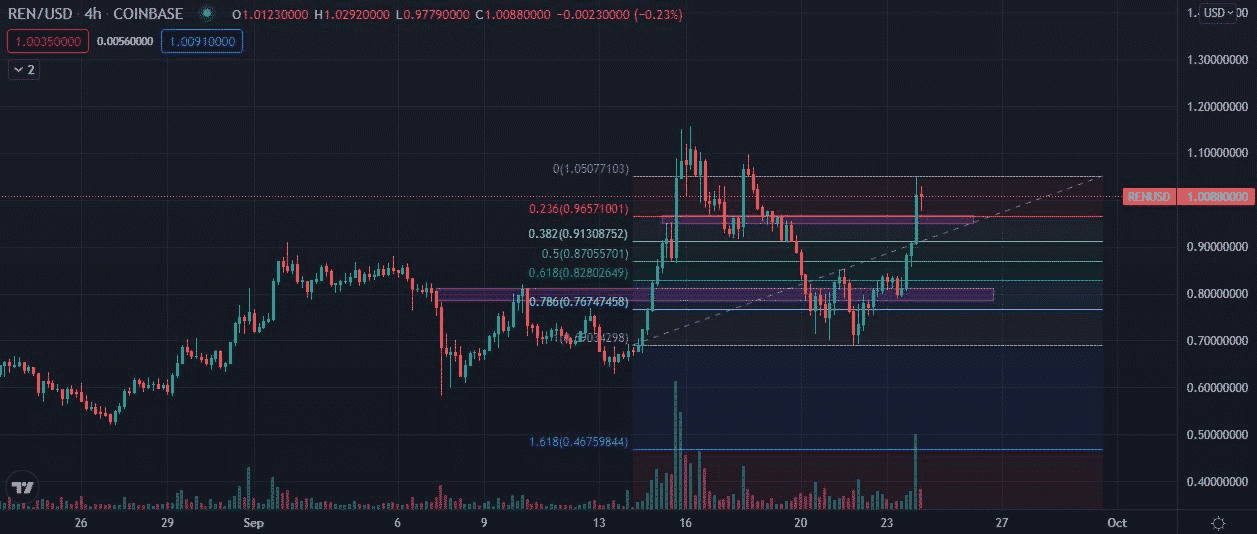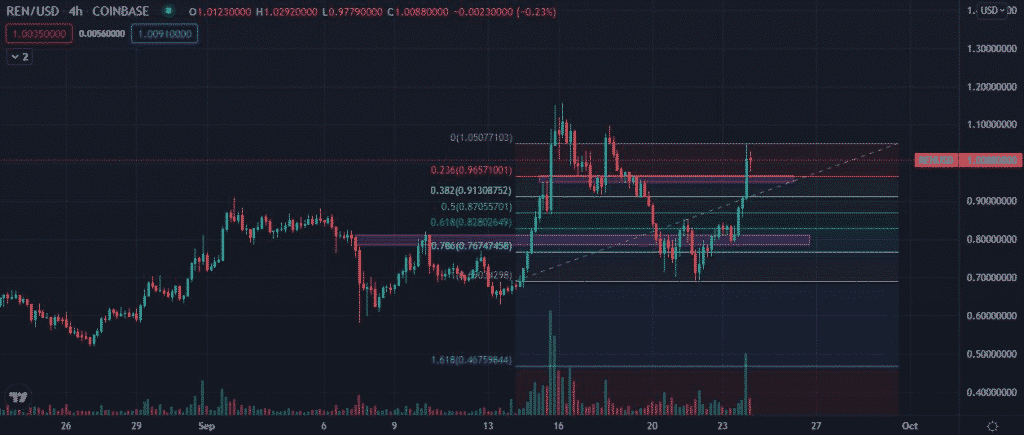 Today's top gainer, REN, has made investors over 20% in the past day alone. It has since retraced 5% from the top. The main support zone for REN is at the 0.94 — 0.966 levels. If we are able to hold it and get a bounce, we can see REN continue its pump towards the upside.
MAKER (MKR)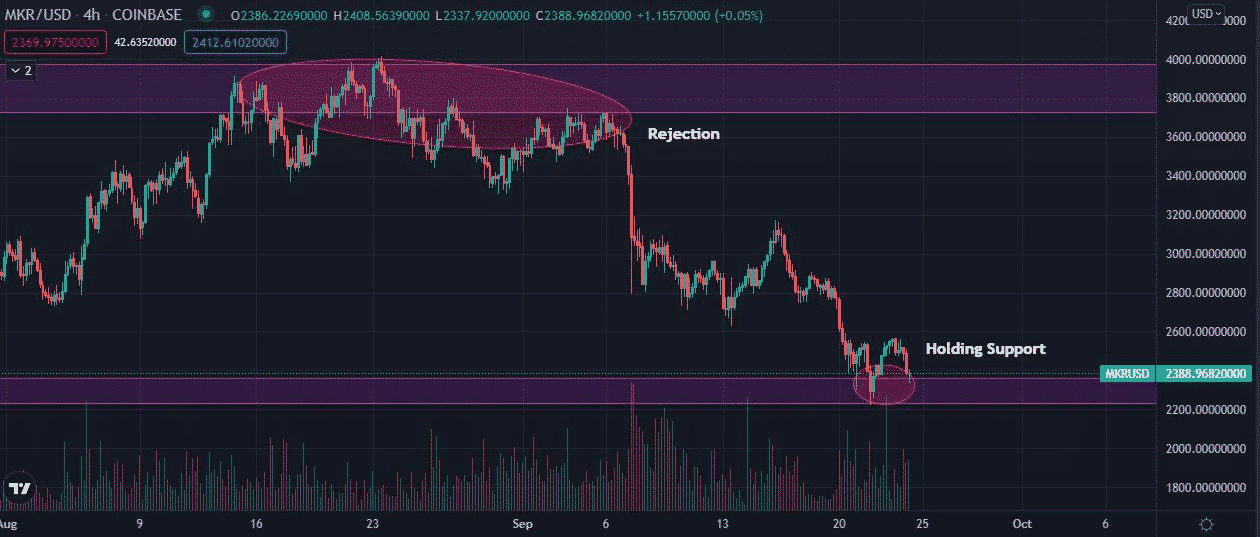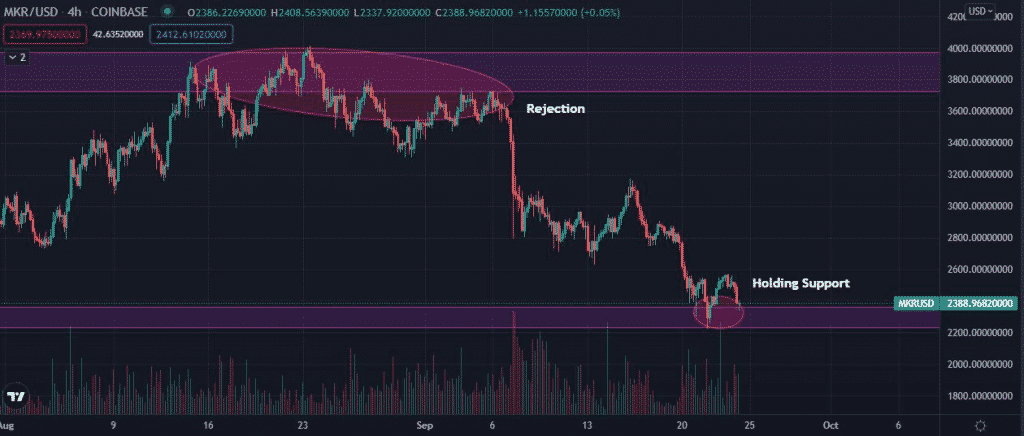 Today's top loser, MKR, saw a 7% retracement in the past day. This retracement came after a failed attempt to break through the resistance at $3750 — $3985. We're right now trading at a support zone at the $2230 — $2370 levels. If Bitcoin were to continue to pump, MKR might get a bounce from this support zone and retest the resistance zone.
For more analysis, calls, gem recommendations, and a growing community of traders, make sure to join Mr. H's free Telegram Channel.
Recevez un condensé de l'actualité dans le monde des cryptomonnaies en vous abonnant à notre nouveau service de newsletter quotidienne et hebdomadaire pour ne rien manquer de l'essentiel Cointribune !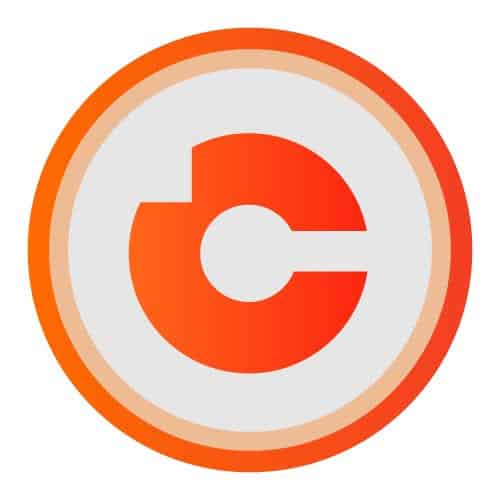 The US Dollar is controlled by 12 people, Bitcoin is controlled by nobody. Blockchain is here to stay and Mr. H will help you to navigate this market with clear and accurate analysis on a daily basis
DISCLAIMER
The views, thoughts, and opinions expressed in this article belong solely to the author, and should not be taken as investment advice. Do your own research before taking any investment decisions.