SpaceX and Dogecoin (DOGE) shoot for the moon
It's one small step for a man, one giant leap for… Dogecoin. Fresh off the back of his appearance on Saturday Night Live, Elon Musk and his company SpaceX will allow an upcoming mission to the moon to be funded by Dogecoin.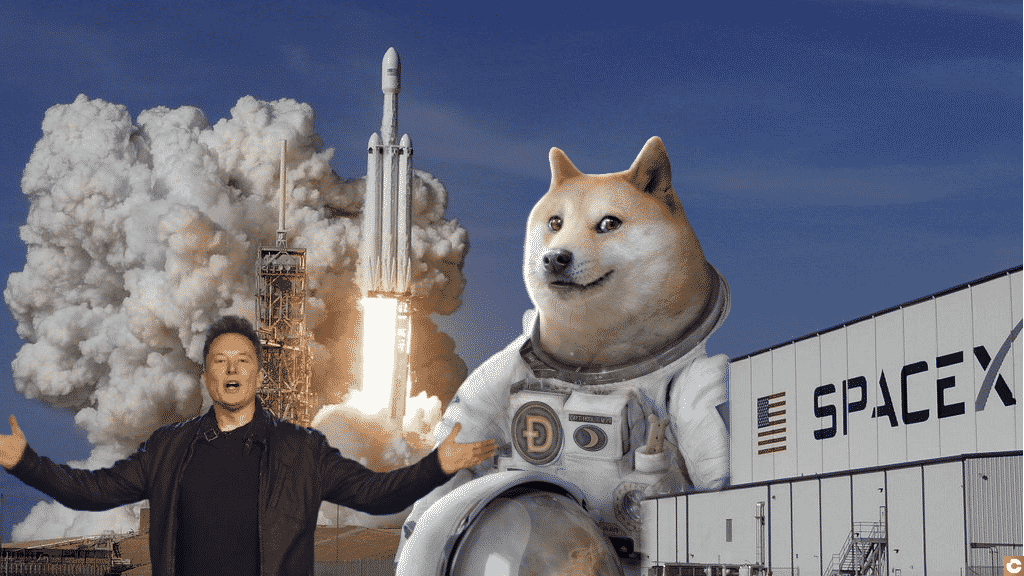 Dogecoin and SpaceX's Grand Day Out
During the first half of 2022, SpaceX, the American aerospace manufacturer and spaceflight specialist, will launch the mission DOGE1 – to the moon.
The mission was announced on Sunday 10th May by the Canada-based Geometric Energy Corporation. The objective is to install a 40kg CubeSat on the moon's surface.
To get it there, the satellite will be loaded onto a Falcon-9 rocket, one of SpaceX's partially reusable space launchers.
Funded by Dogecoin
The mission, which aims to "obtain lunar-spatial intelligence from sensors and cameras on-board with integrated communications and computational systems", will be entirely funded by Dogecoin.
Tom Ochinero, SpaceX's vice president of commercial sales, said in an interview that DOGE-1 "will demonstrate the application of cryptocurrency beyond Earth orbit and set the foundation for interplanetary commerce".
"We're excited to launch DOGE-1 to the Moon!" – Tom Ochinero
The announcement came the day after Elon Musk hosted the long-running U.S. sketch show Saturday Night Live (SNL). During the course of the show, DOGE's price dropped sharply in response to Musk's repeated references to the currency, including calling it a "hustle", in other words, a fraud or a scam.
A clip from Elon Musk and his guest appearance on SNL
Riding the Dogecoin wave, Elon Musk, alias "The Dogefather", never ceases to amaze. There is even a theory suggesting that the mysterious holder of a portfolio containing 28% of the total dogecoin supply, worth $22 billion (~£16 billion), is Musk himself.