Bitcoin (BTC) price on July 9: running in place
Friday, 9thJuly marked the end of the first week of the month, and it doesn't look too good for Bitcoin. On Monday, it crossed the $33,000 mark with flying colors. Previously, traders had predicted that the $35,000 level would hold, but it didn't, and now BTC is trading around $33,000.
Bitcoin (BTC) and its volatile week
Once again Bitcoin has proven just how volatile cryptocurrencies can be. Just Monday it traded at $33,000, Tuesday saw it crawl up to $ 33,520, until Wednesday, against all odds, it launched into a pronounced uptrend to $35,000. Unfortunately, it didn't hold, and by Friday, 9th July, the price slid back down. As of this writing, BTC is worth around $33,000. In other words, the first crypto returns to square one.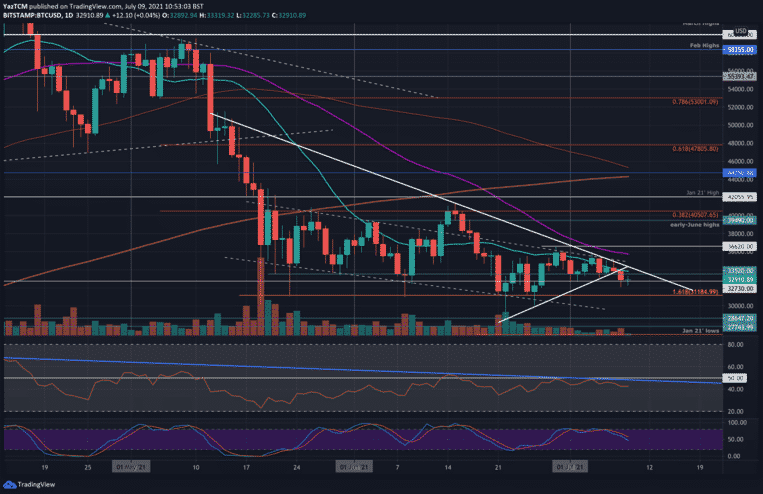 Deeper into the downtrend, analysts believe that BTC will first have to touch the $32,730 mark before going lower and lower: first $31,600, then $31,185, then $30,600 and finally $30,000.

Some traders even believe that Bitcoin could crash down to around $10,000, talking about an event akin to Black Thursday so feared by speculators. However, there are points to refute this prediction.
Why won't Bitcoin drop to $14,000?
With the current situation and all the FUD surrounding Bitcoin, including the crackdown on miners in China, we have to accept that the price of BTC is unlikely to reach $400,000. Not any time soon and not in the current cycle.

The BTC will also not go down to $3,000. Analysts are almost unanimous on this point. They consider that historically the lowest level for BTC is $14,000. History, you say? Yes! Indeed, $14,000 was the upper limit of the last big bullish impulse that took place in June 2019. Since then, the price of BTC has climbed more than 4 times from that level. As a result, experts estimate that the $14,000 level remains the hard support below from which Bitcoin would bounce.

However, there is another reason backing up the importance of the $14,000 support: the cost of production. For the majority of BTC miners, the cost of producing one coin is in the range between $14,000 and $22,000.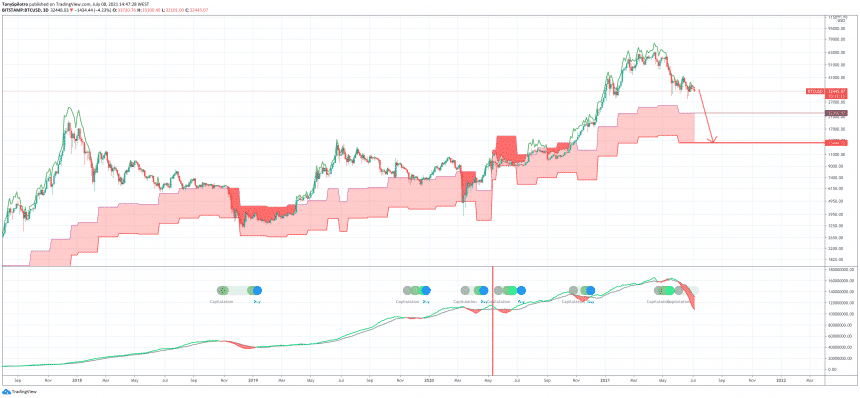 On Friday, 9thJuly, the price of Bitcoin returns to its Monday level, coming back to square one after a week of volatility. At the same time, this is a decline from where the asset was on Wednesday. Nonetheless, traders remain positive and hope for a return to a more confident market. Either way, they believe BTC to have a hard support at $14,000.