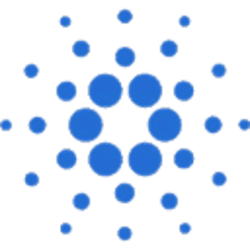 Cardano price
ADA
Volume 24h
$149,882,332.01
Offer available
34,593,679,000.386 ADA
Total supply
45,000,000,000 ADA
Capitalization
$13,140,035,120.06
CARDANO: A BRIEF SUMMARY
Cardano (ADA) was founded in 2017 and its blockchain uses the proof-of-stake consensus algorithm. ADA token holders can vote on proposed network changes. The team behind Cardano aims to make ADA a platform for dApps and smart contracts with a degree of modularity.
WHAT IS CARDANO (ADA) ?
Cardano was the very first blockchain developed using a scientific approach. It only launched after two years of peer-reviewed research and development as well as evidence-based methods. So it probably came as no surprise when Cardano smashed its way into the top five in early 2021. It is a cryptocurrency that continues to see widespread growth thanks to the power of its technological platform. However, what is Cardano actually?
Cardano is a third generation virtual currency and also known by its token, ADA. It is a free and fully open source decentralised public blockchain project.  Cardano offers its users powerful and more developed features compared to some other protocols.
The system allows users to send and receive secure digital funds. Its protocol makes use of a layered architecture to guarantee the security of such exchanges. Finally, its approach is based on the academic research of many scientists.
The project was presented to the world in 2015. Its founders chose the name Cardano to pay homage to the Italian Renaissance mathematician, Gerolamo Cardano. Its employees are made up of engineers and researchers. The main goal of the Cardano team was to revisit previous generations of cryptocurrency blockchains, like Bitcoin and Ethereum, in order to create a more complete version.
ADA aims to be more secure, scalable and flexible. This platform is the first cryptocurrency to be based on the Haskell code (which aims to offer more reliability for transactions). Unlike Bitcoin & Litecoin that function using proof-of-work (PoW), Cardano makes use of proof-of-stake (PoS) consensus algorithm. This means its blockchain uses less energy.
What is Cardano (ADA) for?
In 2015 Cardano offered something groundbreaking to cryptocurrency. It changed the way virtual currencies were being developed by offering a unique way of operating and researching. The Cardano platform offers a more balanced ecosystem that prioritises user needs. Rather than rely on a whitepaper the platform feeds off a set of design principles, innovative practices and new avenues of exploration. These principles culminate into the division between accounting and calculation using different layers, the integration of basic components into modular code and the use of multidisciplinary teams (including experts from the 'information security' sector).
Cardano is aiming to be developed into a fully decentralised application (dApp). It wants to offer scalability and interoperability which it says is needed to apply to real-world applications. In its goal to achieve this Cardano has a roadmap. Its roadmap is split into "five eras", they are: Bryon, Shelley, Goguen, Basho and Voltaire. While the five eras will be released one after each other, the research of each of them happens simultaneously.
While many cryptocurrencies are based on the same technology as the giants of the industry such as Bitcoin or Ethereum, Cardano has taken another path. However, that does not mean it doesn't have similar goals as other cryptos. Cardano states that it wants to help build a world that is secure, transparent and fair. Inevitably it offers to solve this thanks to decentralisation. This form of self-governance is what the Cardano ecosystem offers but more importantly, sustainably.
The proof-of-stake (PoS) consensus algorithm means the Cardano blockchain does not use anywhere near the amount of energy than say the Bitcoin blockchain does. The reason why Bitcoin still uses PoW is, despite the drawbacks of being slow and energy consuming, it is still considered the most secure. However, Cardano challenges this school of thought saying on its website that their platform offers "the security, privacy, sustainability and performance standards required to accelerate the mass adoption of blockchain technology."
Its ecosystem runs thanks to the use of its ADA tokens. There is a maximum supply of 45 billion ADA tokens and over 70% are already in circulation. The only way to earn ADA is to stake it. By staking ADA you help validate the Cardano ecosystem and as a consequence you are rewarded with ADA. It is possible to partake indirectly and just stake the ADA you have passing on the responsibility to someone else.
How can you buy ADA?
If you do not own any ADA you cannot stake any to earn even more. So your first set should be to buy some. ADA can be bought on all major exchanges (such as Coinbase & Kraken) but the easiest and cheapest way to purchase ADA is on Crypto.com or Binance. If you have not used either of these exchanges before be sure to read our guides on how to buy cryptocurrency in our Ultimate Buying To Guide section. Also use the code TCT50 when signing up to Crypto.com to get a free card and $25 or set up a Binance account and get discounts on your trading fees. 
On Crypto.com you can buy ADA using BTC, USDT or the native token CRO. Simply click on Trade then Buy. You can also buy ADA using your credit or debit card.
You then need to use the search bar to find ADA, once you have clicked on it and selected Crypto Wallet, choose either BTC, USDT or CRO clicking buy once you have picked your desired amount. You then have 15 seconds to Confirm the trade!
On Binance, you can buy ADA with a huge range of cryptocurrencies such as BTC, USDT, ETH or Binance's native token BNB. However, you can also buy ADA with a range of fiat currencies such as GBP, EUR & AUD. Finally, there is option to buy leveraged version of ADA on Binance – they are called ADADOWN (when you think the price will go down) and ADAUP (when you think the price will increase).
Once you have found your chosen pairing i.e. ADA/GBP through the Markets tab at the bottom of your app, click BUY. Then you can choose the price you wish to purchase ADA at and the total amount you wish to spend in the cryptocurrency you have chosen (in this case GBP). Once this has all been decided, click Buy ADA. Your order has been submitted, if you have chosen a market order it will be executed immediately, if you chose a limit order your order will only be executed once the said price has been reached.
What is our opinion on Cardano?
There are numerous advantages of Cardano and it is rightly attracting a lot of new investors. The use of PoS over PoW means that it is much more eco friendly but also scalable and interoperable with Bitcoin. We also like the fact that Cardano is the result of intensive collaboration between researchers from all over the world who are working to develop credible technologies. This lends more credibility to the industry as a whole. This forward-thinking mindset has meant many other projects have followed Cardano's lead since 2015.
While this peer review structure is great for developing quality outcomes it does mean progress can certainly be slow. However, on the road to mass adoption nothing is quick and easy. With the chaos that the industry experience in 2017, awash with many scam projects – a slower and steadier advancement is definitely appreciated.