Ethereum 360 #17: 19th July 2021
Hi everyone, and welcome to yet another installment of Ethereum 360! As always, on-chain data combined with some technical analysis. I'll try to fill you in on everything I can in this issue.
Active DeFi, cautious investors
Let's start by analysing activity in DeFi using this chart from Glassnode.
The Total Value Locked in smart contracts has fallen by 40% since its all time high (ATH), while the price of Ethereum has fallen by more than 50%. What can we learn from this? Well, there is a clear demand for DeFi and the yields it provides. However, this capital is not being deployed to buy ETH or governance tokens, but rather to buy stablecoins to make up for the crypto drop.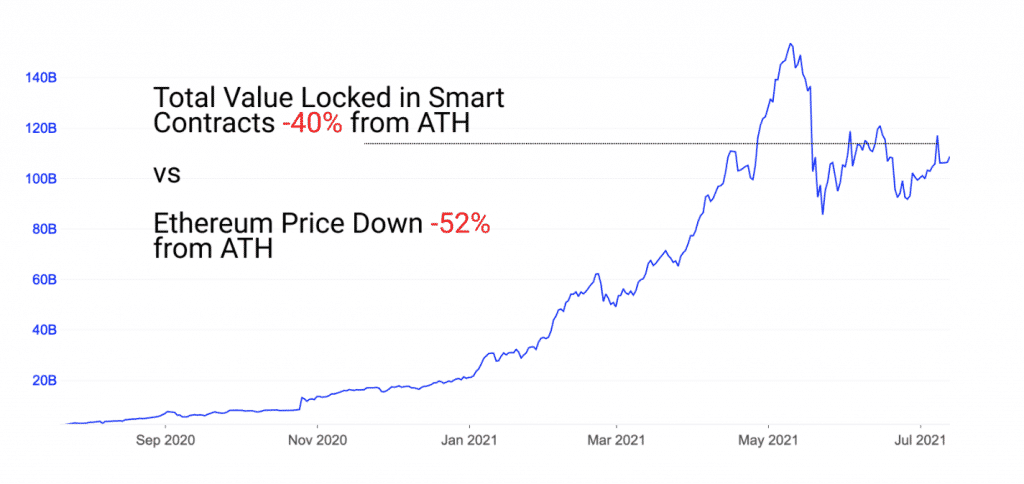 How long will this drop last?
Well, that's a difficult question to answer because nobody knows.
On the daily, the price continues ranging in a stable downward trend. Not the best time to buy except for DCA (Dollar Cost Averaging), something I strongly recommend for people who don't want to sit in front of their screen all day obsessing over the price.
We broke the support due to the lack of volume, now we have liquidity below the last low point, a level that the price is likely to raid in the future. In addition, there is support at $1,300. The support is good, but waiting for the price to bounce off of it is better!
The four-hourly chart indicates a different scenario and may point to a potential rise. Let's see: the descending resistance has been broken and the price is currently bouncing off of it. In addition, the price is currently on the OB (Order Block) which may be of interest to a number of buyers.
Finally, there's a lot of liquidity below the last low point which might get visited, as we are in a downtrend. So despite this bearish trend, a slight pump can be expected on these levels.
On the one-hourly chart, we observe the range in which Ethereum has traded for more than a week. The big bearish candle indicates the failure of this range with orders that were located below this range. Many stop losses must have been triggered, selling traders' positions, which explains this bearish candle!
Volatility persists for cryptos, the decline continues, so be cautious with your investments! This was the seventeenth episode of the "Ethereum 360°" series.
Never invest more than you can afford to lose and DYOR. Good luck trading and see you next Wednesday for a new article on CoinTribune! If you have any suggestions or feedback, please let me know directly on my Twitter: akinabourse