Day two - Bitcoin 2021 Miami
Sat 05 Jun 2021 ▪ 14h00 ▪
4
min read — by
If you would like to follow all the talks happening on the second and final day of the Bitcoin conference taking place in Miami. You can head over to YouTube and watch the live stream that will be starting very soon!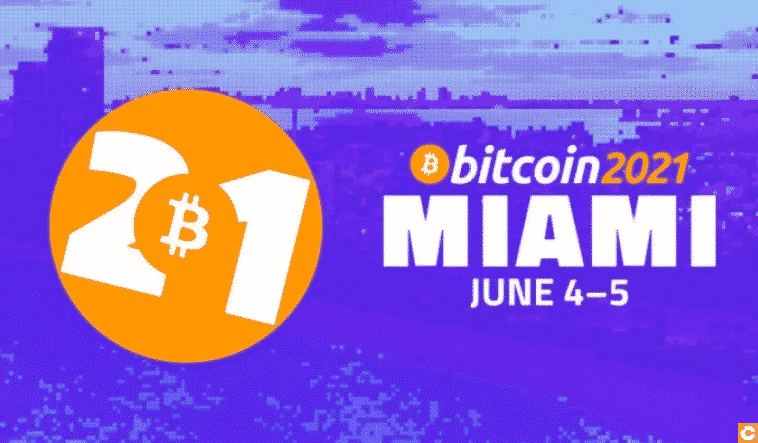 The first day was very colourful. The famous pro-crypto Miami mayor kicked off the conference by saying that the era of central bank-printed money is coming to an end… What an opening statement to kick things off!
Ron Paul, Keizer and Saylor
Senator Ron Paul also won the audience's sympathy when he blurted out that Americans must "get rid of the FED" and that all this debt is very auspicious for Bitcoin.
Things heated up when the enematic Max Keizer walked onto the stage shouting "F**k Elon" in front of a like-minded audience. Max questioned Michael Saylor, the CEO of Microstrategy (the first US company to buy bitcoin (BTC)) made some earth-shattering statements of which he only knew. Notably he said he saw no reason why bitcoin should not be worth $100 or even $300 trillion beast in the future…
The tension escalated when Mark Dorsey was directly taken over by the audience due to censorship of his social network. The Twitter CEO finally got a round of applause when he said there is probably nothing more important in his life than working on Bitcoin. The CEO of Square has also announced that he wants to create a cold wallet.
The conference was livened up again when famous boxer Floyd Mayweather showed up in an Ethereum t-shirt. Is the 'flippening' upon us?
At the end of the day a rousing speech from Julian Assange's brother, brought the conference to a more serious level as well as a poignant appeal from Ross Ulbritch from his prison where he is serving a life sentence for his involvement in the P2P 'Silk Road' network…
Let's look at today's schedule (of the most promising talks), 5th June:
The Bitcoin Macro Landscape (Preston Pysh, Jeff Booth, Mark Yusko, Greg Foss and Trey Lockerbie)
The Moral Case For Bitcoin (Guy Hirsch, Robert Breedlove, Jimmy Song and Guy Swann)
Onboarding One Billion Bitcoiners (Ivan Soto-Wright, Ray Youssef, Bobby Lee, Yan Pritzker, Flip Abignale)
Bitcoin For Billions, Not Billionaires (Elizabeth Stark and Lyn Alden)
Pools (Past, Present, Future) (Pavel Moravec, Nick Hansen, Alejandro De La Torre, James Hilliard) On the "Stacking Sats" stage therefore will not be broadcasted
How To Build A (Profitable) Bitcoin Mine (Dave Perrill, Mason Jappa, Harry Sudock, Greg Ohanessian and Jesse Peltan) On the "Stacking Sats" stage therefore will not be broadcasted
You can view the full agenda of Bitcoin 2021 Miami and a summary of all the speakers over the two days.
While waiting for the conference to start, Anonymous has a message for Elon Musk who is sulking about not having been invited.
Recevez un condensé de l'actualité dans le monde des cryptomonnaies en vous abonnant à notre nouveau service de newsletter quotidienne et hebdomadaire pour ne rien manquer de l'essentiel Cointribune !
Just your average global millennial embracing, and interested in, the future of money and finance. Excited by blockchain tech as well as fintech but have a special passion for DeFi and Yield Farming, what will this technological disruption bring next?
DISCLAIMER
The views, thoughts, and opinions expressed in this article belong solely to the author, and should not be taken as investment advice. Do your own research before taking any investment decisions.