Ethereum: what does ETH 2.0 mean for miners?
Fri 21 May 2021 ▪ 18h12 ▪
4
min read — by
Out with the miners! Is this how Ethereum (ETH) thanks its miners after years of loyal service?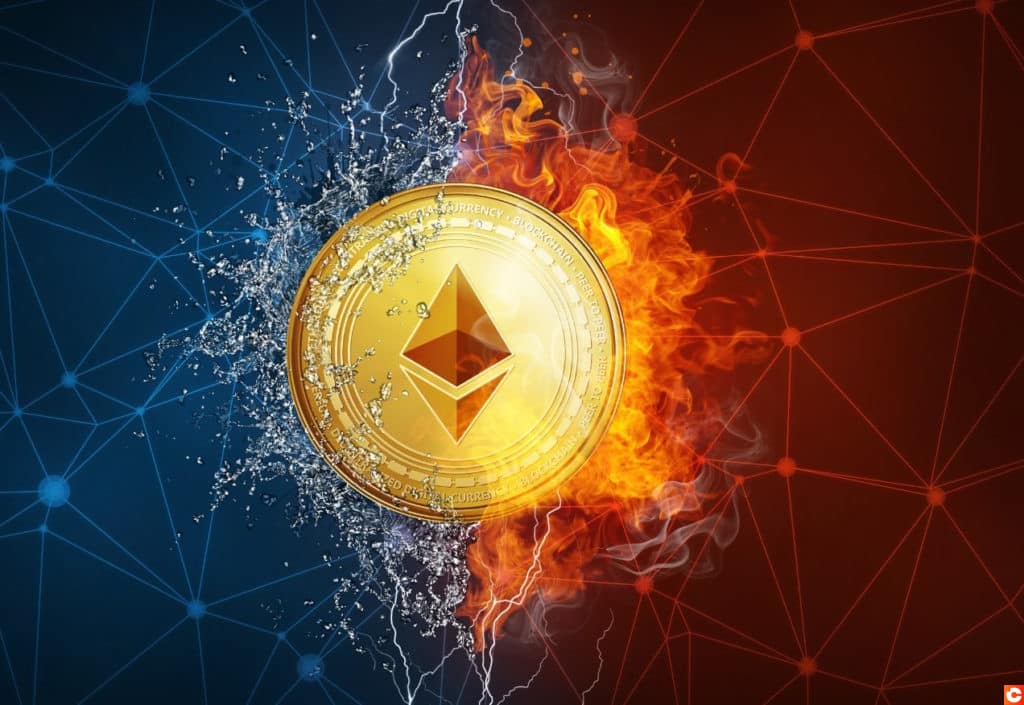 Dead in the water
Firstly, a quick recap: in December 2020, ETH 2.0's beacon chain came online. A few weeks ago, ETH holders were able to start staking their tokens ready for 2.0.
The number of validators required for the launch of the beacon chain was reached on time. Since then, the craze for ETH 2.0 staking as only gotten greater. The amount of ETH locked up already is growing continuously.
The full deployment of ETH 2.0 will take time, however, and the major features are being released in stages.
In April 2021, the launch of Berlin reduced gas costs to a manageable level for DeFi and NFT projects on Ethereum. The scaling problems on the network are gradually being resolved, but have not yet disappeared.
One of the major stages of switching from ETH 1.0 to ETH 2.0 is the shift from Proof-of-Work (PoW) to Proof-of-Stake (PoS).
PoS is less energy-intensive than PoW, and the move is supposed to solve almost all of Ethereum's scaling problems.
For this reason, however, miners are doomed to be phased out in the long term. Some members of the ETH community have even "invited" miners to "switch off their mining rigs by the end of the year".
Chinese journalist Colin Wu adds: "We consulted some ETH miners in China, they generally believe that ETH cannot end PoW by the end of this year. Developers hope to complete ETH2.0 before the end of the bull market, but this is an impossible task."
Wu adds: "There is even a view in China that ETH 2.0 will never be completed."
There is some truth to this view: the launch of ETH 2.0 has indeed experienced some… delays when compared to the original agenda.
Vitalik Buterin was reassuring in August 2020: "I definitely freely admit that Ethereum 2.0 is much harder than we expected to implement from a technical perspective. I definitely don't think that we discovered any fundamental flaws that make it impossible, and I do think it will be finished. It's just a matter of time, and it's actually been progressing quite quickly lately."
A scorched earth policy?
The relationship between the ETH community and its miners has been strained in recent months. When accused of contributing to something that is harmful to the environment, one miner said: "I do not destroy the earth by mining… Let me remind you that PoW has allowed Ethereum to get to where it is today. It will crash when the miners move on."
A "show of force" and a "miners' revolt" were due to take place in early April 2021. They were eventually cancelled to avoid a hard fork.
The Proof-of-Work vs. Proof-of-Stake debates rage on, but at least there is less risk of a fracture in the community.
Recevez un condensé de l'actualité dans le monde des cryptomonnaies en vous abonnant à notre nouveau service de newsletter quotidienne et hebdomadaire pour ne rien manquer de l'essentiel Cointribune !
Hi! Привет! Salut ! Je m'intéresse à deux choses : la crypto et les langues. Je suis donc heureux de faire partie de l'équipe multinationale du CoinTribune, où je peux partager mes connaissances de la crypto avec des gens des quatre coins du monde – l'un article après l'autre.
DISCLAIMER
The views, thoughts, and opinions expressed in this article belong solely to the author, and should not be taken as investment advice. Do your own research before taking any investment decisions.