Is Polygon (Matic) worth investing in?
Thu 02 Sep 2021 ▪ 23h29 ▪
9
min read — by
The Polygon project is a layer two (L2) scaling solution for Ethereum-compatible blockchain networks that enables fast, inexpensive, and secure off-chain transactions, and speeds up DeFi apps and smart contracts. Since the beginning of 2021, Polygon has shown phenomenal growth, with its token reaching 68 times the original price.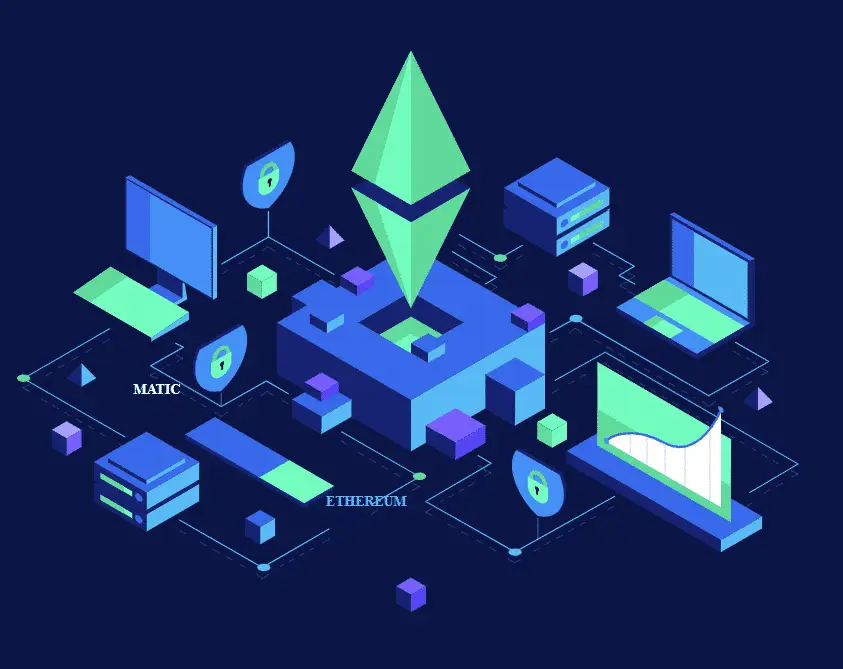 The project is described as "the Internet of blockchains," meaning different blockchains are able to communicate with each other thanks to sidechains like Polygon. On Polygon, developers can independently launch their own scaling solutions compatible with Ethereum or even autonomous blockchains. Thus, the project can solve the main problems faced by Ethereum today, such as heavy fees, poor user experience, and low transactions per second (TPS).
Note: Sidechains are blockchains that run alongside a root or "parent" chain. Thanks to cross-chain communication between the parent chain and the sidechain, they can exchange assets. Sidechains are created in order to unload some of the traffic on the main blockchain and enable faster and more private transactions (since, generally, sidechain transactions take less time than mainchain ones). Most often, sidechains also have lower gas fees.
The history of Polygon
In 2017, Polygon, an India-based project, started as Matic Network. It was founded by Jaynti Kanani, its current CEO, Sandeep Nailwal, now executive director, and the product manager Anurag Arjun in late 2017, with the Serbian engineer Mihalio Bjelic joining later as the fourth co-founder. 
In April 2019, the company held an IEO (Initial Exchange Offering – same as ICO, but operated directly by cryptocurrency exchanges) of the Matic token and raised more than £4 million. In February 2021, Matic Network rebranded and introduced a new, improved Polygon network, focusing on the fragmentation of the blockchain ecosystem with Ethereum as its main platform. In other words, Polygon developers set out to create a tool that would enable multiple blockchains to interact with each other on Ethereum.
Key project features
The main disadvantage of the Ethereum network is its scalability problem. The DeFi sphere has grown so much that the main Ethereum network is no longer able to cope with the constant influx of transactions, which leads to network congestion and high gas fees.
Polygon Network sidechains allow you to make cheap and fast transactions based on the Ethereum network, unloading some of the traffic on the main Ethereum blockchain. Sidechains allow you to interact with other blockchains as well. For an ordinary user, Polygon's value is in the reduced gas fees, as Ethers can be transferred on the network just like on the main Ethereum network.
Developers, applications, and projects alike use Polygon because the commissions are lower and the transaction speed is higher. Project users automatically use Polygon because the projects are on this network. By saving money on transactions, these projects can offer their clients more favourable terms of use. Thus, Polygon contributes to mainstream DeFi adoption. In the future, the developers plan to have millions of transactions on several blockchains.
The Polygon network is a great choice for those who make a lot of transactions. You'll save quite a bit on commissions because Polygon Network fees are a lot lower than those of Ethereum. Polygon allows you to save hundreds, even thousands of dollars, which is a huge advantage for the network.
To use Polygon, you need to transfer your tokens from the Ethereum network to the Polygon Network (if necessary, you can transfer them back later). The instructions for using the network and transferring tokens from Ethereum to Polygon can be found on this page.
There are several cryptocurrency projects that solve the same problem as Polygon. So why are Polygon's prices increasing, and others' aren't? 
Well, Polygon is marketed as an Ethereum sidechain with low gas fees and high transaction speed. Therefore, various projects use Polygon, placing their tokens in the network. The price increase works like this: the more transactions in the network, the more Matic tokens validators receive. Which means it's quite profitable to be a validator in the network.
In addition, online commissions are paid in native Matic tokens. The more projects there are in the network, the more Matic tokens are required to make transactions. Many projects have already migrated to the Polygon network, and many others continue to do so.
Polygon tech features
The cornerstone of the entire Polygon ecosystem is the Polygon SDK framework, which developers use to create decentralised applications. In other words, this is a ready-made infrastructure that simplifies and speeds up the development process, making it easier for developers to build their blockchains on Polygon.
Polygon connects different Ethereum-based blockchains, allowing to unload the traffic on the main Ethereum network and thus scale it better. Polygon SDK, a flexible modular framework for launching new blockchains through various scaling technologies, plays a key role in this process.
Polygon has developed its own sidechain, the Matic PoS Chain, which runs in parallel with the Ethereum network. Moreover, it's compatible with the Ethereum virtual machine (EVM), which enables Ethereum-based projects to freely move smart contracts to this blockchain.
Polygon consensus mechanism
Polygon uses the Proof-of-Stake consensus. Validators lock their Matic tokens in pools.
Matic and its role in the Polygon ecosystem
Matic's max supply is 10 billion tokens. The token is used as a means of validating and protecting the network (by being locked in nodes), as well as for paying commissions to validators.
Polygon protocol development
Over one million addresses have already been created on Polygon. Over 50 different assets have been released based on Polygon, including Matic, USDT, USD Coin (USDC), Quickswap, DAI, Chain Games, and others.
Many projects have already migrated or are currently migrating to Polygon. Among them are Decentral Games, SportX, Easyfi, Neon District, 1inch Network, Quickswap, Uniswap, SushiSwap, Aavegotchi, Polymarket, and Polkamarkets, just to name a few.
The London hard fork caused Ethereum to grow increasingly popular and stirred up the holders' and validators' interest, motivating them to save Ether. Of course, as phase 2.0 is getting closer, ETH is becoming more and more profitable to store (after Ethereum 2.0, validators will start transferring ETH to the 2.0 contract to participate in staking).
Some problems, including high transaction fees and low speed, are inherent to the Ethereum blockchain and are still present in the network. But Polygon has already established itself as a promising and overall trustworthy project, and in this regard, London didn't affect Matic in any way. It's possible that in the future, Ethereum won't have much impact on Polygon either.
The project's popularity is linked to the fast and cheap transactions on the network. The average transaction cost on Polygon is many times lower than on Ethereum. The comparison is shown in the following chart.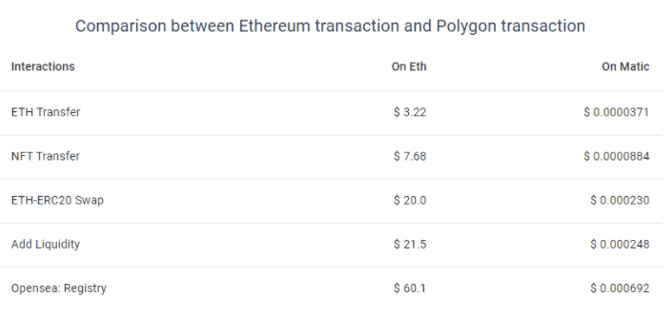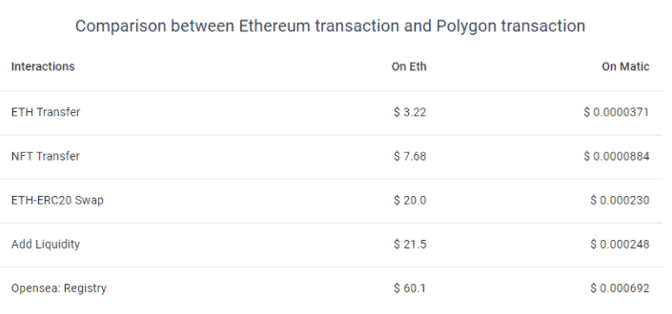 As you can see, Polygon gives Ethereum a head start on many types of transactions.
Because of this, numerous DeFi protocols have already been integrated into Polygon, including Aave, Quickswap, IRON Finance, Curve, SushiSwap, Dfyn, and others. The network effect also contributes to the growing popularity of the protocol as well as the price of the token, which has increased from $0.02 to the current $1.39, i.e., by 68 times in only eight months.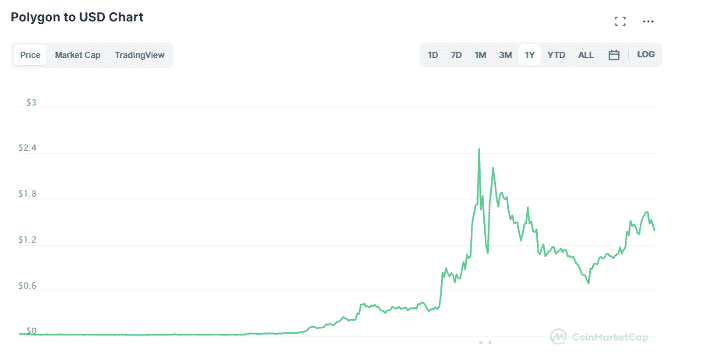 The future of Matic
Based on the DeFi community's avid interest in the Polygon project, Matic expects to continue growing. The network effect, the low gas fees, and the high transaction speed together make Polygon an extremely attractive platform with great potential for creating decentralised applications and interconnected blockchains.
If there was a universal indicator for buying or selling tokens, then Matic's value would probably be at least 95%, making it a must-buy. Its transaction speed and low fees are exactly what NFTs and DeFi apps currently lack, and that's a huge deal.
Recevez un condensé de l'actualité dans le monde des cryptomonnaies en vous abonnant à notre nouveau service de newsletter quotidienne et hebdomadaire pour ne rien manquer de l'essentiel Cointribune !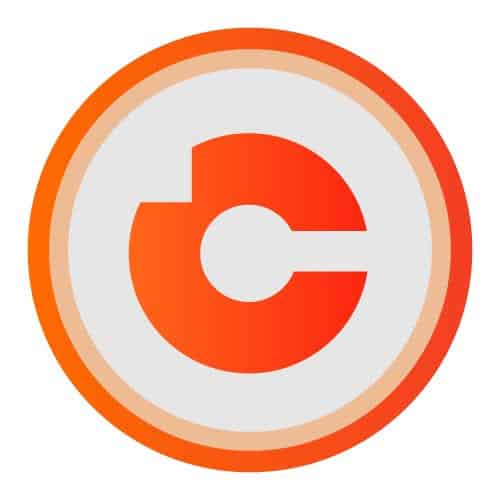 Trends are temporary. The blockchain isn't a trend; it's the future. I want to help as many people as possible understand it in a simple, clear and interesting way.
DISCLAIMER
The views, thoughts, and opinions expressed in this article belong solely to the author, and should not be taken as investment advice. Do your own research before taking any investment decisions.