NFT campaign channels aid for Ukraine refugees
Mon 14 Mar 2022 ▪ 7h01 ▪
6
min read — by
NFTs and cryptocurrencies can sometimes be associated with meme culture and volatile investments, but the reality is that it has always been connected to a deeper foundational root that connects them with social justice.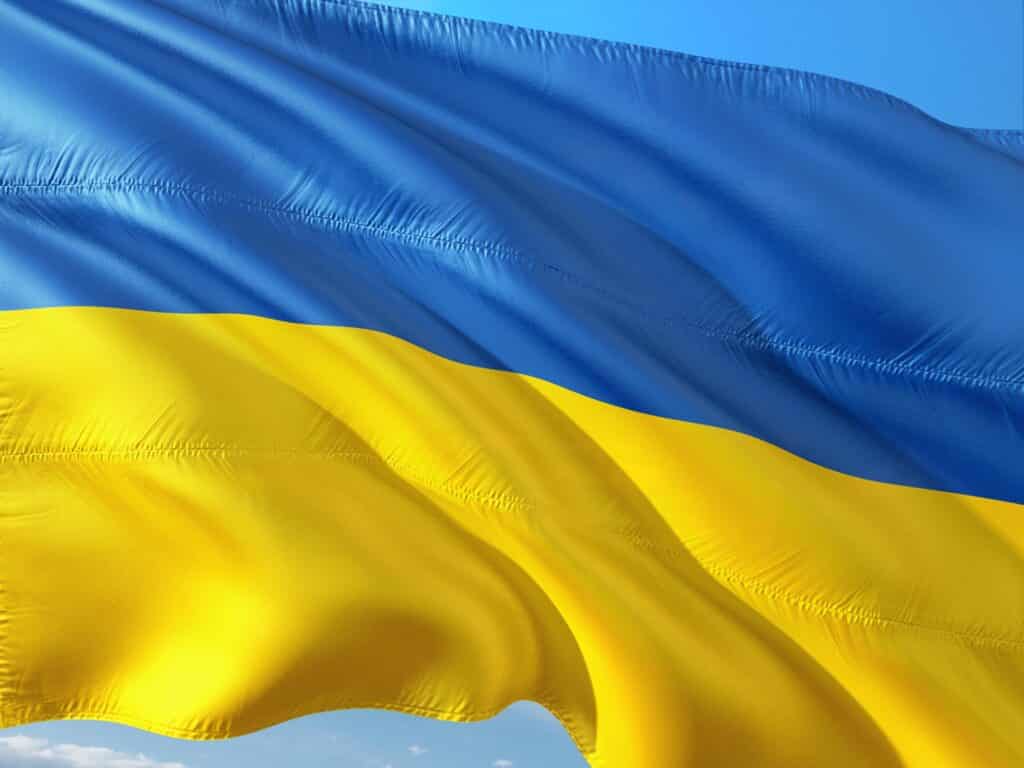 Lately we've seen this connection with the rise of the war between Russia and Ukraine, a conflict that has impacted the whole world and displaced millions of citizens in a matter of days. 
Since then, cryptocurrencies have once again shown their importance and community power by standing together with the people of Ukraine.
After tweeting donation addresses for cryptocurrencies by the official Ukraine-Twitter (firstly Bitcoin and Ethereum, afterward Polkadot too), donation through blockchain has surpassed the $50 million mark by a large part that comes from the NFT space.
Also, NFTs have recently been propelled to the forefront by combining blockchain technology and the art world during this conflict. As a result, they were able to bring the stone to their building, allowing to finance the help to the population while denouncing the abominations of the war.
While NFTs and cryptocurrencies can be used to help Ukraine, they can also be used to show belonging and involvement in different ways without any financial interest. For example, imagine a simple "Proof-of-Participation" with an NFT to a concert where you are part of the movement. 
This is why, on the 15th of March 2022, Blue.Yellow.Cross, a student-led initiative in Switzerland, is inviting people to a charity event in Zürich to help refugees between Ukraine and Poland. 
You can get your ticket to the event and donate to support Ukrainian Refugees of War via the following link.
Funds will be also raised through donations and an NFT collection named "Ukrainian Faces War", a derived collection of "Human Faces World" imagined by the artist Lois Voirol, which will be sold on OpenSea (on Polygon-Network). The link for NFT sales will be active shortly – stay tuned. Proceeds will go to the Red Cross in Switzerland to help the millions of refugees on the ground.
A HISTORY OF ACTIVISM
It is true that NFTs have historically been linked with the image of an experimental and unserious field. Sometimes it is hard to take them seriously because of the complex aspects encompassing the whole industry and the meme culture gravitating around it. 
However, the perception of the mass doesn't define what crypto really stands behind. Many people forget or simply do not know why the space has been there in the first place.
Cryptocurrency, mainly Bitcoin's attractiveness, wasn't about the money. A significant part of investors ignores these days that people barely knew what crypto and blockchain were about. 
Those interested in it were, so to say, "In for the tech" or liked the idea first shared by Satoshi Nakamoto. Early bitcoin supporter Roger Ver said: "At first, almost everyone who got involved did so for philosophical reasons. We saw bitcoin as a great idea, as a way to separate money from the state."
Social justice and awareness were and are always very present in the crypto space. Pointing out those arguments doesn't mean that making money in crypto is bad, not at all. Without the money involved, the crypto space wouldn't be where it is at right now.
However, we can observe the potential that the crypto-community has been able to reach by gathering its forces.
FROM ART TO ASSANGE
In its purest form, Crypto-community is a movement created by the people and, therefore, implies the fight for freedom and human rights – this is where Proof of Humanity comes in. The technology advancement allowed DAOs (Decentralized Autonomous Organisations) to be created in good and due form that are themselves part of the Web3 movement.
The idea of community in cryptocurrency is really robust, and recent events have shown its strength of building something together. DAOs we're already a thing in the first run on cryptos in 2017, although the concept got tarnished due to the hack of TheDAO. 
In 2021, ConstitutionDAO managed to change the harmed image of DAOs by raising a community crowdfunding which aimed to buy a physical edition of the American Constitution (only 13 original copies remain in the world) at a Sotheby's auction. They managed to raise $47 million to participate in the bid within a week but unfortunately got out bidden. 
This event was the first big sign of the potential power of a decentralized community in 2021. 
Another great example is AssangeDAO, a project that aims to support Julian Assange (founder of WikiLeaks who got international attention in 2010 after a series of leaks about the U.S. Army) in his legal case and raised an outstanding amount of $55 million in early 2022. From there, we've seen a run on DAOs, with the expansion of many communities being built recently. This is a movement just starting to develop and we hope to see more humanitarian projects going forward.
Recevez un condensé de l'actualité dans le monde des cryptomonnaies en vous abonnant à notre nouveau service de newsletter quotidienne et hebdomadaire pour ne rien manquer de l'essentiel Cointribune !
Lorsque j'ai commencé à travailler dans la crypto en 2017, 95% des gens ne savaient presque rien à ce sujet. À vrai dire, peu de choses ont changé depuis. Cependant, il semble y avoir une lumière au bout du tunnel, et je tiens à l'opportunité d'y être impliquée
DISCLAIMER
The views, thoughts, and opinions expressed in this article belong solely to the author, and should not be taken as investment advice. Do your own research before taking any investment decisions.