NFTs now available on eBay
Fri 14 May 2021 ▪ 15h45 ▪
5
min read — by
You were probably expecting that any breaking crypto news about eBay would be the long-standing possibility of connecting buyers and sellers via a Bitcoin payment method, but no! The online auction marketplace has just made the purchase of NFTs possible. Bet you didn't see that coming!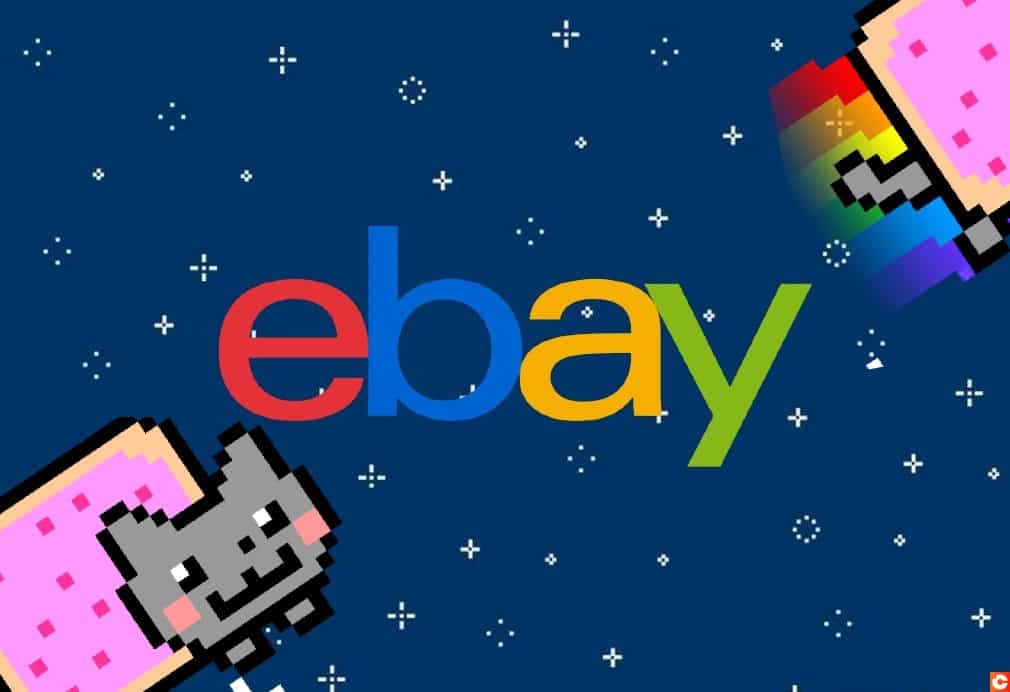 On NFT train before the BTC one
Ebay announced its entry into the NFT market in a press release made public by Jordan Sweetnam, North American VP and General Manager for eBay.
This announcement follows the platform's desire to expand its market and reach a new generation of collectors and designers. Referring to Beeple's recent $69 million (~£49 million) sale at Christie's, but also the constant influx of new NFTs on a daily basis.
Ebay's short-term strategy is to allow sales of NFTs only by trusted sellers. These are sellers who meet their specific criteria and who, as a result, will be able to offer their NFTs under the categories of collectible cards, music, entertainment and art.
Once the various data has been collected and analysed on the subject, they will be able to respond to the community's request in a more in-depth and precise manner.
The press release cites the upcoming release of programs and tools that will make it easier and more trustworthy for users to buy and sell NFTs in more categories.
We can already see on eBay's website the activation of the first NFTs categories:
"I'm looking forward to bringing on new creators to share their passions in ways we can't even imagine yet. Together we will ensure eBay remains the preeminent marketplace for collectibles of all kinds and serves the next generation of collectors." – Jordan Sweetnam
WAX blockchain and U.S. dollar payments
A large majority of NFTs available on eBay are NFTs available on the WAX ​​blockchain, a blockchain closely linked to EOS.IO.
Users will therefore have to create a WAX account in order to execute their purchases and transactions.
All payments and transactions will be made in dollars ($). A difference that could be important for those interested customers who are not as up-to-date with the latest technology. This is big news because until now the various NFT platforms, such as Rarible or OpenSea, only accepted ether (ETH).
The question of royalties and the sale of sealed packages
There are, however, two questions that arise following this announcement:
Nowhere has eBay talked about royalties of aftermarket artwork
One of the great advantages of NFTs compared to the traditional art market is that transactions on the secondary market (after the artist's first sale to his client), still brings in royalties to the artist/creator.
Yet, nothing has been put forward and NFTs can be sold through eBay, thus allowing the NFT to be transferred free of charge, for example.
Unopened/sealed packs
One of the great passions for collectors of collectible cards is the ability to open unopened packs, and see what's inside. Have they found a rare or expensive card? Or has the packet just cost them more than the value of the basic cards in it?
We can see on eBay that some sellers offer packs still sealed.
However, in this example, we can see that the NFTs will be opened, filmed and then sent. What proves to the buyer that the seller hasn't opened all the packs before and filmed them? Essentially, sending the least financially attractive packs. This is very risky on the buyer's part.
In conclusion, eBay is entering the world of NFTs, riding the new high of digital art. However, while the marketplace is a giant in the traditional market, it faces a well-established NFT marketplace which is constantly innovating. Only time will if eBay has found the magic formula. Regardless, one thing is for certain: NFTs will continue to conquer the world.
Recevez un condensé de l'actualité dans le monde des cryptomonnaies en vous abonnant à notre nouveau service de newsletter quotidienne et hebdomadaire pour ne rien manquer de l'essentiel Cointribune !
Just your average global millennial embracing, and interested in, the future of money and finance. Excited by blockchain tech as well as fintech but have a special passion for DeFi and Yield Farming, what will this technological disruption bring next?
DISCLAIMER
The views, thoughts, and opinions expressed in this article belong solely to the author, and should not be taken as investment advice. Do your own research before taking any investment decisions.