Novel solution in Zimbabwe: tracking livestock through blockchain
Fri 02 Jul 2021 ▪ 19h35 ▪
3
min read — by
Bitcoin (BTC) is a solution for those who want to be involved in finances, but still find themselves being too far from the banking system. Bitcoin also gave birth to blockchain, a new tool that responds to the needs of the tech universe. For some people, blockchain is just a "buzzword". For others, blockchain is an opportunity to bring more transparency into sectors which are far from finance. For example, Mastercard is launching the Provenance Solution — blockchain providing end-to-end visibility to the cow supply chain.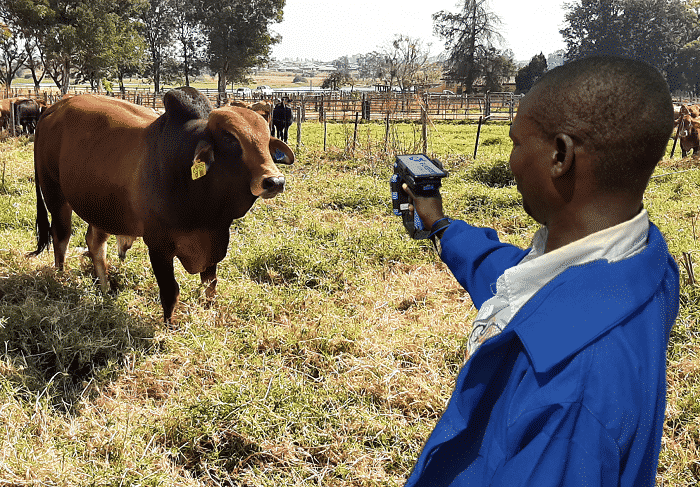 Provenance to guarantee the origin of cattle
Venture Capital funded social enterprise, E-Livestock Global, has entered into a partnership with Mastercard and launched a solution powered by Mastercard's blockchain-based Provenance Solution, aimed at improving farmers' lives and reducing risks to buyers. This project is designed to introduce end-to-end visibility to the cow supply chain.
The Mastercard Provenance Solution aims to "strengthen the control of animal diseases" and empower farmers to "prove the origin of their cattle". Farmers will be provided with an irrefutable record of ownership which will allow them to obtain a loan, using their cattle as collateral. The system will allow farmers to guarantee product quality to their customers.
How does the system work?
Farmers tag each head of their cattle with a distinct ultra-high frequency RFID tag. Every time the animal is vaccinated or gets medical treatment, the tag records it onto the system. At this point, every animal has a secure and tamper-proof chronology record.
"Mastercard's Provenance solution can safely and securely track the authenticity of the cattle's journey at every stage, from birth to sale. Tracking the medical history of cattle on a tamper-proof blockchain ledger will foster renewed trust in Zimbabwean cattle farming and re-establish Zimbabwe's credibility as an international beef exporter. It will also open up new opportunities for farmers — especially small farmers who were impacted the most by the 2018 outbreak. Ultimately, this will drive trust for multiple stakeholders by combining industry expertise with data privacy," said Max Makuvise, Founder and President of E-Livestock Global.
The Mastercard Provenance blockchain gives companies an opportunity to effectively manage data. It also helps to restore transparency in supply chains.
However, do consumers really need this solution? Will it be as useful as its creators claim? These are the questions we don't have an answer to yet.
Recevez un condensé de l'actualité dans le monde des cryptomonnaies en vous abonnant à notre nouveau service de newsletter quotidienne et hebdomadaire pour ne rien manquer de l'essentiel Cointribune !
Salut, c'est Gloire. En 2014 j'ai entendu parler de bitcoin à la télé avant de m'intéresser du sujet fin 2017. Depuis, chaque jour j'apprends à le comprendre tout en partageant mes petites découvertes avec la communauté.
DISCLAIMER
The views, thoughts, and opinions expressed in this article belong solely to the author, and should not be taken as investment advice. Do your own research before taking any investment decisions.