Lunu, a crypto payments pioneer, enters fashion with L'Exception
As time goes on, cryptocurrencies become an important part of our daily life. A problem, however, remains — how to spend your cryptos without having to struggle with unknown and unreliable services? Lunu and L'Exception join forces to provide a solution. Discount coupons and more goodies are on the menu!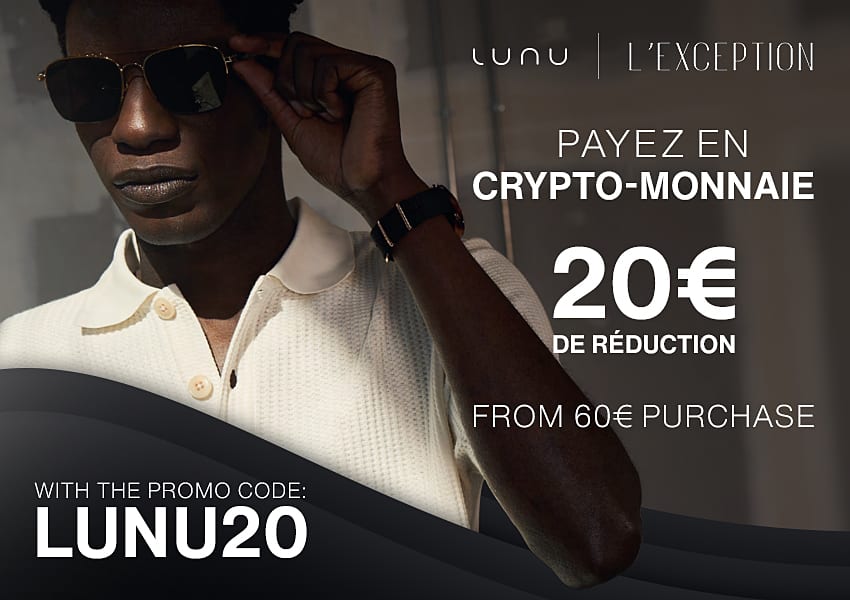 Disclaimer: This article is presented to you by Lunu. Crypto investments are risky by nature, so, please, do your own research and invest only within the limits of your financial capabilities. This article is not intended to be an incentive to invest.
Lunu, never afraid to reach for stars
A few months ago, we introduced you to Lunu, a Berlin-based company striving to bridge the gap between our everyday world and cryptos.
Lunu firmly upholds this global mission thanks to:
an easy-to-integrate widget for online stores
a futuristic-looking payment terminal
an easy-to-use wallet to store and spend your cryptos
complete transparency
Luxury lovers will be delighted: whether you are an art lover or have a penchant for diamonds, Lunu has got you covered!
Art, jewelry, haute couture — add cars and the world of luxury will be unequivocally conquered by Lunu. There is no telling when we will be able to finally buy a Lamborghini via Lunu, but rest assured: opting for your best clothes begins right away.
Lunu joins L'Exception
If fashion is a whole unknown world to you, you've probably never heard of L'Exception.
L'Exception is a designer concept store founded in 2011 in Paris by Régis Pennel, who appears to have a somewhat atypical background. After years of working at the Ministry of Finance, he joined Moët Hennessy — Louis Vuitton (LVMH), and five years later he founded L'Exception.
The partnership between Lunu and L'Exception gives you access to over 500 brands ! Moreover, L'Exception is now focusing on highlighting new creators to ensure you find the best exclusives at a reduced price! To celebrate this partnership, which truly symbolises the crypto entry into the world of luxury and fashion, Lunu offers its clients vouchers worth €20 (~£17) on purchases over €60 (~£51). Enter the code "LUNU20" to get your gift! These discounts can be combined with other L'Exception special offers!
"We are very happy to start this collaboration with a solution as innovative as Lunu and to finally be able to offer cryptocurrencies to our demanding customers around the world."
Régis Pennel, Founder of L'Exception
Beyond allowing Lunu users to spend their cryptocurrencies wisely, this collaboration contributes to a more inclusive goal — allowing each customer to regain their power. Owning your money in such a simple digital form as cryptos is the ultimate form of freedom. Freedom that allows consumers to take a stand.
"LUNU's mission is to facilitate the circulation of cryptocurrencies and other digital currencies. We deeply believe that the future of money will be digital. Our partnership withL'Exception, Paris's international fashion marketplace, offers its customers access to more than 500 trending brands. It is a unique offer for France and for the whole of Europe as well"
Vadim Grigoryan, Partner and Chief Marketing Officer at LUNU
Although some may criticise the world of luxury for its focus on elites, its existence is actually the first crucial point on a long road to adoption and tolerance. The road which Lunu seems determined to pave. The only question remaining is when they will reach their first star.