Paymium: the pioneering French Bitcoin exchange (BTC) launched in 2011!
Wed 20 Jan 2021 ▪ 17h00 ▪
11
min read — by
When talking about the development of the Bitcoin and cryptocurrency market around the world, the point of reference is and will always be the 2008 publication of Satoshi Nakamoto's white paper that, just a few months later, would give rise to the Bitcoin project  and BTC – the cryptocurrency of the same name.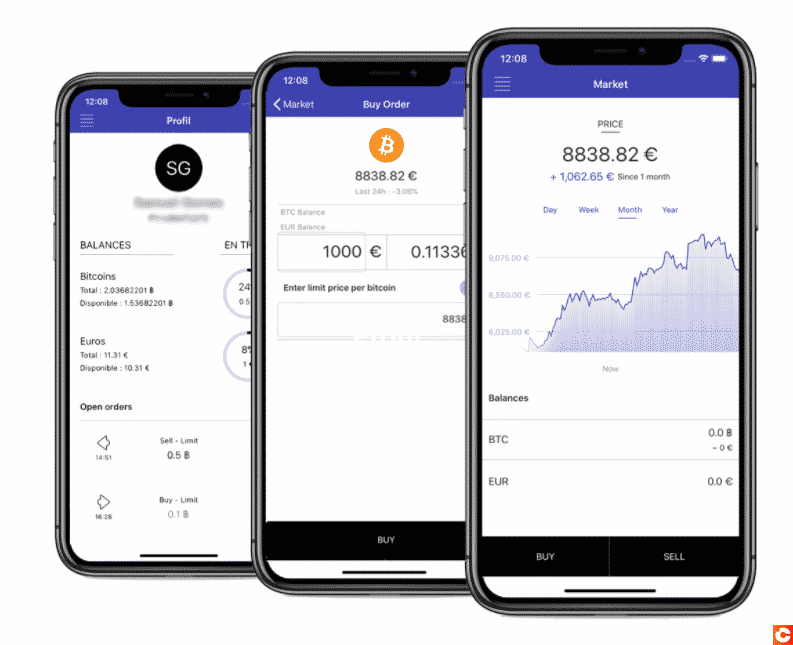 For the first five years of their development, Bitcoin and BTC were an extremely fringe phenomenon, far from the growing adoption that we see today. So, in the context of BTC's novelty, the real visionary Paymium was the first exchange where you could buy and sell BTC in France. In 2011, just three years after the birth of Bitcoin, Paymium paved the way for the many platforms that exist today. Let's dive into this fantastically French exchange, its history, its positioning in Europe, as well as its values, its solution and the many advantages that Paymium offers beginners in addition to the more experienced among us.
Warning: This sponsored article is brought to you in partnership with Paymium. Crypto investments are risky by nature. Do your own research and invest only within your financial means. This article does not constitute an incentive for investment.
Paymium, your Bitcoin partner since 2011
In terms of early adoption, Paymium is well placed in the Bitcoin market; in fact, it's the oldest exchange platform still in operation.
A graduate of the École Polytechnique in Paris and Columbia University, Pierre Noizat is an engineer with more than 25 years of experience. He began his career in the United States in encrypted television, one of the first public applications of cryptography. Later, he co-founded Paymium in 2011. He is also the author of a range of books and is a public speaker.
The birth of Paymium was driven by a strong ambition: to create a reliable service to buy Bitcoin. At the time in 2011, access to Bitcoin was much more complicated than it is today. You either needed to know someone who already owned Bitcoin or be interested in Bitcoin mining. By arriving so early on the market Paymium competed with other pioneers like BTC-e and the infamous MT-Gox.
A company based in France
Among the key values at the heart of the Paymium project are security, compliance and customer-orientation. In 2011, when platforms were not very keen on compliance – especially in terms of anti-money laundering regulations – Paymium, on the other hand, made it a point of honour to respect them from the outset. The platform thereby became the first Bitcoin/euro exchange to comply with European financial regulations.
Paymium's headquarters are in Paris and it has forged a partnership with the German WEG Bank, which provides a guarantee for your funds. The company has always had in its DNA the strong will to be a key player in the French and European blockchain and crypto ecosystem. What's more, Paymium was a founding member of the LabChain consortium, led by the investment arm of the French government. Paymium was also one of the first companies to apply for a crypto licence with the French financial regulator.
Paymium, an exchange specialising in buying Bitcoin from fiat
If you're looking to buy Bitcoin with euros, dollars or pounds, Paymium is the exchange for you. As explained at the beginning of the article, you will have a hard time finding an exchange that has more experience in this sector. This experience translates to a simplicity of purchase that will make the difference. In fact, you can choose to pay by credit card, bank transfer or even Apple Pay!
When comparing the many exchanges on the market, one of the first things to look at is transaction fees.
On Paymium, and this is a first, we see the appearance of … negative fees to the tune of –0.1%. Yes, you read that correctly: not only are you paying nothing, you are actually rewarded for trading Bitcoin on the platform. Beware, these negative charges will only apply as part of a market maker position; negative charges do not apply to taker orders. In other words, to benefit from negative fees, you will have to offer a price at which you want to buy (a.k.a. a limit order).
A maker order differs from a taker order (a.k.a. a market order), where you buy at the current market price. Nonetheless, Paymium offers the lowest maker fees on the market and beating out Binance (0.10%); Kraken (0.16%); Bitstamp (0.50%) or the giant Coinbase (1.49%). Substantial savings are up for grabs if you opt to purchase Bitcoin via Paymium.
What is Paymium like to use?
Now that the spiel has come to an end, it's time to look at the experience that is being offered to us. It begins, as always, with the sign-up process, a fateful moment that often differentiates a good UX from a bad one. Well, for Paymium, it's pretty positive, the first steps of registration are really seamless.
Regarding account authentication, you have to wait a little in order to finally start trading BTC on Paymium, but hey, the wait isn't that long (most KYCs are approved in 24 hours) and it is a small price to pay to ensure complete compliance with European regulations.
A big plus you may notice is the quality of the emails you get after signing up – you know, the famous emails that after a while can flood your inbox like spam. In its welcome email, Paymium brings added value, especially for beginners, by offering you a small glossary of crypto terms, so even if you don't know what a Bitcoin HODLer is, you can still sign up on Paymium and start loading up your wallet. If you need help, Paymium support can be reached by chat or email in English and in French.
The Paymium Tradeboard, your new favourite page
Once you have registered, you will be able to see your user space. From the tradeboard interface, it is possible to buy/sell and view your balance as well as all your transactions in the blink of an eye. You also have access to your Bitcoin wallet, where you can send/receive BTC. A fairly new feature is being able to send money by email. A great idea if you just want to send BTC to your friends, even if they don't have an account yet! When it comes to your wallet and the cryptocurrency you own, Paymium guarantees the strictest security through cold storage. In short, the private keys that secure the bitcoins you hold on the platform are secured on physical devices and not online, where they could be vulnerable to hacking.
It's a simple and ergonomic interface that allows everyone to trade BTC easily. For the most experienced of traders, don't worry, the advanced interface allows you to view all the necessary indicators from a single dashboard. Set up your buy and sell orders, follow your open orders, visualise price movements and exchange volumes, in short, everything a pro would need is there and is accessible from the moment you register. Furthermore, for the most gifted traders among you who want to set up a trading bot on Paymium, it's possible, with a dedicated API section to guide you through the process to set up your bot! 
The dedicated space for pro traders
Getting paid in BTC is possible with Paymium's merchant service
Merchants should also be aware that there is a bitcoin payment button you can put onto your website.
This means customers can pay in BTC, and the merchant chooses if they want to receive payments in bitcoin and/or fiat (automatic conversion and choice of ratio: 50/50, 70/30 or 0/100, for example).
You can access this option at the bottom of your Paymium account's web page by clicking "Merchants" in the website footer. You can also access this feature directly from the Paymium tradeboard in the "send money" section, by clicking on "by email" and then "Receive". This will send an email with a request for payment in BTC by QR-code – and what's more, this service is free.
The Paymium app, BTC anytime in your pocket?
From the app you will find all the main features of Paymium: buy, sell, withdraw and deposit are all accessible. Once again, no more excuses for missing a trade or not following bitcoin price movements! Be careful not to get addicted either, as you might end up walking into a lamppost!
Finally, the referral system is very lucrative. If your friends are Bitcoin traders in the making, you can recover 30% of their transaction fees by referring them on Paymium. Even better, for every sponsored friend, you get put into a monthly draw to win one whole ETH. The more referrals you have, the more likely you are to win. Don't forget to tell your friends that once their KYC is validated, they too get put into the draw! We even have an article telling you everything you need to know about the referral programme.
So where better to trade BTC than on the pioneering exchange? In a Bitcoin and cryptocurrency market where it can be hard to find reputable players, Paymium, which specialises in Bitcoin trading, will be your best ally if you want to focus on investors' favourite cryptocurrency.  For those who want to get into the altcoin market, don't panic, Paymium has launched a new exchange called Blockchain.io, which aims to become the European standard in terms of altcoin exchanges! Make sure you keep up to date with future TCT articles!
Recevez un condensé de l'actualité dans le monde des cryptomonnaies en vous abonnant à notre nouveau service de newsletter quotidienne et hebdomadaire pour ne rien manquer de l'essentiel Cointribune !
Je m'appelle Florian et je suis dans l'écosystème des cryptos depuis 2018. Je consacre mon temps à démocratiser au mieux ce monde passionnant ! C'est ce que je fais dans mon quotidien, notamment en tant que Rédacteur Chef adjoint pour CoinTribune !
DISCLAIMER
The views, thoughts, and opinions expressed in this article belong solely to the author, and should not be taken as investment advice. Do your own research before taking any investment decisions.