Pierre Gasly, Aston Martin, McLaren & F1 in the age of cryptocurrencies!
Sat 08 May 2021 ▪ 11h22 ▪
9
min read — by
In 2021, cryptocurrencies and the blockchain has become a key topic for the media world. Of course, this phenomenon is driven by the meteoric rise in the price of Bitcoin, but not exclusively. In fact, many upcoming projects invest huge sums of money to boost visibility. Formula 1 is a perfect example of this phenomenon. Since the start of the new F1 season, the McLaren, Aston Martin and most recently French driver Pierre Gasly have announced partnerships with cryptocurrency and blockchain projects. So, what projects are paying for visibility among the 80 million F1 grand prix spectators around the world? Strap in tight, we're going to barrel along at 200 mph in this whistle-stop overview!
Pierre Gasly: Fantom ambassador
When you take a look at Pierre Gasly's helmet, it's impossible to miss the name and logo of the Fantom Foundation, which develops the cryptocurrency of the same name. The French driver, who made a name for himself in the last F1 season with a superb first place victory at the Italian Grand Prix in Monza, will be the standard-bearer for Fantom this season. He is currently racing for AlphaTauri-Honda in his fourth F1 season.
So what is Fantom? Its name looks like it's come straight from the latest installment of the James Bond series! The project launched in 2018 following a successful ICO that raised nearly £29 million and led to the issuance of the FTOM token. Since then, the project has matured over the past two years: the mainnet was launched in Q3 2019, and now the project has its eyes on becoming the next blockchain network standard, allowing developers to create smart contracts. This is a race that already promises to be an exciting one, with networks like Cosmos (ATOM), Binance Coin (BNB), Cardano (ADA) and IOTA (MIOTA) already showing interest.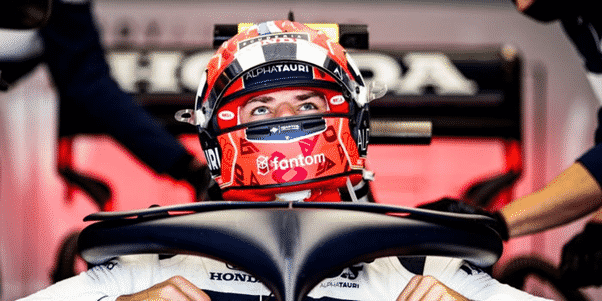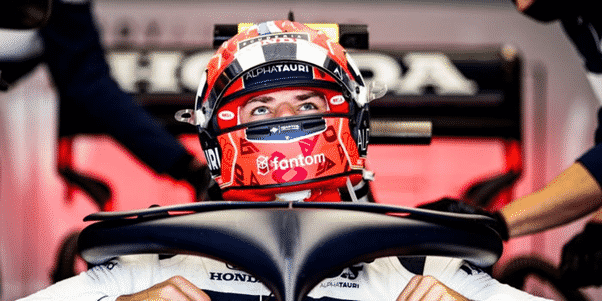 Just as Pierre Gasly relies on the performance of his single-seater F1 car to get the best lap times on the track, many developers already rely on the Fantom network's transaction speed and capacity. Fantom boasts a capacity of 300,000 transactions per second on its network, which makes it one of the most efficient networks out there right now. This performance is made possible by a transaction validation protocol that relies on Decentralised Acyclic Graph (DAG) technology architecture with a proof-of-stake (PoS) validation mechanism. The brain behind this technological architecture is Andre Cronje, who also created the DeFi kingpin Yearn.Finance (YFI), as well as Keep3r.
The rapid development of the technology reassures the Fantom Foundation's numerous investors, who are actually upping their stakes in the project. Famous backers include Hyperchain Capital and Quantum Fintech, whose CEO, Harry Yeh, is credited with spearheading the partnership between Pierre Gasly and the Fantom Foundation. With an almost 1500% increase in transactions carried out on Fantom last April, and with a market cap peaking at $2 billion (~£1.43 million), this is definitely a project to keep your eye on. One thing is certain: with the recent Pierre Gasly partnership, as well as others that the Fantom Foundation has set up, the network has made a big name for itself in the international crypto and blockchain market.
Aston Martin: a hard-hitting partnership with Crypto.com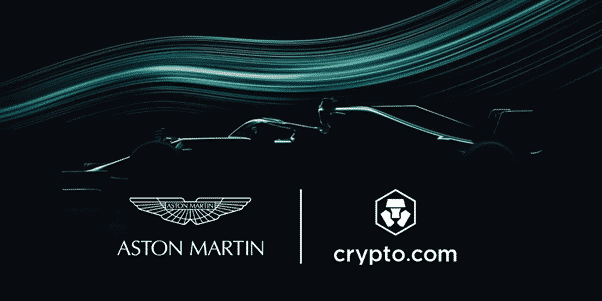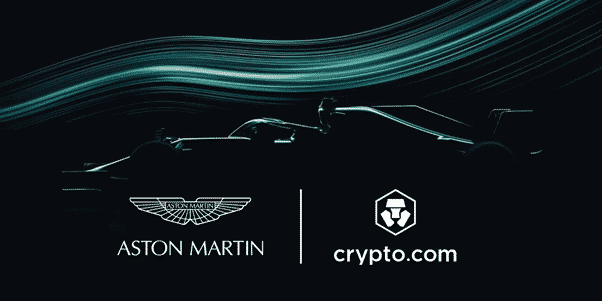 Next, a partnership that doesn't just bring a driver on board, but a whole company. Crypto.com will have its logo displayed on the two Aston Martin F1 car this season. Aston martin's drivers are four-time world champion Sebastian Vettel and Lance Stroll, a young driver who is the son of billionaire Lawrence Stroll, the head of the Aston Martin team for this F1 season.
We do not need to say any more about Crypto.com, the famous exchange that has made itself known with its fantastic Visa cards that allow platform users to pay for real-world purchases in crypto, while benefiting from CRO cashback and 100% rebates Netflix and Spotify subscriptions.
With this partnership, Crypto.com once again demonstrates to the cryptocurrency sector its media prowess. The exchange, which competes with the behemoths Coinbase and Binance, wants to take advantage of this partnership to boost visibility and drive traffic to its newly-created NFT platform.
But this wasn't all! Just a few weeks after the partnership was announced, the first images and videos of the Aston Martin team were sold as unique NFTs on the Crypto.com platform. By minting NFTs, Aston Martin is joining the likes of Snoop Dogg, the US rapper who has also signed a partnership with Crypto.com.
McLaren also get involved through Bitci.com partnership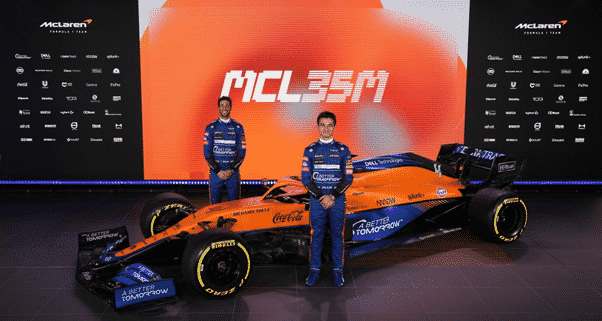 Bitci.com, a Turkish cryptocurrency exchange, has also signed a partnership with an F1 team. This time, it's McLaren. The exchange will appear on both of McLaren's cars, as well as on the helmets of its drivers, Daniel Ricciardo and Lando Norris.
With daily volumes of $50 million (~£35.8 million), Bitci.com has established itself as a market leader in Turkey. The site has particularly benefited from the huge adoption of cryptocurrencies (especially bitcoin) in the country since the fall in the price of the local lira. This phenomenon even led the country's government to move to outlaw cryptocurrencies in Turkey.
This partnership between Bitci.com and McLaren aims to be a win-win for both parties. On the one hand, Bitci.com wants to gain visibility. On the other hand, McLaren is taking the opportunity to launch its own fan token on Bitci's native network, launched in 2020. This is nothing new, as many fan tokens have already cropped up in the football ecosystem: Juventus Turin, PSG and Barcelona all already have their own tokens that fans can buy for great benefits and rewards.
Dogecoin (DOGE): coming soon to F1?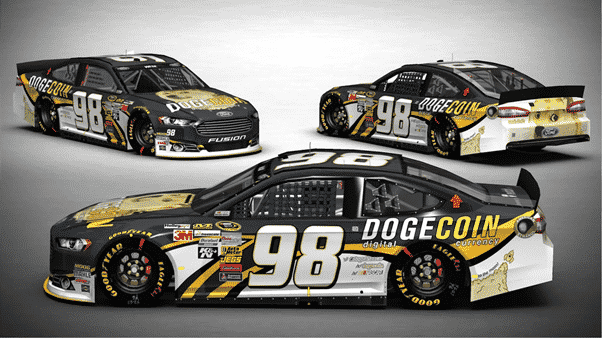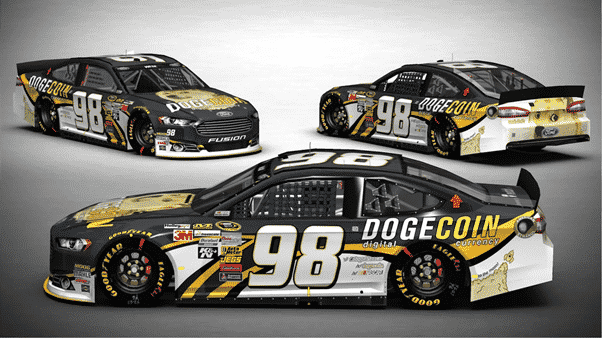 Finally, we will take a turn away from the world of F1 to look at the US racing scene. While 2021 has seen the arrival of crypto sponsors for F1 teams and drivers, the NASCAR championship welcomed a great little sponsor, dear to Elon Musk, as early as 2014.
Well before the current price explosion of dogecoin (DOGE), a fundraiser raised $50,000 (£35,780) to plaster the famous Shiba Inu meme across a NASCAR vehicle. The car quickly gained traction and brought dogecoin to early notoriety: you can even find the 'Dogecar' in the official NASCAR 2014 video game.
This year again, Dogecoin is expected to sponsor one of the cars from the NASCAR championship. So, when can we expect a DOGE F1 team headed by Elon Musk? One thing is certain, even if this is not yet happening, the crypto sector and its entire community have the resources to catch the wider world's attention!
In conclusion, the 2021 season will generate quite a bit of buzz through these sponsors and partnerships from the crypto and blockchain ecosystem. This truly is an important turning point in PR, which just might usher in a rise in popularity among the general public for the sector. During its last season, F1 racked up nearly 422 million spectators worldwide, making it one of the most popular motorsports on the planet. At the same time, banks are cutting back on their sponsorships – should we see this as a harbinger for the financial future to come?
Recevez un condensé de l'actualité dans le monde des cryptomonnaies en vous abonnant à notre nouveau service de newsletter quotidienne et hebdomadaire pour ne rien manquer de l'essentiel Cointribune !
Hi! Привет! Salut ! Je m'intéresse à deux choses : la crypto et les langues. Je suis donc heureux de faire partie de l'équipe multinationale du CoinTribune, où je peux partager mes connaissances de la crypto avec des gens des quatre coins du monde – l'un article après l'autre.
DISCLAIMER
The views, thoughts, and opinions expressed in this article belong solely to the author, and should not be taken as investment advice. Do your own research before taking any investment decisions.