Solana (SOL): Ethereum (ETH) killer or a one-day project?
Tue 28 Sep 2021 ▪ 16h43 ▪
9
min read — by
Solana (SOL) is a fast and easily scalable blockchain project. Its objective is to offer users a framework for creating and developing smart contacts, deploying DApps (decentralised applications), DeFi (decentralised finance) and NFT (non-fungible tokens). That means its goals are the same as that of Ethereum.
In fact, Solana, like Ethereum, is an independent blockchain that lays the foundation for a new round of the development of the Internet: its decentralisation and, as a result, evolution into something more than just a global platform for work, info search, or leisure. Some even believe that such blockchains as Ethereum and Solana will become the basis for a metaverse. The functionality, social and economic aspects of such metaverse will leave the Internet we know today far behind.
The only problem is that Ethereum is too slow, and its scalability level leaves a lot to be desired. This blockchain, even despite the London hard fork, which, according to the developers, was supposed to solve the problem of high commissions, still remains too inconvenient for the deployment of new products and solutions. Largely because the commission fees are often unreasonably high. Especially for those at whom these very solutions are targeted – ordinary users.
At the same time, the unique SOL architecture has a much better level of scalability, with a throughput of over 50,000 transactions per second. Which, in theory, should have allowed him to leave ETH far behind. 
Solana is not the only candidate for the title of Ethereum's killer. There are also Cardano (ADA), EOS (EOS), TRON (TRX), Polkadot (DOT), Dfinity (ICP), and Neo (NEO) with seemingly the same goals. But Solana managed to bypass these projects in popularity and swept into the TOP-10 cryptocurrencies list by CoinMarketCap.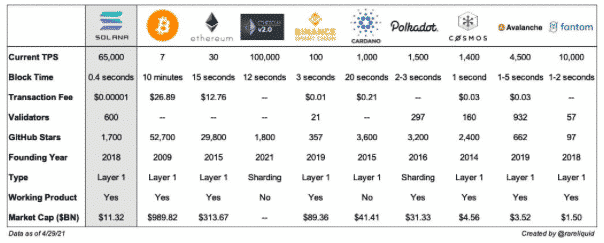 Solana: how was it invented?
Work on this project began back in 2017, and the official launch took place only in April 2020. 
The creator of SOL is Anatoly Yakovenko. A former employee of Dropbox and Qualcomm, he was engaged in the development of operating systems for mobile devices. Yakovenko was interested in the hype around cryptocurrencies that took place in 2017, on the eve of the lastest crypto winter. At that time, the developer was considering creating single-threaded mining, but, in the end, he only came up with a method of encoding the passage of time as data. Later, after conducting some research, he concluded that the idea that had come to his mind is a Verifiable Delay Function that has existed since the 90s. This realisation was enough for him to leave his job and start the Solana project with several friends.
Solana was officially launched in April 2020.
From 2018 to June 2021, the project attracted more than $335 million (~£260 million) of venture capital investments through several rounds of financing. 
Solana: rapid development
Just a year after the official launch, Solana was well-known by crypto enthusiasts globally, and very soon entered the TOP-10 list. Various large investors became interested in the project, including the head and founder of FTX, Sam Bankman-Fried.
Due to its speed and low commissions, SOL has found popularity among developers, which allowed Solana to develop into a global ecosystem consisting of more than three hundred projects. Such products as decentralised exchanges, lending protocols, betting platforms, games, data storage solutions, NFT trading platforms and much more exist within the Solana ecosystem. Even such well-known projects as Maps.me with DeFi support run on the Solana blockchain!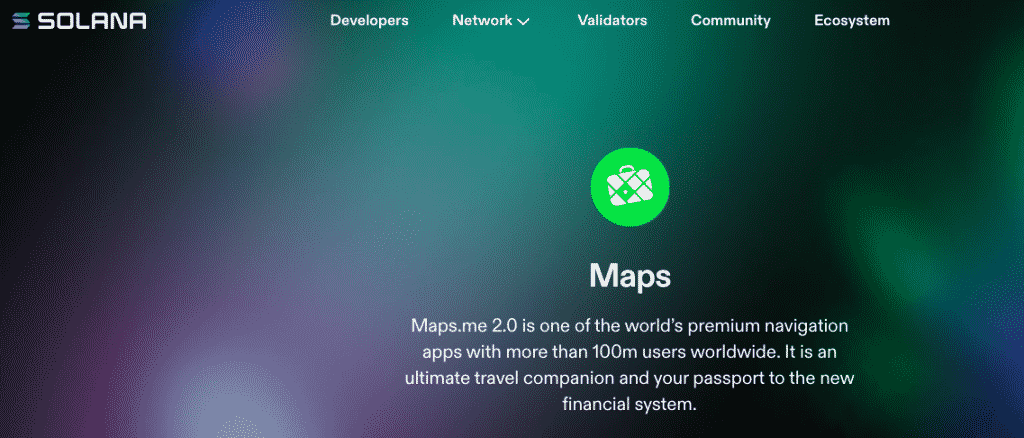 One of the most famous projects on Solana are:
Raydium, an automated market maker (AMM) and a liquidity provider. 
Audius, a blockchain-enabled streaming music platform that empowers content creators. In fact, this solution has been around for a long time and was originally deployed on Ethereum. However, the weak scalability of ETH forced the project team to make a choice in favour of Solana.
Anchor, a savings account that offers users a yield significantly higher than what any other traditional savings solution can offer. 
SolFarm, a yield aggregation platform with automatic addition storage strategies. 
Oxygen, a DeFi Prime Brokerage Protocol created as the next stage in DeFi development. 
Solsea, Solanart, Metaplex – NFT marketplaces
Phantom, Solflare, Sollet, Solong and MathWallet – Web3-compatible wallets
Every day more and more new projects are created, some of which choose Solana for its excellent scalability, high throughput and low cost.
NFT and Solana
Another reason for Solana's rapid growth in popularity is the hype around NFTs. Since trading digital art objects within Ethereum is a costly business due to high commissions, NFT solutions within SOL saw great popularity. Not only did it help SOL to grow, but also supported it during Bitcoin-related market collapses.
Trying to join this relatively new trend, users are actively buying up entire NFT collections, generating even more hype around NFTs. They don't care enough to look up on which project's blockchain the piece they bought is based. 

For example, the well-known Degenerate Ape Academy was created on Solana, which caused a massive hype and attracted even more attention to the project. The value of the project has increased, as has its price.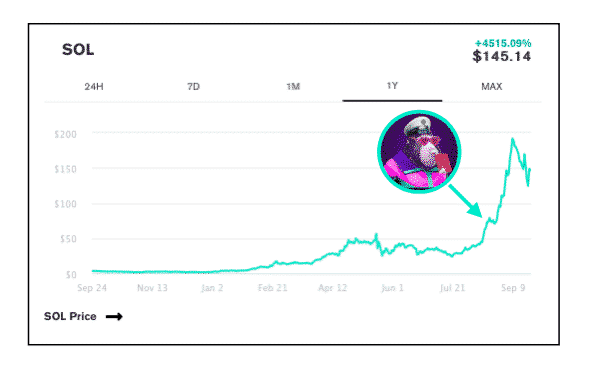 Why do developers prefer to use Ethereum?
Despite the unique functionality of Solana, many developers still prefer SOL's older and slower brother to an ambitious beginner. A natural question arises: why? "Maybe Ethereum is more reliable," one can say, remembering that on 14th September, the Solana network simply failed, and the cost of SOL fell. But we believe that the collapse of Solana is just a temporary difficulty and, as Anatoly Yakovenko wrote: "Better now then when its a billion users".
It seems that Solana will stay in the web 3.0 ecosystem for quite a while. Everything is simple: Solana provides speed and affordability important for the DApps market. The goal of the blockchain is to build an execution layer that competes with the New York Stock Exchange but not necessarily with Ethereum. Like Eth2, Solana uses the Proof-of-Stake mechanism, but unlike Eth2 or most other scaling solutions, Solana is a single-shard blockchain (everything happens on one blockchain). This is achieved using the Proof-of-History mechanism, which provides high throughput. Thus, thanks to its incredible speed, Solana is a blockchain perfectly suitable for financial products. 
Just as Ethereum users may be willing to pay more gas for transactions to be processed faster, in Solana, money is earned through MEV, Miner Extractable Value. MEV is an indicator of the profit that a miner (or validator, sequencer, etc.) can get via their ability to include, exclude or change the order of transactions in the blocks they create. In Solana, this is an attempt to democratise what high-frequency traders can do today.
In certain cases, Solana and Ethereum do not compete but rather complement each other. 
For example, Audius, a music streaming platform, runs on both Ethereum and Solana. The platform issues and manages the $AUDIO token on Ethereum but supports voting and everything that requires high speed and low cost on Solana.
What initially seems to be a competition turns out to be the two projects complementing each other. By ensuring the speed and cheapness of transactions, which is currently impossible on Ethereum, Solana increases financial activity on the global network. Solana provides microtransactions on the network and improves the user interface for products that already work on Ethereum. Thus, Solana increases the value of web 3.0 and attracts more users to the network globally.
In addition, Solana creates compatibility with Ethereum, which allows Solana to behave like L2, but with L1 functionality. That positively affects the ecosystem with Ethereum at its centre. This Tweet explains the idea above well:
Seems like none of the ETH killers is going to kill ETH in a futile effort to compete. They are focused on specific application areas and solving specific user problems. The more there are different application options, the more narrow solutions to specific user problems exist, the higher is the user demand, which in its turn spurs web 3.0 development.
Recevez un condensé de l'actualité dans le monde des cryptomonnaies en vous abonnant à notre nouveau service de newsletter quotidienne et hebdomadaire pour ne rien manquer de l'essentiel Cointribune !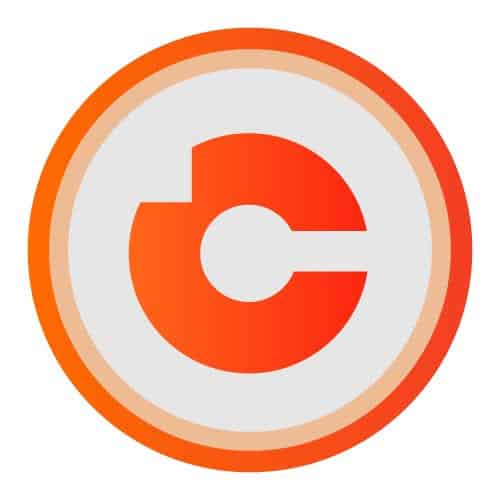 I am sure that crypto assets are a new type of economy. We are at the origins of the crypto revolution. Right now, it is worth studying what cryptocurrencies and the blockchain are in order to make the most of this knowledge and these skills in the future.
DISCLAIMER
The views, thoughts, and opinions expressed in this article belong solely to the author, and should not be taken as investment advice. Do your own research before taking any investment decisions.