The Paris Blockchain Week Summit - don't miss this critical event
Wed 30 Mar 2022 ▪ 20h45 ▪
6
min read — by
The Paris Blockchain Week Summit (PBWS) is back! April 13 & 14, meet some of the biggest names in the blockchain industry at Paris' Palais Brongniart.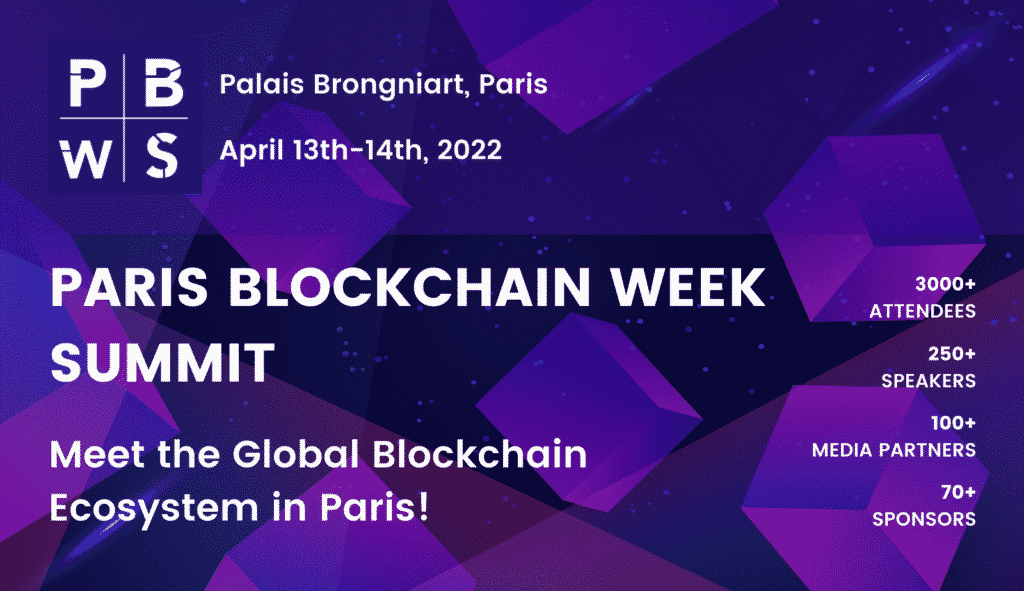 For all blockchain enthusiasts, the Paris Blockchain Week Summit (PBWS) is an unmissable event. Chain of Events – a firm which specializes in organizing trade fairs for professionals within the blockchain ecosystem – arrives April 13 and 14, 2022. With more than 3,000 blockchain professionals, 250 speakers, 100 sponsors and 100 media partners, PBWS stands out as the major event of the first quarter of 2022. This event brings lots of excitement as an entire day devoted to NFTs will open the PBWS festivities. Let's analyze this week's events.
Paris NFT Day – April 12, 2022
The third edition of PBWS is like no other as the organizers have devoted a day to NFTs: The Paris NFT day! Fans of NFTs and the underlying technology will be able to meet at the Palais Brongniart on April 12th. During the day you will find:
1. Conferences examining the issue of NFTs on the modern economy 
2. A physical NFT gallery (located in Palais Brongniart)
3. An NFT auction organized by the decentralized fund Blackpool
In addition to that exciting news, holders of the Bored Ape Yacht Club NFT collection will be able to participate in the first meeting of the NFT collection to be held in France. The project recently launched its own cryptocurrency – known as $APE – which will be discussed. 
The Paris NFT day is aimed at NFT enthusiasts in general. We will also analyze what will occur in the following two days covering broader blockchain topics. 
More information on the Paris NFT Day here
The Paris Blockchain Week Summit – April 13 & 14, 2022
The show is massive! On April 13 & 14, PBWS will have nearly 3,000 blockchain professionals, 250 speakers, 100 sponsors, and 100 media sources. In addition, the programs for those two days promise to be engaging for people who enjoy new, disruptive technology. The event will be structured around 4 main themes: 
1. Blockchain companies – an opportunity to interact with institutional players in the blockchain industry
2. Modernization of finance – the opportunity to discover DeFi applications and learn from institutional investors 
3. Revolutionary technology – an opportunity to explore the vision and tools used by ecosystem developers
4. Public policies examination – an opportunity to better understand some of the discussions related to concerns about the regulation of the ecosystem
Above all, the Paris Blockchain Week Summit is an opportunity for blockchain professionals to meet, discuss common issues, and explore the development of their projects. There will be many seminars planned throughout these two days which will ensure you have the ability to quench your thirst. 
"Tech Building" theme focus
As we previously mentioned, the show will address all kinds of exciting themes covering any and all issues related to Web3. Among the many seminars, on April 13 & 14, you will be able to learn more about the technologies that are evolving within this ecosystem.
First, the metaverse and its ecosystem will be in the spotlight. This new facet of the blockchain universe has birthed many opportunities and has helped solidify the term "Web3". This novel approach – where ownership is placed in the hands of users – results in many people perceiving new opportunities and a new digital economic market that is ready to explode. The conference " Ready Player 3: how Web3 feeds the metaverse ", moderated by Sébastien Borget (The Sandbox), Brian Norton (MyEtherWallet) and Richard Ma (Quantstamp), will provide you with some answers on the impact that the metaverse will have in the coming years.
Then, you will be able to learn more about the communication between different blockchains throughout the seminar: " Interoperability: challenges and opportunities ". This topic is gaining more and more attention as different projects innovate on their respective blockchains. There are so many questions – Daniel Kmak (Nervos) and Ruben Merre (NGRAVE) will try to address at the Paris Blockchain Week Summit! Some of the key questions include: How to succeed in keeping the best of each project? How can several blockchains communicate to increase their performance while increasing the confidentiality of transactions?
Finally, the conference "How NFTs are transforming the creator economy " will expand upon several points regarding the revolutionary technology brought to life by NFTs. Thanks to NFTs, the possibilities of content creation have increased tenfold for artists. Many markets are impacted by this revolution, including fashion, real estate, and even music. You will discover how creators are seizing on these new tools to reach an ever wider audience.
Many other seminars will also be offered on innovative topics. For example, a reflection on the new models of governance brought about by decentralized autonomous organizations (DAO), an update of the technologies introduced in 2021, and tips for securing NFTs via artificial intelligence. You can find the list of speakers on the official website for the event.
Year after year, the Paris Blockchain Week Summit is increasingly establishing itself as an early-year cornerstone blockchain event. NFT and blockchain enthusiasts will find what they are looking for during this week organized by Chain of Events. Tickets are available for sale on the event website, where you can also find more information about the show.
To learn more about PBWS, go here.
Recevez un condensé de l'actualité dans le monde des cryptomonnaies en vous abonnant à notre nouveau service de newsletter quotidienne et hebdomadaire pour ne rien manquer de l'essentiel Cointribune !
I'm the co-founder of NFTexplained.info, an NFT site focused on creating educational content primarily for people entering the NFT space. I spend my free time researching crypto and NFTs; I love sharing my knowledge!
DISCLAIMER
The views, thoughts, and opinions expressed in this article belong solely to the author, and should not be taken as investment advice. Do your own research before taking any investment decisions.