US vs Bitcoin (BTC): following in China's footsteps?
Tue 20 Jul 2021 ▪ 22h05 ▪
6
min read — by
The Chinese crackdown on cryptos is considered to be a way of establishing extensive control over payments, aimed at supporting digital yuan. Following the example of China and the EU, the US is working on creating their own Central Bank Digital Currency (CBDC).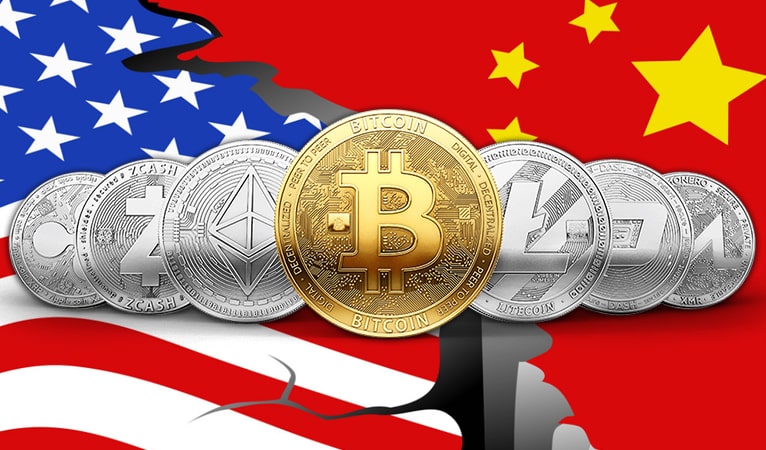 Does Bitcoin stand in the way of e-CNY?
The Chinese crackdown is killing the goose that lays the golden egg. The Bitcoin community used to be afraid of Chinese authorities taking total control over the leading cryptocurrency, since China was the world's leader in crypto trading and mining.
Everything changed when China continued tightening its grip over cryptocurrencies, forcing miners to migrate, which resulted in high numbers settling in the US. Nowadays, payment processing companies aren't allowed to provide crypto services within China and banks have to check whether their clients have digital assets or not.
Why did China decide to do so? The root of the problem proves to be China's own CBDC. One would assume that stablecoins like Tether are among digital yuan's main competitors, not the volatile and unstable Bitcoin with its low speed of 7 transactions per second. The thing is, BTC isn't under any government's control and that's why more and more people opt for payments in Bitcoin or such coins as Monero.
The People's Bank of China has control over all e-CNY transactions, so in case people give up other payment options, the total control over the financial system won't be that far from reality. New restrictions won't prevent cybercrimes but might very well limit citizens' transactions significantly.
Once this total control is achieved and digital yuan is stable, the People's Bank of China might go up against USD, whose price is now plummeting. By sacrificing BTC, China won't only reinforce e-CNY, but also establish itself as a major power.
Why doesn't the US crackdown seem viable?
The potential introduction of the digital dollar might lead to the same scenario we see playing out in China: private cryptocurrencies will be considered a threat to the Fedcoin. However, the US is willing to benefit from digital assets instead of giving them up.
Legalisation is already in sight
While China's crypto policy raises many questions, the US has been doing much better in that regard. BTC became legal in 2019, followed by Ethereum (ETH) legalised in 2020. Such well-established exchanges as Bakkt and ErisX offer crypto trading to pension funds and other major institutional investors.
Half of Bitcoin's capitalisation was obtained from institutional investors in March 2021. Coinbase is listed on Nasdaq. Making a complete U-turn by banning cryptos and therefore stabbing major market players in their backs would be humiliating for American authorities right now.
CNY and USD will never be equal
First of all, CNY is the national currency of just one country, no matter how big or populated that country is. It is stable enough, so the Chinese don't tend to be on the lookout for any alternatives. Now let's look at USD. It's an international reserve currency that is now going through record inflation.
Total US money supply surged by 20% last year, and there is no end in sight for this trend so far. Even when USD value dropped, many Americans saw cryptos as the perfect safe haven to protect their wealth, without empowering other nations.
China is now elaborating a reliable and secure digital yuan through restricting BTC. If the US did the same, it would definitely undermine its domestic economy and financial system. Without the possibility to invest in cryptos, Americans would have to hold assets in other nation's currencies. Creating a CBDC won't help here.
BTC may become a 'half-national' currency in the US
Capital flight is less likely for the US than for other countries. Americans made $4.4 billion (~£3.23 billion) on crypto investments in 2020, while Chinese obtained $1.1 (~£8.1 billion). Other countries saw even less returns. It is the US that benefits from the crypto market the most right now, and does so legally for the most part.
In countries like Turkey or Venezuela, capital flight from national currencies to cryptos was a sign of protest against the authorities. But when it comes to the dollar, it seems to be just… hedging the risks. If the US becomes the world's leader in mining, a lot of crypto assets might become more decentralised, but more American at the same time. No matter whether people keep their assets in USD or BTC, the national economy still benefits from crypto trading.
Conclusion
CBDC is often seen as a tool for achieving total control over the financial system. However, national context also plays a significant role in every particular situation. The financial system the Chinese can build in their country is simply impossible for the US and EU to even consider, not only because of the 'less organised' Western populace, but because both the dollar and euro are much more international in their adoption.
The US doesn't have to have absolute control over the dollar to remain dominant on the world stage. Making BTC completely legal will probably only benefit Americans and help them keep their assets safe. Highly regulated e-CNY, in turn, might not prove to be that advantageous for China.
Recevez un condensé de l'actualité dans le monde des cryptomonnaies en vous abonnant à notre nouveau service de newsletter quotidienne et hebdomadaire pour ne rien manquer de l'essentiel Cointribune !
Ingénieur de formation, et spécialisé dans les nouvelles technologies, je me suis toujours intéressé à la blockchain et aux cryptomonnaies. Je suis heureux de faire partie de l'équipe CoinTribune.
DISCLAIMER
The views, thoughts, and opinions expressed in this article belong solely to the author, and should not be taken as investment advice. Do your own research before taking any investment decisions.