Bitcoin: Who's behind the $3 billion mystery wallet?
Wed 23 Aug 2023 ▪
4
min of reading ▪ by
▪
Trading
The crypto industry, as lucrative as it is mysterious, is full of unsolved enigmas. One of the most recent and intriguing confronts us with the quest of a whale – not one of the deep seas – but one of financial stature, which has recently wormed its way into the depths of Bitcoin.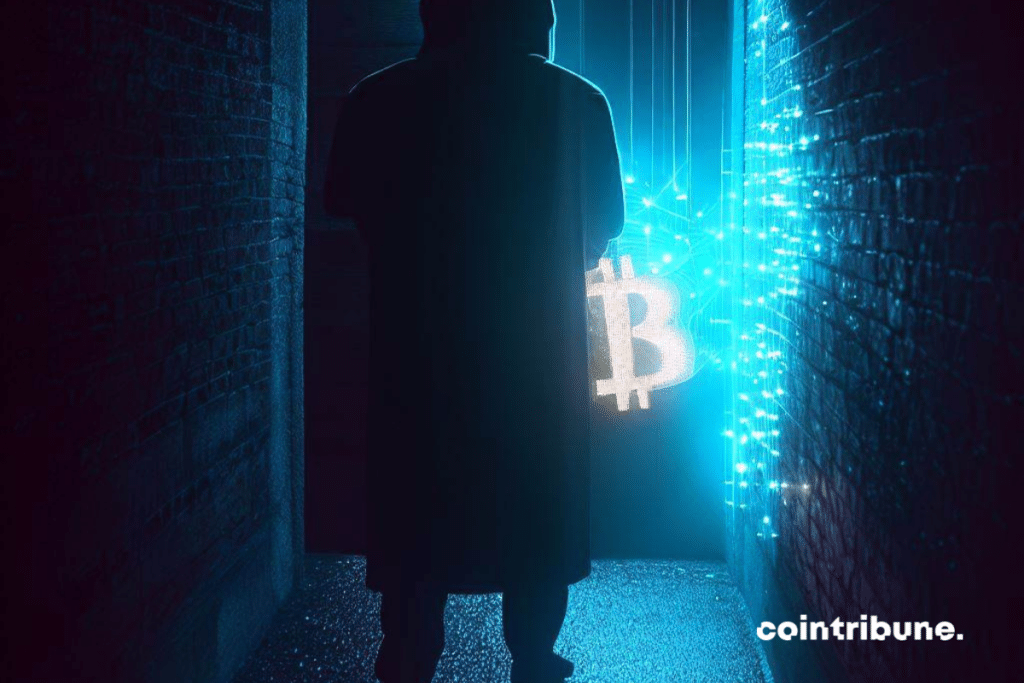 The discreet rise of an elusive whale
Exchange platforms, notably Binance, are currently going through complex times. Following the unexpected suspension of SEPA withdrawals, many questions have arisen as to the stability and reliability of these platforms.
Yet, despite these disruptive circumstances, many investors have not wavered in their confidence. For them, these challenges are only temporary obstacles in the crypto landscape.
And some of them are doing more than simply persevering: they are exploiting every opportunity to strengthen their position. Begun in May, a discreet but determined accumulation strategy has enabled a mysterious wallet to rise to the rank of Bitcoin titan. According to Bitinfocharts, in just a few months, this address has made a variety of acquisitions, ranging from the modest sum of 0.25 BTC to a mind-boggling 6,600 BTC in a single transaction.
Today, this portfolio contains a treasure trove of 118,300 BTC, or approximately $3 billion.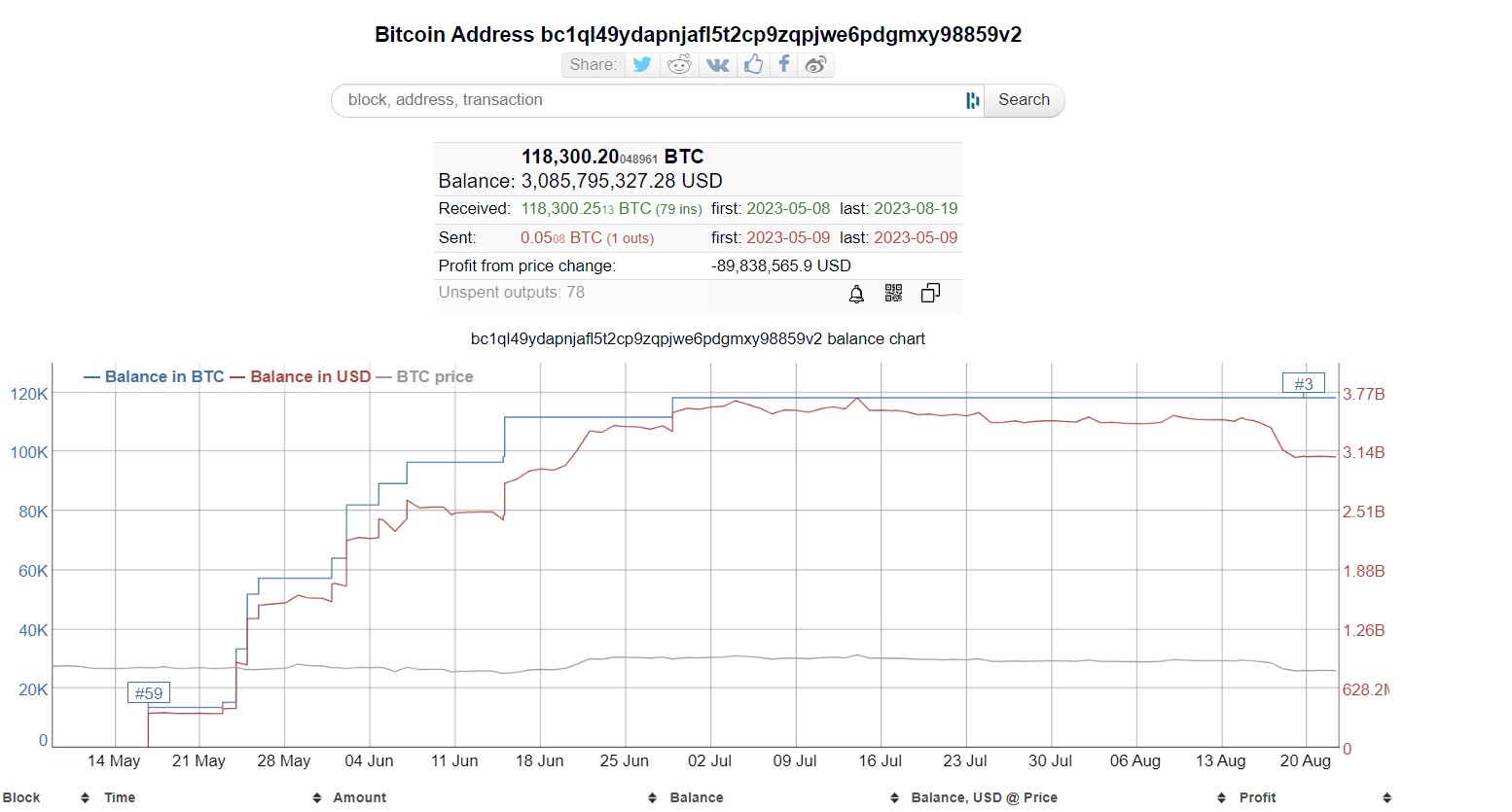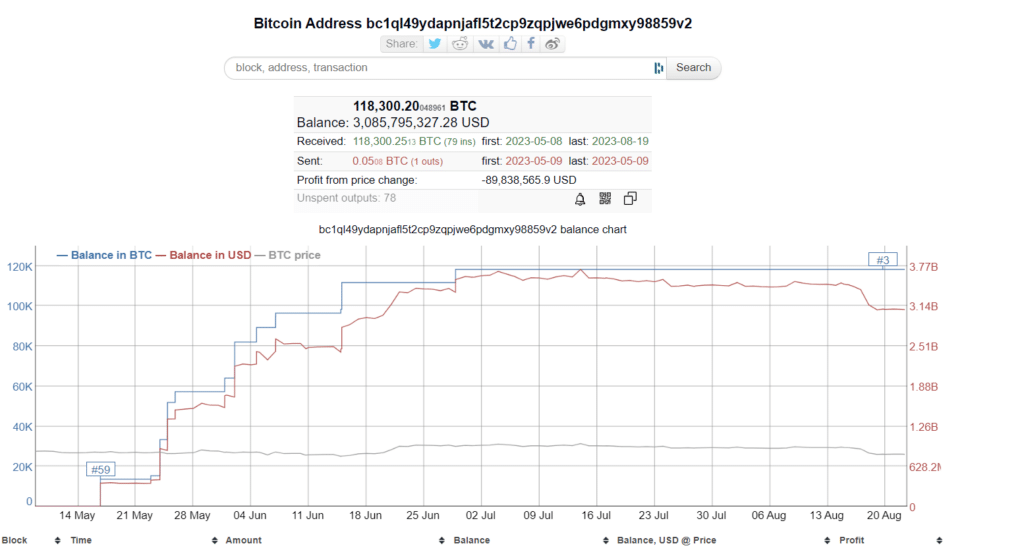 This financial ease contrasts with an unrewarded audacity: our whale is now underwater with a loss of around $90 million.
Compared to the colossal one million BTC held by Satoshi Nakamoto, Bitcoin's enigmatic creator, this new wallet might seem modest. But let's not forget that even Nakamoto, with his $27 billion fortune, has remained silent, without moving a single satoshi since his early days.
Could Gemini be behind the world's third-richest Bitcoin wallet?
Every significant move in the crypto space leads to an avalanche of speculation. While some speculate that it could be a major exchange platform, quietly restructuring its assets, other speculations take bolder directions. For example, the name of BlackRock, the global asset management colossus, is being raised insistently on various specialist forums.
However, a recent revelation via a tweet indicates that Gemini, one of the most reputable crypto exchanges, has made several bitcoin transfers to a new address, identified as bc1q….59v2, over the past three months.
Today, this address holds a mind-blowing amount of 118,000 bitcoins, equivalent to around $3.08 billion. It thus ranks as the third-largest holder of bitcoins, preceded only by the cold wallet addresses of Binance and Bitfinex.
This discovery comes at a time when the price of bitcoin is in turmoil, fuelled by global economic tensions. The crisis in China's real estate sector and the erratic movements of the money markets are the main culprits.
In short, although the veil on the identity of this wallet's owner has been partially lifted thanks to this Gemini revelation, many questions remain. Is this a move by the crypto exchange giant, or could there be other players behind the scenes orchestrating this financial ballet? While Robert Kiyosaki's prediction echoes in our minds, we remain, for the time being, in a posture of observation and speculation, while admiring the intricate choreography of the Bitcoin whales.
Receive a summary of the news in the world of cryptocurrencies by subscribing to our new daily and weekly newsletter service so you don't miss any of the essentials of Cointribune!
Fasciné par le bitcoin depuis 2017, Evariste n'a cessé de se documenter sur le sujet. Si son premier intérêt s'est porté sur le trading, il essaie désormais activement d'appréhender toutes les avancées centrées sur les cryptomonnaies. En tant que rédacteur, il aspire à fournir en permanence un travail de haute qualité qui reflète l'état du secteur dans son ensemble.
DISCLAIMER
The views, thoughts, and opinions expressed in this article belong solely to the author, and should not be taken as investment advice. Do your own research before taking any investment decisions.